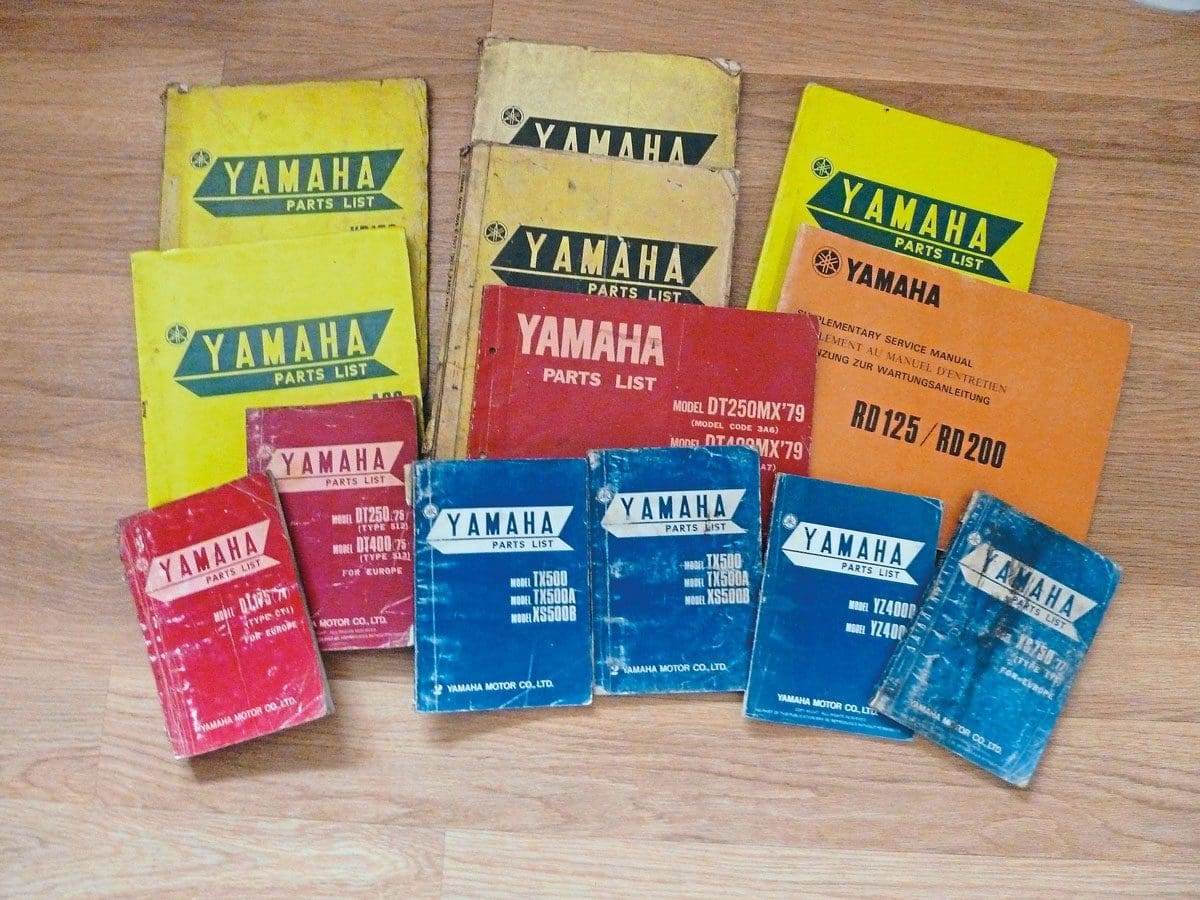 Even if you only just service and fettle your classic motorcycle, you will, at some point, require a part number for something.
Contemporary bike shops don't stock what we want and those who specialise in our arcane hobby tend to be a lot more helpful if we can give them the magic codes.
Also see
If you've taken on a project with parts missing then you'll be potentially in need of a lot of components, and the way to properly nail this is to have a genuine factory parts lists. Before the planet went digital and prior to the advent of microfiche readers, the entire world's wisdom of motorcycle components was stored on paper in books. These well-thumbed mini-bibles were stock in trade for bike shops and divvied up the relevant numbers. If you have an old bike then, arguably, you need the appropriate parts book.
Yes you may find some scanned pages on the internet but can you guarantee it really is for your model? Will you take the word of a complete stranger? Having your own parts lists is so much more effective and reassuring.
Pretty much any parts list you might need is out there for sale, being available from Mortons archive and then there's the likes of eBay. So what if it does cost a tenner or two? Folk will pay more than that for a side reflector for crying out loud.
Understanding how the codes in parts lists work can also be key to buying unobtainable fixings. Bolt lengths and thread diameters are often hidden within those numbers.
With many current manufacturers it's quite likely that the part you want for your 40-year-old bike is still being made. Give your classic friendly dealer an old part number and they may very well be able to locate its modern equivalent. As an example, who would have thought the first Yamaha R1 missiles would use clutch plates from an obsolete XS1100?
And if that part you need really is NLA (no longer available) then having its unique code is all you need to search on line. Hurl Yamaha 273-21337-00 at Google and learn that a throttle junction box support bracket was later used on the company's snow mobiles and subsequently on their lawn mowers!
Yes, the part number changes and the component's finish is different but at least you can find that missing part. Parts lists can get a stalled project back on course and broken engine up and running…which is why you need one for each and every classic you own.
Mortons Archive has a large selection of original parts lists available, to see if we have the one you need please contact Jane Skayman on 01507 529423 or email [email protected]
---
Advert
---
Sign-up to the Classic Bike Hub Newsletter
Get the latest classic bike news and updates straight to your inbox… You can unsubscribe at any time.