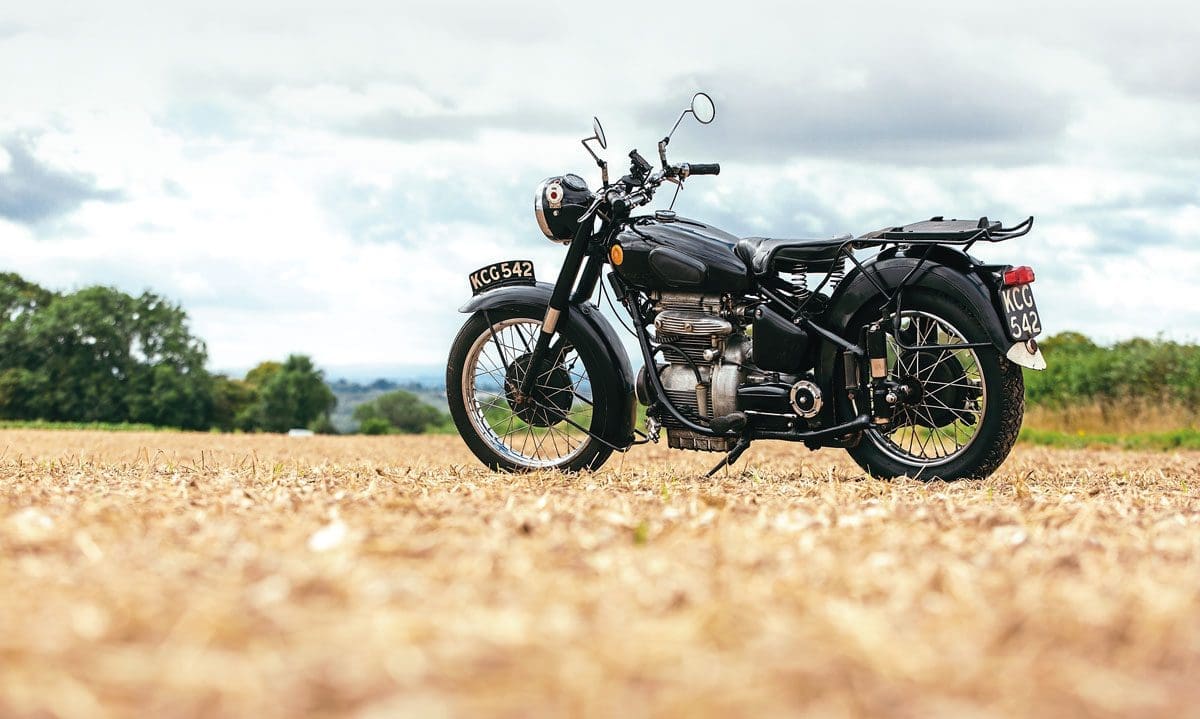 This handsome Sunbeam S8 was a pleasure to look at and to ride – and when it broke down on test, the owner could fix it at the roadside. That's practical.
Andrew Chapman is a tall, calm, good-humoured man. At his workshop outside Farnham, Foxwood Motorcycle R & R, he fettles, repairs and restores postwar Sunbeam S7/S8s, as well as Ariel singles and twins. As a one-man band, I imagine the calmness comes in handy. With an engineering background that began with his work as an aerodynamic designer with Hawker Aircraft, he's been running Foxwood for five-and-a-half years.
Also see
One of his clients is long-distance, high-mileage Ariel rider Steve Carter, whose FH 650 'Black Fly' featured in TCM, February 2019. And five years ago it was Steve who sold Andrew this black 1952 S8, which was in bits at the time. "I just said 'I'll have it," Andrew recalled. "I knew nothing about Sunbeams, but I wanted another classic to go with my Ariel VH 500cc single."
His pal Steve laughed: "It was a heap of rubbish so I sold it to a friend!" The S8, for which Andrew retains the buff log book, had first been registered in Hampshire, where its ownership had gone back and forth between two brothers. "The engine was well-worn," said Andrew, "so I've stripped it often, to fix minor problems. The motor is due for a complete rebuild, but I don't want to restore the machine as a whole and make it too good to use, as I ride it quite a lot."
So with Steve in attendance, as we set off into the local lanes for our test, I thought about the postwar Sunbeams.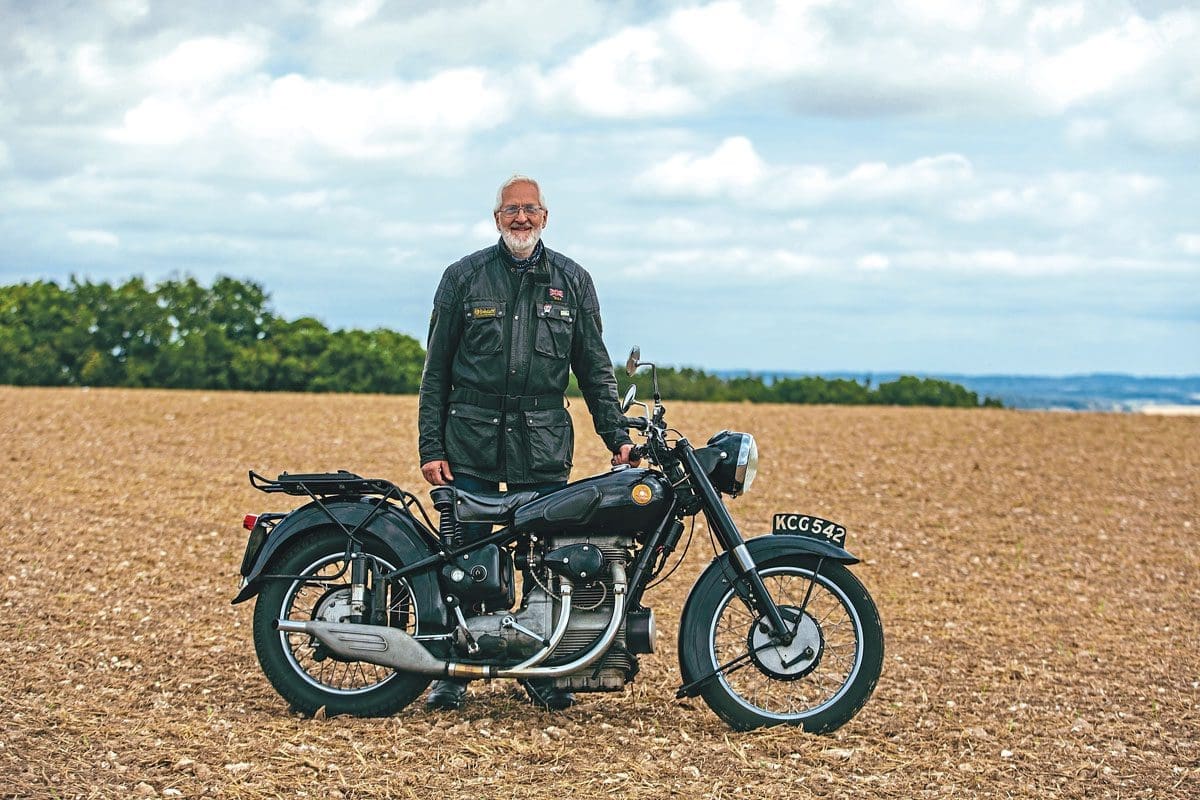 The Sunbeam also rises
BSA had bought the name of Sunbeam, known for their fine finish and race success in the 1920s and early 30s, from AMC in 1943. They decided to employ it on a postwar flagship motorcycle to be heavily based on BMW's R75; though to avoid patent conflicts, and postwar anti-German feeling among buyers, the engine was to be BSA's own.
An in-house group designer, Erling Poppe, late of Poppe and Packman Motorcycles, and more recently the developer of the Daimler Scout reconnaissance car, was put to work on this. He drew on a 1932 BSA experimental engine, the Line Ahead Twin (LAT), to retain a BMW-like all-alloy twin with its crankshaft running on the line of the chassis, but with the cylinders in-line rather than horizontally opposed, and with an overhead camshaft.
To avoid the BMW's left-side kick-start at 90 degrees to the engine, Poppe designed a strong new four-speed gearbox with a dry clutch. The 'box turned the kick-start through 90 degrees to its customary (for Brits) position on the right. But this meant abandoning the BMW's proven crownwheel and bevel shaft-drive. That was due to the Sunbeam's luxury specification plunger suspension and original taller engine meaning that the shaft emerged lower than on the BMW engine, and thence its universal joints were unduly stressed by the suspension movement.
Poppe's answer was to substitute underslung worm final drive, with a short slim final drive shaft exposed, and universal joints at either end. To cut costs, this derived from BSA-owned Lanchester cars' steering worm drive at the rear wheel. On the 90mph Sunbeam prototypes, the worm-drive severely overheated and lasted only 5000 miles or less. Other problems included uncertain steering due mainly to the 4.75x16inch wheels and tyres, as well as to torque reaction and to Poppe's front fork design. There was also very bad vibration from the 360 degree twin engine; Triumph's Ernie Nott thrashed a lower-powered production version test bike, and left the engine dangling in the duplex-downtube 531 frame, as its mounting bolts had all broken.
Poppe was sacked in 1946, and the engine tilted three degrees back in the frame, and detuned with a redesigned cylinder head and smaller valves, now giving an actual 23.5bhp (though 25 bhp@5800rpm was claimed). The 435lb S7 500cc twin was notably underpowered from then on. Severe vibration remained on the early production machines, and BSA's David Munro supervised the effective cure, rubber-mounting the engine.
But the weight, the cost (for 1952 the S7 cost £281, against £222 for a BSA A7 Star Twin and £223 for a Triumph T100), and rumours of unreliability about the rear wheel drive, exacerbated when early handbooks specified the wrong grade of oil for it, as well as the lack of handling and performance, meant that only 2014 S7s had sold between 1947 and March 1949, when the second generation appeared.
This now comprised the Mist Green S7 De Luxe, still 'a nice bit of motor trapped between two ring doughnuts,' though the front one, sitting between revised forks, was now a ribbed 4.25x16in cover. It was joined by a rethink, the S8, not quite 'the gentleman's motorcycle' originally envisaged, but £25 cheaper, and weighing 35lb less. The S8 with its conventional BSA front end including a 3.25x19in front wheel/tyre (the rear was 4.5x18in), had better ground clearance and handling, and was claimed to produce 26bhp and to be 5mph faster with a top speed of around 80mph. This was the practical one, and would outsell the S7 De Luxe, three to two.
The Sunbeam engines and gearboxes were manufactured at BSA's Redditch subsidiary, with cycle parts made at Small Heath and transported to Redditch for assembly. But despite its undoubted virtues – its quiet engine, notably uncluttered design partly thanks to wet sump lubrication, its rubber-mounted smoothness and rider comfort, plus impressive looks, the Sunbeams failed to thrive.
The price, the reputation for unreliability and poor handling, the lack of power ("No guts," Titch Allen judged), relatively poor fuel consumption (53mpg was reported, though in fact it could be better – Andrew sees average figures over 60mpg), and poor after-sales service, meant that just 8550 S8s and 5554 of the S7 De Luxe were made, with production, as BSA later admitted, ceasing late in 1955, though unsold machines, plus some assembled from parts, were marketed until 1957.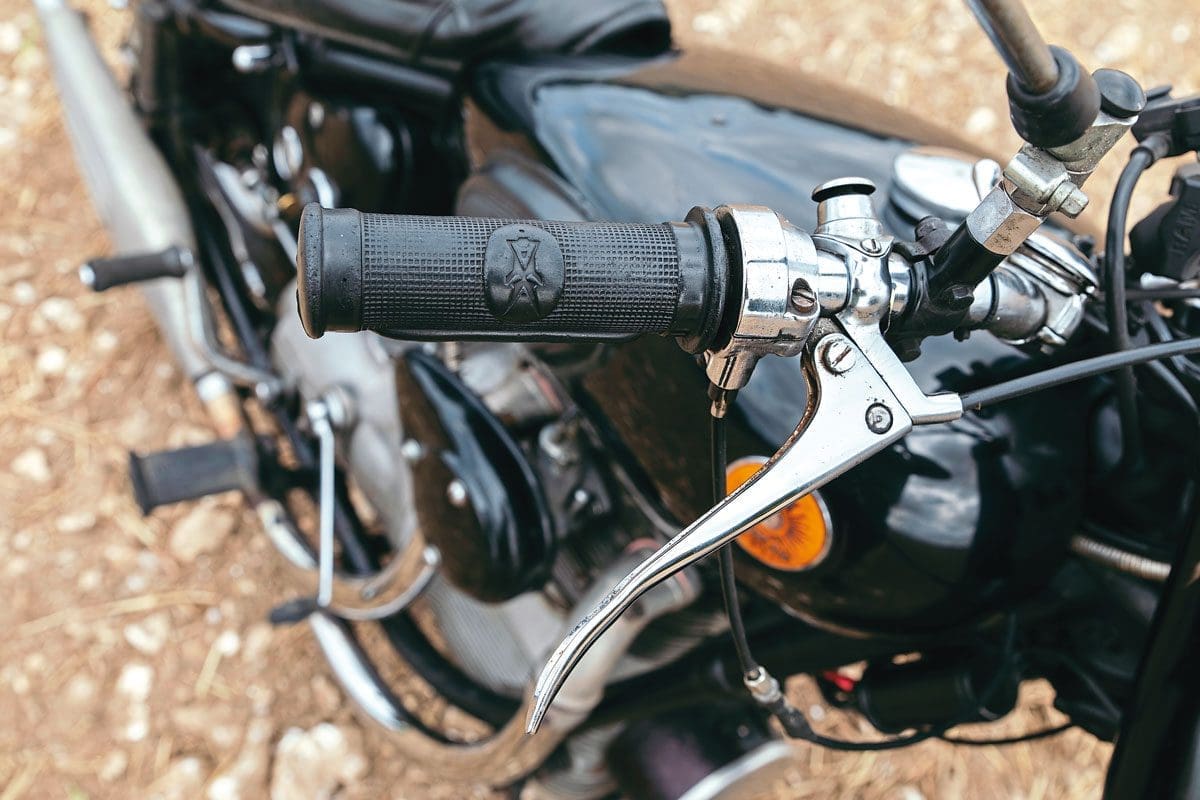 Sun-spots
As a specialist, Andrew naturally defends the S8, and the first thing he disputed was the worm-drive's reputation for rapid wear and unreliability. "If you use the right oil in the housing, and ride appropriately," he maintained, "they wear very gradually." I had heard this from a hard-riding, high-mileage colleague, Dave Minton, who ran an S8 for a couple of years in the 1950s, using Molyslip in the worm-drive housing, and whose only major problem had been with the pancake dynamo. "The factory," said Andrew, "advised using 140 grade oil with no additives." Morris AG140 is the one recommended today by Sunbeam specialists Stewart Engineering (Tel: 01202 768220). "I use thin, fully synthetic Redline 75/90," added Andrew, "which is American and expensive, but you only need a tiny quantity."
It was the system's rear Hardy-Spicer joint which earned the bad reputation, but ironically, when second-hand machines suffered prolonged unsympathetic thrashing in the 1950s/early 1960s, it was the front, flexible Layrub universal joint which could sometimes distort and break off. Though the later S10 prototype did feature bevel-gear final drive, with the drive-shaft enclosed in the swinging arm, Andrew and others can confirm that the production worm-drive set-up is perfectly adequate, when the Sunbeams are ridden as tourers. Steve Carter came with us on a 650cc Ariel, and I noticed that while Andrew cruised comfortably at 50, Steve was going maybe 10mph faster. As to top end, Andrew told me: "I did wind the S8 up to 70 – once. Apart from mechanical sympathy, approaching 70 it began to weave really alarmingly." So – horses for courses.
Andrew's S8 features several practical mods. It's fitted with the deeper sump available from Stewart Engineering; this both supplements the minimal four pint oil capacity – Sunbeams do run hot – and contains a full flow paper oil filter, a considerable improvement on the stock ineffective gauze one.
"On every Sunbeam engine I've stripped," said Andrew, "the crankshaft's sludge trap, which is unusually large, has been completely full and blocked, sometimes also beginning to block the oilways. That's on machines using conventional oil; I favour much thinner fully synthetic." Sunbeams were prone to oil leaks, especially at the head joints, and to counter the crankcase pressure which caused this, Andrew's S8 carries, low down ahead of the nearside crankcase, the housing for a non-standard oil breather.
The electrics have been converted to 12 volt with twin coils, and Steve Carter replaced the pancake dynamo with an alternator from Sean Hawker, which now features a powerful replacement 16 amp stator. The battery is a modern Cyclon dry cell item, housed in the Sunbeam's horizontal 'lunchbox' tool compartment; the regulator/rectifier is from a Yamaha, and the lights are LED.
Sunset
So, I'd enjoyed the sight and sound of Andrew doing passes for the camera – the note from that aluminium silencer had been described on period test as "energetic," and was delightful. Then the bike was pushed into a harrowed field for a portrait, and when it was pushed out again, I got ready for a ride. Only Andrew couldn't get it to start.
Potentially embarrassing, but what followed was a masterclass in methodical fault-tracing. Steve produced a multimeter, and a length of blue rope in case a tow was necessary. The similar battery from Steve's Ariel was swapped with the S8's, but that wasn't it. To check the plugs, their alloy cover was then removed, revealing that they were both set at an angle into the head; but no problem there. In case it was a duff coil, Steve went off to get a twin-spark one.
Alone by the quiet roadside, Andrew patiently removed the horizontally-mounted Lucas AC564 distributor behind the cylinder block, to check if the condenser within it had failed; it hadn't. He checked the points and then put the distributor on the meter; the readings seemed to be fluctuating, but Andrew believed that Steve's unfamiliar meter did not give a DC reading (it did, but Andrew didn't know how to switch it to that mode). Nothing seemed wrong, so he reassembled and refitted the distributor; double-jointed fingers would have been handy.
What now? At this point I would have been on the slide into gloom, but Andrew had a think. Then he used the kick-start to turn the distributor over slowly, watching the ammeter, impractically mounted for a rider in the right-hand side-panel. Its needle didn't budge. The distributor could have gone open circuit. So kneeling at the roadside in the warm afternoon, methodically Andrew began to remove the distributor again. "I don't trust hypotheses," he said calmly. "I'll never say 'cracked it!' until it's actually working again."
With the distributor off, he dismantled its internals onto a rag spread on the grass, then reassembled them again, this time leaving out a nut that stopped the points moving up and down on their shafts. Refitting, matching up a spigot on the distributor body to its hole at the rear of the engine proved tricky now.
Eventually everything was reassembled. Andrew prodded several times at the kick-start, no great effort required with 6.5:1 compression. And before too long the engine fired. He was repacking his tools when Steve rolled up. "It was a short circuit in the distributor," said Andrew unexcitedly. "Nah," grinned irrepressible Steve, "it was my tow-rope, works every time – show it to a bike and it'll always start!"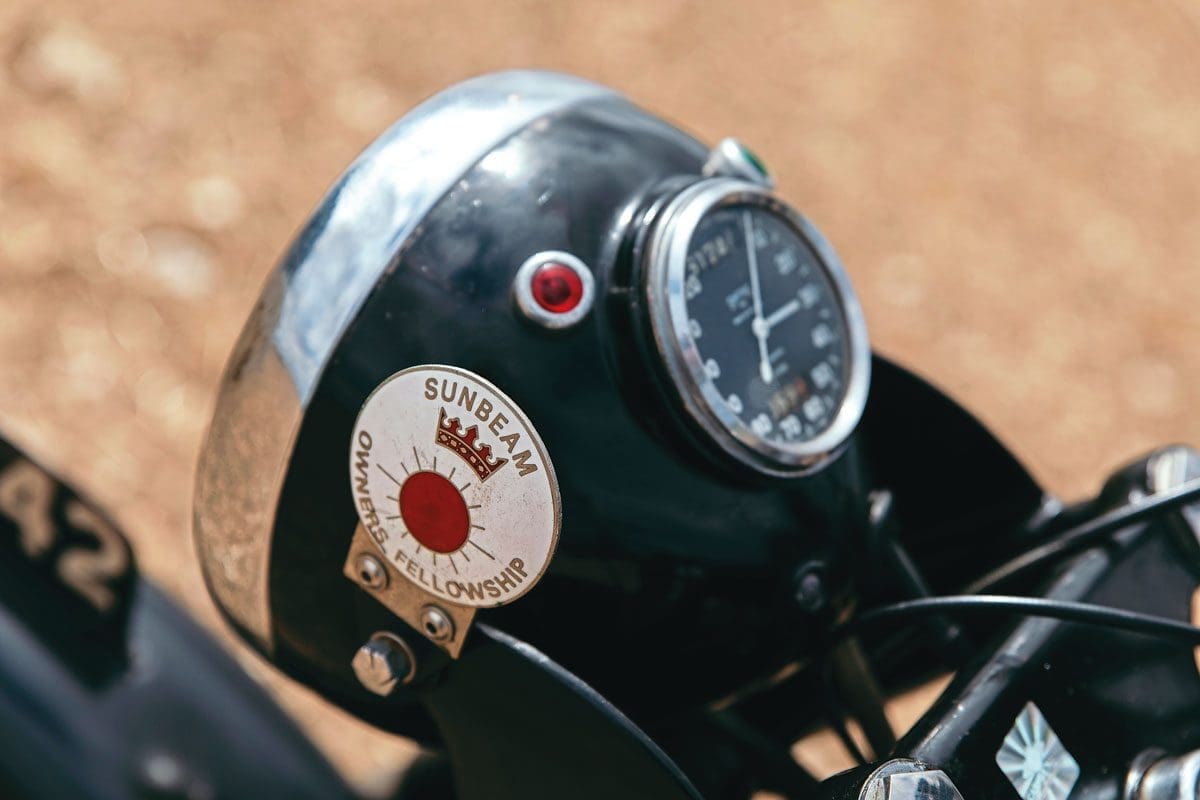 Sunrise
Presumably bumping the S8 over the field had marginally dislodged the nut in the distributor. The timing would need to be reset later, but we were good to go for a quick test ride.
Gunning the engine to preclude a stall, I pulled away along the country lane. The gearchange was clonky but clean, and when revved the engine felt, given its reputation, surprisingly lively up through the gears. "Hang onto those revs," Andrew had laughed, "that's all you'll get!" But up to an indicated 55, the S8 felt sprightly enough.
When I slowed and down-changed to first to turn around, the mistimed engine flubbed and spluttered, but pulled away cleanly. As the lane gently curved this way and that, the S8 handled like a 1950s BSA – predictably and well; I forgot that it was a plunger. That was encouraged by its smooth, comfortable ride quality. From its broad, adjustable monogrammed footrests, to the extra padding (courtesy of Steve Carter) on its big sprung saddle, this was an ergonomically satisfying machine, a fine ride. An eight inch BSA sls front brake had been substituted for the lacklustre stock seven inch item, and though I've encountered better examples, used together the brakes worked okay. Riding the lanes was a pleasure.
I wouldn't say no to an S8 if one came my way, though I favour the optional Polychromatic Gun Metal Grey finish, which offsets the tones of the alloy engine so well. And if I'm truthful, despite its limitations, the inner poser in me really hankers after a Mist Green S7 De Luxe. But given a well-sorted example like Andrew's, the S8 is the practical one, no question, and very nice too.
---
Advert
---
Sign-up to the Classic Bike Hub Newsletter
Get the latest classic bike news and updates straight to your inbox… You can unsubscribe at any time.