Few modern motorcycles have attracted as much attention in the classic world as the Royal Enfield 650 twins. Husband and wife John and Anne like the Interceptor so much they bought a matching pair! John reveals why and how, and Anne explain why the Enfield was so much better for her than a Hinckley Bonneville…
I've always ridden bikes and started way back in the 1960s. Being
a Brummie, BSA 500 and 650s were my bike of choice. When Anne, my wife, passed
her bike test I sold my BMW 800GS and bought a Honda CB500X so we both had
something similar. The Hondas were faultless but didn't excite… and then I saw
the Enfield. Squinting from one side it looks like an A65, and a bit like a A10
from the other and the memories started to come back. I rang our nearest dealer
and had a test ride.
Hooked! It handled beautifully, the power delivery felt
great and it looked good. A week later Anne had a test ride and we ordered two
identical machines in Orange Crush. The Enfield is everything I would like to
remember about my old BSAs but everything they weren't in reality. Reliable, no
oil leaks, smooth, well finished and with all mod cons and a fantastic price.
Both bikes have been fitted with engine bars, rear carriers
and top boxes, windscreens, grip puppies (for increased comfort), fork gaiters,
tank pads and clocks and, for the winter, handlebar muffs. These machines have
to be practical as well as good looking!
I clocked up 1400 miles last year while Anne, who commutes
into Brum, has 1700 miles on the clock. Neither of us has had any problems with
the bikes, and we love the attention they draw from both bikers and non-bikers.
They really do attract more attention than any bike I've ever owned. I wasn't
sure how the quality would be, as earlier Enfields seem to have a bit of a
dubious reputation, but the Interceptor / GT range seem to be in a different
league to earlier models.
I love the way they can be personalised relatively cheaply but think RE (or maybe the importers) missed a trick by not having many accessories available in the dealers, who I know also found it frustrating. Getting stuff from India is easy, it can be cheap and the quality (of what we've had) seems good. For me the Interceptor meets all my needs and I think it's going to be a keeper.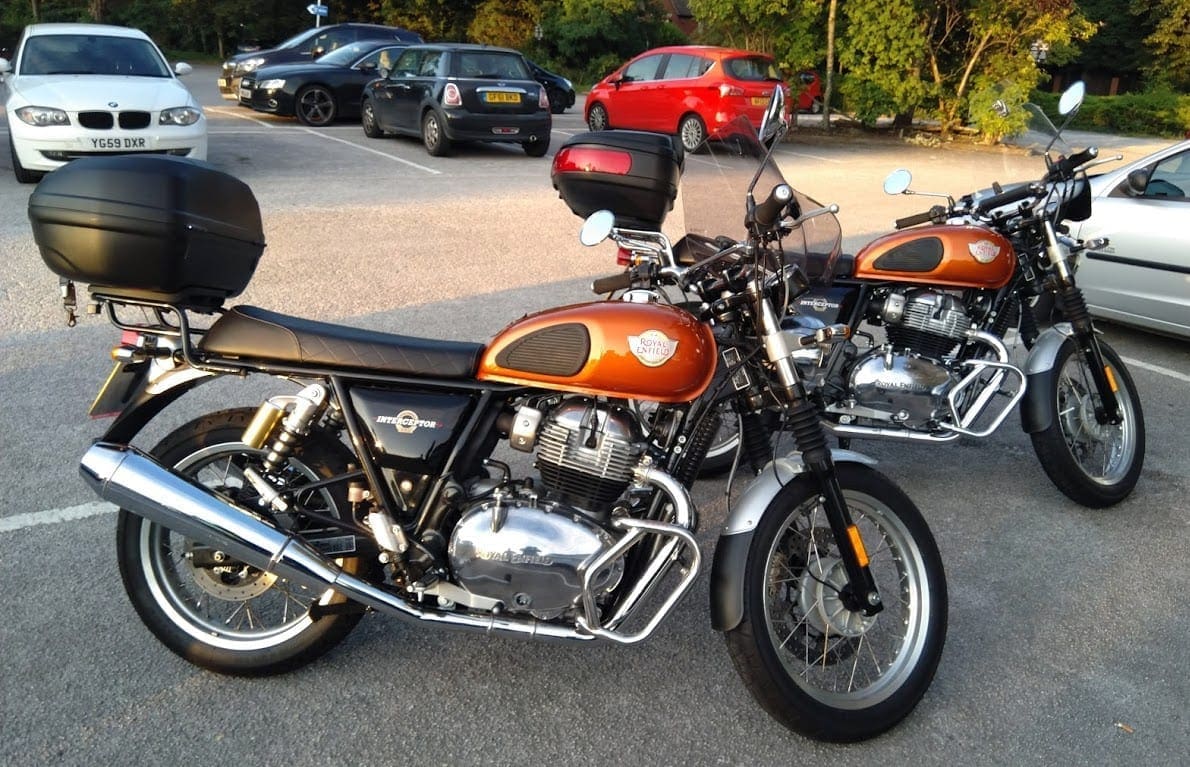 I have always wanted to ride a 'real motorbike', something
like a Triumph Bonneville T100. I took my CBT at age 45 and passed my A2
license one week after my 50th birthday. Sensibly I bought a Honda
CB500F to commute on. It was efficient, economic and reasonably cool, but not
my all-time dream of a Bonneville. When Triumph brought out an A2-restricted
Bonneville, it felt as though they had done it just for me!
Money saved up, we went to the NEC to buy one. John sat on
it first, got off and with no excitement in his voice said 'you try it'. So I
did. Oh dear, gutted. My knees were in the wrong place with my feet on the
pegs. Came home disappointed with the money still in the bank.
A good 12 months later, John read about the all-new Interceptor
650. A2 compliant: tick. Royal Enfield, a brand with a good heritage: tick. Similar
height and weight to the Honda: tick. All he had to do was convince me to have
a look at something other than a Bonneville.
John test rode the new Interceptor at Quarry Bank Motorcycles and came home excited. It was everything he remembered about riding from his youth, with all the mod-cons you would want to ride in today's traffic: ABS, mirrors, fuel injection, indicators, etc. It took a lot to convince me to test ride the Enfield but, once ridden, we bought twin twins. We part-exchanged the Hondas and haven't looked back.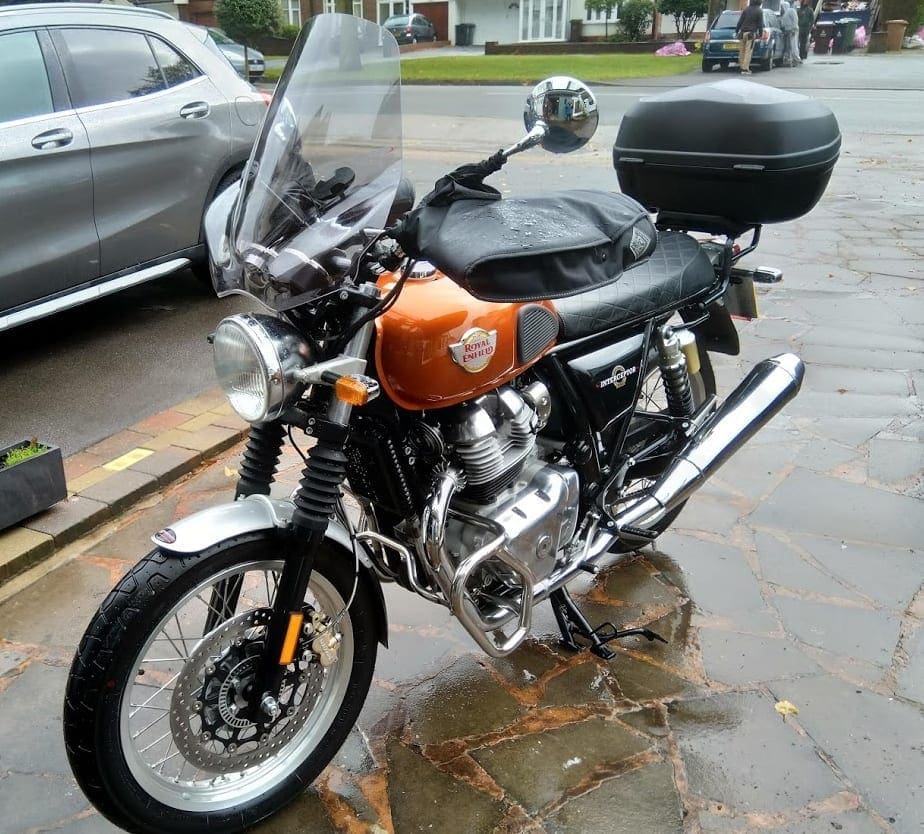 I now commute to work, efficiently, cost effectively and
enjoy every minute. Wherever we go, people stop to chat about the bikes. It's
like having a newborn baby or puppy.
The 650 is a really great ride. RE have got it just right.
At first I found the foot pegs in the way when stopping at traffic lights, but
the peg position is just different to the Honda; no longer a problem now that I
am used to it. I really missed having a clock so John fitted a clock between
the dials which works. For practical purposes we fitted quite a few other
accessories, but at the price, you can afford to customise as much as you want!
———
There's a huge 10-page review of the Royal Enfield Interceptor and Continental GT 650s in the February issue of the magazine. Riders and owners reveal all about their hands-on experience with these machines…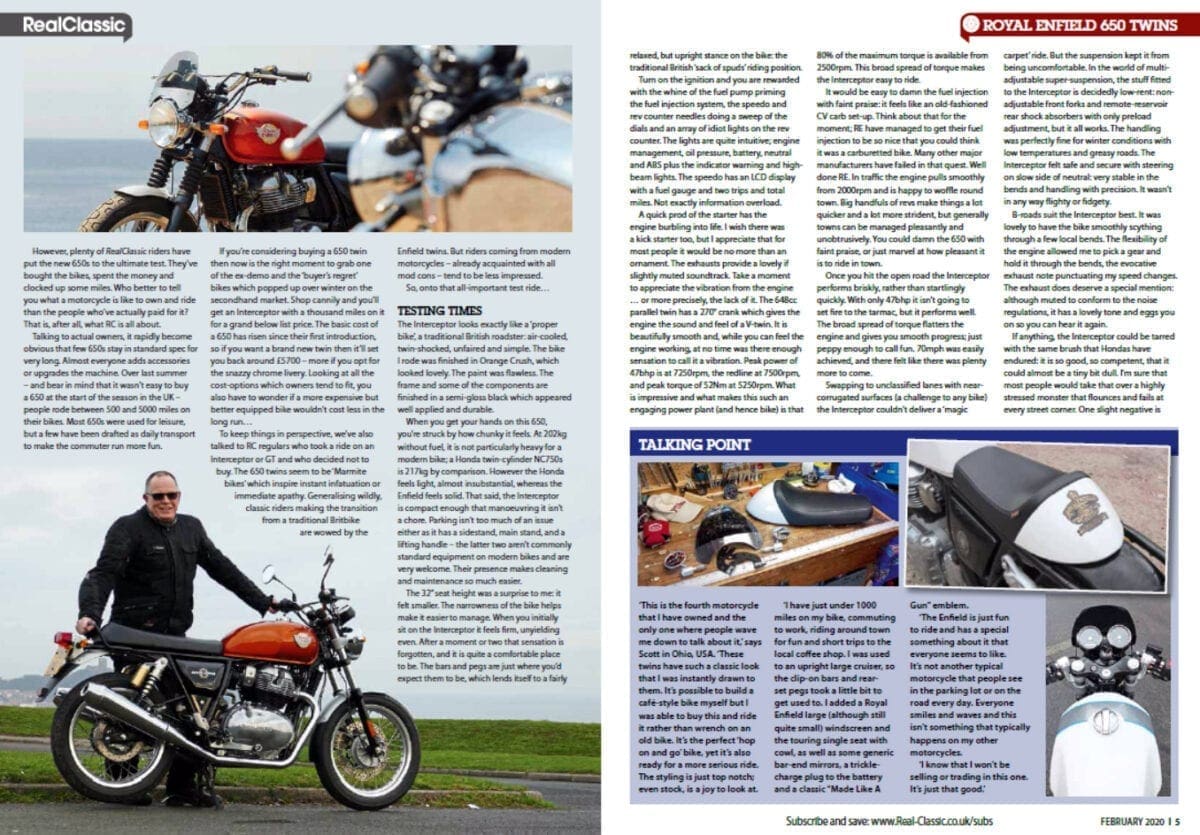 ———
Words by John and Anne
Edwards
Photos by John and Anne, the RC RChive and Royal Enfield
———–
---
Advert
---
Sign-up to the Classic Bike Hub Newsletter
Get the latest classic bike news and updates straight to your inbox… You can unsubscribe at any time.