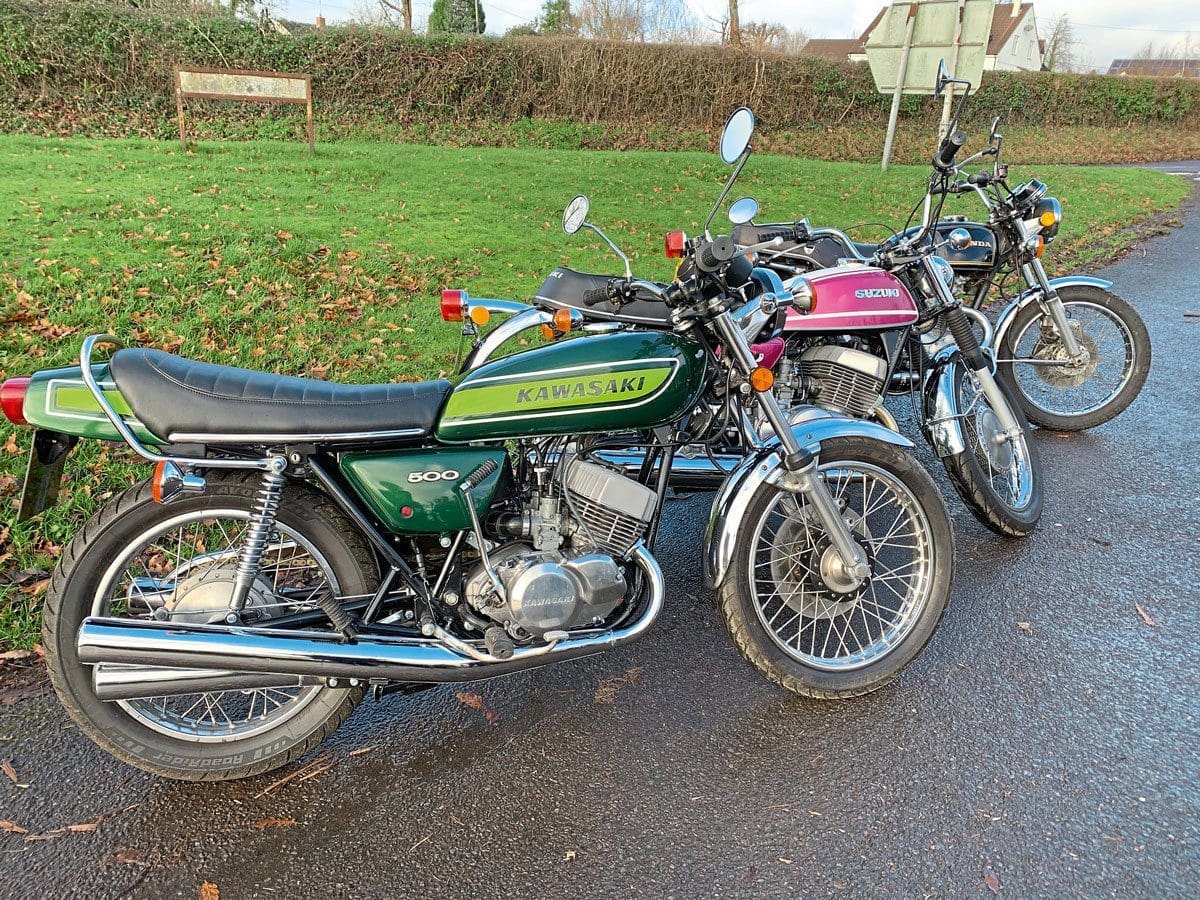 In our quest to uncover practical classics that are easy to live with, we turn to Japanese machines. Enter Mark Redfern, who's in an ideal position to compare three popular middleweights…
There are plenty of people looking for a middleweight, easy to ride classic. We speak to lots of prospective purchasers who come to our showroom wanting a bike which is reliable, light on the handling, reasonably low on the seat height and which looks good when parked outside a café. There are lots of four-cylinder machines from Japan which would fit the bill but that means four carbs to balance, more complexity and, in some cases, spiralling values which put them out of reach.
Maybe a 500 with fewer cylinders would fit the bill instead? Something from the 1970s means historic status so no road tax or MoTs, and the twins and triples of this time each have their own character – they're a long way from later UJMs. A Honda CB500T was an obvious choice. It looks like it was made for people used to British bikes, with its black and gold livery and rounded retro styling. These 500s even vibrate a little, just to complete the similarity.
One of the favourite 500 twins of the time was the Suzuki T500. It's a two-stroke but without the peaky high-end screaming and limited powerband. We needed a third to join the party and I settled on a (slightly) wild card. The Kawasaki H1F is a two-stroke triple and comes from a long line of screaming madcap bikes which would wheelie without provocation and dare you to take corners too fast. After considerable development – all the way through the letters of the alphabet to the F model – the H1 had become much more docile and compliant. Not exactly a pussycat, but no longer a tiger with an attitude problem. So let's give all three a spin…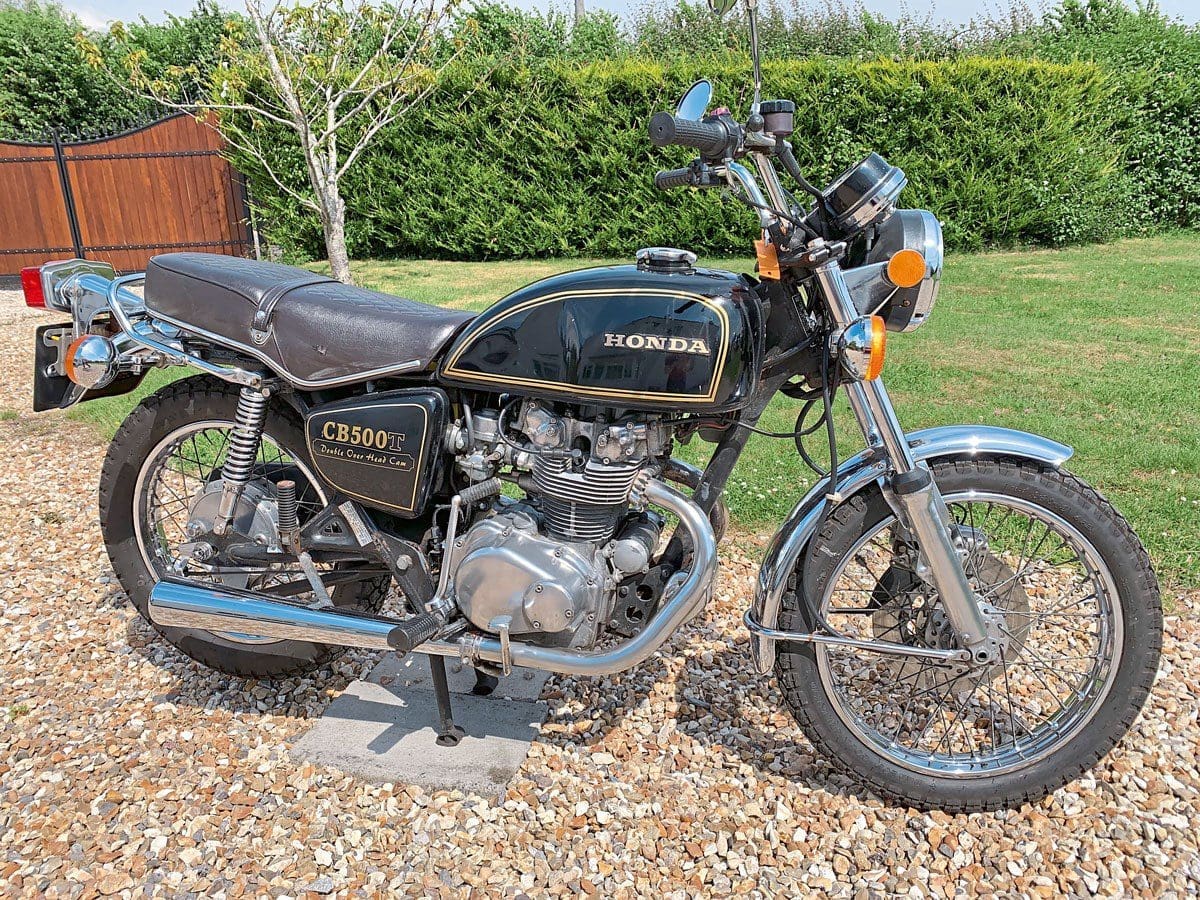 The solid Honda
This is the logical place to start for someone new to Japanese classics. Reminiscent of British twins, it has a pinstriped, subdued paint scheme – so it's dressed in the motorcycling equivalent of a three-piece business suit compared to the Hawaiian shirt of the Suzuki and the Kermit-coloured Kwacker. The CB feels bigger; physically it has more bulk than the more slightly-built two-stroke competition.
The original Honda exhausts have been replaced on our test bike with something more like the Dunstall silencers which were common back in the day. This produces a deeper, louder exhaust note, adding a bit of drama to what can be a somewhat staid choice. It certainly sounds nice and the soundtrack comes with some accompanying vibration, just to let you know you are good to go.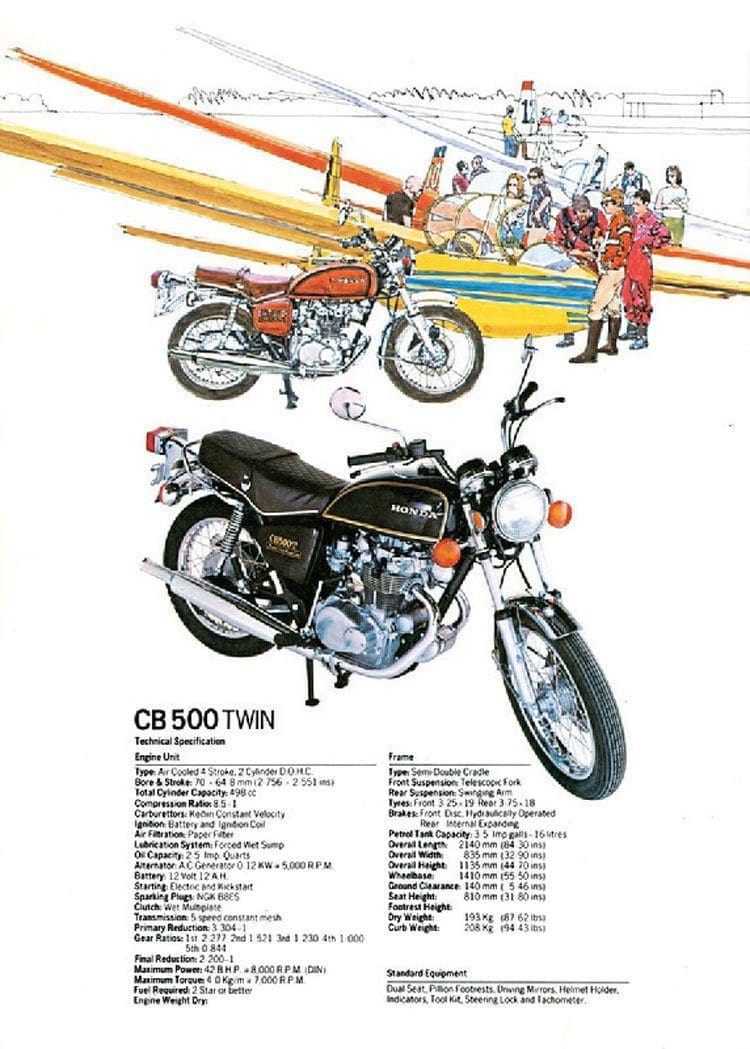 This is the heaviest of our three bikes and I can feel that weight as soon as I swing my leg over the seat. I'm not particularly tall, but I regularly ride heavier motorcycles so it doesn't bother me. If you prefer a lighter bike with a lower seat then the CB might not be as ideal as the others on test here. That said, the Honda is nicely weighted and easy to hold up. The slightly raised bars make for a relaxed position.
Dials are a simple speedo and rev counter, with warning lights for neutral, oil pressure, main beam and turn signals. The choke is positioned next to the carbs and is usually needed just to get things started. Warming up is quick and the choke can be completely backed off after a minute or so. Standard exhausts were always a little quiet on these CBs, but the note of the replacement pipes is more like a bass note as the big twin thumps away happily.
Power is delivered smoothly and progressively in the approved Honda manner and progress is brisk if not jaw-dropping. Power is 42bhp – the lowest output of our trio – and its weight of 460lb makes it the heaviest of them. A Triumph T140 of the time would produce 54bhp and weigh around 415lb, so it feels as if the CB could do with a little more in the way of horsepower. Of course, it's the only machine of our three which comes equipped with an electric start – so the extra mass does bring a significant benefit.
Wringing the Honda's throttle will get you down the road slightly faster, but with much more noise and effort. That said, the motor is willing and still has an unburstable feel to it after all these years. There are no major vices with these bikes so if the motor is oil-tight and chugging away happily then you should be fine.
You soon accept that the CB isn't about pushing hard, it's about relaxing and just savouring the exhaust note, the retro feel and the knowledge that it won't let you down: it is a Honda, after all. Accepting that this is for cruising, not racing, I begin to enjoy it for what it is. The CB will happily cruise down the dual carriageway at 70mph, but pushing it to anything near the top speed of 99 is missing the point. Speed limits are not a problem on this one.
Brakes are adequate (you can never say more than that about any 1970s bike) and the Honda has the added benefit of some engine braking over the two-stroke alternatives. The longer you ride the CB, the more you appreciate it. It isn't trying to be fast or in anyone's face, it's just getting on with doing its thing. You could ride it to work or to the coffee shop everyday if you wanted to.
Apart from original exhausts, parts are fairly easy to come by. There are plenty of spares dealers with original parts and many of the pattern parts are very well made. The CB500T sold in sufficient numbers to ensure a supply of secondhand mudguards, tanks and such which would otherwise by expensive to source.
To me, the CB is a bike you could grow to like and appreciate. It's more like a pot of tea and plate of hobnobs by the fire than a wild night on the town with someone of ill-repute! It won't thrill your socks off or land you in jail, but it might win your heart for its dependability and loyalty. It isn't trying too hard, it just does its thing, time after time. A sensible choice… but what if you want to be slightly less sensible?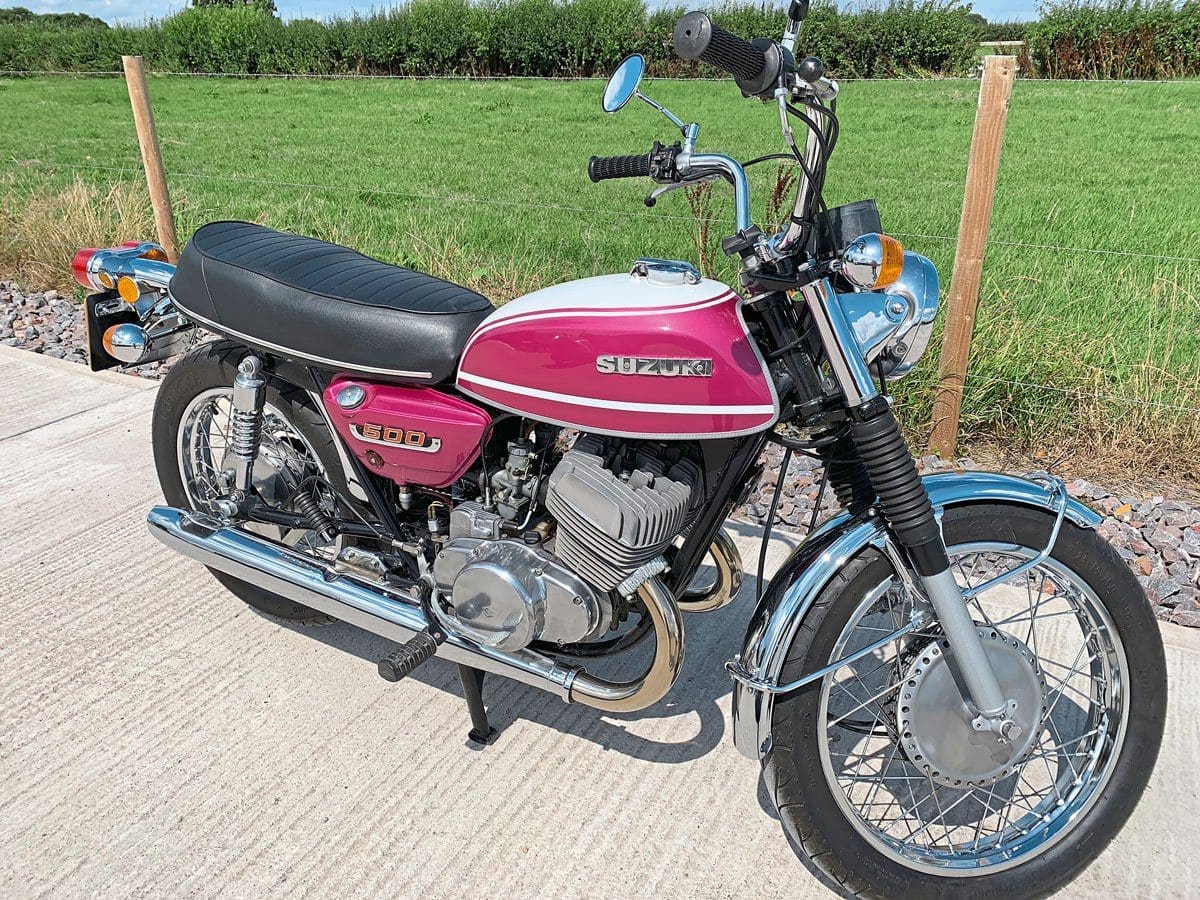 The sensible stroker
My second choice was a Suzuki T500. The test bike was finished in a very period colour scheme of rose and white. All the chrome had been replaced but otherwise the motor was left untouched and showing only around 1400 miles from new. As close to 'back in the day' as we could hope for.
The first thing to notice is that the kickstart is on the left side rather than the right. Everything else is where you'd expect to find it on a Japanese bike. The second thing you notice is the low rumbling noise of the exhaust. No high-pitched tinny popping noises here! Pulling the clutch level causes the rev counter to drop to zero which is a little disconcerting until you find out this is perfectly normal for this bike. Release it and the needle springs reassuringly back up to the correct revs.
I can tell right away that this is a lighter bike than the Honda. Not exactly skinny, but the seat height and the overall size are more compact. The bars are a tad lower than the Honda, giving the Suzuki a slightly (and I do mean slightly) sportier feel. This bike might come from the same stable which produced the legendary 500 two-strokes ridden by Barry Sheene and Steve Parrish, but anyone expecting some family resemblance in terms of performance will be sorely disappointed. Instead you get a sweet, middleweight two-stroke with all the power the chassis can reasonably handle.
Instruments consist of the usual speedo and rev counter with warning lights for neutral, turn and high beam. There is no gear indicator fitted, as favoured on Suzuki two-stroke triples, but the dials are clear and easy to read.
The handlebars have a rubber mounting to absorb some of the vibrations. This can feel slightly strange at first but I get used to it and it becomes part of the bike's character. A steering damper is included, but fiddling with it isn't recommended: best to set the bike up and leave it alone unless you're going track-day racing with it. I remind myself that these bikes are quite rare and sought-after, so I do not go track-day racing with it!
These 500s always had a reputation for being reliable and this one fires up willingly for each ride. Power output is around 44bhp so it's not going to set your trousers on fire, but it will pull nicely and is certainly powerful enough for a run to the coast or the caff. Over several rides I never found myself wanting more power – that would have ruined the friendly nature of the machine. Cruising at 60 to 70mph is easy with power left to spare.
I found the handling to be very neutral and predictable. The T500 wasn't made for scratching around corners scraping footrests, and its modest output means you won't be tempted anyway. If you want a hooligan bike, this isn't for you. If you want a bike which will get you there and back every time then it just might be.
Fuel consumption depends on how much throttle you like to play with of course, but is comparable with most classic bikes, British or Japanese. Certainly the tank is plenty big enough for days out but, as you'd expect, would be on the small side for touring. If that's your thing then the Honda will be more suitable. The T500 needed petrol at about the same rate I need coffee, so we worked well together.
Brakes work as well as they ever did; which is to say nothing better than adequate. Unlike the other two, this has drum brakes on the front. If you're thinking of buying one, check the brake shoes. I've seen them crumble to dust with plenty of meat still on them simply due to age. The linings on this have been replaced, as have the tyres, so all is well on the handling and stopping front.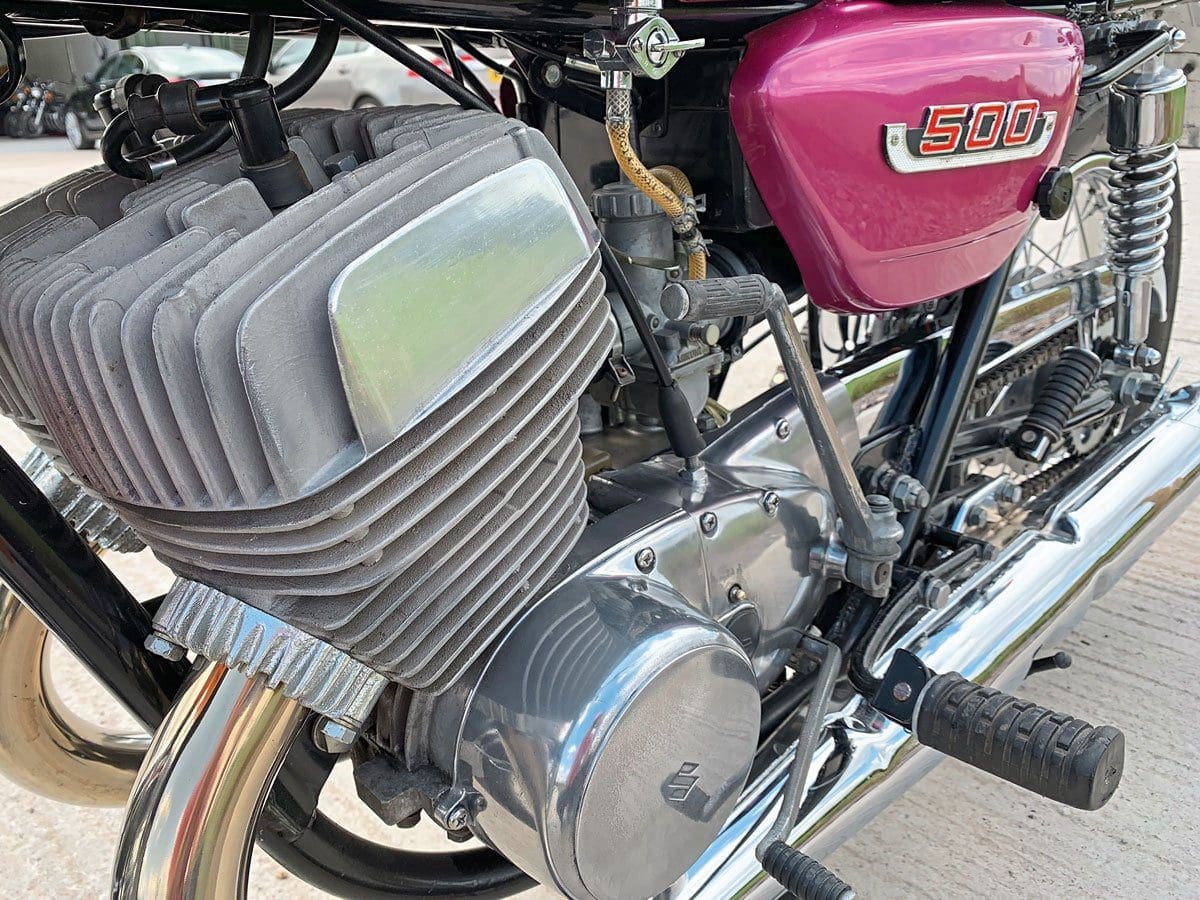 This particular T500 still has its original exhausts. The mudguards were painted silver at some point but have now been chromed using the traditional copper, nickel and chrome method. It now looks better than it would have done with just a thin layer of nickel out of the factory. You will find T500s with their original chrome, which is great, but do check the exhausts for holes and signs of imminent failure such as rattling baffles.
Suzuki, bless 'em, have actually started making many parts for their older machines once more, such is the increase in popularity of Japanese classics. Most parts can be found, except for (you guessed it) the exhausts. Solid secondhand exhausts are still out there, so no need to panic yet.
The T500 might not be the most exciting bike you'll ever ride, but it will certainly put a smile on your face. Overall the Suzuki is a little more racy than the Honda but still quite sensible. So what if you want to be a bit more radical than that?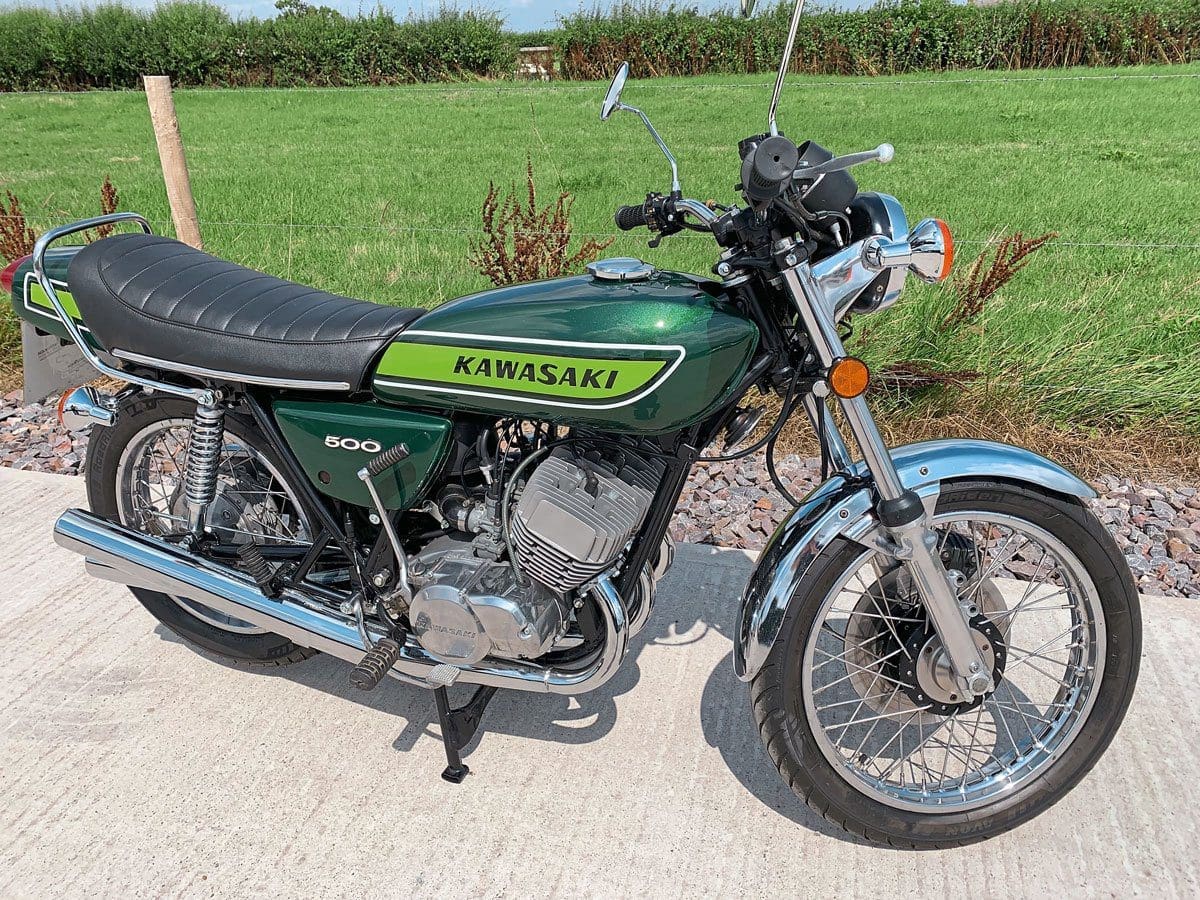 The wild card
Next I rode the famous Kawasaki triple. Our test bike is an H1F. It's a bike I know quite well because I own it. I had it restored from a US import and kept it faithful right up to the paint job. I wanted to keep everything as it should be but then I faced a dilemma.
For the year in question, 1975, Kawasaki offered two colour schemes. You could have two shades of blue, not bad, but neither of them was the gorgeous but weirdly named 'Halibut Blue' of earlier 250 models. I opted for the classic candy lime green over dark green. OK I cheated, but the results look fantastic. Unusually the restorer also managed to get the exhausts re-chromed. It's very rare that this happens nowadays as the carbon in the pipes ruins the chrome bath, making it useless for anything else afterwards.
This is the last of the H1s and so is somewhat more muted than the early models, which were prone to wheelie at the slightest provocation. By the time of the KH500 (the very last of the breed) power was down to a still respectable 50 horsepower, but the stroker had become too civilised for its own good. No one bought these to be civilised!
Sitting on the Kawasaki after the other two, the first thing I notice is how small it feels. The Honda feels quite chunky; the Suzuki feels like a 500 should but the H1 feels more like a 250. Easy to ride and push around the garage but arguably not as planted on the road.
The usual speedo and rev counter are complimented not only by warning lights for neutral, turn and high beam but also one to show when the stop light is lit. Not that you need to be reminded you're braking but I guess you know the lamp is working.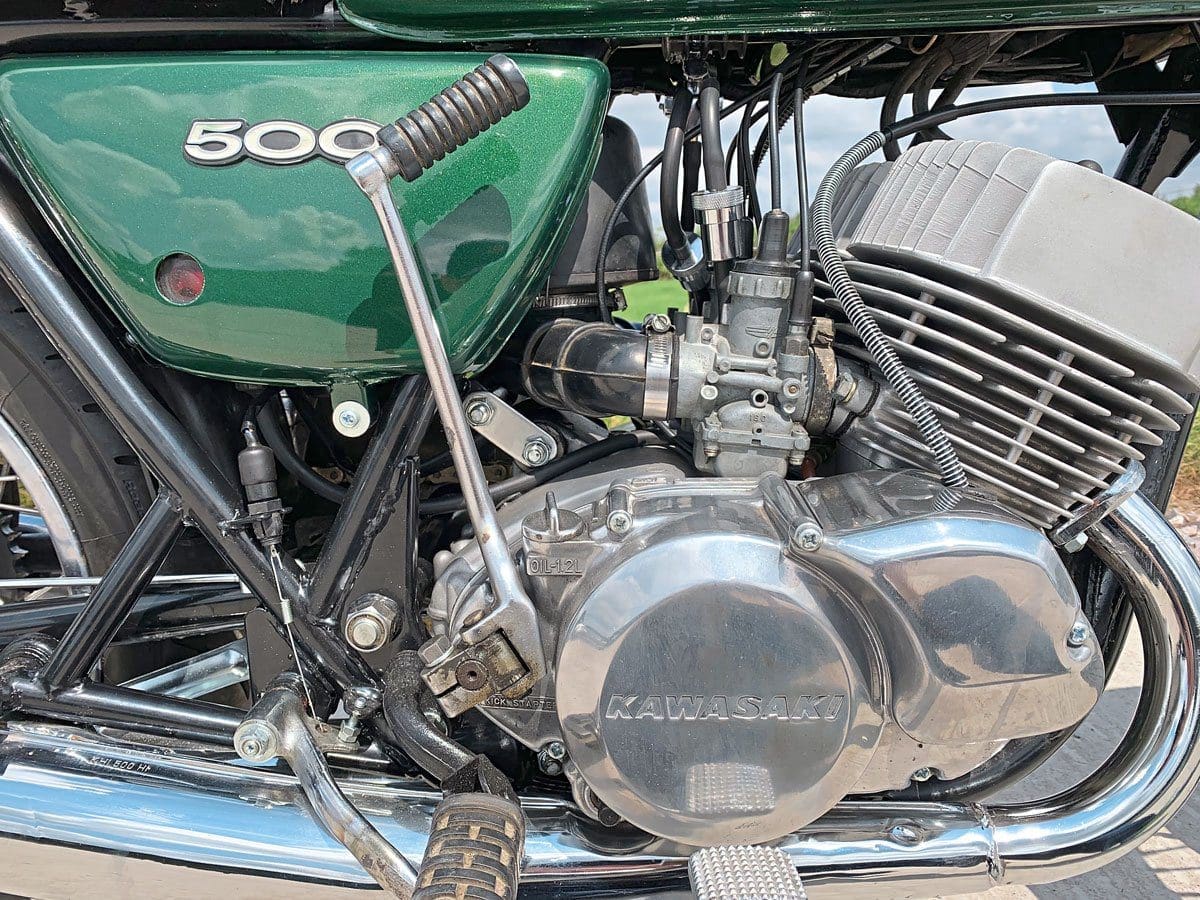 The kickstart is where you would expect to find it on a Japanese bike and soon the motor is singing and popping away happily. You soon realise that this engine needs a lot of choke when cold. Unlike the Suzuki, which soon warms up, this one is best left to run on choke for a minute or two before setting off from cold.
The next thing you realise is that the gears are not the usual 'one down and all the rest up', in this case they are 'all up' Not a major issue, but something to remember when sat at the lights, stabbing the gear level downwards…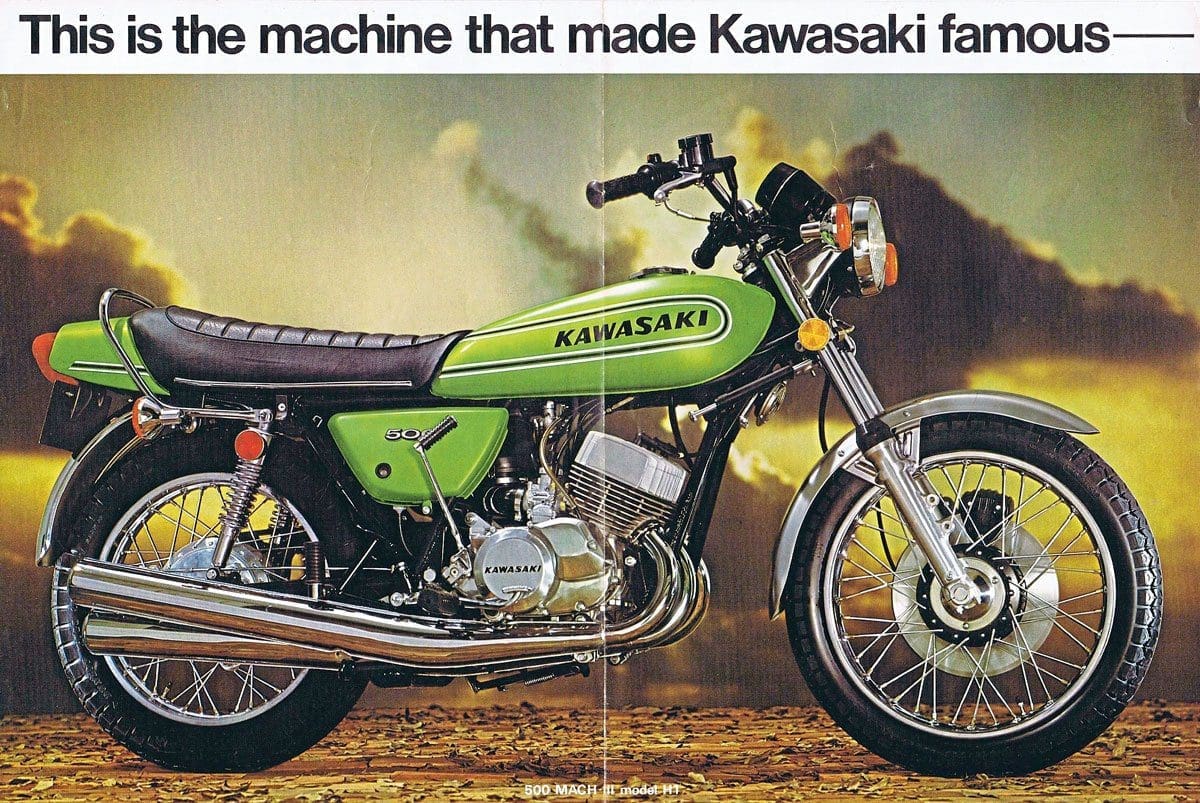 The exhaust note is instantly recognisable and, unlike the Suzuki's growl, this bike just wants to howl and announce itself to all around. The three cylinders crackling away do sound nice, but it does like to drink its fuel. Using the available performance of the engine will result in a gallon of the good stuff disappearing in not much over 20 miles. That's scary territory if you need to commute, not so bad if you're just off to the caff with your mates. If you measure that fuel consumption against the size of the motor then it's crazy… but if you measure it against the grin factor then it's a bargain. Put your sensible trousers on and you should see over 30mpg, giving a range of about 100 miles.
Running up the revs reveals a true two-stroke power band. Take the H1 above 6000 revs and it really takes off. This isn't a bike designed to be easy to live with. It's designed to give you something to do on a ride: keep it in the power band. If you want to bimble along admiring the scenery, there are better choices. You can certainly cruise at the legal limits with the H1 but it will always be urging you to play harder.
At higher speeds it becomes more important to remember that the brakes are no better than adequate. Take some time to make sure they are set up properly. Slowing the motor produces no engine braking from the two-stroke powerplant, but even this model of the H1 is very light – under 400lb – so there's little dramas if you plan your deceleration appropriately.
When buying any two-stroke, try to find out as much as you can about its history. Two-strokes can go bang much more rapidly and with less warning than four-strokes. In this case the motor was rebuilt by one of the leading H1/H2 experts in the UK, with pictures of the rebuild to prove it.
Delivery of the critical two-stroke oil to the motor is vital, so check that the oil delivery system is working perfectly. When riding, a quick glance in the mirrors should provide a reassuring slight blue haze, not a massive cloud of blue fog. No smoke at all would be equally worrying.
There aren't as many parts dealers for these Kawasakis as there are for Honda or Suzuki machines, but the H1 series are still very popular bikes and parts are out there. The build quality isn't up to Honda standards so look for a pampered example, kept under cover and used for dry rides.
The H1 is a totally different ride to the Suzuki but no less fun. A bit more shouty and not a machine for a shrinking violet. Its rarity means that it definitely attracts attention.
Which bike?
Which one is best? It depends on what you want. If you want to let people know you're coming before you get there, then the Kwacker will announce your arrival like no other. If you want to wait until you get there to turn heads then the Suzuki will provide enough drama, and send a little smoke signal just to make the point. If you don't care about making an entrance but want a reliable ride and easy starting then the Honda will do both of those.
None of these bikes have any major vices and all should reward simple regular maintenance with good reliability. Owners of older British machines shouldn't find them hard to maintain, although the Honda's engine will feel more familiar – even if it does come with double overhead cams. If fuel efficiency is a concern then the Honda easily wins by delivering more than 50mpg.
Unless you really push these bikes to their limits you shouldn't find any issues with handling or performance in today's traffic. Don't be put off by the drum front brake on the Suzuki; when the bikes were new it was more effective at stopping the twin than the disc brake on the (lighter) Kawasaki triple.
Perhaps it all comes down to price. These bikes might not have been massively different in price when new but they are now. At the start of 2020, the Kawasaki was priced at £7995, some way ahead of the £6250 needed to buy the Suzuki. The Honda is much cheaper than either at just £2995. Is the H1F worth twice as much as the CB500T? Only you know the answer!
I like to chop and change my bikes and have not owned a T500. So that would be the one I'd choose to have in my life for a while. Until I see the next thing…
---
Advert
---
Sign-up to the Classic Bike Hub Newsletter
Get the latest classic bike news and updates straight to your inbox… You can unsubscribe at any time.