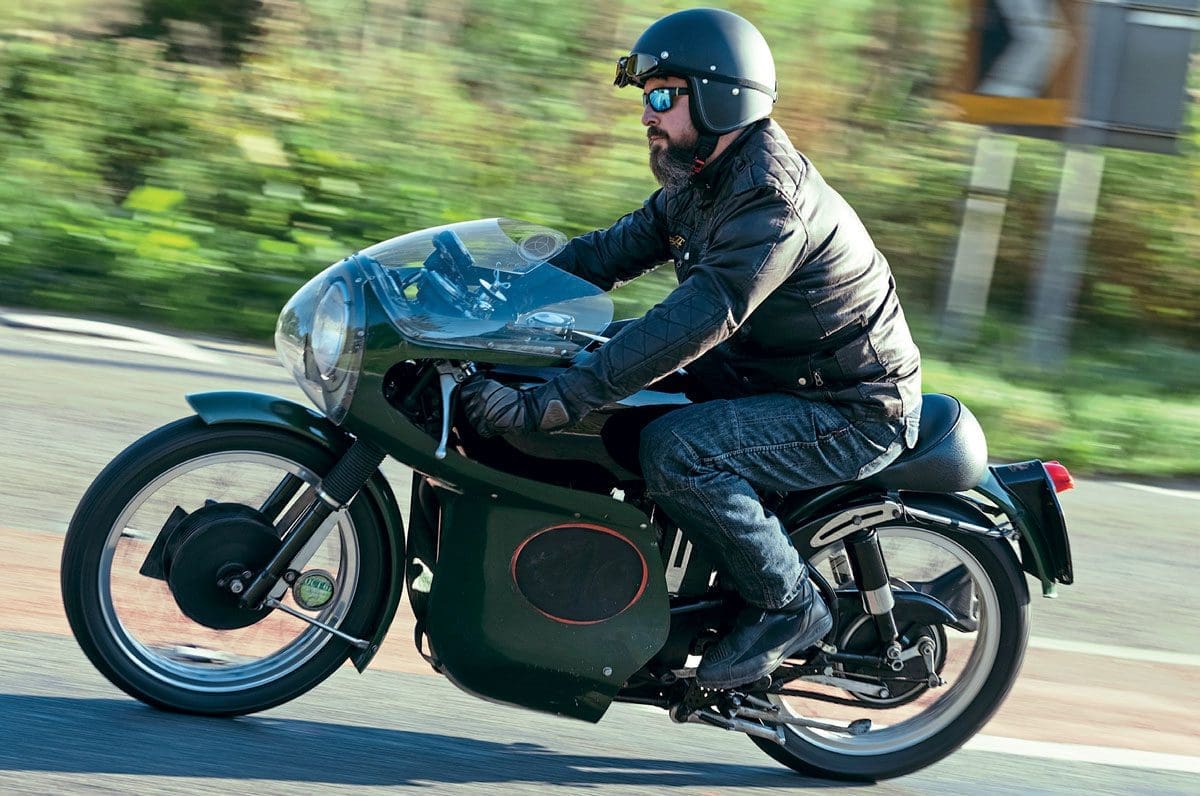 If you fancy the idea of a classic road racer, a Velocette Venom could be ideal – but read this first – they're not for everyone. We have here a wonderful example of a Venom that has always been ridden the way it was meant to be, for all of its two-owner life. And those two owners remain friends.
As I pulled into the pub car park, my mate Sean was practically hopping up and down with excitement. "You have got to see this," he said and dragged me to an old British motorcycle with a full racing fairing, which was causing quite a buzz.
This Velocette Venom Clubman is one of those motorcycles that grabs your attention. And a closer look makes you realise just how special this motorcycle is.
There's a lot to be said for patina, but this Velocette doesn't have patina, it has something else entirely. You can see that everything on there has been carefully chosen and expertly looked after, with a single aim; to make this 500cc pushrod single blisteringly fast.
Jody, who rode it in had owned it for just a few days. We chatted briefly, before Jody decided that 60-year-old lights were best not relied on for a twilight ride home. We exchanged phone numbers and he straddled the Venom, adjusted the various levers and tickler and with a practiced swing, the Venom burst into life with exactly the deep bark you'd expect from a venerable creature of such remarkable provenance.
You see, Jody is just the second owner. The Venom Clubman Veeline had been bought on May 25, 1961, by Brian Barrington and had lived locally ever since, only leaving its home county for the occasional road run or to be loaded into his Ford Thames van for races. He would turn up at Thruxton on a Saturday, then drive to Brands Hatch on a Sunday and then load back up for the drive home to his Taunton workshop for post-race fettling and preparation for another weekend's racing.
The Clubman was being raced well into the 1970s and winning with Brian on board, picking up trophies and many wins at Brands, Thruxton and Staverton airfield (now Gloucester airport) into the mid-1970s. At a snowy race at Cadwell Park in 1975 Brian came in second. The Velo's life as a racer ended in 1976, and since then it has covered 10,000 on the road, with just 100 miles covered since 1995.
Jody explained how he came into possession of the Clubman: "I've known about it for about 10 years and asked Brian if he would ever consider selling it. He said he might eventually, and last year my dad asked him again, but was told not yet.
"In May he said that now he had owned it for 60 years, it was time to pass it on. It was sitting in his living room. He said he wanted someone to ride it as it was meant to be used and it was a shame to have a bike doing nothing. It could have gone to an auction, but this way he could be sure it was going to be used again and not just sit as part of a collection."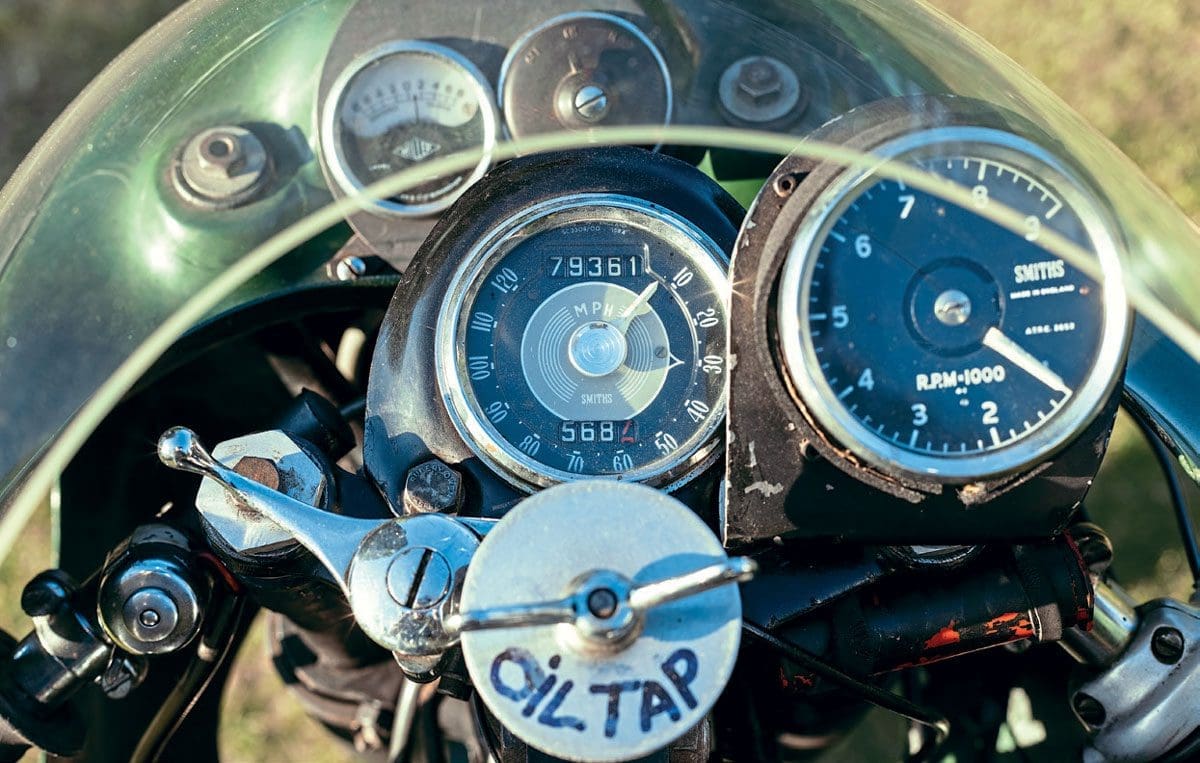 Watching Jody power the Velocette through the bends makes it clear the Clubman is in good hands. It snarls past spitting, erm, venom. They really don't make motorcycles like this anymore.
Jody says: "The thing about Velocettes is they are massively over-engineered. Once you've got them going there's not a lot that can go wrong. It's ever so smooth, and there really is no vibration coming through whatsoever, at any speed.
"It's done about 80,000 miles, and I'll ride it as it's meant to be ridden. I don't want it to stagnate, but I won't do lots of long rides because it's so very uncomfortable. I've put 500 miles on it since I got it with the longest ride around 60 miles.
"After that ride, my backside was in agony and my arms and shoulders too, as all your upper body weight is pushed forward onto the clip ons. The seat is so narrow it cuts off the supply of blood to your inner thighs! But it has to be used or it will start to degrade."
Jody says that once the Clubman gets going it is lovely to ride, but it does not like getting caught in traffic. On a run down to Weymouth other vehicles slowed everything to a crawl, and the first gear is so tall that it turned out to be easier to paddle it along in neutral, so the narrow seat did come in handy for that.
Brian later revealed that the clutch had been rebuilt many years ago using the friction material borrowed from a British Army tank. "It doesn't slip at all," says Jody.
The trip home from Weymouth was a lot easier than the journey to the coast: "We came back in one hit touching 60-70 in places. Below that it was just too uncomfortable."
The Venom is far from standard. Built for racing, it has a close-ratio gearbox that does 45mph in first, 70mph in second, 90 in third and 100 plus in top – it's been clocked at 110mph.
A GP II carb as used on the Thruxton is fitted and the Venom petrol tank has been modified, with the cutaway normally seen on the Thruxton added to allow the use of the larger capacity Venom tank and access to the carb.
With no decompressor and no choke, it can be a challenge to start from cold: "You have to flood it with the tickler and open the throttle all the way. It's not a problem when it is warm, though," says Jody.
The fairing isn't the Veeline the bike would have come with, but a genuine Thruxton item. The Clubman has non-standard Dunlop alloy rims and a special twin leading shoe front brake, supplied by Geoff Dodkin with what looks like a hand-made air scoop.
It has a later Thruxton oil tank with the mesh plate on the outside to protect the rider's tucked in leg from burning on the heat from the hot oil within. The rockers have been lightened and there is a Venom head with a stock cast iron barrel.
"Brian kept that at standard bore to make sure it was 499cc and could keep racing in the 500cc classes. The exhaust is swept up at the back to improve ground clearance and the front downpipe has been flattened on one side to stop it grinding. Brian could really chuck it about. He did pop round the other day with his original megaphone racing exhaust, which might be a bit loud for road use…"
Jody has already taken the head off to decoke it, is making some slight adjustments to the ignition timing to help the Venom cope with modern fuels, taking advice from Brian. For once the original Haynes manual can be relied upon too, having been written with Velocette guru Geoff Dodkin.
If this Venom isn't still thundering around at high speeds when it meets its century in 2061, it will only be because we can't buy petrol anymore.
Referring to paperwork 
If you have ever looked at your bike and wondered where it has spent its life, the sheaf of documentation that came with the Venom Clubman will make you green with envy.
There is a letter from Veloce Ltd confirming the warranty on the Venom, details of assorted tuning upgrades and rebuilds including one from 1964, from A R Taylor of Shipston on Stour to strip the engine, check the cylinder bore, fit new big end rollers and provide a stage one tune, fit a new crankpin, and one valve guide (£25/10s).
There is a hand-written note explaining how retarding the camwheel by one tooth affects the valve timing. In 1966 the engine needed another rebuild by A R Taylor, thanks to problems with the top end.
There's an original workshop manual and more handwritten notes including torque settings, all accompanied by a stack of pictures of the Velocette in its sporting heyday.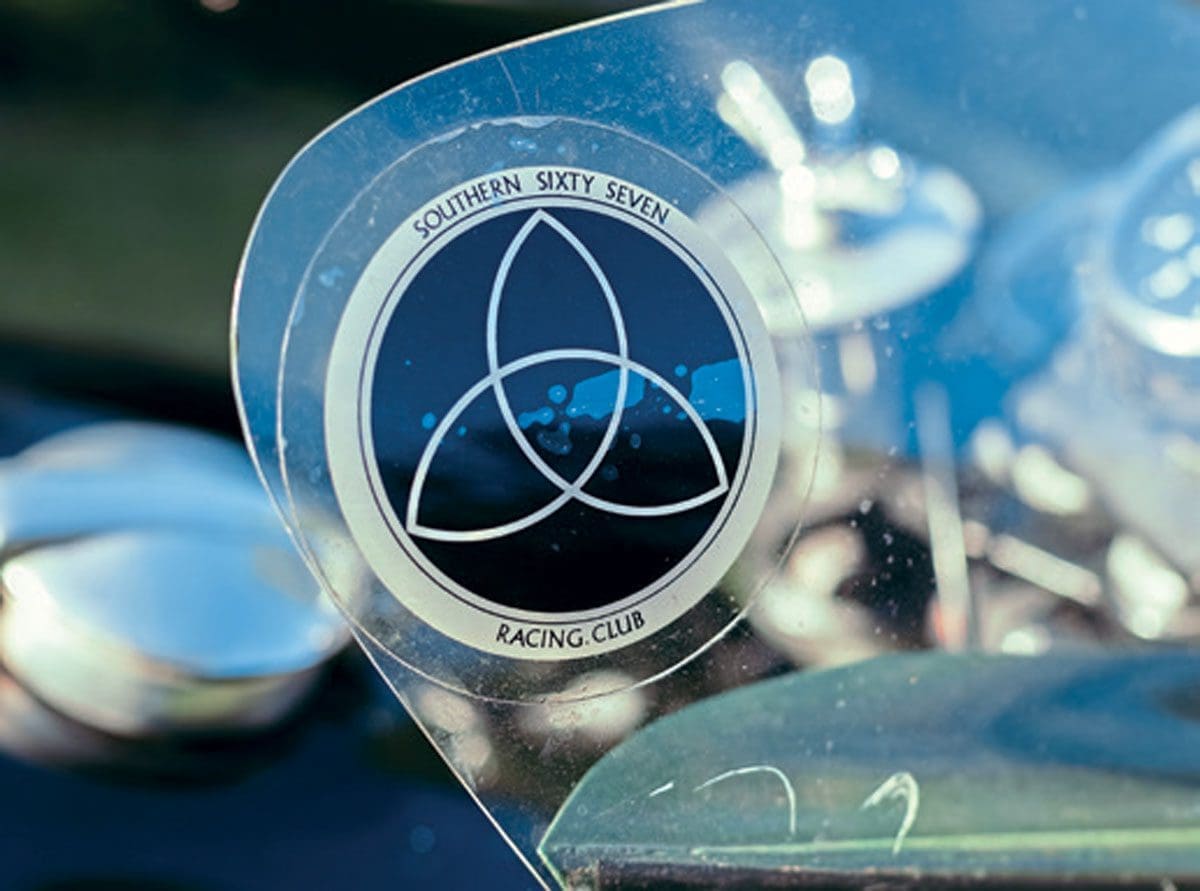 History lesson: The Velocette Venom Clubman
As Velocette entered the 1960s, their Sports models, with their glass fibre engine enclosures had been something of a damp squib. The LE twin was not the success that the pundits had predicted either.
The more conventional sporty singles, the Viper 350 and Venom 500 did sell, despite being expensive, The Viper cost more than a 350 BSA Gold Star and the Venom more than a BSA A10.
There was obviously only one thing to do. They would make the already rapid Viper and Venom faster and more expensive, and thus were born the Clubman models.
The Clubman models used a TT carb, BTH racing magneto and to cater to the machine's racing intentions there were rear-set footrests, a reversed gear lever to avoid the need for complicated linkages and a close ratio gearbox.
The compression ratio was raised too and there was a new design for the piston. Engine casings previously encased in glass fibre on the Sports models were polished instead.
There were changes to the exhaust to tuck everything in. Levers got ball ends, which passed for exotica in those days, and there were extra stiff two-way damped forks, which were great for the track, but testers reported them unforgiving on the road.
Other detail changes included modern petrol taps rather than the old cork sealed sliding units that had sufficed for years but couldn't cope with the flow of fuel needed by the TT carb.
You could buy a Venom Clubman in the classic black and gold colour scheme, but you could also get them in red and black or white and black. The Venom Clubman turned out to be just the thing to fill a niche, as most British factories were discontinuing their high powered but expensive road and track big singles in favour of unit models that were cheaper to make.
In 1962 the Veeline models arrived, fitted with the Avon Sports Dolphin fairing designed by Doug Mitchenall. He had been making bodywork for some time and was responsible for the look of the radical and ill-fated Velocette Vogue.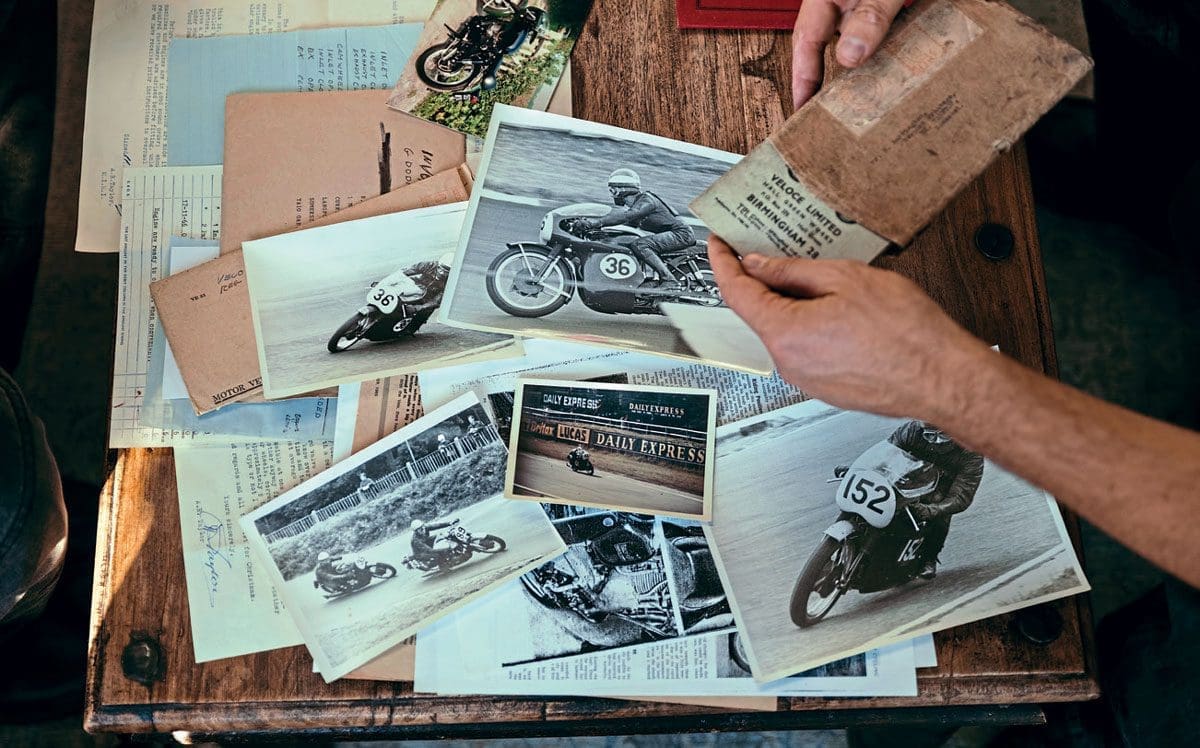 The Veeline fairing was based on the one used on the record-breaking Venom that had averaged 100mph plus in a continuous 24-hour run at Monthlery. Few production motorcycles were supplied with race-replica fairings out of the factory in 1961, and the apparent benefits of improved weather protection were as important as the increased top speed the aerodynamics provided.
The fairing was also supposed to reduce fuel consumption, though one doubts this would matter to the average Clubman buyer, whose pocket had already been lightened considerably.
The petrol tank had been redesigned and was bigger than before, with alloy strips that covered the bottom seam and squared off plastic tank badges, the appearance of which splits opinion.
Seats later got slightly wider, which was a welcome move for riders who had endured uncomfortable amounts of heat from the oil tank touching their inner thigh. Shock absorbers soon became Girlings.
The Clubman stayed as the top of the range Velocette 500 until 1965 when it was overshadowed by the new Thruxton, which added 3bhp to the power of the single.
In 1967 there was new Clubman MkII which buyers could adapt with Thruxton parts, including the cylinder head, which had a big inlet valve and strengthened carb inlet. Clubman buyers could also request the Thruxton front brake.
The forks could take chrome brackets for the headlamp shell and chromed fork tops, so that clip ons could be fitted to replace the Monza ace bars that were fitted as standard. The gear shift was by now fitted with a linkage rather than a reversed pedal and there were changes to the engine breathing system as well.
In 1968 the supply of new magnetos dried up and Velocette were forced to adopt points and coil ignition as standard, though they did retain the old belt driven dynamo.
While some felt the new set-up improved low speed running and ease of starting, the Lucas mechanism lacked reliability and many Velocette owners reverted to magneto ignition.
In 1969 Velocette's only singles were the Thruxton and Venom Clubman MkII models which by then were something of an anachronism in a world where motorcycle design was progressing in leaps and bounds.
Production of Velocettes ended with the last LE flat twins leaving the factory as the police orders for the little side valve dried up, and Velocette went into voluntary liquidation in February 1971.
What the papers said: Motor Cycling, May 1961
'Here's a machine for the man who likes to hurry. The Venom Clubman comes complete with all the equipment needed by the rider who wants to tuck his head down.
At £320-odd the customer has a right to expect something good for his money. If our sample was typical, he should be a very satisfied man. With the motor working well and the speedometer needle nudging towards the 80s and 90s the position was good. But it would not be too comfortable for long spells at the 50mph maximum being imposed on many roads this summer.
The Velocette Venom Clubman Veeline is a mount with which to enjoy hard riding. Capable of handsomely breaking the ton. It can keep going at high speeds for as long as fuel or rider permits. It conforms to the best single-cylinder traditions and carries all the honour of an important world's record. Here in fact is a true thoroughbred. The man who buys this is buying bloodstock and he is not paying too high a price.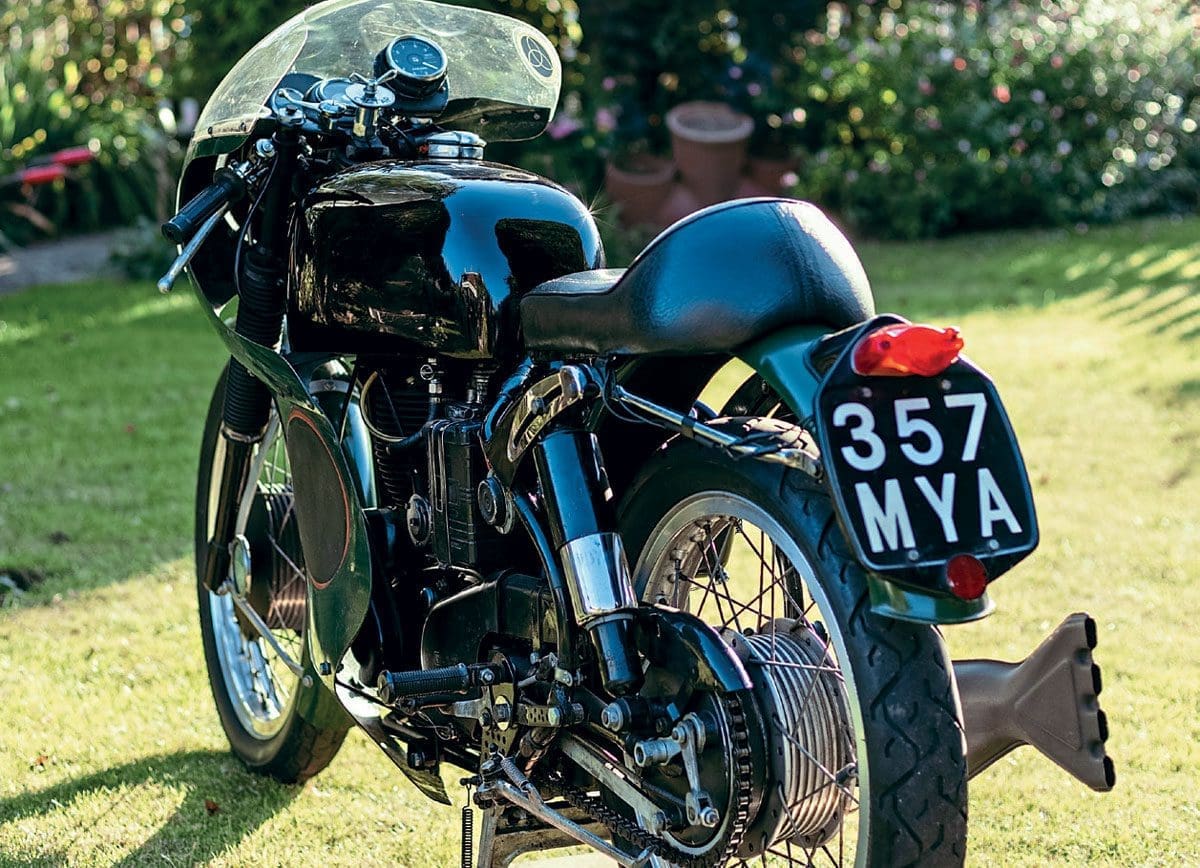 How to buy a Velocette
If you know nothing about Velocettes, great care should be taken when buying one. Venom Clubman and Thruxton models command premium prices and turning a more cooking version of a Velocette single into either is not hard for the enthusiast, and sadly, the unscrupulous.
Find a marque specialist and ask them for help. Fortunately, it is hard to find a Velocette owner who is not passionate about their machine or more commonly machines, to give you a hand.
Velocette ownership is often said to be something that should be restricted to engineers, at least if you want to keep it running, so some skills on the part of an owner will be useful.
The owners' club has a superb spares scheme for members only, but you don't have to be a Velocette owner to join, and the club is a good source for those looking for a decent machine.
As well as the club there are suppliers offering 12v conversions, starter motor kits, Belt primary drives and five and six-speed gearbox conversions. Acquiring a Venom Clubman is not going to be cheap or easy, but the returns in riding pleasure make it worth it.
---
Advert
---
Sign-up to the Classic Bike Hub Newsletter
Get the latest classic bike news and updates straight to your inbox… You can unsubscribe at any time.