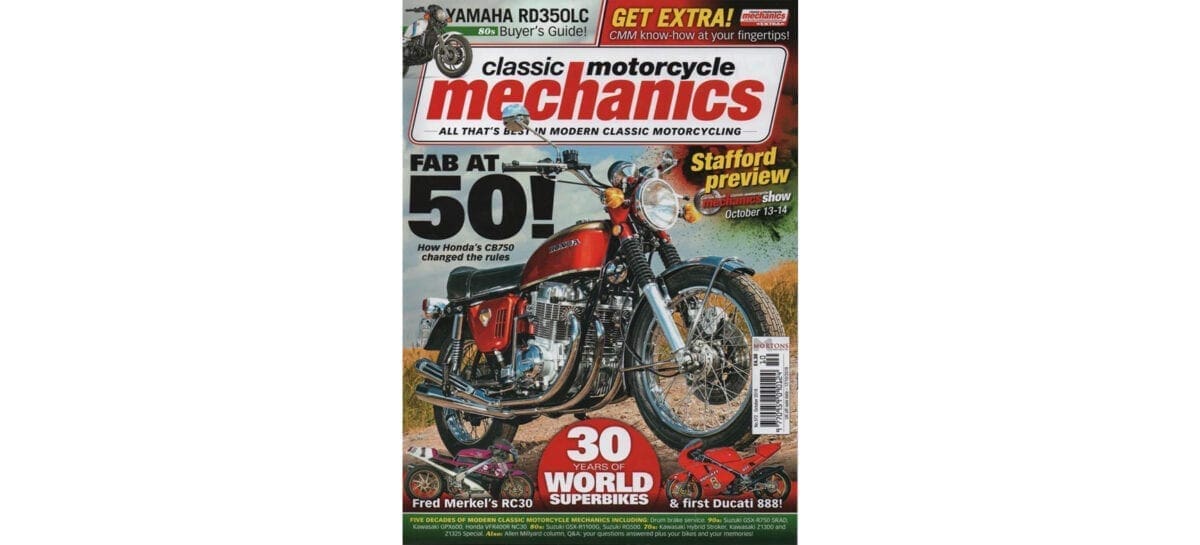 The latest issue of Classic Motorcycle Mechanics is out now! Get yours at any discerning newsagent or subscribe to get your copy delivered every month.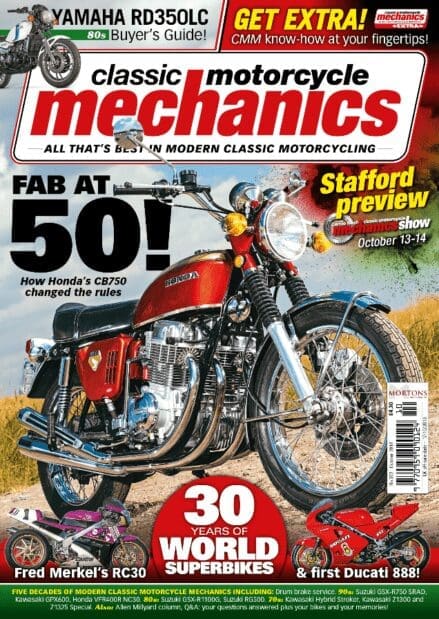 ARCHIVE
The legendary CB750…
CMM MARKETPLACE
Wanna cheap CB750?
CMM STUFF
New kit, tools and stuff.
CMM TESTED
We try stuff out.
NEWS
Events and news.
FEEDBACK
WIN Bridgestone tyres!
SHOW US YOURS
WIN S-Doc cleaning kit and Tamiya kits!
DUCATI 888
Mark Forsyth finishes it!
STAFFORD SHOW
We chat with Terry Rymer.
WSB AT 30
World Superbikes' best bits!
HONDA CB750
John Nutting says happy 50th!
CB750 BUYING
Paul Jayson on prices for the original machines.
RUMI HONDA RC30
World Superbike title winner of Fred Merkel.
RETRO REBOOT
Suzuki's GSX-R1100…
Q&A
Mark Haycock with a page of tips.
KAWASAKI Z1325
Ralph Ferrand sorts out the forks.
HONDA VFR400R NC30
Craig Prior finally strips the V4.
ALLEN MILLYARD
Gets the frame sorted.
SUZUKI GSX-R750 SRAD
Scott Redmond puts a damper on his frame woes.
WORKSHOP: DRUM BRAKES
Steve Cooper cleans and services!
KAWASAKI GPX600
Andy Catton on servicing and stripping stickers!
YAMAHA RD350LC
Scoop's guide to buying the legendary LC.
KAWASAKI Z1300
Ralph sorts out the timing.
SUZUKI GSX-R1100G
Martin Child is back on with this hybrid classic/modern.
KAWASAKI HYBRID
Scoop's chassis rolls…
SUZUKI RG500
Jeff Ware strips the square four motor. What does he find?
PIP HIGHAM
This month, Pip recalls some more yarns.
---
Advert
---
Sign-up to the Classic Bike Hub Newsletter
Get the latest classic bike news and updates straight to your inbox… You can unsubscribe at any time.