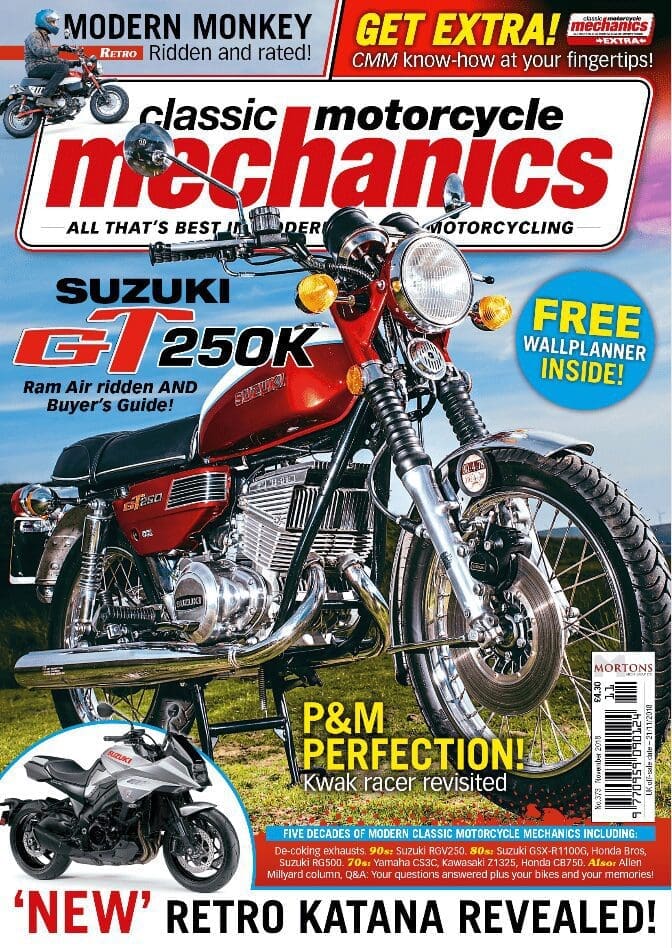 The latest issue of Classic Motorcycle Mechanics is out now! Get yours at any discerning newsagent or subscribe to get your copy delivered every month.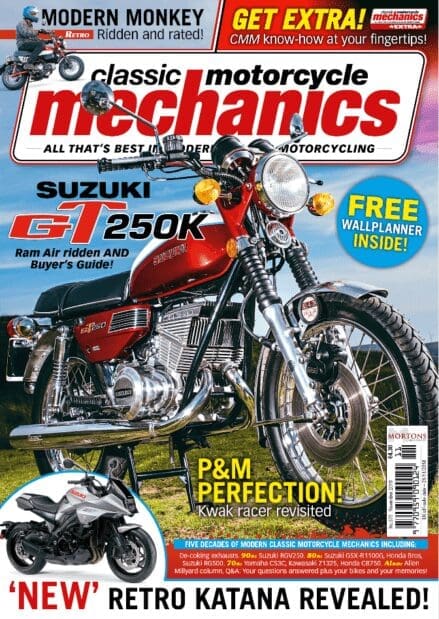 ARCHIVE
The FP1 is 16 years old
CMM MARKETPLACE
Suzuki has seen fit to re-release the Katana…
CMM STUFF
New kit, tools and tyres and stuff.
CMM TESTED
We try stuff out.
NEWS
Events AND news.
FEEDBACK
WIN Bridgestone tyres for our star letter!
SHOW US YOURS
WIN S-Doc cleaning kit!
BIMOTA KETTLE
Austrian reader Wolfgang with his special brew bike!
HONDA CB750
A look at the celebrations at the David Silver Museum.
SUZUKI GT250K
Steve Cooper rides a learner-legal classic!
KAWASAKI ZEDS!
'The Way We Were' special!
P&M RACER
John Nutting on the legendary Kwak racers.
HONDA MONKEY
Ross Mowbray on the latest tiddler to carry the name.
RETRO REBOOT
Moto Guzzi's beautiful 'MGS-02'.
Q&A
Mark Haycock with a page of tips.
KAWASAKI Z1325
Ralph Ferrand finishes the forks.
HONDA NTV650 BROS
John Nutting returns with his Honda twin.
ALLEN MILLYARD
Allen gets on with the exhausts.
HONDA FIREBLADE
Scott Redmond begins his 'Breaking Bad' series.
DE-COKE EXHAUSTS
Steve Cooper shows you how.
SUZUKI RGV250 VJ22
Jeff Ware starts this V-twin two-stroke engine build.
SUZUKI GSX-R1100G
Martin Child sorts out the wiring loom among other things.
HONDA CB750 K2
Mark Haycock is back and sorting the aesthetics.
KAWASAKI ZZ-R600
Is this a 'coming classic'?
SUZUKI RG500
Jeff Ware gets on with the chassis.
PIP HIGHAM
What did Pip do to keep his early steeds on two wheels?
---
Advert
---
Sign-up to the Classic Bike Hub Newsletter
Get the latest classic bike news and updates straight to your inbox… You can unsubscribe at any time.