These two may look alike, but do they supply the same emotions? It's a battle of the classic four-cylinder Kawasaki Z650 versus it's twin-cylinder doppelgänger – the modern Z650RS 'retro'. Game on!
Words: Bertie Simmonds
Pics: Paul Bryant, Gary Chapman, Mortons Archives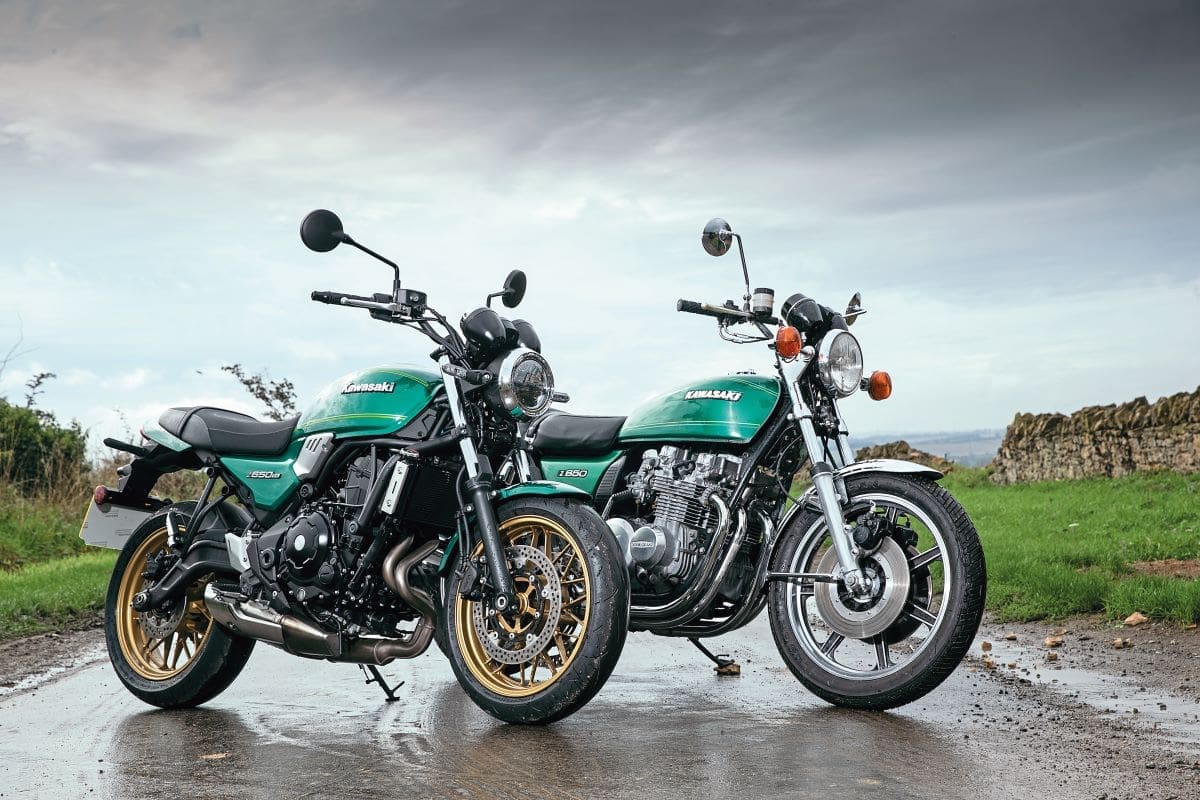 Kawasaki has always done the retro thing well – and often 'first', too. Even in my 20s I loved the look of the Kawasaki Zephyr range, copying as they did the original big Zeds of old – the bikes that my uncles would turn up on and the bikes I was plonked on top of as a kid and the first bikes I would pillion on.
Zeds were in my blood, so the 1990s Zephyrs were attractive to me, even if I was (back then) a dedicated sports-bike nut…
Of course, for some the Kawasaki W650/800 is more their thing, and – moving later on – the ZRX1100/1200R, of which I've owned a few and which (like the Zephs) are now classics in their own right. I was lucky enough to use a Z900RS for a few months and enjoyed it. Even though I knew it wasn't an original, it still prompted an outpouring of emotion for bikers of a certain age when it was parked up. You'd see the double take, then the realisation (as they got closer) that it wasn't an original Z1 at all…
And so I was expecting the same with the Z650RS – but perhaps less so. Less so because, well, I'm sure I'm not the only person disappointed to realise that this bike had only TWO cylinders. And – nice as a twin can be, it would be like Yamaha making a single-cylinder four-stroke LC… right?
Erm… maybe not, but let's do first impressions. I love the look of it – in candy emerald green. Being the same colour as the original (and best) Z650 model makes this special – any other colour, just isn't for me I'm afraid and I feel the same way about the 900RS. My guess is that Kawasaki thinks the other colours (metalling moondust/grey ebony or black) perhaps suit people/riders who don't have that connection with the original. I'll pay the extra £150 for green, thanks, and the extra 80-odd quid for the 'original'-style tank badges… Why is this even extra, like the grab rail or the helmet lock? That said, in this scheme the bike looks beautiful, and adding to the look are those gold wheels with almost spoke-like thinness.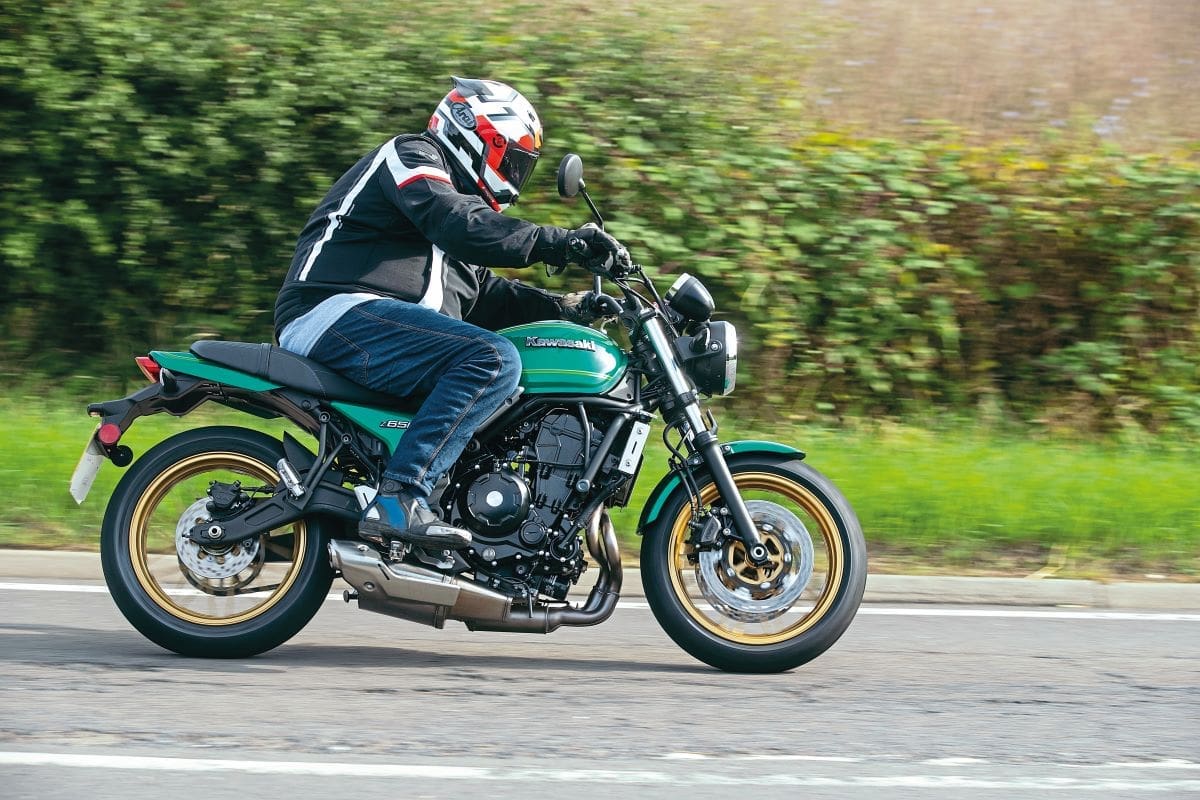 Riding the new…
SPECIFICATION
Kawasaki Z650RS
Price: £7549 (second-hand from £6500)
Engine: 649cc liquid-cooled four-stroke parallel-twin DOHC 8V
Power: 67hp (50.2kW) @ 8000rpm
Torque: 47.2lb-ft (64Nm) @ 6700rpm
Transmission: 6-speed manual, chain final drive
Frame: Steel trellis
Suspension: Front: 41mm conventional telescopic forks. Rear: single, horizontally positioned shock with pre-load adjustment
Brakes: Front: twin 300mm discs, radial-mounted twin-piston calliper. Rear: 220mm disc, single-piston calliper
Tyres: Front: 120/70 x17 Rear: 160/60 x17
Wheelbase: 1405mm
Fuel capacity: 12 litres
Seat height: 820mm
Kerb weight: 187kg
Saddling up tells you immediately that this is a very manageable bike. I's not big or heavy – or at least doesn't feel like it, being around 187 kilos fully fuelled. The seat feels low at 820mm but you can spend a few hundred quid and get a 20mm lower one. Good for the ladies and those with a shorter inside leg.
My big bug-bear on all modern bikes, be they sport, naked or even sports-tourers, is that lack of length and pillion provision. From around 2005 designers seemed to think pillion seats should be made smaller and smaller as bikes got shorter and shorter on the bodywork side of things: meanwhile, prices have gone up!
The clocks are retro enough and present all the relevant info you want, with a speedo on the left and a tacho on the right, both flanking a central LCD screen with clock, fuel gauge, trips, etc. On start-up the liquid-cooled 649cc parallel twin doesn't really give much of a bark, which is probably good, so you don't realise it's a twin.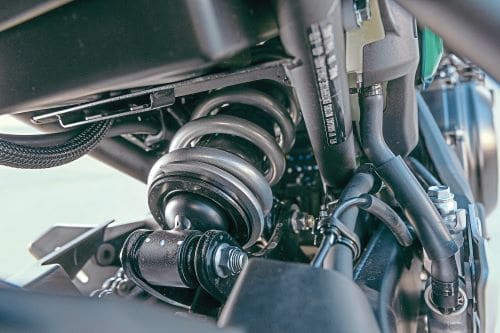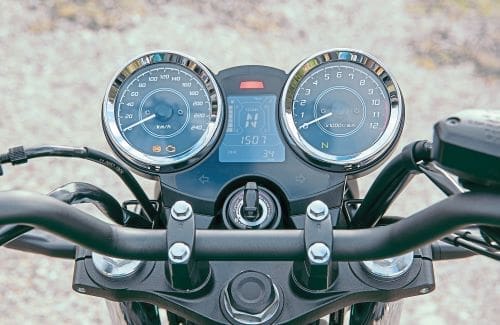 When you start off your ride on the 650RS, that feeling of 'manageable' comes to the fore – no wonder you can get this in an A2-friendly guise. That said, as it stands the revvy little lump has plenty of character – I'm really loving it. Checking the specs, the twin 650RS' 67bhp is only a horse or two away from the original, (either way, depending on specs) so that's good.
The motor is greedy and needy of revs – so much so, I enjoying spinning it up and trying to hook another gear – even when the 'OD' overdrive icon comes up, telling me I'm already in top. Flexibility is key here and the motor gives plenty of it; it will give motive power from low enough, but you start to get a shift on from around 5000rpm and then the bike starts to give you more of a rorty roar as you head towards peak power at around 8000rpm. All of this goes through a light clutch and a smooth six-speed gearbox. It's a delight.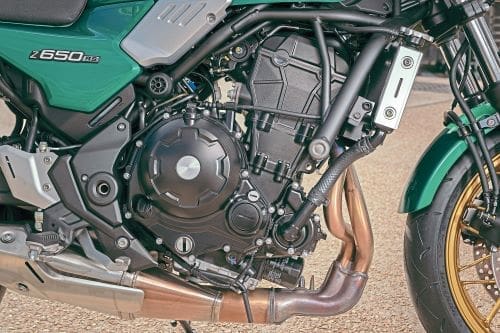 Handling is, too. OK, the rear shock is a singleton, not a traditional pair of uprights, but the job it does (remember, this is simply Kawasaki's modern Ninja Z650 chassis) does the job pretty well. The front 41mm forks aren't inverted, so they look the part, even if the feeling is pretty soft when you hurtle into a corner with too much gusto. That soft feeling comes courtesy of the anchors which are probably way better than the original bike's (I'll find out later…). These are 300mm discs and Nissin callipers with a smaller disc at the rear. They all do a really good job.
For me, the crowning glory – after the candy emerald green looks – is that chassis. The brakes, motor and suspension harmonise to give you a great-handling bike which gives plenty of feedback. Comfort is good, the seat is plush and after a day's riding in the saddle, I have to say I got home happy and without any aches or pains.
John Noble: "I've had my Z650 from new…"
John Noble is an industry legend – many will have seen his pictures over the years. He became Motor Cycle News' photographer in 1978, working with them until he went freelance in 1997, working for all the motorcycle magazines including CMM. He retired back in 2012 after some health issues, but still rides a modern maxi-scooter, Triumph Tiger, and his beloved Kawasaki Z650.
"I bought this brand-new in June 1977 from Bristol Kawasaki – I'd just been made redundant! My redundancy pay was £2500 (about my year's salary then). To me it's the perfect bike. I tried Laverdas, Hondas and the 900 all before this. For me, I was used to 350cc two-strokes but went with this as the handling really made it the best bike for me.
"When I started at MCN the then editor had a Z650 long-termer, but mine was faster as I had Boyer Brandsen ignition. I reckon my bike makes about 55bhp now. I've also got the double front disc set up: it's pretty much the Z900 front end and with a different master cylinder. Most people just put two discs on but not the bigger master cylinder on the Z650, which is the bit that helps with the braking improvement. I've also got the Lester wheels… Both these things set me back a few quid. If memory serves, it was £480 for the front-end and £600 for the wheels – both fitted at the 500-mile service.
"Looking at the 650RS, I was impressed with the overall look to it – it looks authentic from the front, then back to the tank – then it all goes wrong towards the back of the bike. It's just that bit too short for my liking. This bike is very slim… I'm surprised by that, but I guess that's being a twin-cylinder for you. I like the overall look of the bike, just apart from that back-end. It's just not as substantial as the original, which is a shame really.
"My Z650 is a real classic. As pictured it's got 27,407 miles on it and it's still on the original chain and O-rings. The lack of miles is because when I joined MCN I didn't need to use it as much as I had long-term bikes and after that I had my own Pan European, so I kept it. I will never sell it – it's still got the original exhaust and some patina from carrying tank bags from back in the day when me and my wife Eileen would go touring on it."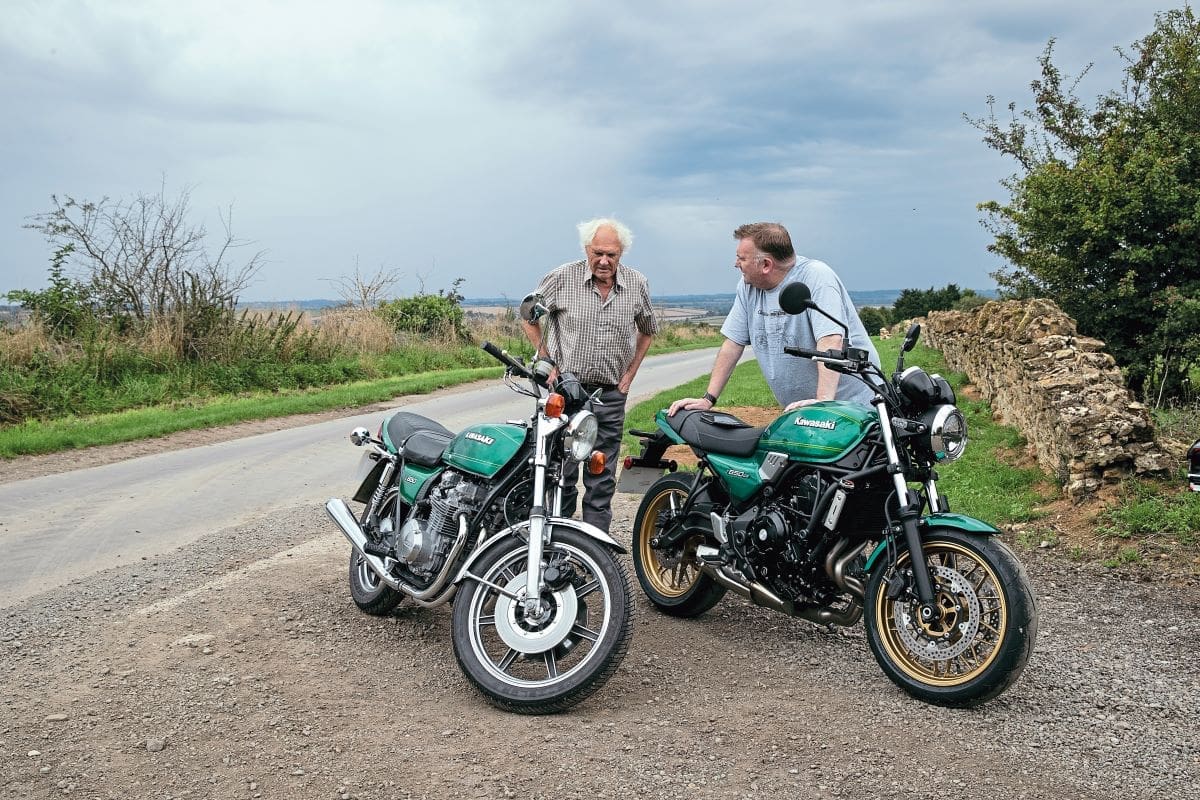 On with the old
Kawasaki Z650
Price (new): £1150 (now) from £2500-£8500
Engine: 652cc air-cooled four-stroke parallel-twin DOHC 8V
Power: 66hp (50.2kW) @ 8500rpm
Torque: 42.2lb-ft (57Nm) @ 7000rpm
Transmission: 5-speed manual, chain final drive
Frame: Steel twin loop cradle
Suspension: Front: Conventional telescopic forks. Rear: twin shock absorbers.
Brakes: Front: single 275mm disc, one-piston calliper. Rear: 180mm drum
Tyres: Front: 120/70 x17 Rear: 160/60 x17
Wheelbase: 1437mm
Fuel capacity: 16.5 litres
Seat height: 800mm
Kerb weight: 220kg
A few days later I hooked up with a mate who owns a number of bikes – and who shuns publicity – but he allowed me to ride his immaculate 1978 Z650 in dark red.
Compared to the RS, you really see and FEEL the extra heft of the original: and in many ways that isn't a bad thing at all. Moving the bike around, it 'feels' like a big Zed should, but then at 220 kilos 'wet' (a good deal more than the RS) it should do… The motor stutters into life and – when warmed through those 24mm Mikunis – she idles with a sweet hum…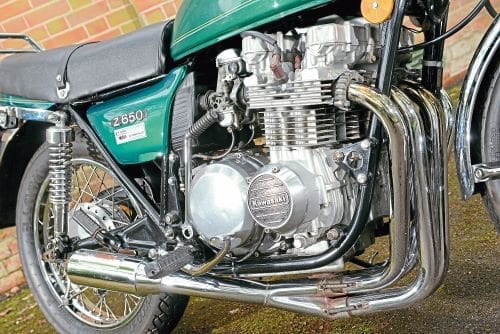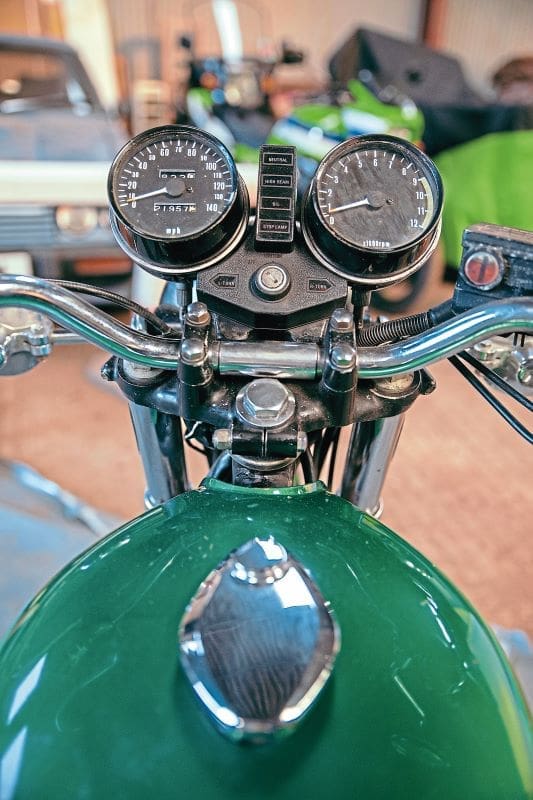 While there's bulk here, you do realise that there isn't the kind of fat that you'd get on one of the bigger Zeds and this is a good thing and seems to suit the character of the motor. The motor – while no rip-snorting Z1 or Z thou' – is very well behaved and has surprising 'pull' from low revs, leading to a mid-range that is both useful and enjoyable. I was expecting rougher carburation on such an aged machine, but this one is set up perfectly. One thing I will say is this – in common with the RS – you really want to get that tacho needle spinning, and just a little further north of what the twin Zed needs After all, peak power on this four-cylinder sits at around 8500-9000rpm, but goodness me it's sweet getting there. I'm impressed…
Handling isn't quite as point and squirt as the RS – but then time has moved on somewhat… What you do find (if you remember riding bigger Zeds) is that – like the motor – smaller seems more focused and sweeter still. It's as if the few extra years Kawasaki had in development for the 650 over the Z1 all went into chassis design. It doesn't turn as fast as the RS, but feels just as planted.
Yes, this is an older machine – but one well fettled – so the suspension does feel a tad soft, but not in a way that you can't enjoy the performance of that zinging motor. The biggest deficiency are the brakes – or should I say 'brake'. This is a single disc up-front version and you can immediately see why people would bolt on another. Yes, the rear drum can help, but you need to get into the habit of using it. You have to be cautious and plan your braking – but that motor and handling gees you on a fair bit!
What I will say is that while the RS is a real 'looker', you get much more attention on the original. Riding this bike makes you feel special.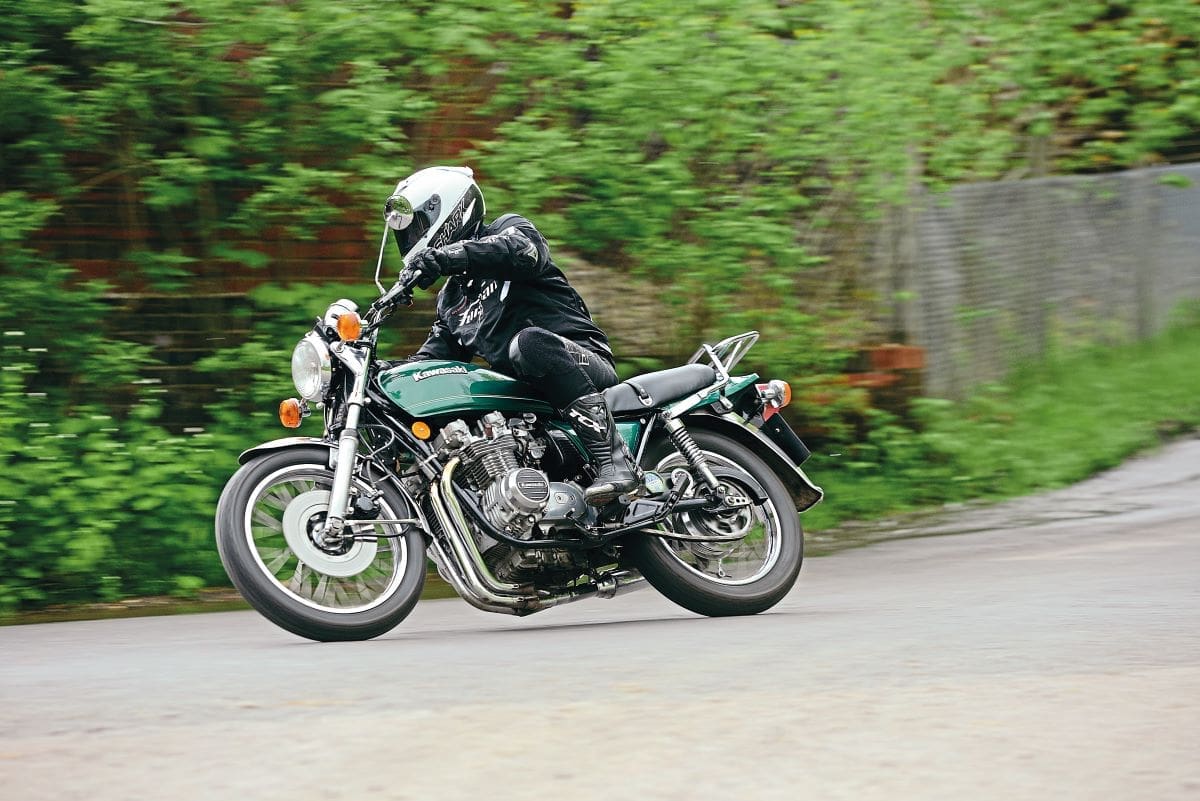 Living with the Z650RS
Andrew Morey: "I won this and I love it!"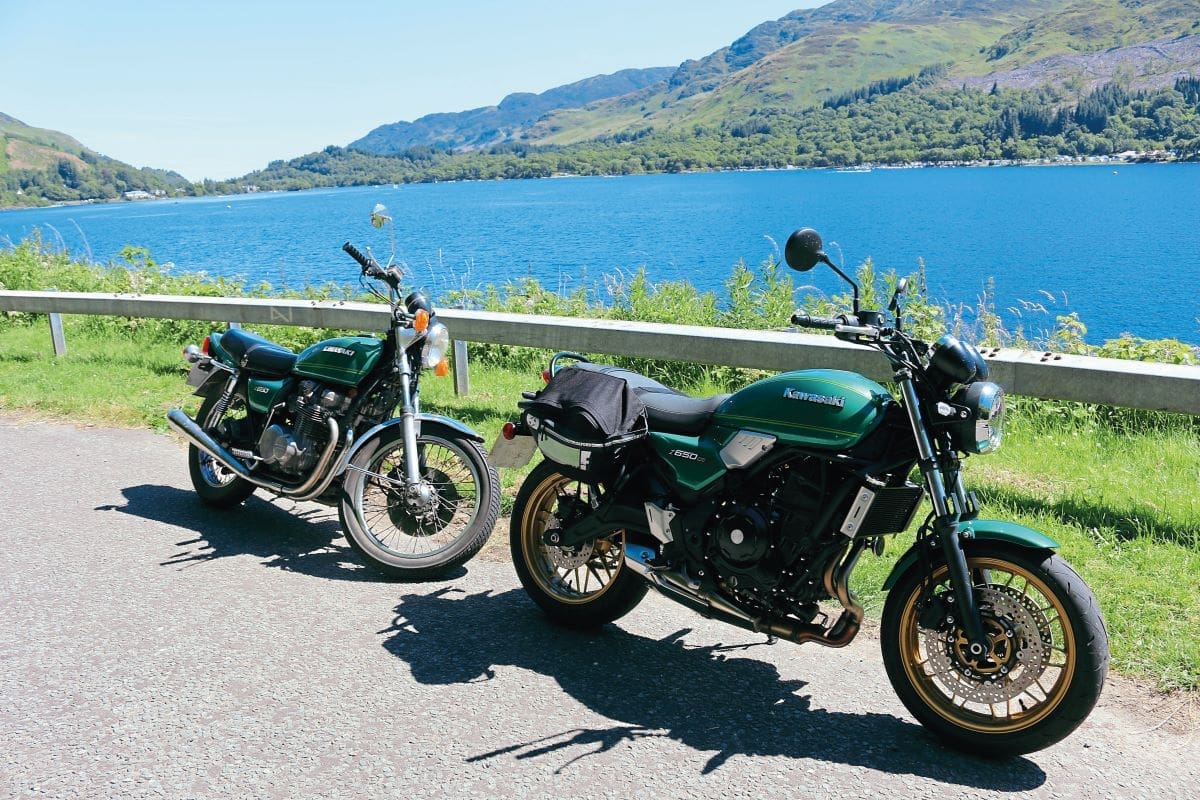 "I was the lucky so and so who won the Kawasaki Z650RS at Motorcycle LIVE last year. I was given a choice of colours and as I'd had an original green one in the 1980s, I felt there was only one choice. The bike was presented to me via my local dealer, Kawasaki Wigan, in March this year and I have been enjoying it ever since.
"My most recent bikes had been a 1999 Honda VFR 800 and a 1977 Suzuki GT500.
"I had an accident in 2021 on the GT in which, amongst other things, I broke bones in my back, ribs and ankle. I'm now back riding, but at 62 years old and recovering from my injuries, I was considering whether the Honda VFR800's riding position and weight were now too much for me. When the phone call came from Kawasaki in February my mind was made up and, after 17 years of owning and touring all over Europe on it, I parted with the Honda.
"Riding home from Wigan Kawasaki I was immediately impressed with the riding position; it was much more comfortable than the VFR, the brakes were more efficient, too. In 46 years of riding bikes, the 1999 Honda VFR800 was the most 'modern' bike I had ever owned, and the development over those 20-odd years to when the Kawasaki has been developed was eye-opening. Riding home in early March on wet, cold roads the bike felt very sure-footed compared to what I was used to and those brakes were like nothing I'd used before.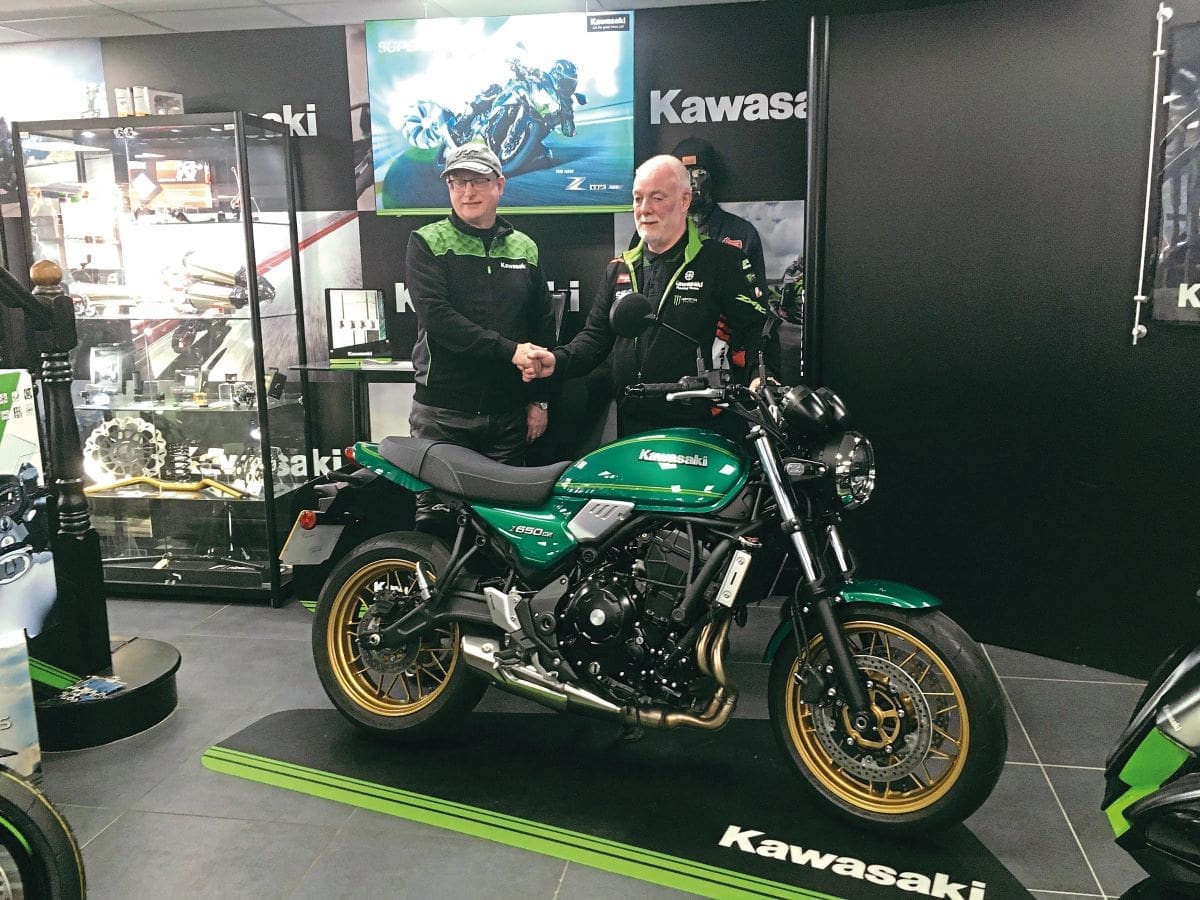 "I've ridden some 2500 miles in the last six months on the bike, including a week at the Isle of Man TT, three days in Scotland and a week in France. The trip to the TT was two-up with my wife with some Oxford Products soft panniers. These – along with a tank bag – were our total luggage space and we managed, just.
"The bike performed well with a passenger, although my wife found the passenger seat small and the grab rail was very difficult to get her hands around, but overall it did the job. The bike was also fun over the TT course on my own! The three-day Scottish ride was with friends Chris Allen on a Kawasaki GPz900R, Drew Whittle on a Kawasaki GPX750, and my first trip with my brother, Peter, on his original 1978 Kawasaki Z650 B1. We certainly got lots of comments about the two Z650s together… which is better, which is faster?
"We completed a loop around Loch Tay and Loch Earn in very warm weather and the bike handled really well. It was the first time we realised there was a huge difference in the brakes on the two Z650s, my brother (on the original version) having to take evasive action to not go into the back of me when I had to brake suddenly. On the way back we travelled mainly on motorways and this convinced me that for our longer tour to France later in the year I would need some sort of screen. I decided on the Puig screen.
"Chris couldn't make the trip to France so it was just the three Kawasakis this time, the Z650RS, the GPX750 and the Z650B1. We enjoyed the Portsmouth/St. Malo ferry as well as the trip to the various battlegrounds, and the Bayeux Tapestry! All three bikes coped well – the whole trip was 1100 miles – but the Z650 B1 developed a small oil leak from the kick-start shaft, a common fault so new seals when we got home.
"The Kawasaki Z650RS is a very good all-rounder. I've had a lot of fun riding the bike this year and as I have said, the steps forward in technology were quite an eye-opener for someone who has only owned classic bikes before. Having said that, I still love my classic bikes and can see me looking for an original Z650 soon.
"Some minus points: the seat lock is under the mudguard where it is very difficult to get at, and where it gets all of the dirt, etc., flung off the rear tyre. That also means there is no helmet lock. The position of the number plate is low and ugly, but that seems to be the norm with all modern bikes; maybe that's just me. The seat is comfortable, but after 250 miles or so in a day it starts to be less so…
Conclusion
Of course, everything in the garden is rosy this issue… We aren't going to dis the old girl, neither are we going to moan on about the new Z650RS having a 'mere' two cylinders. In many ways, these machines complement each other beautifully.
I could see even after just a few hours on the original why it had the impact it did back in the day. It just seemed so much more 'together' than any of the early Zeds I'd ridden, even with the one I rode having the single disc set up. That said, this was still a bike 'of its time' and – even in the glorious red, rather than the original green – the admiring glances were many. This is why we love riding classic bikes. In contrast, the RS was easier going and less of a head-turner. It was great to ride and – if you squint – it looks like the original, but in no way does it ride like one, but then that's not the point.
Perhaps that's why my mate John Noble didn't want to ride the new one… I really wish he had. He rides modern stuff, so I rather think he'd like the Z650RS – because I sure as hell did. I've said this before, but when I'm really old, bikes like this will be more than enough for me. Something pokey, manageable and stylish…
Is it the job of Kawasaki's Z650RS to provide a replacement for a classic machine? Hell no, but if you once had a Z650 or lusted after one – but really need something more modern rather than an original – it certainly ticks many of the boxes.