Concept bikes… those machines you see at bike shows which may (or may not) make it into production. Alan Dowds checks out some of the craziest.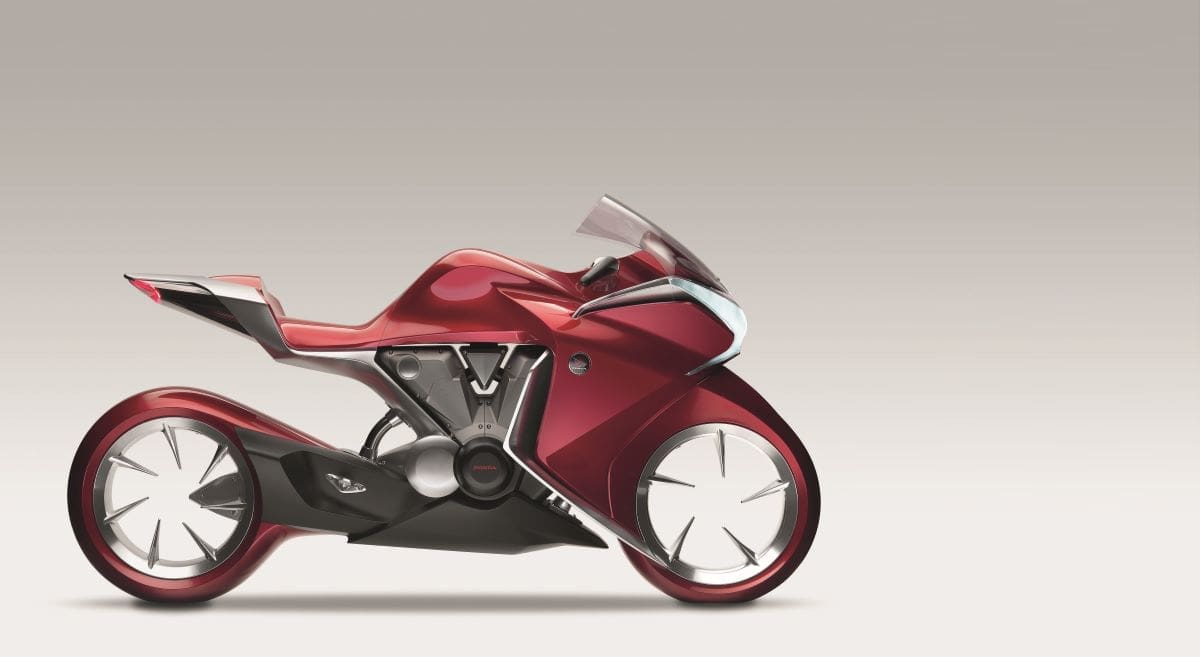 Words: Alan Dowds
Pics: Aprilia, BMW, Kawasaki, Honda, Suzuki, Kar Lee, Mortons Archive
In our experience, there are a few different types of concept/show bikes, so bear with us.
On the one hand, you get reasonably sensible offerings, like the Honda Hornet concept of a few years ago, or the Yamaha T7 rally racer. They have engines which appear to have the cylinders in the right places and pistons inside them; they use telescopic forks; and, most importantly, they have mirrors and switches. They look like they could actually work…
Then, you have the other end of the scale: wild-looking things, with clearly-nonsensical design cues. For a long time, it would be 'touch-screen controls' and 'rear-view cameras' which marked out these show bikes as a load of old pony. Then it was internet connections in the early 2000s. More science fiction than anything else, they might have hydraulic drive to both wheels; centreless wheels running on massive circular bearings; giant rim-mounted brakes; and a riding position only a world-class yoga master could hold for more than 30 seconds.
Then there are the sort of 'in-between' show bikes. These might well be built, but there's something about them that makes you think, 'Nah!' Suzuki's B-King fell into this category when it was unveiled at the Tokyo Motorcycle Show in 2001: a naked Hayabusa was an eminently plausible piece of kit, and as was shown when it was released, it worked really well. What made us nervous though was the effing supercharger bolted on there. A naked bike powered by a 180bhp 1300cc superbike motor is silly enough, adding forced induction to give it 250bhp was in another realm.
So, here's our guide to the best, and wackiest, show bikes ever made…
Aprilia Blue Marlin
This is probably one of the most sensible show bikes ever made, certainly from Italy: a naked retro café racer, using the engine from the firm's RSV Mille V-twin superbike, in a neat steel tube chassis. Initial sketches are far prettier than the eventual concept bike, which was a bit ungainly and angular when shown off in 2001. Aprilia dumped the idea, and released another naked V-twin, the mental Tuono Racer in 2002, and never looked back. The Blue Marlin was definitely ahead of its time: retro styling is, of course, all the rage these days.
BMW Futuro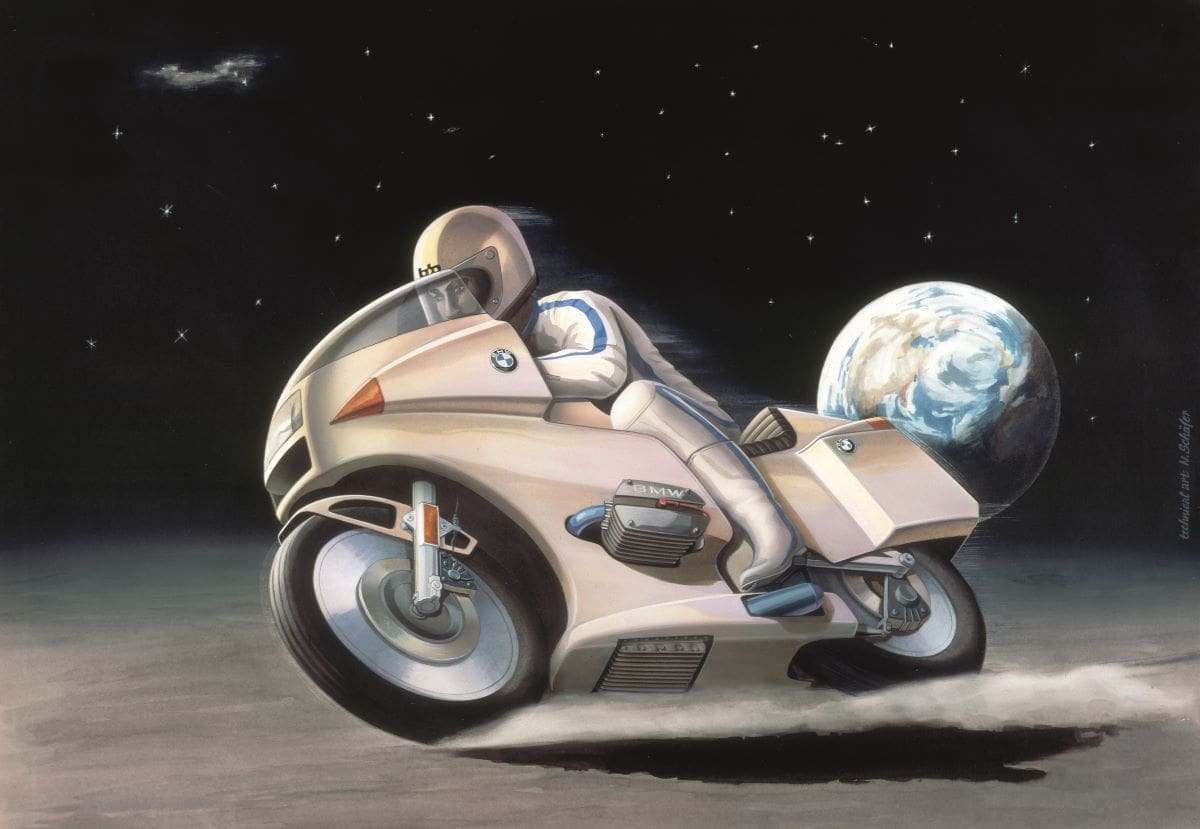 The Bavarian firm regularly uses concept bikes to show off what's coming in the next few years. In recent times it's showcased the inline-six engine from the K1600 range, the R nineT and the R18 mega-cruiser by having slightly wacky concepts before the production machinery surfaced.
We've gone right back into the archives for these two: first is the appropriately-named 'Futuro', which appeared in 1980 at the IFMA Cologne show. It's got the lot: a turbocharged engine; mad aerodynamic fairing; a weird front-end; digital LED instruments; and there's even an artist's impression of it hooning around on the moon for some reason.
Back on earth, there's some good stuff in it. Built-in hard luggage was coming soon on plenty of big touring bikes, digital dashboards are pretty much standard fare now, and have been for a long time. Adding a turbo to an old R80 air-head BMW makes perfect sense, especially since it looks like a small low-blow KKK design. One drawing shows 0.4 bar of boost pressure, around 5-6psi, which should have lifted the performance up by an extra 20-30bhp without too much grief. It used Bosch L-Jetronic fuel injection, and even back then the technology should have been well up to producing clean, smooth power from such a set up.
Unlike some of the later BMW concepts, nothing came of the Futuro design exercise – or did it? Squint a little, and you can see more than a passing resemblance to the BMW K1 of 1989 – the same brutalist aero design, with large, flat panels, and all-enclosed engine.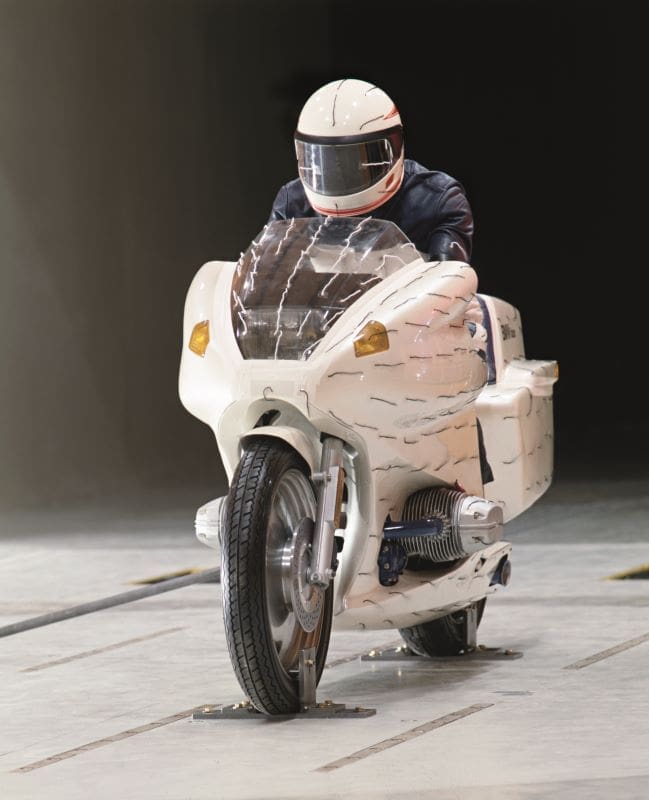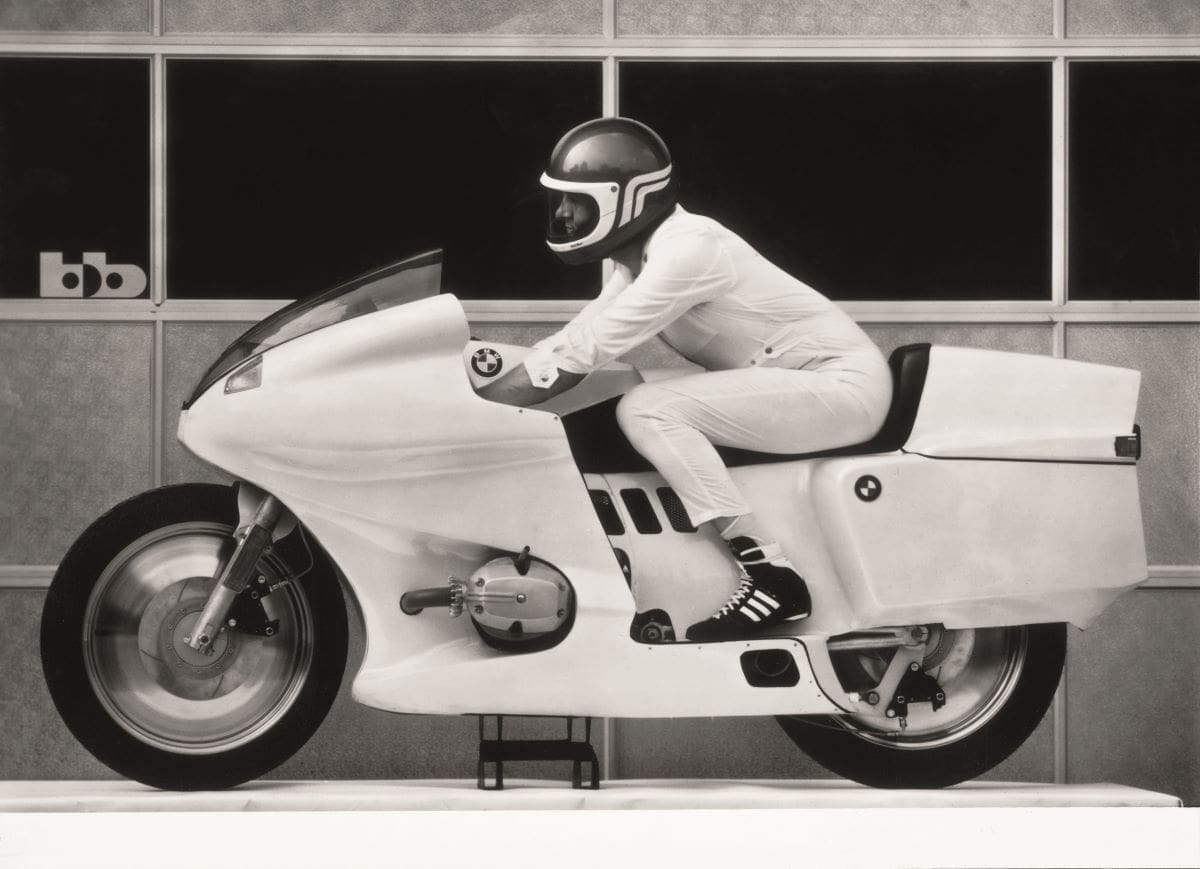 Dodge Tomahawk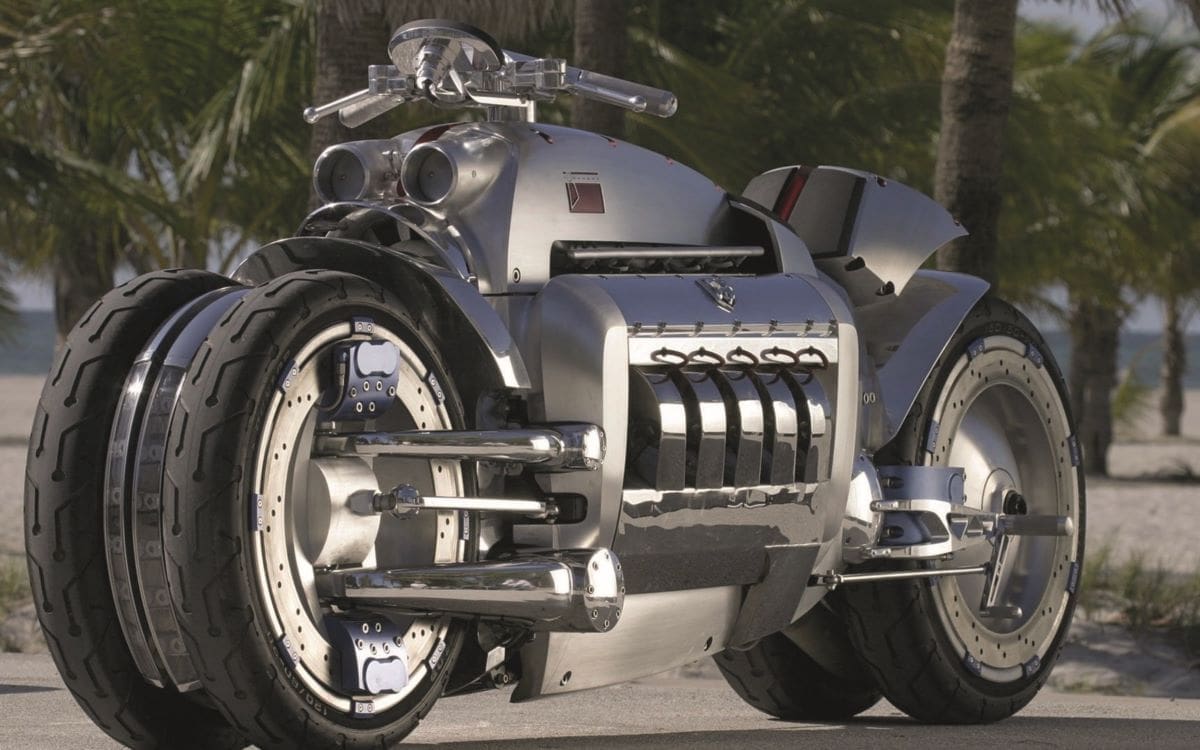 Definitely one for the 'daft' category of prototypes, the Dodge Tomahawk was built around an engine from the firm's Viper supercar. An 8.3-litre V-10, making 500bhp, with four wheels and bizarre front suspension systems, it was the most ludicrous 'bike' ever seen when first shown in 2003. Ten of them were apparently made, sold as non-road-legal 'works of automotive sculpture', and the mugs from the car world soon moved on to some other piece of marketing nonsense. Meantime, our very own Allen Millyard made his own version, with a proper motorcycle chassis, that works both as an everyday driver and a mental 250mph bomber when let loose on speed testing runways…
Ducati MH900 Evoluzione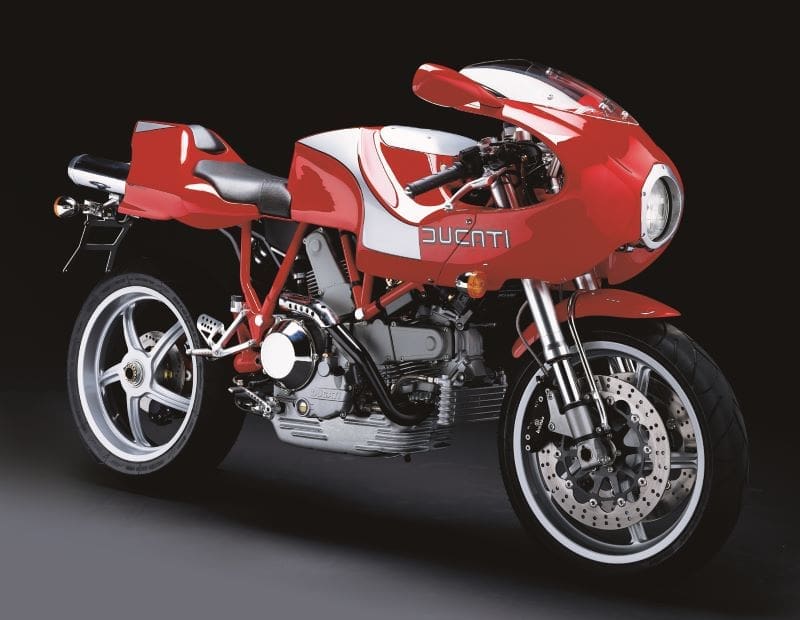 The turn of the century was a tough time for Ducati, in a number of ways. While its 916-based superbikes and naked Monster range were doing well, they were becoming dated and they needed to move into new motorcycling arenas.
The result was a number of rather strange designs from the pen of Pierre Terblanche, the firm's South African design head. Terblanche had helped come up with the gorgeous Supermono racebike in the mid-90s, but when he took over design duties from Massimo Tamburini, the bikes took a turn away from the 'conventional beauty' of Tamburini's designs. The 749 and 999 superbikes were amazing pieces of kit, but not even their biggest fans would say they matched the 916 for looks.
This is one of Terblanche's earlier works: the MH900 Evoluzione. Presented as a concept bike in 2000 as a homage to Mike Hailwood, it offered a new vision of what a café racer could look like. The engine was the venerable air-cooled two-valve desmo V-twin, bolted into a slick futuristic chassis, with half-fairing, round headlamp, single-sided swingarm, under-seat twin silencers, and a radical single front brake disc made of a new wonder material called 'Selcom', a carbon/silesium ceramic compound.
Unlike many concept bikes, the MH900 made it to limited production, and was actually fairly faithful to the show bike. We lost the ceramic brake disc, but got two normal Brembo steel parts, while the fairing, swingarm, and underseat pipes all stayed. Only 2000 were made, and it's now one of the rarest and most desirable Ducatis from the early 21st century.
BMW R1
Next up is a quite incredible piece of kit, which is still a bit of a mystery even now. Back at the end of the 1980s, with the K-series bikes failing to completely catch everyone's imagination, BMW was looking to revive the Boxer range. We ended up with a fairly conventional design in the shape of the 1993 R1100 RS, with its four-valve heads and oil/air cooling. But BMW engineers were also experimenting with this – the R1 superbike design. Two decades before the official DOHC Boxer engine went into production, they came up with this one: a massively over-square 98mm bore and short 66mm stroke kept the cylinders narrow, making room for bigger twin cam heads and still letting the bike lean over. They didn't stop there though, and only added a set of bloody desmodromic cams to operate the valves.
Sharp-eyed readers will notice the resemblance to another European twin-cylinder motor with the same bore and stroke, same 996cc capacity – and the same desmodromic valves. Yep – this mad Beemer had the same basic engine layout as the Ducati 996 of a few years later, just in a Boxer 180-degree flat twin instead of a 90-degree V-twin. Amazingly, the R1 put out more power than even the posh SPS version of the 996: 140bhp from the German bike versus 124bhp for the Ducati.
Sadly, the R1 never made it past the prototype stage, and remains an odd 'what if' in the annals of BMW history.
1999 Honda New American Sports t­win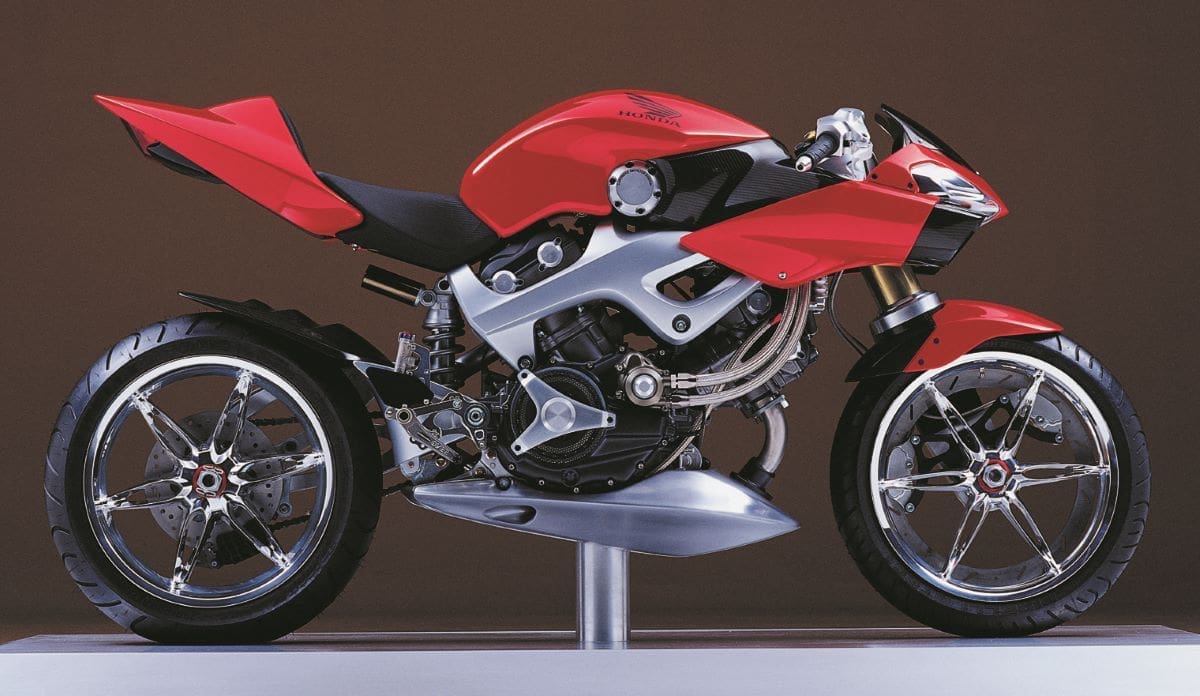 This comes from the time when Honda and Suzuki were trying to take on Ducati's 916 V-twin, with their own 1000cc twins. The Honda VTR1000 FireStorm and SP-1, and Suzuki's TL1000S and TL1000R made a decent fist of the job, and were pretty good bikes; Honda even won a couple of WSBK titles with its twin before the 1000cc fours took over.
The New American Sportsbike was an attempt to boost interest in the VTR1000 models in the US market. It's clearly a bit bonkers in terms of the concept design: the single-sided front suspension arm looks like a massive single fork leg, and seems similar to the nose-wheel landing gear off a fighter jet. We have dual-calliper rim-mount brakes, another bollocks bingo entry, and an under-seat radiator with air ducts leading through the bike to it. That went (almost) mainstream with the Benelli Tornado…
The single-sided rear swingarm is barely worth mentioning. It was a common fit by now, with Honda even putting it on its sensible VFR800 sports tourer. The underslung silencer is notable, though; this is the tech that all bikes use now, allowing a more compact chassis layout and centralising mass. Back in 1999, under-seat exhausts were still only recent. Final marks go to the dry clutch, and the eccentric axle adjuster on the front wheel so you could dial in the perfect rake and trail set up for your daily commute along the M77.
Shame this never happened, but the American sports-bike market was more than happy with Fireblades, Hayabusas and GSX-Rs, and the innovative New American Sports twin was consigned to the history books.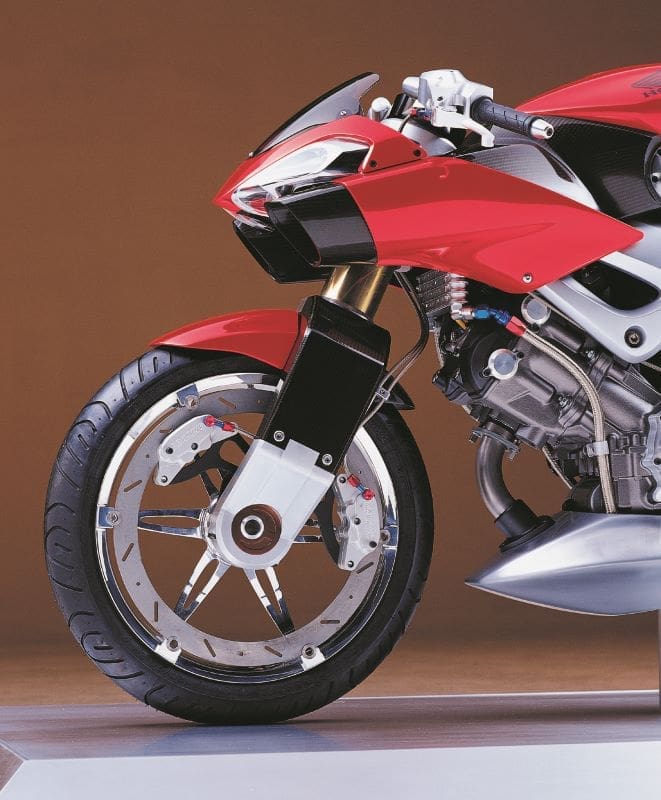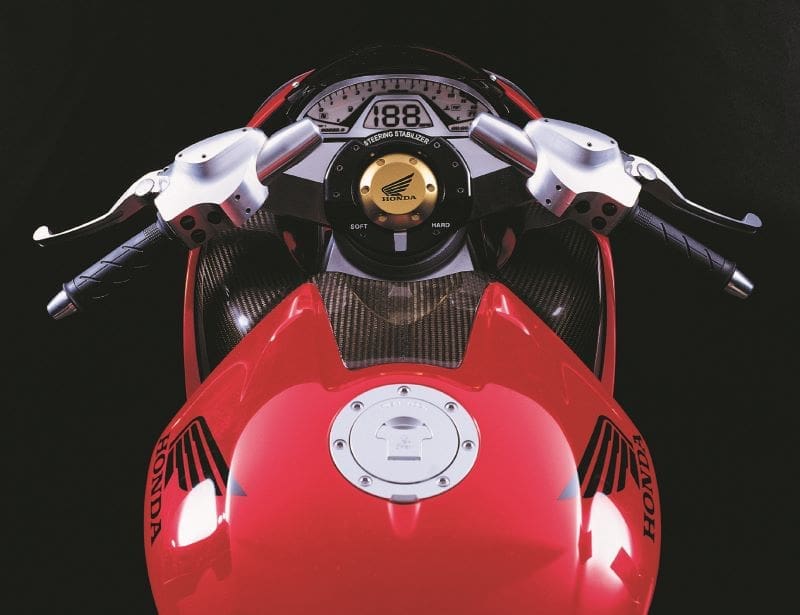 1971 Square Four two-stroke prototype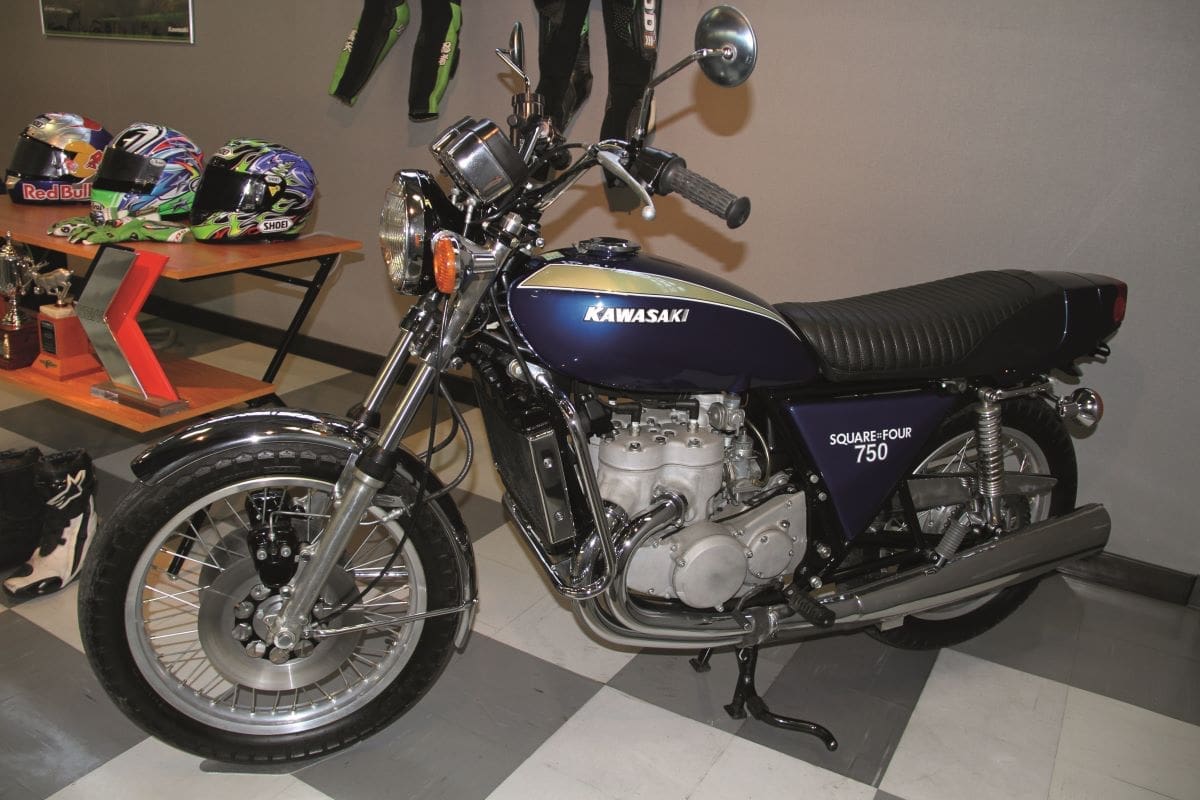 Oooh, another that our Allen Millyard could have built! Like experimental rock groups from the same decade, bike firms were trying everything. Massive four-cylinder four-stroke behemoths, small revvy two-stroke twins, big two-stroke triples, thumping large-bore twins, Wankel rotaries, turbochargers – they all had their turn, before the firms mostly settled on four-stroke fours.
Here's one of the more esoteric attempts though: a square-four water-cooled 750cc two-stroke from Kawasaki. The Akashi firm had started out in the 60s with a British-based 650 parallel twin motor, before moving to small two-stroke twins, then a series of gradually larger two-stroke triples into the 1970s. The four-cylinder four-stroke Z1 appeared in 1972, offering another option for progress – but the R&D department had also been working on this crazy beast. The chassis is clearly from the same stock as the H1, H2 and Z1 designs: steel tube frame, twin shock rear, disc brakes and shapely fuel tank. The engine is like nothing else though. Square fours suit two-stroke designs, with twin crankshafts allowing easy crankcase scavenging, and were used later by Suzuki and Yamaha for their disc- and reed-valve 500GP race bikes and road-going replicas. This is an old-tech design though, with piston porting and only two carburettors. That, and the planned electric starter, suggest it was aimed as a grand tourer to take on the Suzuki GT750 rather than a fire-breathing performance machine.
Emissions rules, the oil crisis in the early 1970s, and the success of the Z1 all put an end to the square-four stroker though, and the project was scrapped in 1973.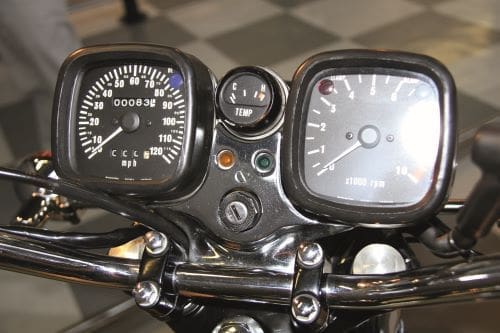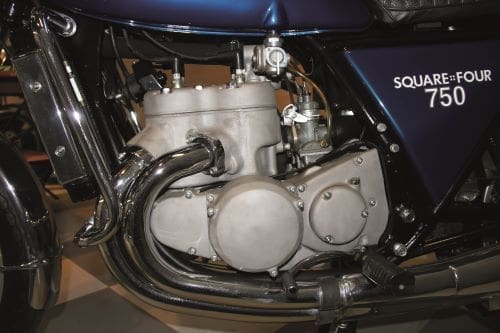 2001 Suzuki B-King 2001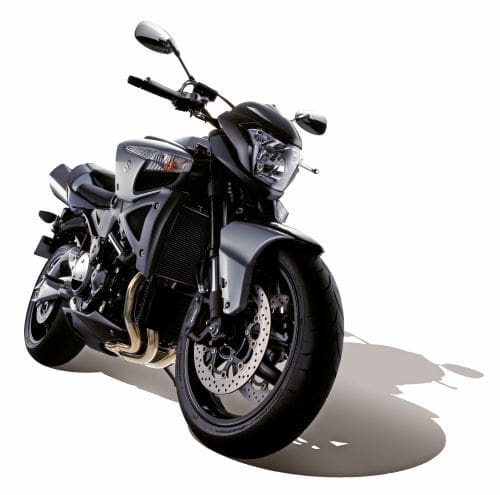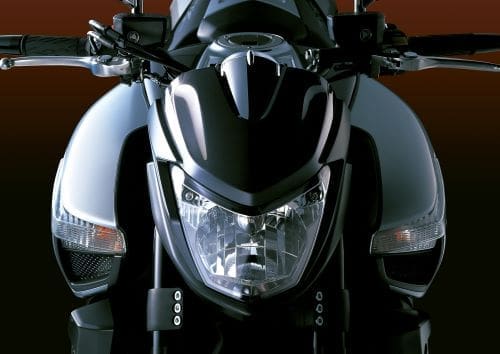 Suzuki release a no-holds-barred future-shock machine at the Tokyo bike show, to universal critical acclaim. A few years later it puts it into production, with a lot (but not all) of the original madness intact. The press goes crazy for it. It bombs sales-wise, and is discontinued a few years later. A decade on: it's a cult classic, with prices soaring and Suzuki cursing us all for our fickle nature.
The original bike was a cracker, despite being laden with concept bike bollocks. Fingerprint ignition, GPS location, smart-phone connectivity, and even a built-in speaker and microphone. Back then, we thought that if we gave a bike thief a stern talking to mid-blag, they would reconsider the error of their ways and go on to live a good life. What mugs we were.
The massive story was the engine though. It was off the GSX1300R Hayabusa – but it had an effing supercharger bolted on the side. Power figures were unclear, but you'd have to expect at least 250bhp from an anywhere-serious set up to make it worthwhile. Today, in an era of 208bhp naked Ducati Streetfighters, that looks pretty good, but back in 2000 you might as well have announced that your new naked bike was powered by plutonium.
The supercharger didn't make production, of course, and neither did the other frippery. The production bike looked very close to the prototype though, and got the second generation Hayabusa motor, with a genuine 185bhp output, solid handling and great chassis performance. Tuners like Big CC Racing immediately started fitting superchargers and turbos – and there were more than a few 350bhp B-Kings floating about in 2009. Now though, to be stock is to be king(!), especially with parts like the massive underseat silencers, which were instantly tossed in a skip and replaced by a pair of Yoshimura cans by most owners.
2003 Kawasaki ZZR-X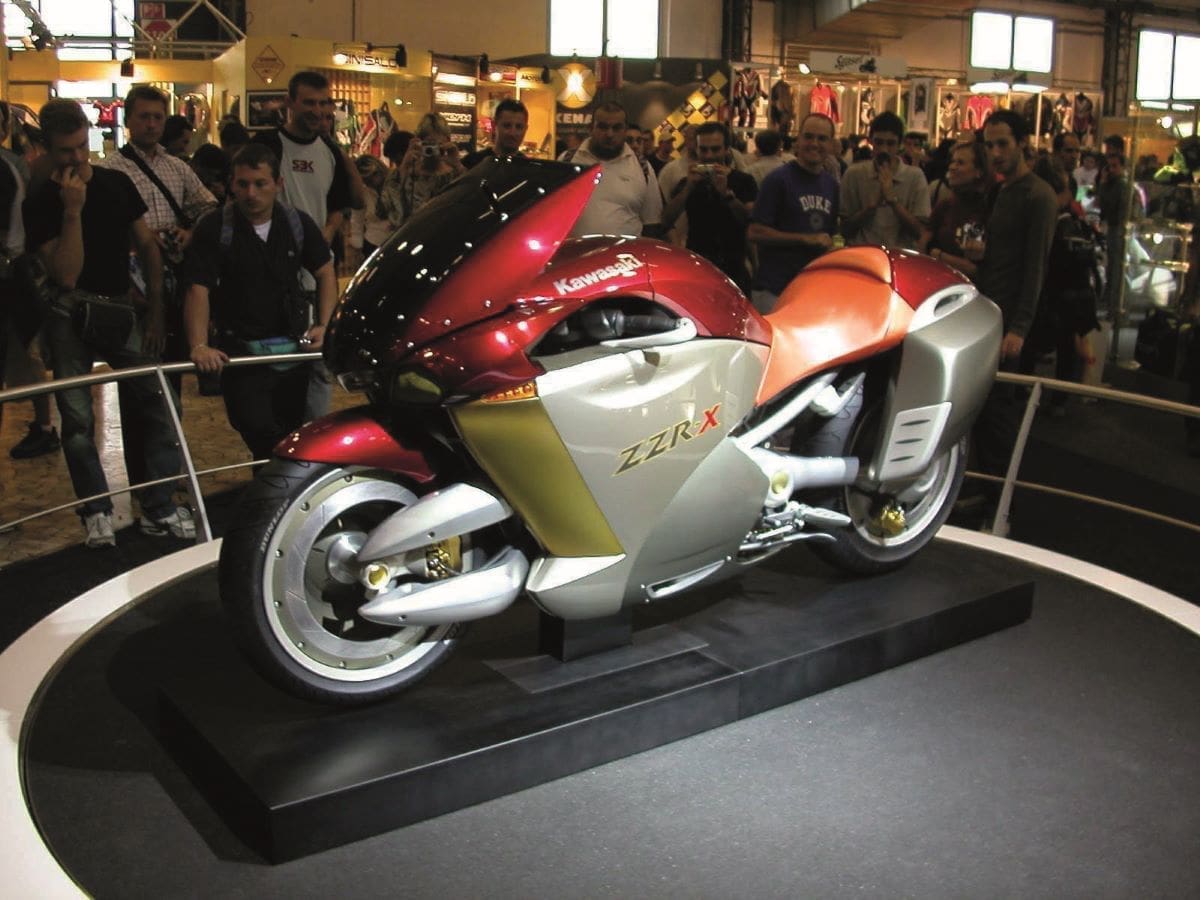 The ZZR-X from 2003 might not have scored a full house on the bullshit show bike bingo – but it definitely won a few lines: radical single-sided swingarm at both ends? Check. Movable seat and fairing panels to completely change the dynamics from a sports-bike to a tourer? Check. Rim-mount discs, enclosed handlebars, wacky reversed brake and clutch levers? Check, check, check…
There were some useful design cues: moveable screen, hard luggage and shaft drive are hardly revolutionary, but make sense on a 186mph super-tourer. It did have an integrated silencer under the engine though, which many bikes would move to later in the decade.
Yamaha MT-0S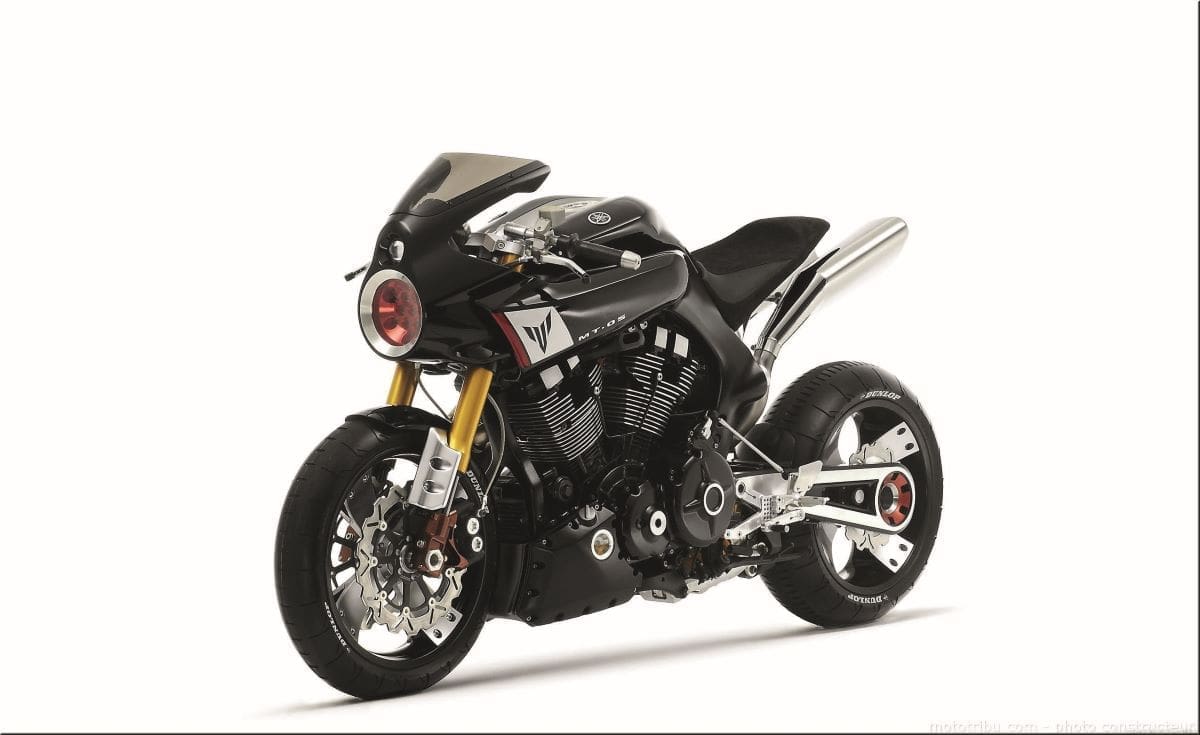 Most of Yamaha's concept bikes of late have been in the small electric urban mobility sector. They've got a solid history of innovation, of course: some of it amazing, like Delta-Box/beam frames, EXUPs, YPVS and Monocross suspension, and some of it a bit bollocks-y, like the GTS1000 and the various three-wheeled tilting machines.
This is a bit different. The MT-0S appeared in 2005 at the Paris bike show, and was based on the MT-01 that Yamaha was pushing at the time. That was a naked sportsbike, powered by a 1670cc long stroke push-rod V-twin based on the firm's Warrior cruiser powerplant, in a fairly sharp sporty chassis. It was heavy at 245kg dry and only made 89bhp peak power, and was largely ignored by the performance-hungry UK market of the early 2000s.
This show bike is fairly reasonable, with most of the mods of a cosmetic nature. There's a new swingarm, wheels, forks and under-seat exhaust system, and all of it could have been put into production and sold straight away. What Yamaha did do was build much more conventional performance machines, like the MT-09, MT-07 and MT-10, and they have all sold very well indeed.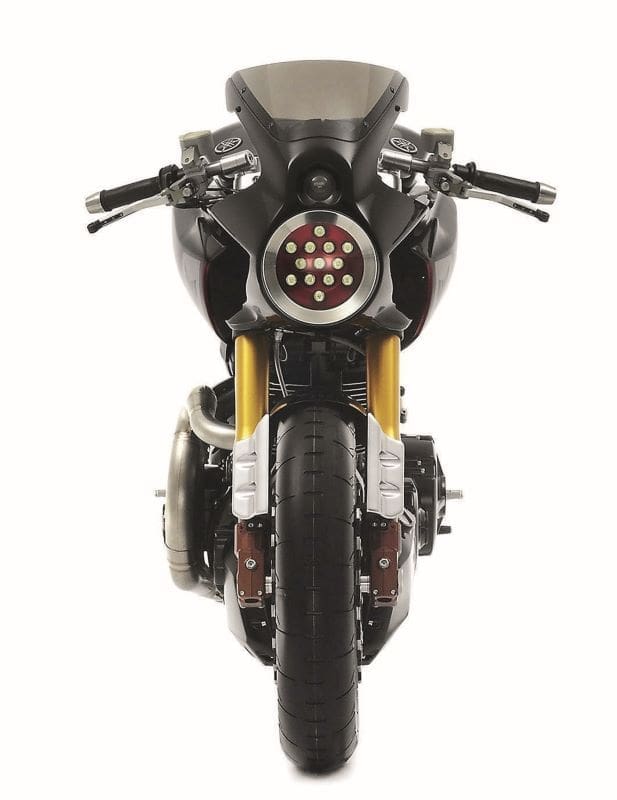 Concept bike-bollocks bingo!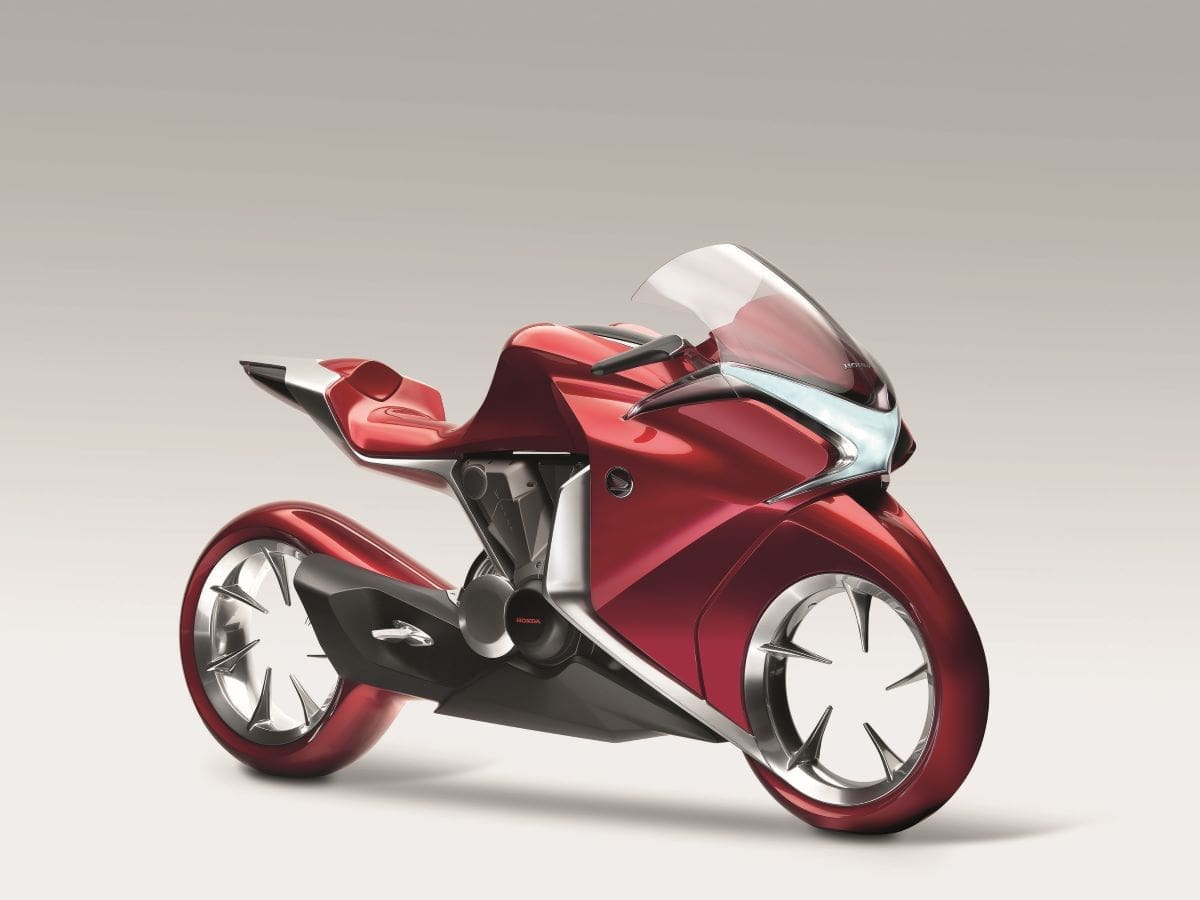 Eyes down for the cobblers seen on many concept bikes.
Rim-mount discs
Used by Buell and an engineering solution you can argue for. For most of us, a set of normal 320mm discs with four-piston callipers work perfectly.
Hand-cut slick tyres
Stock tyres are far too boring to put on a concept bike. Fitting a pair of slicks lets them go wild with the manual tread-cutting machine, etching in the most futuristic patterns they can come up with.
Hydraulic drive
Oooh, wouldn't you love to get rid of the nasty chain and sprockets?! Andwhy not have two-wheel drive as well? The idea of a hydraulic pump sending fluid to a hydraulic motor through some saucy fat braided steel hoses is tempting for lots of concept bike designers. In reality, though hydraulic drives are used lots for things like construction machinery, they're too big, heavy and inefficient to use on bikes. Chains and shafts might be dull, but they work well with no fuss.
Head-up display
We can sort of see the advantage of this, watching your speed and revs without taking your eyes off the road. In the real world though, rain, mist, fog, frost and road dirt would all get in the way of a system on a motorbike.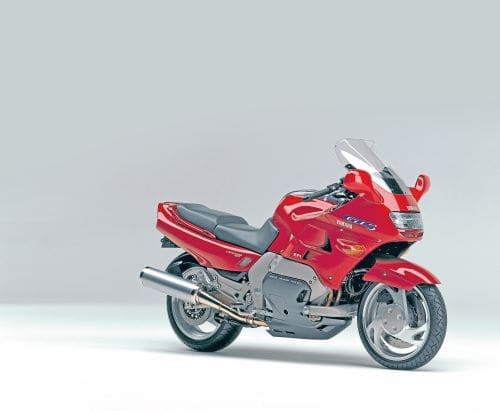 Touch-screen operation
This is actually happening, mostly via auxiliary devices like sat-navs and phones rather than the main dashboard itself. A touch-screen interface makes sense here, but as plenty of Tesla car owners will tell you, burying everyday functions like lights inside a menu system is nowhere near as simple as a switch by your thumb.
Rear-view cameras
Getting rid of those nasty sticky-out mirrors and replacing with a smart camera set up seems like a top plan – and has been a big thing in the car and truck world, where all-round camera systems help with parking and avoiding cyclists in town (though mirrors are still fitted as well).
On bikes, they've not taken off at all; the cost, space and legal implications mean mirrors are still there even on the latest, most hi-tech machines.
It's something else to go wrong, will need some method of keeping dirt off, and would need a large, dedicated LCD display operating at all times, using power and adding cost.
Fingerprint ignition
This seemed like a genius way to avoid theft in the 1980s and 90s, and with modern bikes, keyless ignition has become widespread – but without the sci-fi fingerprint scanning. A coded radio signal from a fob in your pocket switches the bike on and off, without any faff.
Hub-centre steering
This tech has been tried a few times of course, most famously in the Yamaha GTS1000 and Bimota's various Tesi machines. The front wheel is mounted in a swingarm with a pivot inside the wheel hub, so only the wheel turns to steer, with a series of pushrods connecting the bars to the mechanism. The main benefit is the separation of braking and suspension forces. When you brake, that deceleration force travels through the swingarm into the chassis, rather than going up through a pair of springs to a steering head miles away, as on bikes with conventional forks. Suspension movement is controlled by a shock absorber, as on a conventional rear swingarm. It's a better solution in theory – but hasn't taken off. The steering angle is limited, the swingarm and linkages can start to touch down at extreme lean angles, and it's pricier and more complex to make. Meanwhile, telescopic forks have been developed to a super-high level, and for almost all uses, are a better option.
Hub-less wheels
Nothing said '21st Century Technology' more than a bike with hub-less wheels. Where the spokes and axle should have been, there was a massive circle of empty space, and the wheel rims seemed to run directly on a suspension linkage to the chassis. The tech isn't anything mind-bending: you could just run the outer wheel rim on large ball or roller bearings. The problem is that the bearings then have to run at much higher speeds than they do at the centre of the wheel, which makes them harder to construct, more expensive and, essentially, not worth the hassle.
Hub-less wheels are coming back on some small electric bikes though – but they come with an electric motor built into the space, for direct drive.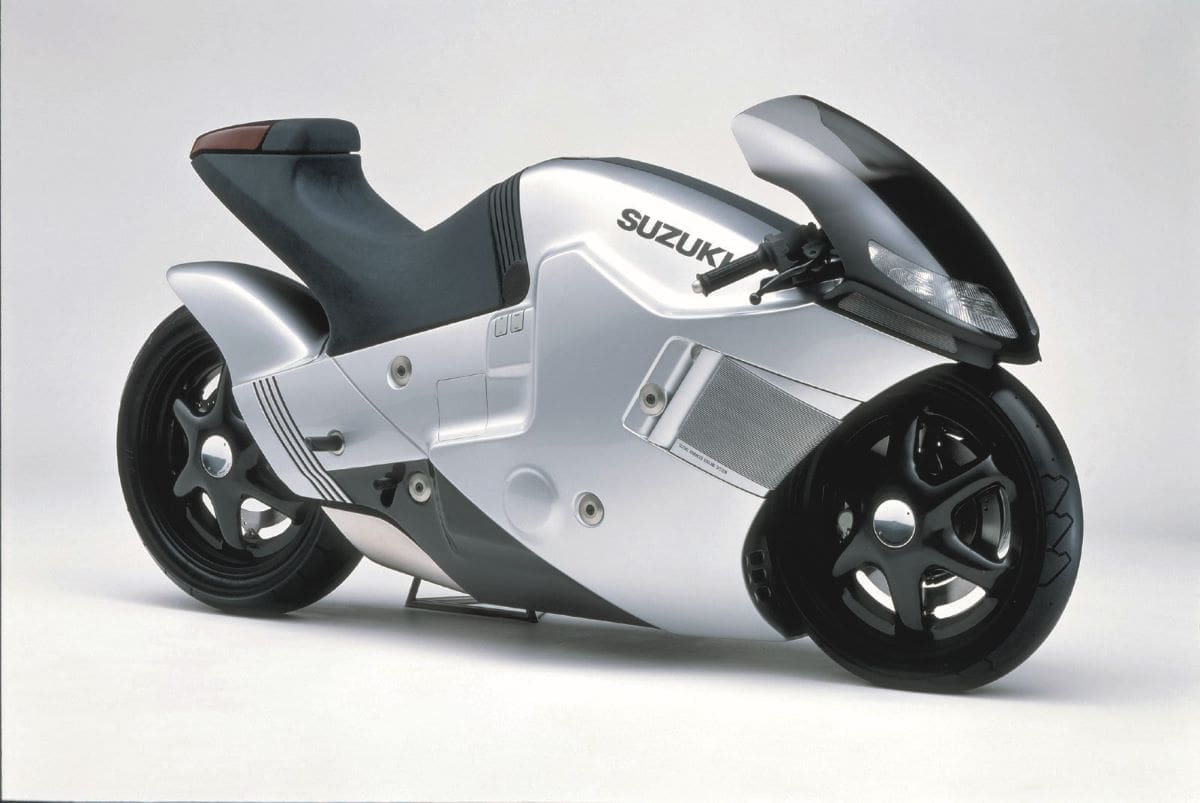 ---
Advert
---
Sign-up to the Classic Bike Hub Newsletter
Get the latest classic bike news and updates straight to your inbox… You can unsubscribe at any time.