Kawasaki's ZRX1100/1200 family are pretty-looking but steady away road bikes – but what happens when you put one into stealth mode?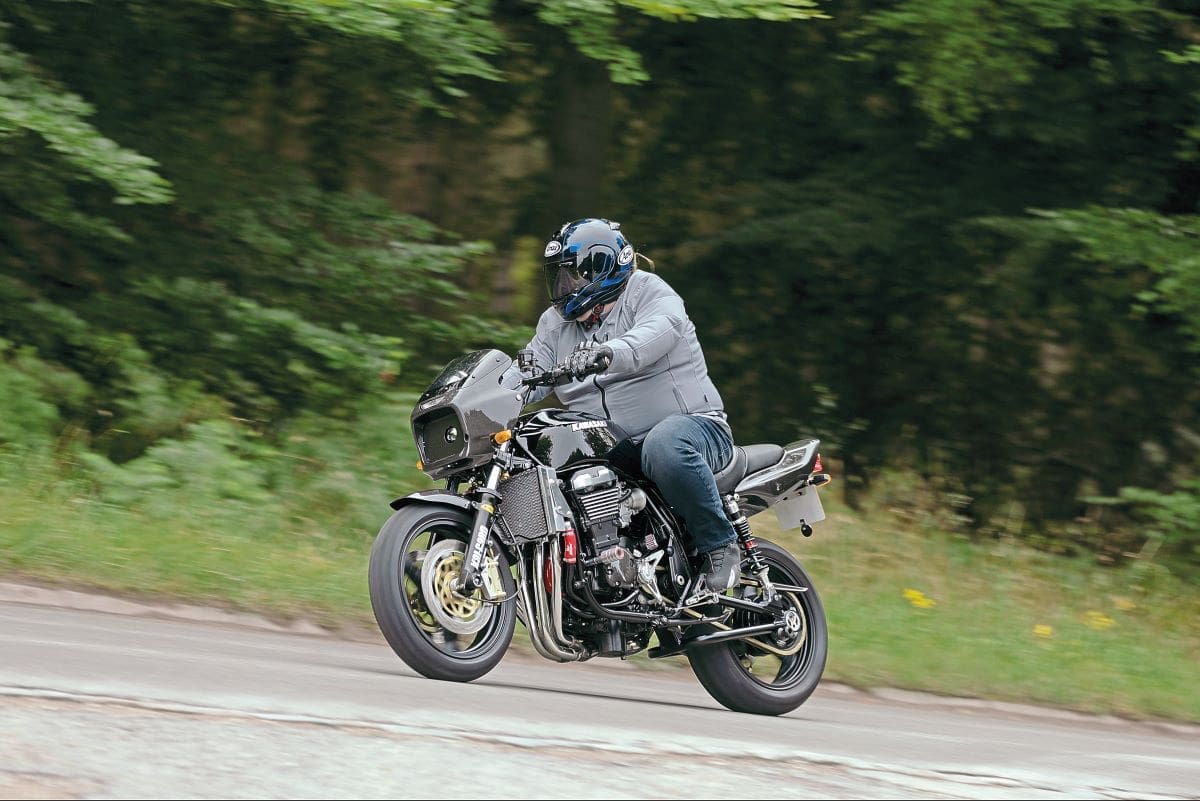 Words: Andy Bolas
Pics: Gary Chapman, Mortons Archive
Well, I have to admit I have a 'thing' for modified naked 1990s machinery so I was really pleased when reader Richard Gibbons offered us his ZRX1100R to test.
Rich has a reputation for building modified bikes and manages to do it on a tight budget, so this isn't a cheque book special! The base bike for this project was taken in part exchange for his modified Yamaha TRX850 a couple of years back. The big Kawasaki was all original and untouched. However, it had been badly stored for a while so was suffering surface corrosion and pitting on various parts and a rotten radiator to boot.
Initially, plans for the bike simply saw a quick tidy-up and a new radiator; the bike lasted around two weeks in this form before Rich got bored with the looks and ride of the ZRX. When asked what was his inspiration for the bike, Rich said: "I wanted to build an old-school fun bike which would go and stop better than standard plus plenty of carbon fibre." So, with this in mind, the bike was stripped down and the frame, swingarm, wheels and various other parts were sent to Mark Fernyhough at Rugeley Powder Coating. Going for a 'stealth' look, Rich went for satin black on the majority of the rolling chassis; the finish is spot on and looks very subtle!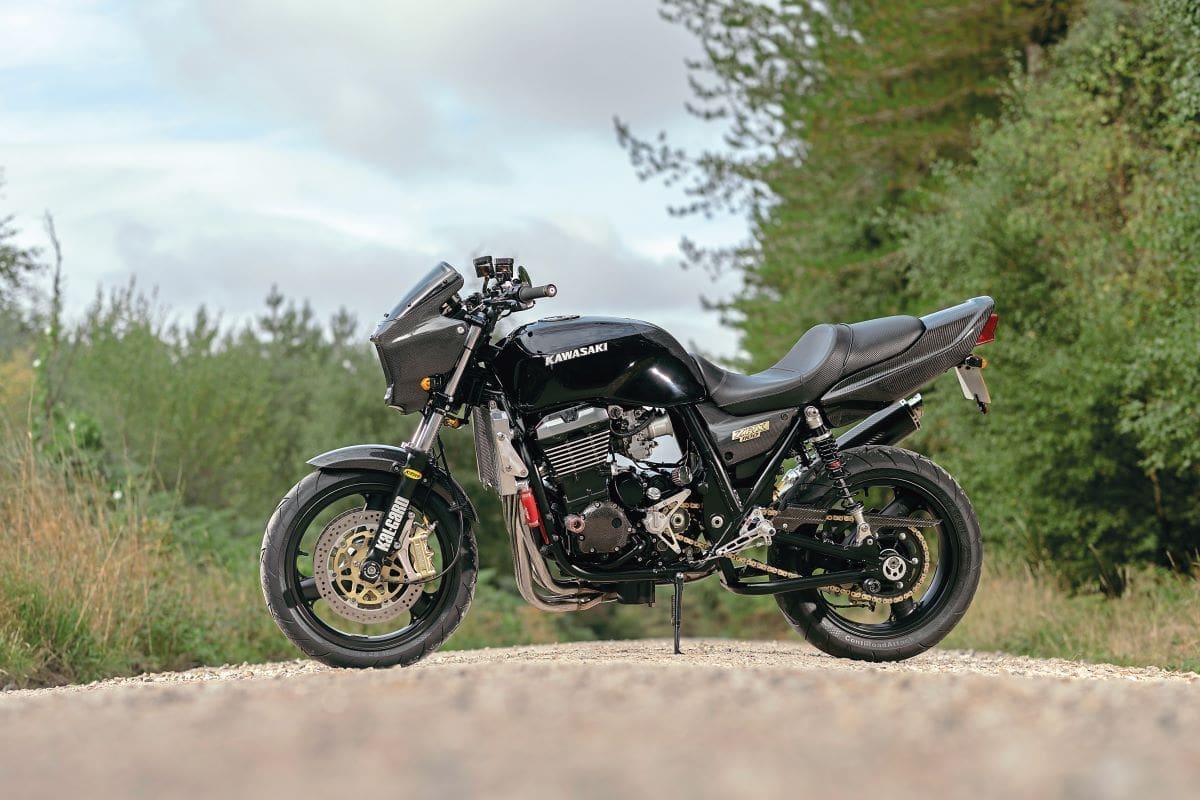 While all chassis parts were being treated to some fresh powder, Rich turned his attention to the ZRX's motor. The crank cases were cleaned up and didn't need any additional work (they look stunning to be honest), then a pair of ZZ-R1100 C model's cams were added and, according to Rich, they have more lift and duration than the standard cams and give more power over 4000 revs: remember, the ZRX motor is pretty much a ZZ-R11 mill… At the same time a four-degree ignition advancer was added, too. Initially the carbs were left alone along with the air-box, although the standard carbs were replaced later on with a set of Mikuni RS38 flat-slides and the original down-pipes replaced with a set of stainless ones from a later model ZRX, and the bike was then treated to a carbon-fibre end-can from the guys at Pipeworx. Once the cams were in, the outer engine covers were replaced with ZZ-R1100D covers (as they're slimmer and Rich prefers the look) which had been powder-coated already in (yes, you guessed it) satin black!
With the frame and other parts back, the bike was reassembled. The coolant hoses were replaced with red silicone ones from Roose Motorsport; the sprocket cover was replaced with a Coerce item; standard foot-peg hangers were replaced with a pair of ABM rear-sets to improve the ground clearance; a K Factory exhaust hanger replaced the standard hanger and allowed the removal of the rear foot-peg hangers; and K Factory also provided the fork brace.
Suspension and handling modifications were limited to some K-Tec fork springs, YSS rear shocks, and a Hyperpro steering damper, and a pair of Conti Road Attacks keep the ZRX on the black stuff! Braking was originally taken care of by a pair of Tokico six-pots (as per the original) but Rich decided that these were more hassle than they were worth so he managed to get a pair of radial mount Brembos off an Aprilia RSV Mille; these were attached with adaptor brackets to the standard fork bottoms. A Brembo rear calliper replaced the standard one, while the brake lines were replaced with Hel braided lines and a radial master cylinder from China was fitted to complete the front set up. The clutch master cylinder was from a Kawasaki ZXR750.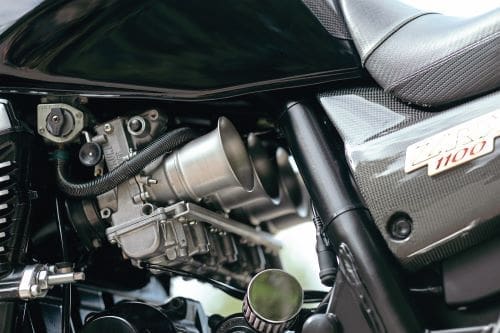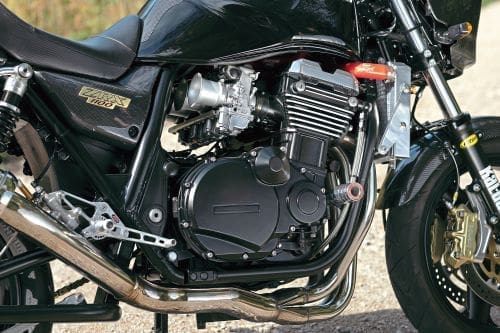 The bodywork for the bike came from various suppliers and was probably the greatest expenditure of the whole build, although purchased in stages to keep the outlay at a reasonable level. The original red/black tank was sprayed gloss black by a local car body shop after a couple of months of the bike being on the road. Also, the standard headlight eventually made way for a projector beam headlight unit from a kit car to give a kind of endurance look.
The bike you see in the pictures is constantly evolving (as most specials do). After a while of running the bike more or less in standard tune it was decided to remove the standard air-box and add a Stage 3 Dynojet kit with pod filters; this was found to be a complete pain in the butt to set up. However, Rich already had his sights set on upgrading the carbs as previously mentioned and eventually a set of RS38 Mikunis were sourced and fitted along with bell-mouths. After having slight issues getting the bike to carburate perfectly, Rich decided it would probably be best to get the ZRX set up on a dyno.
The bike was booked in at Melted Sliders Dyno Centre in Burton upon Trent where it was rejetted and tweaked, and apparently produced 128.9bh; not sure at what revs or how much torque was produced as the dyno sheets were missing, but this seemed a fair power increase. It would have been interesting to know the power and torque at the different points of the bike's modifications as you could then see what gave the biggest bang for your bucks!
Out on the road
Having fired the bike up I have to say it's not obtrusively loud and won't attract any unwanted attention from the law which is a bonus in these times. Before riding off, Rich warned me that the throttle likes to be closed manually rather than just releasing and thinking you have rolled off as it tends to run on… he wasn't lying!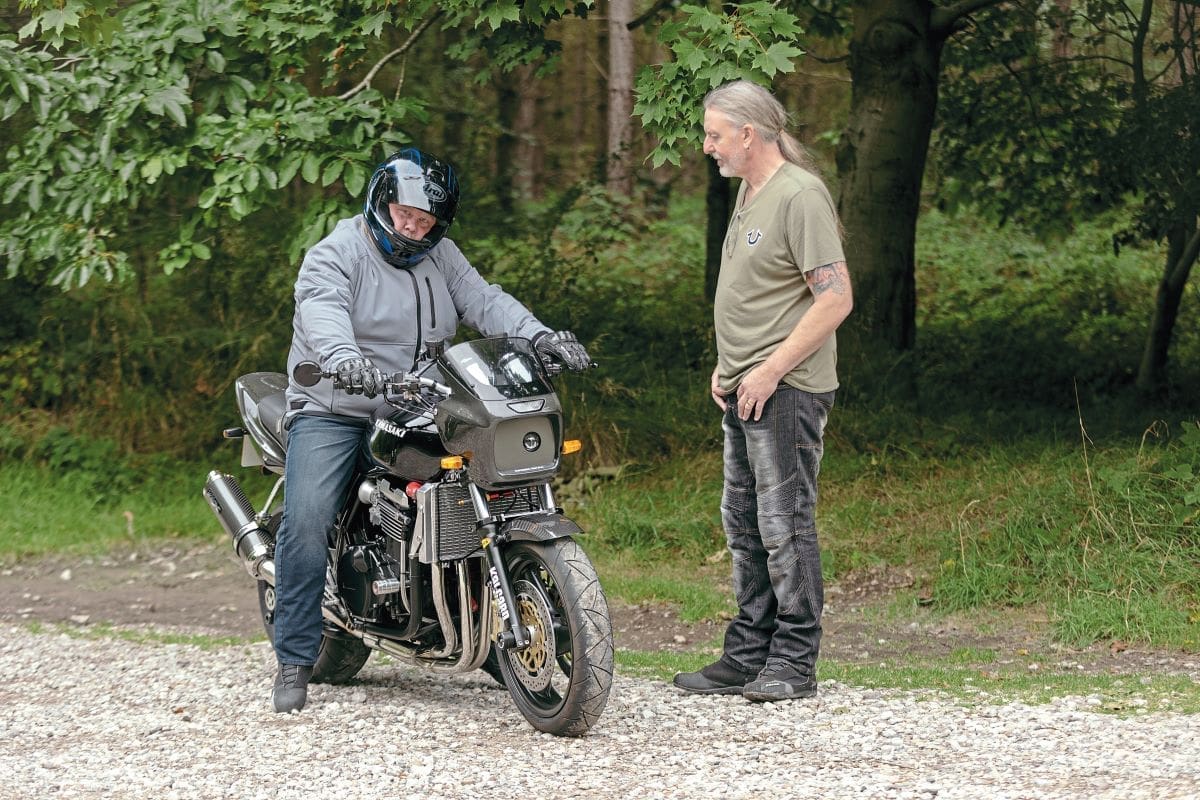 The rear has been lifted by around 30mm or so to help the bike turn in a little sharper (we'll see how this goes); also this makes the seat height a little high for a short-arse like myself but it's not too much of an issue unless you're trying to manoeuvre on gravel, etc. Having thrown a leg over, I settle into the Corbin seat and set off. The ABM rear-sets are a hell of a lot higher and further back than I remember the standard pegs being on a ZRX but they do seem to feel good on the move and allow you to move around well enough when changing direction although they are a little harsh on the old knees.
The riding position is aggressive and the extra rear ride height tips it on its nose and makes it change direction a lot sharper than the normal set up would. I wonder if without the steering damper it would feel nervous over bumpy roads, but it feels fine and holds a line well without any wandering around or flopping over into slower speed corners as you might expect from an unmodified machine. The brakes just feel wrong on the front, though. Don't get me wrong, they stop well enough but lack any feel or progression. I'm wondering if the master cylinder isn't the right ratio for the callipers so hopefully this should be easy enough to rectify. The rear under-slung Brembo calliper grips a wavy disc from Braking Motorcycle Wave Discs and it works fine, although every now and again there was a click and sticky feeling from the rear master cylinder although Rich knew about this and said it needed a little tweaking still, but as we have said before these things are never really finished and are constantly evolving.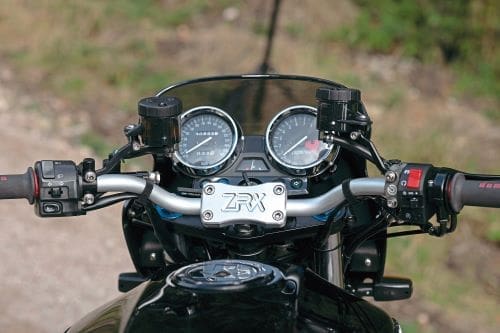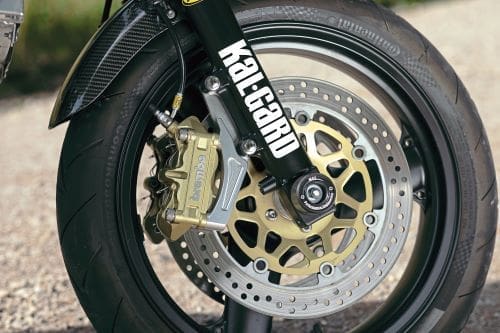 At last, we come to the ZZ-R derived powerplant: it doesn't disappoint and pulls well, although you can't bimble along at 30-40mph in top then grab a handful of throttle like I can on my 1200 Bandit as it doesn't like it at all – fuelling maybe or the carbs themselves? It doesn't feel as strong as my 1200 Bandit below 4000 but after that it feels the same power-wise, just a little revvier than the 1200. The drive out of bends is superb; the motor doesn't sound as mechanical as a Bandit either, but this is due to it being water-cooled so the ZRX is a little more refined. It goes as well as it looks, and the set up Rich has gone for handles the extra 30 or so bhp without any dramas. While looking round the bike I noticed that Rich has gone for a 180-55 rear as opposed to the standard 170-60 without any adverse effects on handling.
So, what's next for the ZRX? Well, next year Rich would like to fit a front end from a ZX-9R so the bike will have inverted front forks,and he is also considering a pair of Ohlins rear shocks. Mechanically, a turbo has been mentioned which should be cool and give a decent power boost (pun intended), all of which will be done as cost-effectively as possible.
To keep costs down Rich sells all the parts he has removed to keep things on an even keel. Cosmetically, he's looking at getting the tank hydro dipped to match the rest of the carbon bodywork and that's probably it for now. I think he has achieved his goal of building an old-school bike with plenty of grunt and I'm looking forward to seeing it in its next evolution…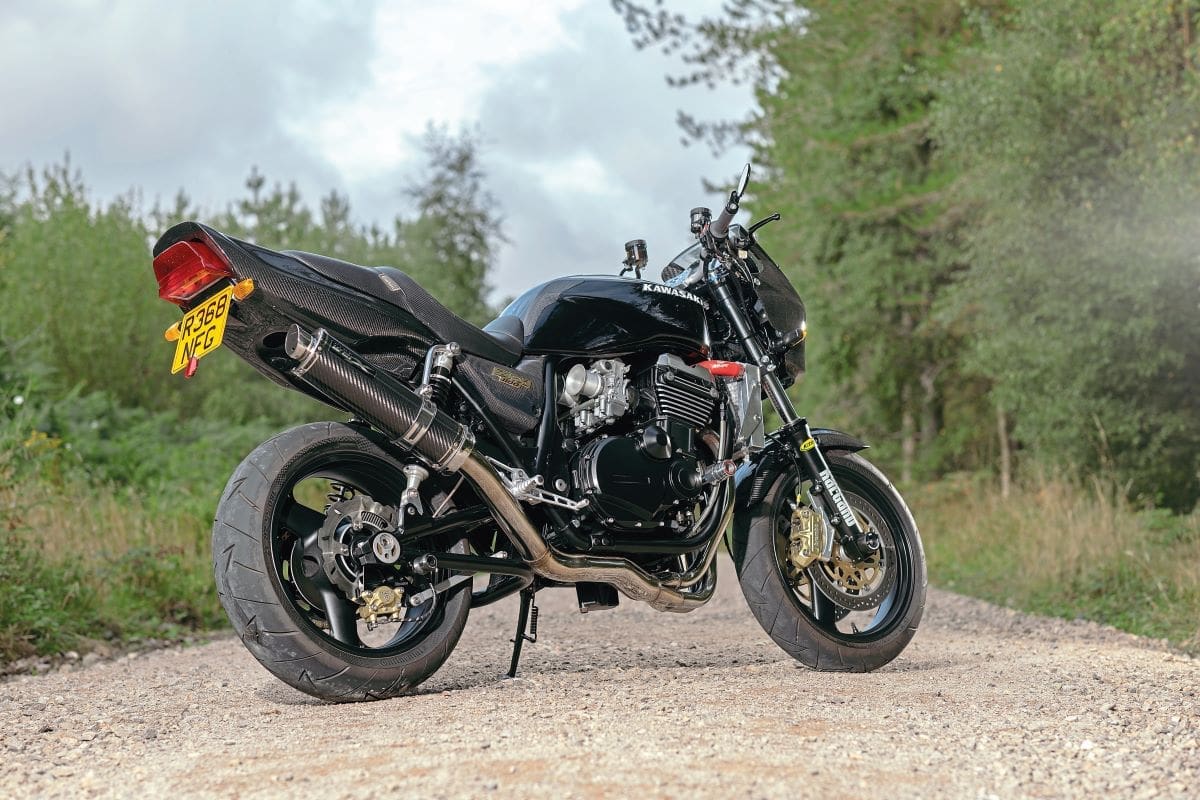 Engine: 1052cc four-stroke inline 4 DOHC 16 Valves
Max power: 96bhp @ 8700rpm Standard Bike (test bike 128.9 at the wheel)
Max torque: 7/2lb-ft @ 8700rpm Standard Bike (N/A)
Transmission: 5-speed
Final drive: Chain
Suspension
Front: 43mm RWU forks with adjustment for pre-load, compression and rebound damping (test bike has K-Tec springs)
Rear: Twin shocks with pre-load adjustment (test bike has YSS Ecoline shocks with pre-load adjustment)
Brakes
Front: Twin 310mm discs with six-piston callipers (test bike has Brembo radial mount callipers from an Aprilia RSV Mile)
Rear: 250mm disc with twin piston calliper (test bike has Braking Wavy disc and a Brembo twin-piston calliper)
Tyres
Front: 120-70-17
Rear: 170-60-17 (test bike has a 180-55-17)
Seat height: 790 mm
Wheel base: 1450mm
Dry weight: 221kg
Fuel capacity: 20 litres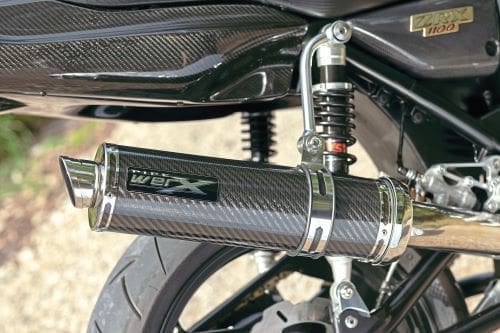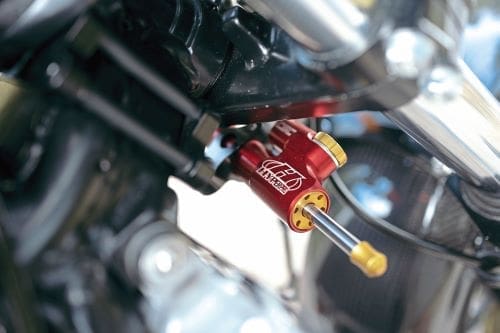 Kawasaki's gem!
We've long been fans of the ZRX range at CMM and I've owned two of them, with the latest (standard) sat in my garage, awaiting work to make it a special. Hence it's interesting to see what Rich has done with his here.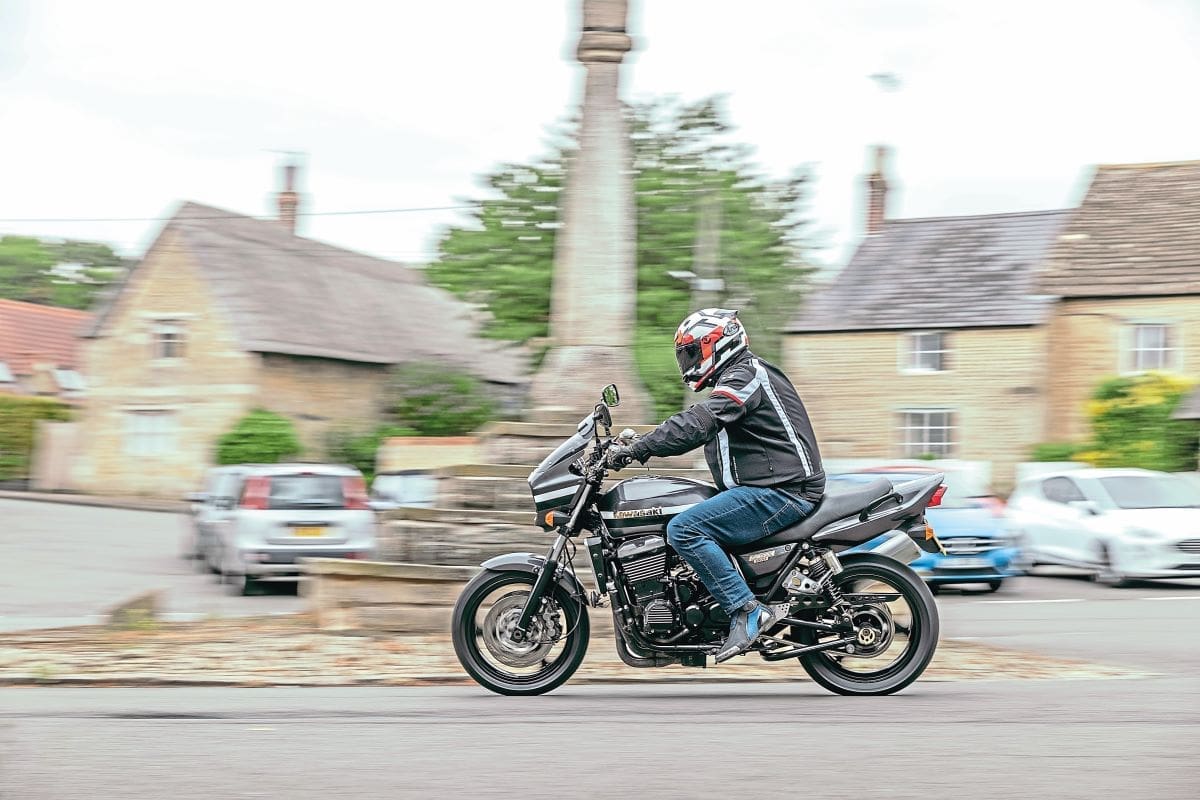 The original ZRX is a good road bike. The first ZRX1100s came along in early 1997 in a naked guise (N) and one with the beautiful bikini fairing, the R. The R came in some lovely solid colours including purple, butch black and a striking silver – but the best colour was a metallic version of an Eddie Lawson Replica green. Later models would ape the colour schemes of the great Kawasakis of previous years, including a lovely 'Firecracker Red' with racy stripes. They looked perfectly retro!
The motor was from the ZZ-R1100, so it was liquid, not air-cooled – which led many to poo-poo the bike. They were wrong, as the motor was unstressed, being neutered from around 130 to 100bhp. It also meant that many specialists (notably PDQ of Taplow, Berks) could liberate much more power for the ZRX and this formed the basis of many a tasty special.
From 2001 the ZRX1200 came along – using the ZZ-R1200 motor, detuned of course – and the two versions included the popular 'R' still and the half-faired 'S' model. Today the R is a pricey 'modern classic' while the S is cheaper – for some reason, but not by much. Sales came to an end in the UK around 2006-2007, but an updated version – the ZRX1200R Daeg – was sold in Japan from 2009-2016, with mildly tweaked looks and also coming in a number of special editions. It would have been great for Kawasaki to have made a ZZR1400-powered ZRX. Just imagine it…
Rich's project (and CMM's Alan Dowds' long-standing ZRX turbo project) has made me re-evaluate my own. I think both of these go further than I want to. My original ZRX1200R featured Kerker pipe, Ohlins rear shocks and Renthal bars – and that was it, but the paint job was a pukka ELR replica by Dream Machine. To be honest, I had to sell it to pay a tax bill – I should never have gotten rid of it, but the current 1100 will be a keeper.
I'm definitely having engine work done but this will be normally aspirated, no turbos for me. PDQ say it's easy to get a safe and sound 130bhp so that's fine. Chassis-wise, I want right-way-up but sorted forks, new rear shocks, and I definitely want shot of the six-pot Tokicos. The look I'm going for is as if it came from the Kawasaki factory – so standard indicators (maybe) and badges, but the paintwork is inspired from the Z1R TC Turbo – maybe even the white version (below). Can't wait to get started in 2023… Bertie Simmonds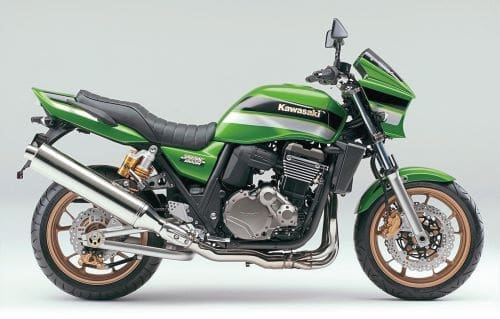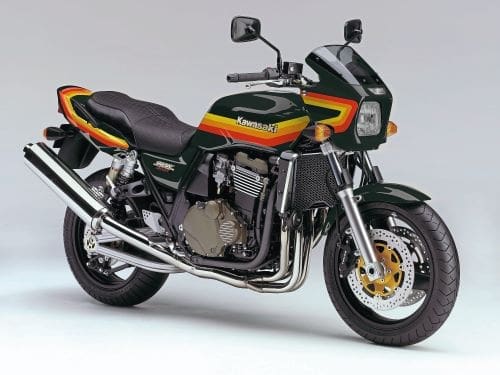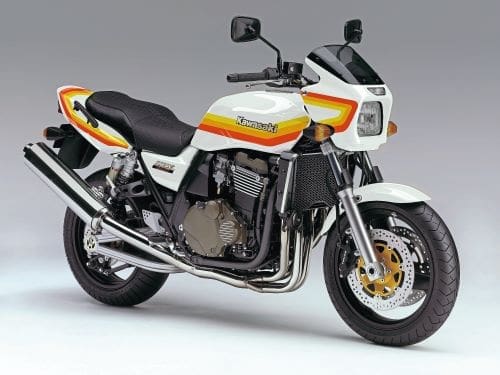 ---
Advert
---
Sign-up to the Classic Bike Hub Newsletter
Get the latest classic bike news and updates straight to your inbox… You can unsubscribe at any time.