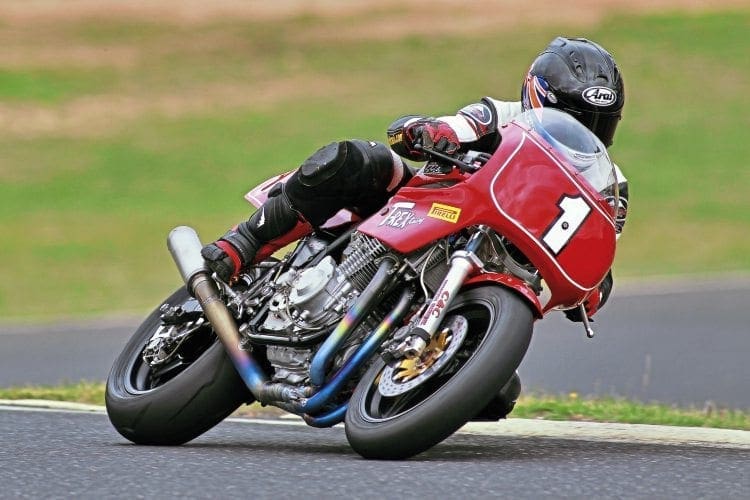 Photography: Stephen Piper
If any one person deserves credit for creating the ongoing historic racing success story that is Australia's post-classic road racing category, it's T-Rex Racing Developments' affable proprietor Rex Wolfenden. Alan Cathcart tells the fascinating story.
Since disposing of his suburban Melbourne K&W dealership 15 years ago, Rex Wolfenden has focused full-time on building and racing the machines that have set the pace at the sharp end. In Period 4 (1963-1972) competition, with bikes derived from Honda's eight-valve single-cam CB750-derived models, and more recently Period 5 (now 1973-1982) with 16-valve twin-cam hardware, the 63-year-old former motocrosser and Aussie Rules footballer has been a role model for others to imitate, and try to beat.
Rex Wolfenden is a rider-engineer who screws them together, then races them hard – a combination of talents that's rarer today than it was back in the day.
Coming to road racing late, after a 10-year MX career racing mainly Maico and Kawasaki machinery at the highest level Down Under, then another decade building up his K&W Honda/Kawasaki dealership, Rex began racing on the hard stuff only in 1988 as a break from his more demanding second career as an Aussie Rules footballer.
"Footie came first for me till 1991," he says, "but by then the lap records had started falling and the wins began flowing on the bikes, so I concentrated on that. It was hard going racing on Sunday all bruised and battered after playing footie on Saturday – I've broken more bones and had more operations playing Aussie Rules football than I ever suffered riding in motocross, or on the bitumen!"
Choosing the CB750 Honda as his original tool to go racing with was a no-brainer, says Rex – especially with no ban on four-cylinder big bikes in pre-1973 racing Down Under, as there is in British classic racing to protect the homegrown twins and triples.
"I wanted to race a make I sold, and Post-Classic racing with a Honda four was a good choice for the economics of it, because there were so many bikes out there to source parts from," he says.
"Plus the rules permit quite a lot of development so long as you use period parts or replicas thereof, and that appealed to my engineering side. Also, it allowed me to race the bikes that were top of the heap when I was a kid, and we all like to take a walk down memory lane, and pretend we're younger than we really are if we can get away with it!"
Indeed so, with Rex himself riding to the Australian Post-Classic Period 4 championship seven times in 11 years, often in close contention with any one of the 10 clones of his original CB750-based road racer he was persuaded to build for chums and customers once he started sweeping up the big-bore Post-Classic honours on his own bike in the early Nineties.
The common sight of a trio of K&W Hondas locking handlebars as they battled over the top three finishing positions in a Post-Classic shootout became a modern reminder of the way it was for Aussie audiences, recreating the crowd-pleasing spectacle delivered by the ancestors of today's Superbikes – a class in which the Wolfenden family has a keen interest.
Rex's brother Clyde was for many years the Honda Australia Superbike team manager, the man running the rider factory that churned out the likes of Troy Corser, Anthony Gobert, Kirk McCarthy and many others, making them Aussie Superbike champions in successive seasons on Hondas, before they sought fame and fortune overseas – with other marques.
The advent of the Period 5 class saw Rex take up the challenge of competing with the stars of the past sucked into helping create what is undoubtedly one of the most thrilling spectacles in road racing today.
"In Period 4 I pretty much dominated, but I probably went to Period 5 a bit late," he says. "You had the likes of Robbie Phillis and a number of other really class acts come through on those bikes who were a bit harder to beat! I've never been at the level of a Robbie or a Malcolm Campbell as a rider, but I've kept my end up OK and had fun, which is the most important thing."
More to the point, reducing his emphasis on riding in favour of workshop time meant more chance to develop the delectable deluge of perfectly prepared Post-Classic racers that have flowed from his spacious and immaculately presented Melbourne workshop, under the T-Rex Racing Developments banner.
"When I sold my dealership to focus on Post-Classic, a few senior members in the trade pulled my leg, saying that I was mucking about with dinosaurs!" says Rex. "They called me Tyrannosaurus Rex, so I shortened it off to T-Rex – it's been quite catchy, actually!"
As the performance stakes have risen so dramatically of late in P5, with reputed 180 bhp Suzuki Katanas and XR69 TT F1 racers powered by lightning fast dragstrip refugee motors, Wolfenden has been able to remain on the pace with his T-Rex Hondas in spite of giving away cubes and horsepower, by focusing on rideability and reliability.
Hence the creation of the Harris-framed Honda CB1100R racer sat in the pits ready for me to ride it at the annual Penrite Broadford Bike Bonanza, Australia's annual Easter extravaganza of motorcycling memories in six different disciplines of the sport.
The No.1 plate it proudly bore signalled this was the bike on which Michael Dibb had just won the Australian Post-Classic P5 title at the Barbagallo circuit in Western Australia, as well as dominating the Barry Sheene Festival of Speed at Sydney Motorsports Park, aka Eastern Creek, to those with longer memories.
Most recently, ex-500GP racer and British Superbike/Supersport star Paul Young took the T-Rex Honda to a trio of third-place rostrum finishes in the white heat of the 2015 Island Classic AUS/NZ/UK/USA Match races, after Dibb retired from racing for personal reasons. Quite an acceptable stand-in!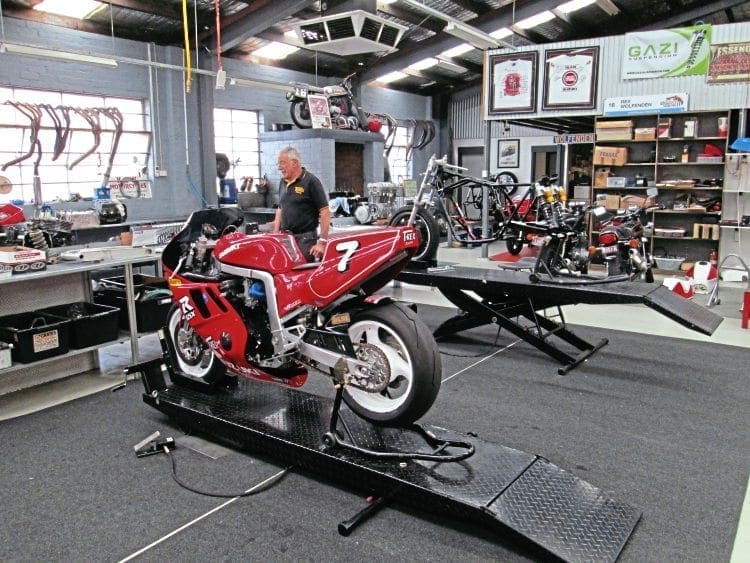 The CB1100R was Honda's first homologation special, a single-seat, fully faired sportbike of which just 4050 examples were built from 1981 to 1983, which was sufficient to meet requirements for it to be classed as a production motorcycle in the markets it was sold in, namely Europe, South Africa, Australia and New Zealand, but not the USA.
There, the similar but unfaired CB1100F was available from 1982 through to 1984, also as a means of qualifying for AMA Superbike racing before the advent of the VF750 Interceptor.
In 1981 the CB1100R won the NZ Castrol Six Hours ridden by Aussies Malcolm Campbell and Mick Cole, and in 1982 CB1100Rs swept the first four places in the Australian equivalent race for Honda, with future 500GP World Champion Wayne Gardner teaming up with Wayne Clark to take the flag first.
So this is a bike with serious sporting heritage – in spite of which Rex Wolfenden decided to replace the standard frame on the CB1100R he built and raced himself in P5 events five years ago with a Harris chassis for the 2012 season.
"It's pretty tough at the front, and because I can only stretch the Honda's motor to 1156cc, I have to play catch up compared to the bigger Suzuki engines," says Rex.
"But weight is speed, and the one thing that the Harris frame offered was to cut the weight back considerably by 17 kilos over my CB1100R. That's a big saving, and it equates to about $1000 per kilo when you start to count up.
"I've got five cast magnesium Dymag wheels that cost $1600 each, and on the big components in the Harris I've used a lot of titanium, plus the fairing, seat, tank and everything are wafer-thin and as light as you like.
So while I've revved the motor up a bit and got a little more power out of it, the extra speed and handling on the track is all a by-product of weight, and that comes from digging deep and ordering the Harris chassis."
The resultant bike is pure eye candy, with the British-made chrome-moly frame essentially a modified Harris Magnum chassis that Rex admits to modifying subtly on its arrival Down Under. "The frame technology was very good for over 30 years ago, but I moved the engine further forward slightly in the wheelbase," he says.
"Plus, under load the anti-squat was out by a fair way, so I not only repositioned the motor to carry a little more weight on the front wheel, I've also raised it up at the back to get the driven force on the back chain on and off the throttle millimetre perfect, which is very important.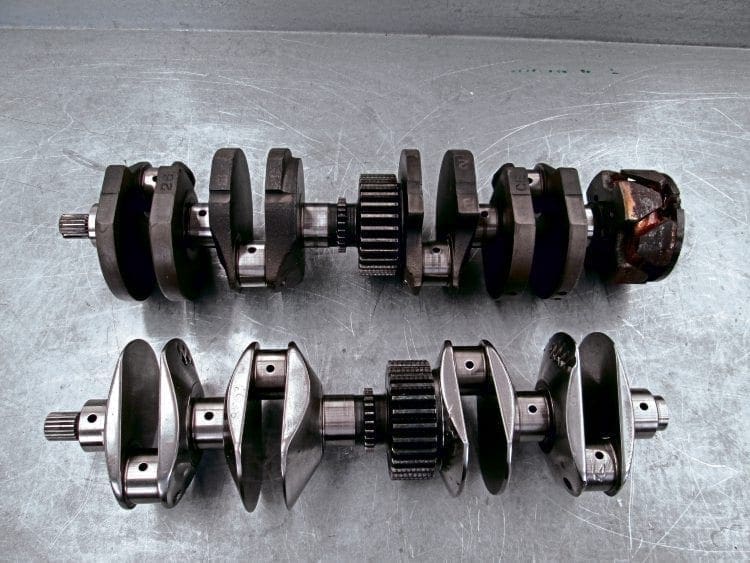 "Also in that period, they did the same as on motocross bikes slightly earlier, and cantilevered the shocks by laying them down, which was probably a bit trendy at that time. But road racing suspension is all about quality of damping, not quantity of wheel movement, and it makes the springs and the dampers very hard to tune when you're getting a lot more travel and leverage on them.
"So I actually cut off the back of their brand new frame that didn't even have any undercoat on it, and got a complete 1:1 ratio by mounting the shocks in a more conventional place. It runs just 100mm of rear wheel travel, but I've got total control out of the rear suspension."
Twin fully-adjustable Öhlins piggyback shocks deliver that control via the box section swingarm, matched to a stock 41mm Showa cartridge fork with T-Rex internals mounted in billet aluminium tripleclamps produced by brother Clyde Wolfenden's C&C Motorcycle Engineering concern, which was also responsible for the handlebars, footrests, assorted levers and other gorgeous metalwork on the bike.
The cast magnesium Dymag wheels shod for my test with Pirelli Supercorsa 2 slicks use oversize axles made from titanium, as is the swingarm pivot rod. C&C also made the replica front 310mm Suzuki XR69 steel discs gripped by the benchmark twin-piston AP-Lockheed calipers of the era, as well as the 230mm rear disc matched to a twin piston Brembo caliper.
The chassis geometry is adequately sporty even by modern standards, with the fork set at a 24º rake with 100mm of trail, though the wheelbase is a little rangy at 1475mm.
The claimed 160kg dry weight – which is amazingly light by the standards of a two-wheel tractor such as this – is split 52/48% forwards thanks to Rex's frame mods, which didn't stop there.
"To Harris's credit the frame is very light compared to a street CB1100R Honda frame, as you'd expect being made out of chrome-moly," he says.
"But it broke my heart to put a kilogram of metal on the chassis, because there were a couple of little flaws in the frame design where there was going to be a hinge in it. I took the hinge out, and I guarantee you it hasn't got one now, though it did cost me one kilo of weight! But the fuel tank is lovely and light, and the bodywork is just one sheet of Kevlar thick, which is very nice."
This gorgeous set of wheels looks muscular and mighty as well as pretty, thanks to the tuned motor that dominates the picture visually in producing a claimed 145 bhp at 9500 rpm, at the rear wheel.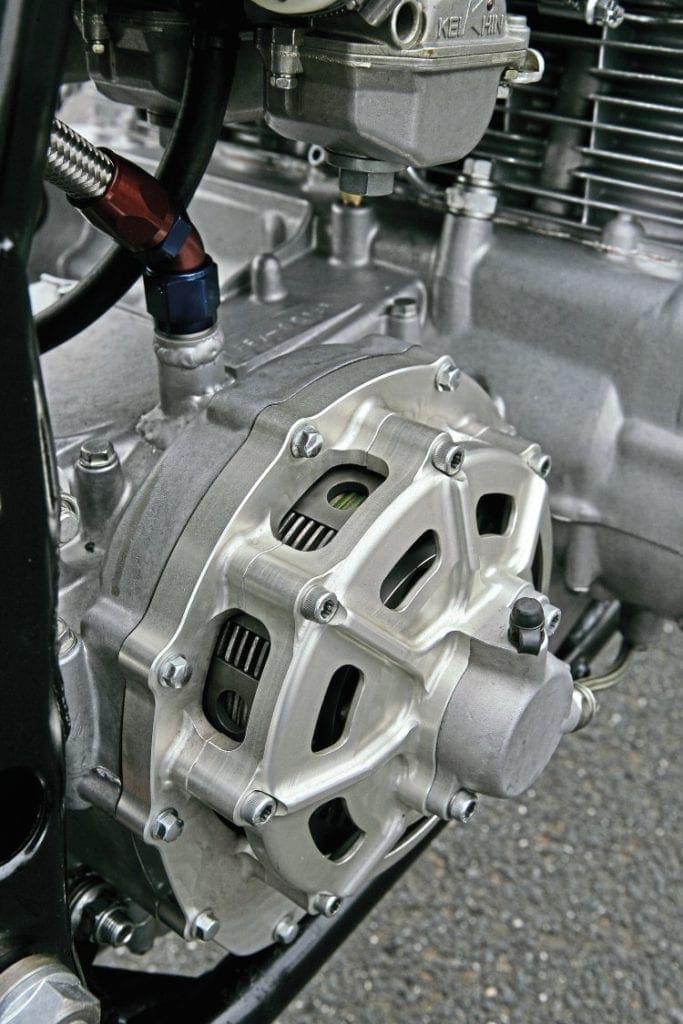 This uses CB1100R crankcases and a heavily modified stock crankshaft, which Rex has lightened by 2.5kg in knife-edging the webs to cut better through the oil in this wet-sump motor.
This lightweight crank carries Carrillo conrods specially made for T-Rex by the Californian specialist, surmounted by forged modern Honda pistons from any one of a number of current models.
The engine has been bored out 3mm to deliver 73 x 69mm dimensions for a capacity of 1156cc. The re-ported, gas-flowed cylinder head with modified combustion chambers follows the RSC (Honda's racing division in the pre-HRC era) improvements in one of the bikes in Clyde Wolfenden's collection of historic Hondas.
"My brother owns one of the last of the series of Honda TT Formula 1 bikes using this engine, so of course I've seen inside it, and you can't get better than RSC," enthuses Rex.
"I've pretty much copied what they did in the factory cylinder head, which is to shut down the inlet ports a little bit, fit much bigger inlet valves, and use a traditional camshaft design with 9mm of lift. It all works well, just as Honda proved by winning the TT Formula 1 title with this engine."
Compared to the stock CB1100R motor, 1.5mm larger diameter inlet valves and 1mm bigger exhausts – two each per cylinder, of course – are fitted, locally made in stainless steel, and each fitted with just a single good quality American S&W valve spring.
The five-speed close-ratio gearbox is a stock CB1100R item, matched to a hydraulically actuated replica of the factory RSC dry clutch copied directly from brother Clyde's works motor, and fitted with Ducati plates.
Ignition comes via a proprietary Electrex World self-generating digital CDI, and the 4-2-1 titanium exhaust and silencer were made in Britain to T-Rex specs and assembled in Australia, while in scaling just 2.5kg the titanium pipe is literally half the weight of the stainless steel one it replaced.
The engine carries a quartet of 35m Keihin CR carbs, and Rex admits to constantly experimenting with velocity stack lengths to optimise carburation. "I've tried all sorts of combinations," he says.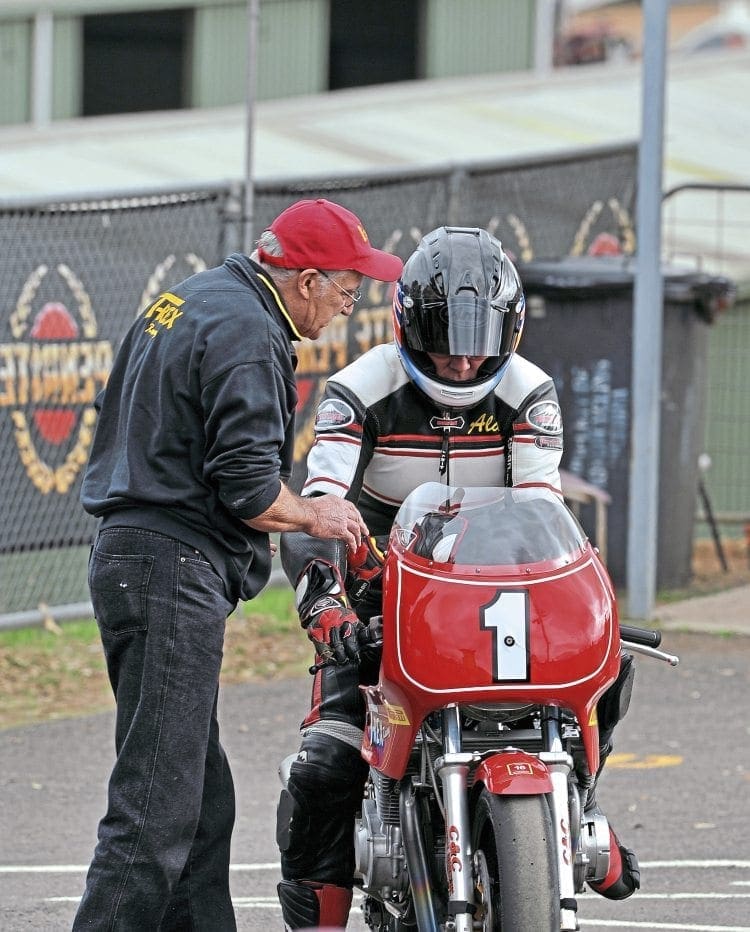 "At the moment I have four all the same length on it, but sometimes I use two different lengths. Inlet tract lengths and velocity stack combos are all about getting it to carburate right and getting good linear power out of it."
And that he has, as my all-too-brief dozen-plus laps of Broadford amply proved.
TECHNICAL SPECIFICATION: T-Rex Honda
Engine: Air-cooled dohc 16-valve transverse in-line four-cylinder dry sump four-stroke with central chain camshaft drive
Bore x stroke: 
73 x 69 mm
Capacity: 1156cc
Output: 45 bhp at 9500rpm (at rear wheel)
Compression ratio: 11:1
Carburation: 4x35mm Keihin CR
Ignition: Electrex World 
self-generating digital CDI
Gearbox: 5-speed close-ratio with Morse chain primary drive
Clutch: Multiplate RSC dry
Frame: Chrome-moly tubular steel twin-loop double-cradle
Suspension: Front: 41mm Showa cartridge telescopic forks. Rear: Fabricated chrome-moly steel swingarm with 2 x Öhlins shocks
Wheelbase: 1475mm
Head angle/trail: 
24 degrees/100mm
Weight/distribution: 160kg dry split 
52/48% forwards
Brakes: 
Front: 2 x 310mm Suzuki steel discs with twin-piston AP calipers. 
Rear: 1x230mm steel disc with twin-piston Brembo caliper
Wheels/tyres: Front: 120/60-17 Pirelli SC2 on 3.50in Dymag cast magnesium wheel. Rear: 180/60-17 Pirelli SC2 on 5.50 in. Dymag cast magnesium wheel
Top speed: 273kph 
(Phillip Island 2015)
Year of construction: 2012 to 1983 specification
Owner: T-Rex Racing Developments, Heidelberg West, Victoria, Australia
POST CLASSIC RACING
The most dramatically entertaining and closely-fought form of road racing today is neither the eight-make World Super Bike shootout, nor Honda's sealed-engine 600cc Moto2 World Championship for makers of chassis.
Instead, it's the no-holds, fairing-rubbing, handlebar-clashing, Australian Historic class for air-cooled multi-cylinder monster bikes known Down Under as Post-Classic Period 5, and by the rest of us as Vintage Superbike.
The annual Island Classic clash each January between teams from the UK/USA/NZ/Australia mounted on such bikes, plus races for the class held at Phillip Island each year as support events to the World Superbike round in February and the Australian MotoGP in October, vividly demonstrate its appeal to visitors from other countries.
With 1982 as a cut-off year, Historic racing's big bike category – there's a 1300cc top limit to encourage tuners to go large on engine upgrades – recaptures the variety and thrills of Superbike's early days, when Honda, Kawasaki and Suzuki grappled with each other in a no-holds struggle for streetbike supremacy.
Against all these behemoths, the fire-breathing, air-cooled Irving Vincent 1300 pushrod V-twin might seem like a bike from another even more distant era rooted in the mists of time – except that the improbably fast home-brewed racer more than holds its own against the frantic fours, providing the same fascinating crowd-pleasing standoff between two radically different types of motorcycle as the Ducati vs All Others World Super Bike scenario.
Just to make the ride down Memory Lane even more authentic, today's version of that spectacle sees many products of the Australian road racing rider factory Superbike racing has had a hand in rearing, returning to the scene of their crimes against spectators' nerves, with Rob Phillis, Wayne Gardner, Mal Campbell, Cameron Donald, Shawn Giles, Kiwi Richard Scott and comparative youngster Steve Martin among the stars of yesteryear as well as the talented crowd of today's riders of all ages in the Period Five class.
In keeping with the catch-all concept the 1980s Swann Series spectacles Down Under adopted in matching visiting European riders on 500cc GP racers and race-framed TT Formula 1 four-stroke behemoths against their Aussie and Kiwi rivals on Superbikes, 500GP racers and F750 two-strokes like the TZ750 and KR750, those same bikes today form part of a Post-Classic class. Campbell's pursuit on an RG500 Suzuki square-four stroker and eventual defeat of Honda CB1100 Superbike-mounted Gardner at the Island Classic one year was an ideal demonstration of the category's broad appeal. Long may it be so.
THE RIDE
The stock starter motor's been removed, so after firing it up on the rollers I made my way out to the pre-grid – where I discovered that neutral is absolutely impossible to find on the race-pattern one-up four-down gearchange.
The only solution was to snick it on the move as I coasted to my slot on the grid.
There's a high 1800rpm idle speed, an old trick from the days before slipper clutches of combating any dreaded chatter on the overrun under engine braking.
But off the mark the Honda has really crisp, zestful acceleration that borders on being explosive and sits slightly at odds with its otherwise pussycat nature – for this is an unexpectedly torquey 145bhp motorcycle that I can imagine must be great to ride in the rain or on a slippery track, conditions in which I very much doubt its 180bhp Suzuki rivals would be much at home, or even rideable at all.
Rex Wolfenden says he's extracted 180bhp rear wheel horsepower from this Honda engine, but only at the cost of a very aggressive power delivery, and a narrow, peaky powerband that severely impacted on rideability.
Instead, with 30-odd less horsepower – in which guise Paul Young was still trapped at 273kph down the Phillip Island front straight at this year's Island Classic – this is an extremely tractable bike to ride to 95% of its potential, forgiving and enjoyable until you start looking for that last 5%, when you need the skill and intelligence of a Dibb or a Young to extract it.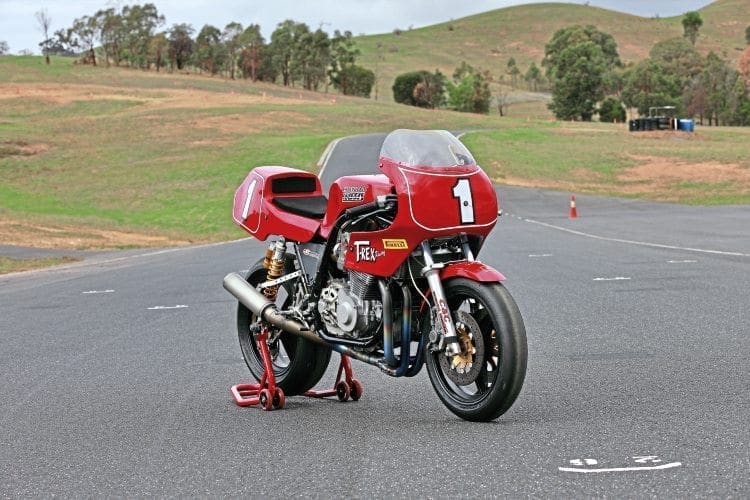 Sure, there's a wedge of extra power and speed further up the revband towards the 9500rpm redline, but the T-Rex Honda has such a linear build of power and such low down grunt that it's well suited to a tight, twisty track like Broadford.
It pulls hard but cleanly off the mark without much clutch, and will drive easily out of a slow second-gear turn from 4500rpm upwards, giving what by early Eighties racing standards is a mile-wide five grand powerband.
The handling is forgiving too, and the linear power delivery, crisp but clean throttle response, and Rex Wolfenden's optimised chassis setup to enhance on/off throttle behaviour, all combine to make it an easy bike to get back on the throttle while still leaned over exiting a turn.
The rear Pirelli SC2 slick just hooks up effortlessly in a way that made me forget I was riding a twin-shock historical artefact – for this seems a much more modern bike than it supposedly is in terms of handling and rideability.
And when it does start to slide it does so super-controllably, the wide clip-on handlebars allowing me to correct it instantly so it doesn't get out of hand. Like I say, this would be a great bike to ride in the rain.
The broad screen is super-protective without affecting your ability to position the bike in a turn, which is sometimes the case with anything this wide.
The Harris chassis steered much better than I remember Mick Grant's genuine (not replica) factory XR69 Suzuki of the same era doing, so its design and Rex's improvements have obviously delivered a good-handling package that was surprisingly adept at flicking from side to side through the Broadford Esses. I'm sure lifting up the rear a little as he did was a key factor in this.
The brakes weren't brilliant, though – I'm used to such period stoppers on my 750SS Ducati, which has the same brake calipers as on the T-Rex Honda.
But my desmo V-twin uses Brembo cast iron discs rather than the steel Suzuki copies on Rex's bike, and the difference is really substantial. I'd been told by Rex before I went out there were carbon pads in the front calipers, so I duly warmed them up by riding down the straights with my finger on the lever on my out lap.
After that they gripped OK, but in a rather progressive fashion – there wasn't the instant bite you get from a cast iron disc with those calipers.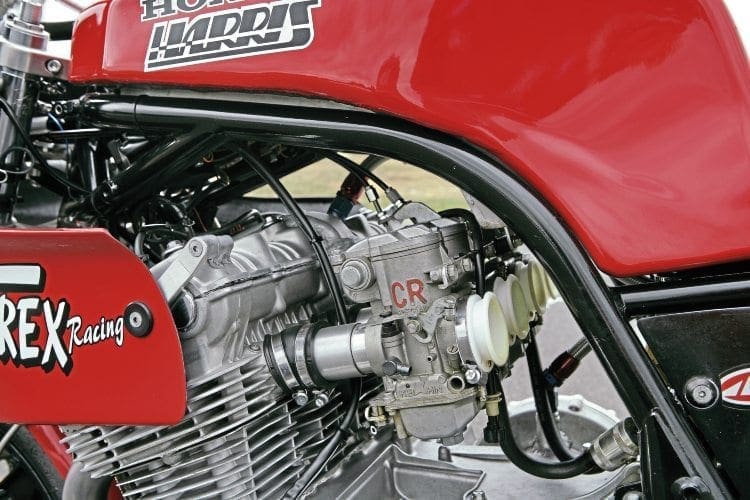 There are no reserves of stopping power on this bike, no extra braking in case someone cuts in front of you, or if you misjudge your speed just a little.
But that was the only slight criticism I had of what is a really great piece of empirical development, created by the man who's rightly synonymous with Post-Classic racing Down Under.
Flexible and forgiving, yet fast and improbably torquey, that wonderful motor is the star of the show, housed in a beautifully prepared motorcycle that almost looks too lovely to race. Some dinosaur!
PAUL YOUNG'S TAKE
Adelaide, South Australia-born Paul Young, 46, is yet another product of the mythical Australian rider factory that has produced so many notable names down the years.
After starting off his racing career aboard a modified Lambretta scooter, within five years Young had won the 1994 Aussie 250 Production title and was racing in the 1996 500cc World Championship on a privateer Harris-framed YZR500 Yamaha V4 two-stroke – and scoring points on it, too.
He then switched to the UK to race in the BSB series on Yamaha machinery, winning the privateer Superbike title and 2001 British 1000 Superstock championship on an R1 before joining the Triumph factory as a development technician and test rider.
At weekends Paul competed in the British Supersport championship on a 675 Daytona, gathering race victories for the British manufacturer before returning Down Under in 2013 for what he thought was an extended voyage of discovery around his homeland country.
But that got cut short when he was persuaded to join the country's best-selling bike magazine AMCN as road test editor, since when he's rekindled his racing career in weekends off from the day job by racing a Kawasaki ZX-6R in the Australian Supersport series.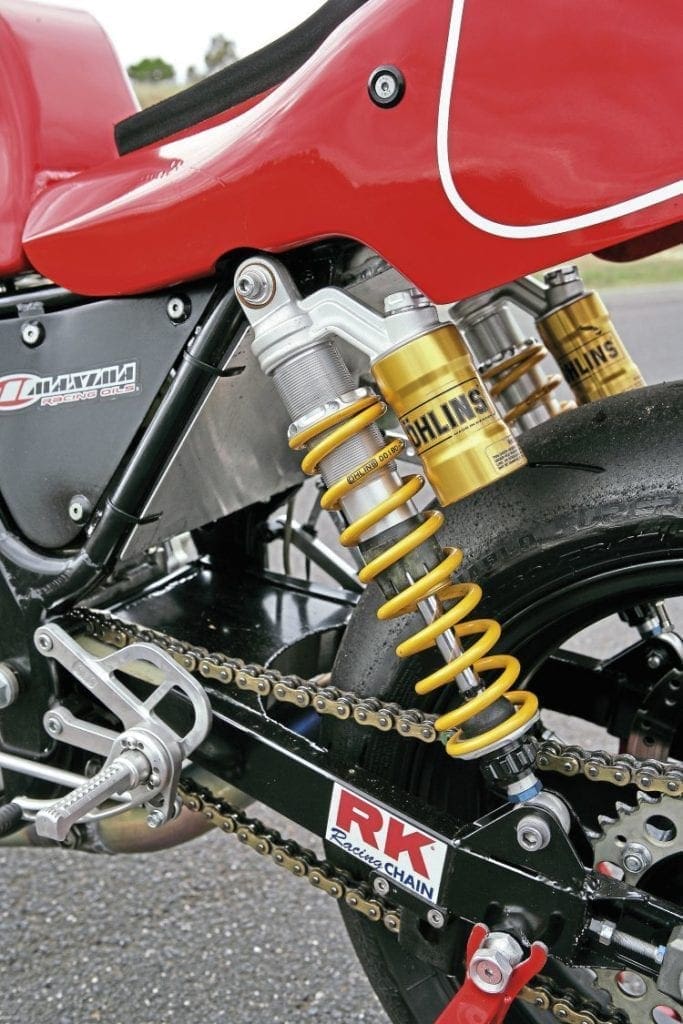 His introduction to the world of Post-Classic racing came with a guest ride on the T-Rex Honda CB1100R at the 2015 Island Classic last January, joining IoM TT ace Cameron Donald and former Australian Superbike champions Steve Martin and Shawn Giles as a member of the Australian team racing against visiting UK stars like Jeremy McWilliams and TT maestro John McGuinness.
After crashing on someone else's oil in qualifying, Young then underlined his versatility by recording three third-place rostrum finishes over the weekend on his historic racing debut against such top line competition. Here's his take on the T-Rex Honda.
"Racing Rex Wolfenden's masterpiece of classic re-engineering was an education, even to someone with my broad spread of racing experience ranging from Lambretta scooters through to 500GP two-strokes and modern-day Superbikes.
"What shocked and educated me the most was how close to a modern bike this 30-something-year-old classic racer could feel – and perform for that matter. Far from being an underpowered, jelly-boned dinosaur that's conversely overpowered for its chassis, the T-Rex Honda is an accurate, agile and unbelievably rapid race bike.
"This 30-year-old motorcycle has a power to weight ratio similar to the best World Supersport machines, and rolls on the same Supersport race tyres I use on the Kawasaki ZX-6R I'm racing in the Australian Supersport series this year – hence this is the closest comparison I can make between this Post-Classic Period 5 racer and a modern bike.
"Aside from the five-speed gearbox, lower maximum engine speed and the high level of mechanical noise, the differences fundamental to race set-up come in the T-Rex Honda having a far more sudden power delivery, and its narrow five-inch rear rim being totally unsuitable for modern 190-section tyres made for the 5.50 rims used in Supersport racing.
"The combination of these last two things, resulting in a raw power delivery on too small a tyre contact patch, is the biggest hurdle to achieving even more incredible lap times than the bike is already capable of.
"Over the course of the 2015 AMCN Island Classic weekend I managed to make some personal contributions to the development of the bike, which shaved quite a bit of time off the Honda's previous best lap times.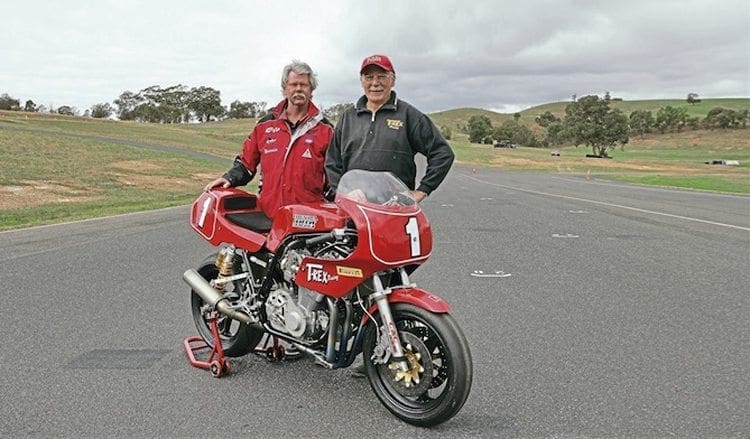 "Fairly early on I had two major problems, firstly ground clearance, and secondly excessive movement and pumping in the rear. The rear Pirelli Supercorsa tyre we used has a very soft sidewall, and when squeezed onto the narrow rim it has a muffin-top effect.
"This excessive tyre overhang initiates a pumping action in the rear of the bike. Higher tyre pressures helped overcome this, but stiffer springs on the Öhlins piggyback shocks were necessary to fully tame the rear end.
"The spring change and a 5mm rise in ride height front and rear, plus a bit of engine cover re-profiling, all but fixed the ground clearance problem too.
"The 1150cc T-Rex Honda has a capacity disadvantage over the 1300cc Suzukis and Yamahas that are now the weapons of choice for the International Challenge, and judging by the dyno numbers bandied around the paddock, it also has a power deficit of anywhere north of 20hp.
"But on the track this wasn't so evident, with the Honda's fastest speed trap reading of 273kph comparing well to the 278kph best for the weekend recorded by both McWilliams' FJ Yamaha-engined Harris F1 and Shawn Giles' Suzuki Katana.
"The chassis improvements found in the Honda over the weekend also had a significant influence on speed trap times; increasing by 9kph from Saturday to Sunday, due to higher mid-corner speed and harder acceleration off turn 12.
"The acceleration of the Honda is hugely impressive, even by modern standards, helped by the T-Rex Honda's light weight when compared to current production sportbikes. Rex Wolfenden has done a great job in developing this bike.
"I believe with further development in the directions we were headed, the T-Rex Honda could easily go below the 1m38.1s lap that was my quickest of the weekend. And considering it was one of the most enjoyable weekends of my entire racing career, I certainly hope I get granted another chance to prove that!"
Read more News and Features in the March/April of Classic Racer – on sale now! Read more News and Features in the May/June 2020 issue – on sale April 16!
---
Advert
---
Sign-up to the Classic Bike Hub Newsletter
Get the latest classic bike news and updates straight to your inbox… You can unsubscribe at any time.