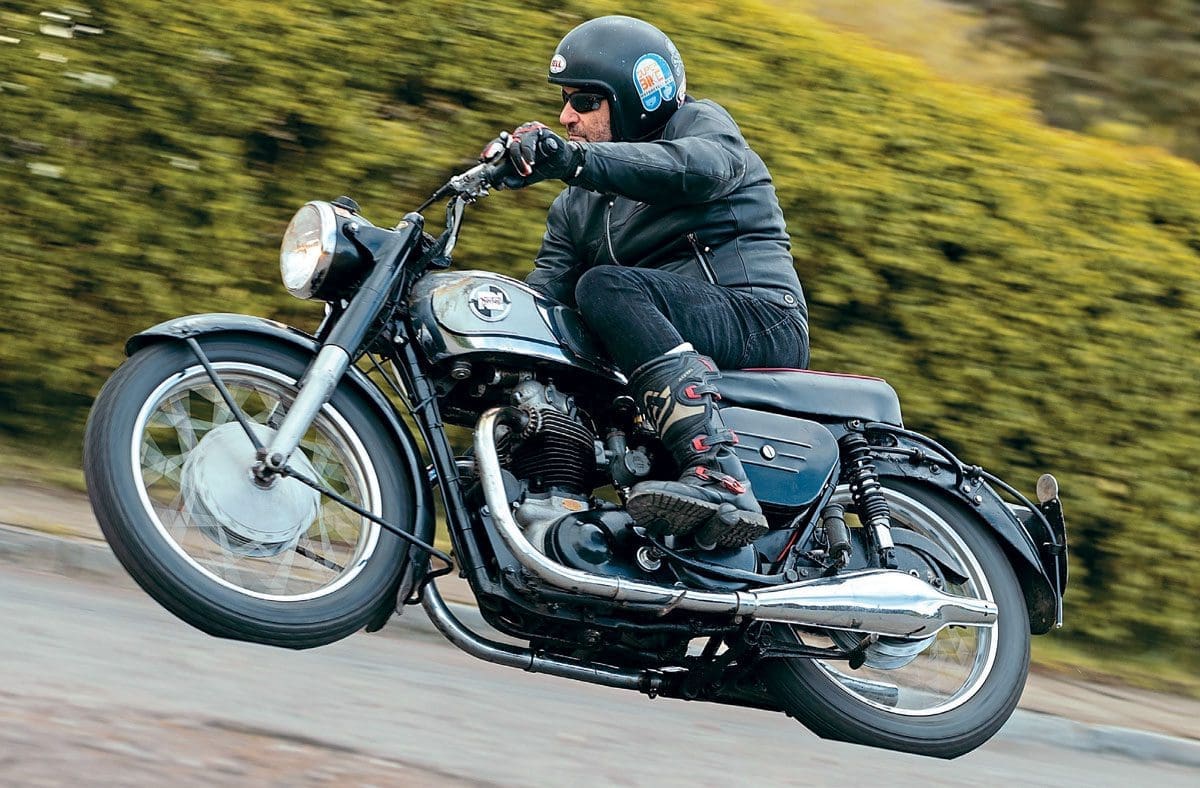 Is this the unsung hero of the 1950s Norton line-up? Oli finds out about the oft-forgotten Norton Model 77.
I have a confession to make. Despite spending four decades or so riding motorcycles, until a few weeks ago I'd never ridden a Norton. Fortunately, this sad omission from my record was solved by James Ward, who offered me a ride on his Norton.
What delight did he have to tempt me? A Featherbed-framed Dominator? An Atlas? Maybe a Commando? Or, heaven forfend, a Manx?
It was, in fact, a Model 77. A what? The Model 77 was that most semi-sensible of things – a 600cc Dominator engine in a straight-forward frame built primarily for sidecar use. James's example had its chair removed long ago.
"I bought it in 2006," he says. "It had been the favourite bike of Pat and Sylv Ifold, who were members, like me, of Wells Classic Motorcycle Club. Pat had sadly died, and Sylv was selling off his collection. I got there first and as soon as I saw it, I knew I had to have it. It even had a sprig of heather on it from when they had visited the Isle of Man. I stay in contact with Sylv, and we go for rides on it every so often.
"They'd bought it in the early 1990s and given it some work in the mid-1990s. It's got the original number plate, which it had lost along the way but was recovered after a bit of a fight with the DVLA. There's loads of documentation, including a bill of sale from 1961 when it was sold for £61, including details of the finance package.
"Apart from rebuilding the top end after a valve was slightly burnt out, I've done almost nothing to it. I just ride it about 1000 miles a year.
The only recent issue has been a leaky petrol tank. "I was going to take it for a ride and found there was no fuel in it," says James. "I thought I must have come back on fumes last time I rode it, and then found it had all leaked out and soaked the injection moulded seat foam."
It has now been soldered up, but it has caused some problems with the seat, as the fuel soaked through the cover and into the seat foam. It took a week to clean with detergent and dry out, and it still stinks of petrol.
The 77 isn't completely stock, as you might expect from 64 years on the road. James explains: "I don't think the tank is standard because it's chromed all over. It might be off an ES2, but when I tried an ES2 tank it didn't fit, so it might be a pattern copy. It's got an early Commando front brake, Lucas Rita ignition and Koni Dial-A-Ride shocks, all put on by a previous owner.
"I'm slowly working it back to standard as I want to use the brake on a Dominator 88 project, and I have an original 7in brake to replace it. The front wheel needs a new rim, anyway. I've got some shrouded shocks, too. I just hope I won't ruin it. I'll be keeping the Tomaselli levers though because they're brilliant."
The Norton performs as well off-road as it does on, and occasionally even goes green laning.
On the road
It's a chunky beast, the Model 77. "One up, three down?" I enquire. "Of course. That's the only way," says James, and then he starts up his BMW K75 and lets me take the lead. "Off we go…"
With a tickle of the Amal and firm boot on the kick-start, the Norton 'braps' into life.
The target destination is Burrow Hill Cider Farm, some five miles distant, on roads I sort of know. I engage first, give a mild handful of throttle and another gear change, and the Norton gathers momentum. The gearbox on the Norton twins has a reputation for excellence, and this was a great example of it.
Pedal operation light and easy, while remaining positive and you can actually find neutral. The clutch too, is carefully set up – not that I do a lot of gear swapping, as the engine is tractable enough in third and fourth not to bother. Handling-wise it might not be a Featherbed Norton (though I've never ridden one, so I can't really compare the two), but the hefty Model 77 shrugs off gravel and potholes, chuntering through villages while looking as respectable as a vicar on his daily rounds and not upsetting the neighbours.
It idles gently and accelerates cleanly with a respectable exhaust note, and will pull away in high gears without labouring. Vibration isn't excessive and the riding position seems near perfect for the job in hand.
The Commando brake is a fantastic device. Originally fitted to haul an outfit to a halt, it has no trouble doing its job.
The Norton handles well and, in this area, it is so much better than expected. During the photoshoot, James hammers it like a sports bike, grinding pegs. Any other manufacturer would have been perfectly happy with the Model 77's handling.
I got the feeling that the Norton would make a grand long-distance tourer, with its soft-ish state of tune and lazy, easy going riding position. I'd like to find fault with it – after all, there had to be something wrong, right? But there isn't. The Model 77 might not have been exciting or glamourous, or even terribly shiny, but it is solid, comfortable and entirely able.
Everyone I've spoken to who's ridden one says they prefer it to a Featherbed Norton. The model 77 is a fine, forgotten gem.
Short-lived but durable
The Model 77 was introduced in 1956 as a sidecar hauler to replace the existing 500cc Model 7.
Norton rarely threw anything away; just as the Model 7 used Bert Hopwood's Dominator 500cc engine, the Model 77 used the Dominator 600cc engine, fitted into the Model 7 frame, which was itself a modified a sprung version of the rigid frame used by Norton's prewar 633cc side valve single, the Big 4.
Norton needed a top-of-the-line sidecar hauler, but the company's engineers were concerned that the Featherbed frame wasn't strong enough to fit one to it. As it turned out, you could fit a sidecar to a Featherbed safely – but until things were certain, Norton invalidated your warranty if you did.
There had been a Model 77 in the early 1950s, but this was a rigid framed 500 sold exclusively in Australasia. The frame and cycle parts might have been less sophisticated than those on the Model 99 Dominator, but the engine was the same. It had Norton's "Daytona" camshaft, light alloy cylinder head and light alloy pushrods.
The Model 77 might not have made a massive impact at the time, but it served its purpose during the brief production run. This was the late 1950s, when a big sidecar hauler was a much better bet than a small family car, after all. Sidecar haulers were usually rather staid and sensible machines, such as Panther singles.
The Model 77 was for the buyer who still wanted a bit of pizzaz with their family transport. It looked best with a sporting single adult chair attached – the equivalent of a hot hatchback for the family man today.
Although many parts, such as the Roadholder forks, were common to the other Dominators, the frame was not a Featherbed but a single downtube type. Another distinguishing feature was the elongated oil tank. The 596cc engine, however, was identical to that used in the Model 99, and the colour scheme was the traditional Norton black and silver.
Norton itself didn't seem to know what to do about selling the Model 77, leaving it out of its 1956 catalogue. Even writers at The Motor Cycle, usually capable of producing screeds of enthusiasm about any motorcycle, seemed at a loss as to what to say – apart from suggesting it would be ideal for an outfit riding "super-enthusiast" with "virile tastes", and praising its acceleration. They may have used up all the available superlatives on the Dominator, of course.
By 1958 it was established that there were no problems with sidecars on Featherbeds, so Norton produced Dominator variants with sidecar forks and springs, and the Model 77 disappeared from the range.
Although it was designed as a stylish but sensible sidecar hauler for the family man, most of the Model 77's engine and frame had a rather stylish swansong. American Norton dealers wanted a desert racer, and the road racing bred Featherbed frame wasn't really suited to serious off-road blasting, which could cause it to fracture below the headstock.
Norton took the Model 77 frame and replaced the forged cradle under the engine with tubing. These bikes were fitted with tuned versions of the 500cc Model 88 or 600cc Model 99 Dominator engine. These had magneto ignition, an alternator to power the lights, and twin carburettors, and together created the desirable Norton Nomad.
Off-road tyres were needed, and to accommodate the extra width, an oval section swinging arm was used. Front forks were hybrid items combining parts from both the long and short versions of Norton's Roadholders, giving eight inches of ground clearance. There were alloy mudguards, trials handlebars, full-width alloy hubs, a small petrol tank and a siamesed exhaust. Eventually, this concept led to the handsome Norton Ranger 750, though this used Matchless frames and Atlas engines.
The sales rate of the Model 77 wasn't huge, and they rarely turn up on the open market. But this has a lot to do with the enthusiasm of the owners, who get very enthusiastic about them. Buying one Model 77 can easily lead to owning two. Or three. And not being fitted into a Featherbed frame meant this Norton was never going to see an owner sacrifice a blown engine for a Triumph motor to build a Triton.
If you can't find a model 77, build your own
Dale Middlehurst is the Norton Owners Club's heavyweight twin expert. A long-time owner of assorted Nortons, 35 years ago he wrote an article for Used Bike Guide, which one hopes was highly tongue in cheek, about his own experiences as the owner of a Norton twin with a sidecar attached.
Dale's first Model 77 was very much a home-brewed example, with a Dominator engine in a single frame. "I ran it solo for a few months while everything bedded down to find out what was going to break or fall off and to check that I'd got the basic idea right," he wrote.
"The results were mixed but encouraging. The big, heavy frame soaked up the mildly tuned engine's vibration extraordinarily well, everything being comfortable and buzz-free up to about 80, when the inevitable parallel twin vibes got through to you via the bars and footrests.
"At this speed it was turning over at 5500 rpm, which is beginning to push things with this kind of engine, but the same low gearing that was making it rev so (relatively) high also meant that it got there gratifyingly quickly and was very happy to keep on going up. 90 was easy but getting decidedly frenetic and a ton possible at the red line with gritted teeth, taking off from the lights with the nice, smooth AMC gearbox was plenty of fun as it could be persuaded to hop its front wheel with very little aggravation and its vintage appearance gave people quite the wrong impression.
"Whatever I might say in condemnation of the puny frame, feeble suspension and weak drive train I must temper by stating that properly modified, this bike gave me more laughs per mile travelled and pounds spent than any other, and has lasted very well in the face of quite merciless abuse."
A willing servant
John Bulcock is another Model 77 owner who has owned examples of these twins for decades.
John owned a Model 19S single he bought in 1966 and found that the previous owner had put the engine together without any circlips on the pistons, which destroyed the bores. Hearing about a Model 77 in bits, he bought the engine to slot into the 19S frame, but after having trouble fitting it, he went back and bought the rest of the bike and put it back together.
"It was a very pleasant ride," he says. "A really comfortable bike." In 1972 he sold it to raise the money to buy another 77, which he still has.
"The 77 shares a lot of bits with the other bikes Norton made in 1956, like the model 50, ES2 and 19s. They differed a bit, but the tinware is mostly the same. The petrol tank is lightly different, as the singles have a bigger cavity under the tank to accommodate the cylinder head, and there are some other differences."
John buy any 77 parts he came across. "My garage was packed with spares. I'd buy a part for a fiver, get home and find I had another 10 in there". Stands are a bit of an issue with the 77 because, as a sidecar hauler, they often didn't have them fitted. There were two versions of a side stand, with different mounting points depending on whatever Norton had in the stores or the year of manufacture.
"I had to leave mine against walls. I was at a jumble once and this old chap said he had stands for it and would sell them to me, but he'd have to charge me quite a bit for them. Then he asked for 10 quid.
"Mine hasn't had any major work done. It starts every time and never falls out of tune. The gear oil pump does cause it to wet sump, so I fitted an automatic one-way valve. I can leave it all winter in the garage and no oil ends up in the sump. It's the right height, unlike the Featherbeds and the Commando, and doesn't vibrate at all. I did swap the original shrouded Armstrong shocks for Girlings, but I would like to go back to Armstrongs now. Because it's built for sidecars, you have to make sure the frame isn't bent."
The 77 has a slightly different oil tank to the singles, designed so an air cleaner could be fitted, which has helped its mechanical longevity. About 338 Model 77s were made, and few are left. John's 77, official model name, the N15, is one of the last, being sold on March 27, 1958, though John says record-keeping in 1958 was a bit vague. Fashion trends has reduced the numbers. "The frame is easy to alter and quite a lot of them were made into choppers in the 1970s as a result," he says.
He's fitted a £25 solid state regulator; about the size of a matchbox, it is slotted into the original regulator box. He's had the Magneto rewound.
John had a leaking petrol tank problem too: "I took it to a specialist who said it would take weeks and hundreds of pounds to fix. Then I heard of an old chap who was supposed to be able to do it. He clamped it between his knees, shot a flame from a welding torch inside it, and there was a 'pop'. He turned the tank over and welded the seams. Apparently, he did this all the time. I did notice he didn't have any eyebrows."
Like the others I have spoken to, he says the 77 is as good as – or better than – a Featherbed Dominator. "The roadholding is nice and they're comfortable to sit on; you don't have to reach too far to the handlebars, and it will take two people quite well. It's a very willing servant."
Thanks to James, Dale, John and the team on the Norton Owners' Club stand at the Stafford Show for their help with this article.
---
Advert
---
Sign-up to the Classic Bike Hub Newsletter
Get the latest classic bike news and updates straight to your inbox… You can unsubscribe at any time.