Last time, Dave Minton introduced us to Laverda's 750 parallel twin. In the mid-1970s it got faster, lighter and more reliable…
When initially launched the SF was popular enough that Laverda were unable to meet demand, so little was changed for the model's second year. There was an option of a race-styled seat with a lockable box in its back-stop, and the instruments changed to Nippon Denso. On a good many of these the 'S' trademark of the plainly Suzuki-intended parts had been scarcely overprinted. The accuracy of the instruments compared to Smith's eternal dance to the music of anything but speed was a revelation.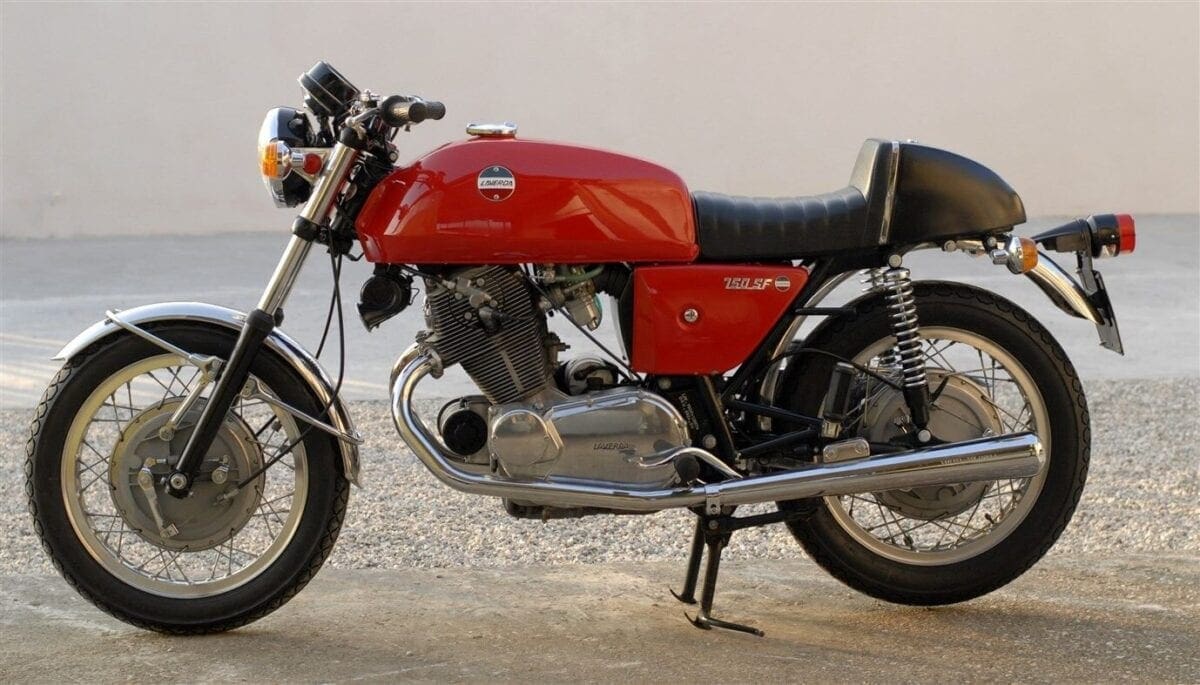 By this time these Laverdas had been recognised and in Britain were beginning to benefit from the attentions of a small but discerning group of riders, typically more usually associated with Vincent, Velocette and BMW machines.
No serious design flaws or performance faults had arisen. What vibration did occur was an effect in inadequately tightened engine mounting bolts, carburation or ignition tuning, and a few hard-ridden bikes cracked their front mudguard stays.
The legend of Laverda's 'Big Boy's' clutch had gone before it and Laverda took inverse pride in meeting the challenge. In fact a re-routed cable and good lubrication usually cured half of its weighty fist-resistance. By this time, as befits 1972, Laverda was selling the SFs in an astonishingly glamorous range of bright metallic colour schemes and offering both dual and race-styled seats. As the bikes were black and chrome apart from tank and sidepanels, a new owner simply picked his colour and awaited dealer fitment.
However, the world was rapidly changing around them. The CB750 was undergoing major rolling chassis revitalisation, while Kawasaki seemed determined to prove to the world that 900cc four-pot power was all. Ducati were snapping (somewhat erratically) at Laverda's heels and BMW bikes were going great guns. The 750 SF would need a boost to stay competitive.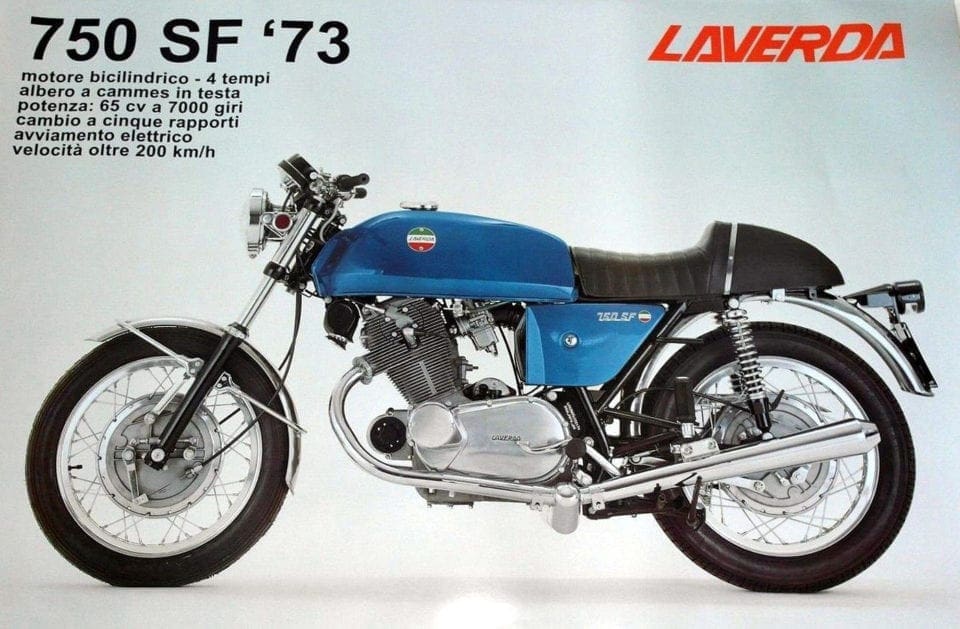 So for 1973 Laverda's 750 twin got the boost it needed, in the shape of the SF1. By this time sound level regulations were intruding so Laverda was faced with the conflicting difficulties of increasing gas flow and decreasing exhaust noise. Laverda achieved both ends with large diameter exhaust pipes (1.6-inch) interconnected by a transverse collector box, new style Dell' Orto 36mm pumper carbs and a matching new camshaft. These mods lifted power to a claimed 66bhp at 7300rpm, and top speed rose accordingly to around 117mph.
The bike from particular year is generally regarded by afficianados as the quickest of the SFs. While their handling was heavy, although quite typical of the period, not much else cornered more sure-footedly than an SF.
Despite the apparently modest power increase, the SF1s were noticeably faster on nip-and-tuck riding. In the first place they were fitted with a single Brembo 11-inch disc front brake which, while no more powerful than the old drum, could be used repeatedly without fading. And in the second place, SF1 acceleration in normal highway use was undeniably superior to SF, thanks to a further lightened flywheel.
But the whacking great collector box beneath the bike was the problem, as any SF1 owner worth his salt soon discovered when riding through a series of bends. The thing grounded with all the eagerness of a pig after truffles, although with an appallingly amplified volume of squeal. Exhaust apart, you will also recognise this model by its squat little chromed CEV headlamp and bat-wing Lucas switchgear.
Then in 1974 came the SF2 where the SF engine reached the pinnacle of its road-going development, although not until ungagged did it breathe freely enough to realise its full potential, when with matching recarburation 120mph was available.
Along with new Ceriani teles, Laverda doubled up on the front brake discs and replaced the rear drum with a single disc. Thankfully it exchanged the abominably manufactured Lucas switchgear for Nippon Denso's Suzuki pattern. Another worthwhile change was to a black Bosch headlamp. However, like many low-volume production-run models, single items may migrate from one model year to the next, often as a result of the original purchaser's personal specification. Thus the best way to date any bike is from its engine number rather than by its headlamp or braking equipment.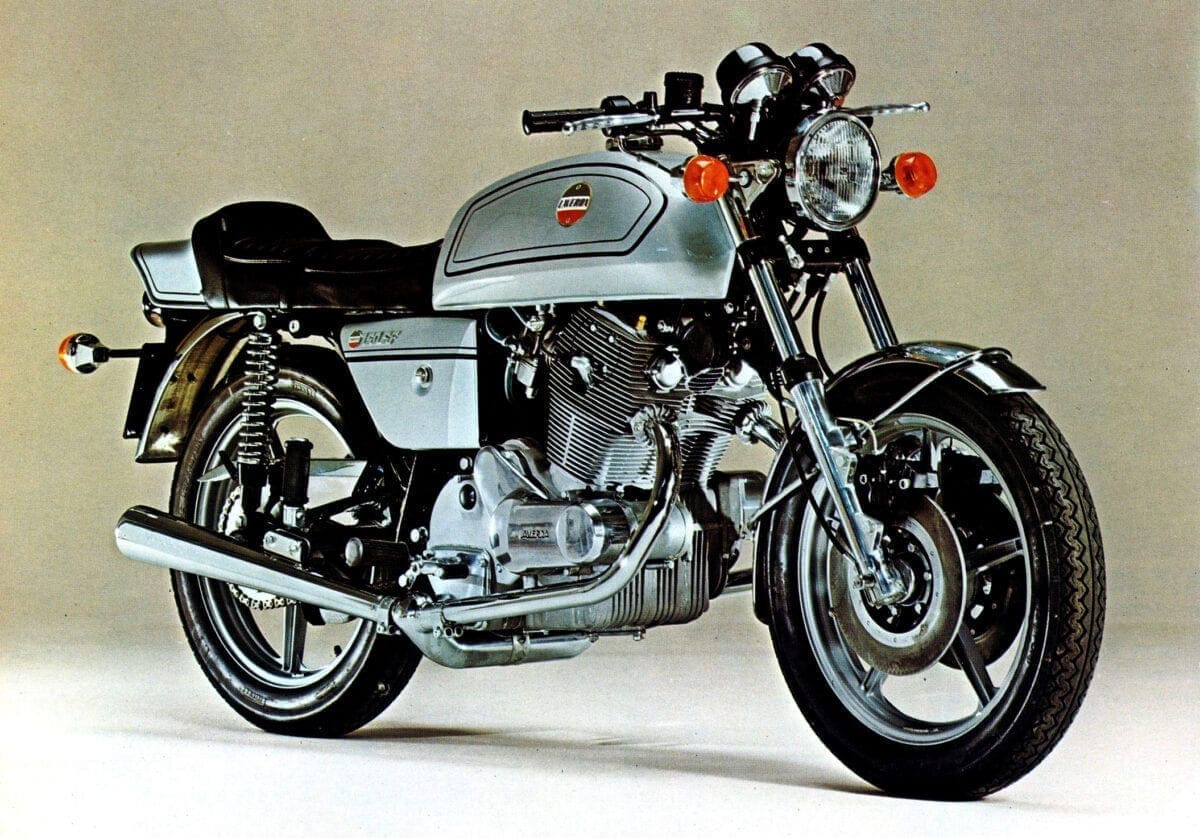 The SFs achieved their final form in the shape of the SF3 which arrived in 1976. The most obvious change was to the wheels which lost their wire spokes in favour of cast aluminium ones, although they remained suited to tubed tyres only. A lockable, hinged dual seat with a duck-tail box behind finished the revisions.
NEXT TIME: Minton's assessment of the SF's success…
——–
Laverda twins turn up fairly frequently in the pages of the monthly RealClassic magazine. You can read all about the SFC750 in RC181, May19 issue; available by mail order or digital download.
And in RC172, an enthusiast owner compares his two Italians: a Laverda SF and a Ducati SS. Read it instantly as a digital download or have the magazine delivered to your door.
———
Words by Dave Minton
Photos Rowena Hoseason / RC RChive
———
This feature originally appeared on the original RealClassic website almost 20 years ago: it's been updated and extended to appear here in our new format
---
Advert
---
Sign-up to the Classic Bike Hub Newsletter
Get the latest classic bike news and updates straight to your inbox… You can unsubscribe at any time.