I thought that this photograph, taken exactly 100 years ago this July, may be of interest to readers of OBM.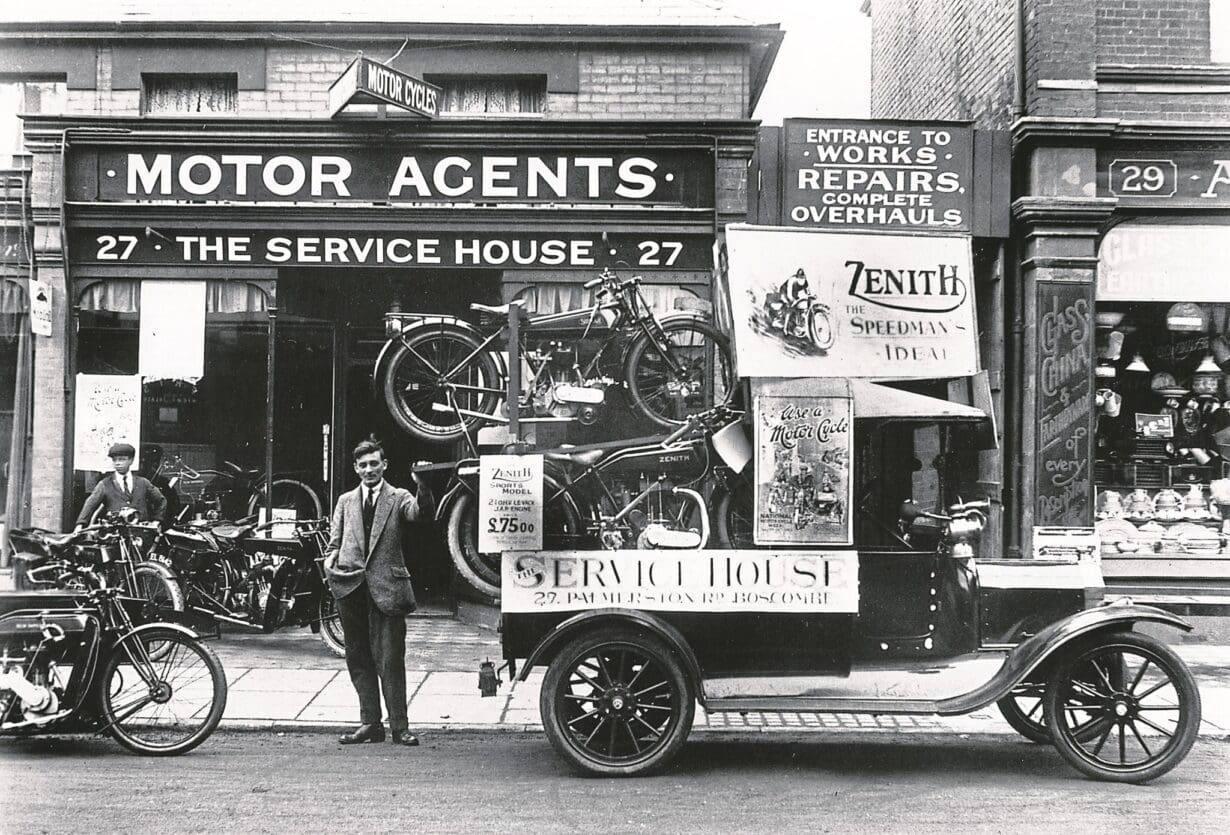 It is of my grandfather, Horace Meadowcroft, standing by the side of his Model T Ford outside his motorcycle showroom. The small boy in the background was his apprentice. Horace ran a sales and repair business called The Service House at 27 Palmerstone Road, Boscombe, in Bournemouth. The entrance to the workshop is to the right-hand side of the showroom.
I lived with my parents in the flat over the showroom from 1953 until Horace sold up and retired, around 1964.
Horace was born in 1897 and died in 1978, aged 80. I recall him telling me that, following an apprenticeship and war work with Hendy Brothers, a local Ford dealer, he started his own business just after the First World War ended. Working from his parents' home in Langton Road, Boscombe, he bought batches of war surplus motorcycles, made good those he could by cannibalisation, sold them on and used profits to buy more.
By the early 1920s, he had done well enough to have established a thriving business with a garage, machine shop and showroom. It was wholly based on motorcycles until the mid-1930s or so, but predominantly cars thereafter. He told me that he was an agent for Zenith and New Imperial, among other makes. He and I used to talk a bit about the old days, particularly after I sold my Japanese 'rice grinder' and acquired a 500cc Velocette Thruxton in the early 1970s, with which he could associate rather more. However, youths know everything, and I regret not asking him more about the people he knew and worked alongside. Bert le Vack and Eric Fernihough were two he mentioned (Eric occasionally used his machine shop, he said), and Horace was a regular visitor to Brooklands.  Some years ago, I donated his sales ledger to the VMCC library and asked them to try and date the photo. The then-librarian Annice Collett sent me the following reply.
"I think the machine on top of the Zenith on the back of the Model T is a Sirrah and I see there are two mentioned in the ledger. One is on October 17, 1923 and the other on August 16, 1924. Sirrahs were made in Birmingham by Alfred Wiseman between 1922 and 1923. I see there are mentions in the ledger of various amounts paid to Wiseman. The registration on the machine on the left is EL 8142 which was issued in Bournemouth between June and August 1923. The National Motorcycle Week was July 21-28, 1923. I think therefore the photo was taken in July 1923. The detailed entries in the ledger start in October 1923 so the photo just predates it."
So, happy centenary Horace, I wonder what you would make of the motorcycles that are around now.
Jeremy Retford
---
Advert
---
Sign-up to the Classic Bike Hub Newsletter
Get the latest classic bike news and updates straight to your inbox… You can unsubscribe at any time.