At the celebratory dinner for the 105th anniversary of the Scott Trial at the Spa Hotel, Ripon, North Yorkshire, on November 16, Alan Lampkin was a superb Master of Ceremonies, while Nick Jefferies gave a superb speech with a response by John Moffat.
Maurice Newsham gave me a lift to this event, and we got there early and the main bar was not open until 6.30pm but we found a small bar with a few early arrivals.
Everyone knew Maurice, whispers were saying "Who the hell is that other bloke?" Suddenly it clicked, as someone said I was the bloke with the motorised bike washer incorporated into the trailer.
I feel highly honoured to be remembered for my zany, unusual contraption.
May I take this opportunity to apologise to anyone I failed to recognise; I asked one or two and was delighted to find who they were.
My first Scott Trial was just after my National Service; I thought I was quite fit and was amazed to find myself gasping for breath. I rode from 1962 until 1971 inclusive.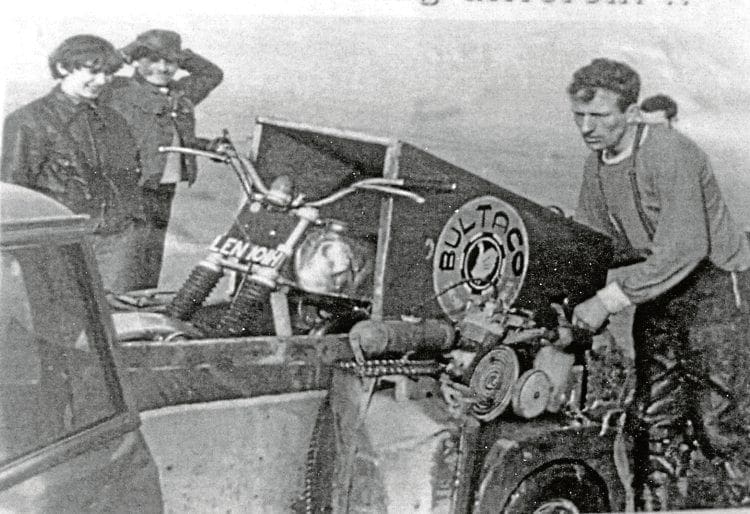 I took Maurice Newsham on my trailer for our first try; I rode a 250 Royal Enfield. It took both of us so long to complete the course that it had nearly gone dark and my car and trailer were nearly the last away from the start car park. I said to myself never again…
We were both well out of the permitted time limit to qualify for a finisher's certificate. The following week, I threw away my Kensitas cigarettes and unspent coupons; I had already got car mats as gifts, etc.
I entered again the next year in 1963 on a 250 Royal Enfield again, feeling much fitter having stopped smoking. I had fitted an aftermarket fibre-glass based seat, but halfway round it split and dented the ignition coil under the seat – no more sparks.
In 1964 I was aboard a Triumph Cub… it got halfway round then the constant mesh on the gearbox shed its teeth.
Don't despair yet, it gets better at last. You would think that I would have given up by now and done something else, like Morris dancing or pigeon racing.
But, in 1965, a revelation, I got a new 250 Bultaco that no one had ever seen before and I won my first of three Scott Spoons and three finisher's certificates.
I owe my survival to the Scott Trial; I had bad pneumonia around 1988 and if I had carried on smoking, you would not be reading this… thank you Scott Trial!
And the trailer details?
It was constructed during the layoff due to foot and mouth disease (while there were no events).
The chassis for the trailer was made from a motorised Greeves Invacar, complete with hydraulic brakes via towbar slider. Second-hand Mini wheels were fitted.
The alloy body was recycled from a Ribble bus, towed by a Mini Traveller. The spare wheel fitted on all six wheels.
I used the Lancaster recreational welding night school class to weld everything together; I was not popular as I filled the classroom with smoke caused by heated underseal burning while the rest of the class were trying to make fancy front gates for their garden paths. The bike enjoyed the luxury of fully damped independent suspension.
Health and safety was never considered; the two second-hand jerry cans mounted each side were prevented from exploding by metal straps.
Look closely and you can spot they have become somewhat rotund in shape. The jerry cans were connected by hose at the bottom and were filled with soapy water before leaving home.
The insulated hand-washing sink that was on the other side was still just warm at the end of a trial; it was from a scrap Co-op butcher's van.
The petrol tank is an old Atco motor mower tank. An old Mobylette moped motor, complete with centrifugal clutch, powered another Mobylette motor adapted to compress air by welding its combustion chamber full of alloy weld.
The spark plug was replaced by a compressed air adaptor from Halfords. Start the motor and it's good to go to clean a freshly muddy trials bike before it got towed home with frozen mud all over it!
Pat Walsh
Read more Letters, Opinion, News and Features in the January 2020 issue of Old Bike Mart – on sale now!
---
Advert
---
Sign-up to the Classic Bike Hub Newsletter
Get the latest classic bike news and updates straight to your inbox… You can unsubscribe at any time.