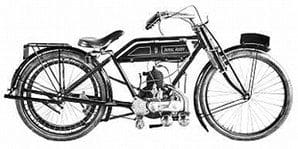 Royal Moto 1923-33 France
Maker from Saint-Etienne who built an extensive range of 98cc velomotors to 250cc two-stroke motorcycles, as well as 250-500cc side-valve and ohv four-stroke singles.
Royal Nord 1950-c1963 Belgium
Range of two-stroke up-to-250cc lightweights, built using a selection of proprietary engines, including Villiers. Later made acceptable mopeds – those finished in deep blue look particularly attractive.
Royal Ruby c1909-1933 UK
Another long forgotten marque, which attempted to improve the motorcyclist's lot with designs such as patented leaf spring controlled front fork. Built by The Ruby Cycle Co Ltd, with works at Altrincham and, for many years, offices at 162 Deansgate, Manchester, some sources suggest the last models were built in Bolton.
Pre-WWI offerings included all chain drive models with gears and clutches – advanced for the period – though belt drive was offered too.
After WWI, production restarted using proprietary engines including the renowned Villiers 269cc unit which was offered with direct belt drive or, at extra cost, gears with or without clutch. Royal Ruby also developed its own engines, including 349cc and 375cc side-valve singles.
By 1921 Royal Ruby offered a wide range including Villiers-engined lightweights, a selection of side-valve singles in solo or sidecar trim and a flagship 1000cc V-twin outfit. The company proudly listed all their models as 'All-On' and ready for the road with no hidden extras – however, lights, speedo and other accessories were extra! By 1923 The Ruby Cycle Co was in liquidation and no new models were listed.
Later Royal Ruby was – in today's jargon – 'restructured' and ranges centred on Villiers' two-stroke power. Models in the Thirties included the 249cc 250 of 1930, Sports, Super-Sports and water cooled Super Sports of 1932/33 and the 346cc Red Shadow of 1931, followed by the similar capacity Club and Standard.
Royal Standard c1928-32 Switzerland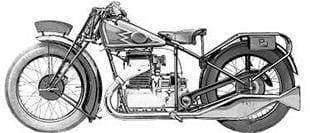 Unusual, advanced sohc vertical in-line twin with proprietary Zurcher engine designed and built – it was claimed – exclusively for Royal Standard. Some French makers built models to this concept, usually with in-line side-valve or ohc engines and of course post-WWII Sunbeam used this basic idea with shaft drive for their 487cc sohc in-line twin.
Rubinelli c1921-27 Italy
Maker of lightweight 122cc and 172cc two-stroke singles. A rare find indeed, but their engines were used as proprietary units by rival Italian makers.
Rudge 1911-40 UK
Rudge resisted motorcycling until left way behind by rivals, but when they established motorcycle manufacture their products were superb. The company's future model development at times followed a path of almost dragging its feet then launching new, well-built and of cutting edge models.
Despite a production life of less then 30 years, Rudge became a legend in its own lifetime, yet Dan Rudge – after whom the marque was named – died over 30 years before motorcycle production began.
Rudge won TTs, GPs, speedway, sprints, trials of all sorts, and still Rudges are front runners today in vintage events. Thanks to this success, Rudge advertising was exceptionally slick: 'The Run-Away Rudge', 'And Again Rudge', 'Rudge First', …and many more famous slogans, yet despite all this promotion and success, Rudge at times struggled financially.
Dan Rudge returned to Wolverhampton after serving with the 38th Regiment of Foot in the Crimean War (1854-56), to open a pub, The Tiger's Head in Church Street. Nearby, a former army mate, Henry Clarke, established a wagon wheelwrights business called the Temple Street Wheel Works where Dan was often found when not behind his bar. Although self taught, Dan soon became a leading cart repairer and wheelwright.
By 1868, Henry Clarke was branching out – one-off velocipedes were soon followed by commercially built bicycles under the title The Cogent Cycle Company, Darlington Street, Wolverhampton. A year later, Dan began developing and building cycles for Walter Phillips and George Price, with wheels supplied by his friend Henry Clarke.
By chance, a French cyclist and former Crimean War veteran was visiting the area. Dan and Henry not only admired his machine but also the ease with which its wheels turned on their axles. Amply plied with ale from the Tiger's Head, the Frenchman didn't notice his two former military colleagues strip his bike for a look-see, during which they discovered the secret – the wheels hubs were running on ball bearings. Dan copied and improved the design, took out a patent and his cycles ran freely from then on.
Race wins accumulated and Dan began building a modest volume of cycles in a building near his pub. A bearing redesign led to the Rudge adjustable bearing, again patented, and soon cycles fitted with such bearings were handicapped in races as Rudges ran more freely and were faster than cycles with plain bush-type wheel bearings. By 1880, Dan had designed and patented a small wheel safety cycle, but his health deteriorated. He died in June 1880. Via a former associate – Walter Phillips – Mrs Rudge sold Dan's business to Coventry solicitor and businessman George Woodcock.
Woodcock already owned a number of companies including Smith and Starley who were responsible for Ariel Cycles and Europa sewing machines. The cycle and sewing machine businesses were merged under the new title of 'D Rudge and Company and the Coventry Tricycle Company'. By the mid-1880s, Woodcock had successfully merged the lot and installed all production under one roof in new premises at The Trafalgar Works, Crow Lane, Coventry. With financial backing from friends, the business became a private limited liability business in 1885 entitled D Rudge and Co Ltd.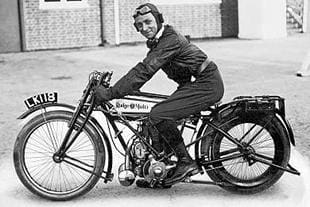 Despite doing well for a time and cleverly setting up a Rudge dealer or depot network throughout much of the UK, Rudge was in trouble by the early 1890s. Trusted employees – including engineer Bob Walker Smith and Walter Phillips – departed for new challenges, and Woodcock died in 1891. Luckily, salvation was just round the corner in the form of the Whitworth Cycle Company established in 1891 by screw-makers, ironworkers and ironmongers Pugh and Sons (Charles H Pugh Ltd) of Rea Street, Birmingham. The businesses merged in 1894 to form Rudge-Whitworth Ltd. Later, the famous 'red hand' Rudge-Whitworth logo was adopted.
Alongside, the Birmingham business continued as before and made parts for Rudge-Whitworth until into the Twenties, by which time it was making Atco lawnmowers and finally became independent of the Coventry firm in the Twenties.
By 1898 Rudge were building over 27,000 cycles per year, 50,000-plus by 1905 and 75,000 come 1908. Rudge's first foray into motorcycling, though, ended with their fingers burnt by a deal with Werner's London to sell French-made Werner motorcycles in South Africa. As a result the board wasn't too keen on motorcycling although they bought prototype motorcycle maker Rudge-Wedge of Wolverhampton in 1904. The name Wedge remained on cycles for some years but the motorcycle project was shelved.
As the Edwardian era was drawing to a close, it was obvious that motorcycles weren't a five-minute wonder, so during 1909 the Rudge-Whitworth board instigated the development of a motorcycle. Rudge built a full 3½hp model with a 499cc single-cylinder engine, of 85 x 88mm bore and stroke dimensions. An 'F-head' design with overhead inlet valve over side exhaust valve was chosen to give good ohv-type performance with the security of the side exhaust valve position which prevented it dropping into the combustion chamber if it broke.
Prototypes were built during 1910. From the outset the Rudge board knew competition success was a key form of promotion. The first outing with a much lightened pre-production model was quietly satisfactory as it finished the ACU Round Midlands Tour on 18 October 1910, although missing the major gongs. Just weeks later Charles Burney, F Wright and Victor Surridge tested three more models to the limit at Brooklands. These machines formed part of Rudge's first-ever stand at a major motorcycle show, The Olympia Cycle and Motorcycle Show.
More pre-production models were built then on 11 January 1911 Rudge announced manufacture was under way. Initial production comprised a direct-drive model at £48-15s (£48.75) and a model with Rudge's own patented multi-plate clutch.
Rudge learnt quickly and by the end of January 1911 a front wheel stand was added and for clutched models Rudge's own patented starting system, engaged via fluted cone clutch and square two-start thread device. Trials entries and successes quickly followed along with strong racing performances with machines which were little more than stripped roadsters.
However, Rudge was soon to learn a bitter lesson. Taking over the Glen Helen Hotel for the IoM TT races, held for the first time in 1911 on the Mountain Course, Rudge was going for gold. Tragically, Victor Surridge – who'd lapped Brooklands at over 60mph and was the son of a Warwickshire County cricketer – was killed in practice, becoming the TT's first fatality. Rudge lost heart – only four riders started with Stanhope Spencer best finisher in 21st.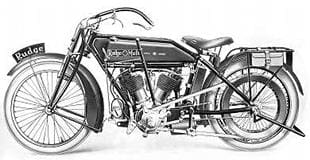 Development chief John Pugh decided variable gear was the answer for Rudge and prototypes were built and tested during the winter of 1911/12. The factory tooled up and the first two production variable gear models with 'Multi' gearing appeared in early February 1912, at an additional cost of £5. Offering a range of gear options which in standard form were from 3.5:1 to 7:1 the Rudge Multi remained in production until 1923. Cleverly the system kept a taut belt despite the altering of the drive pulley working diameter. While the finishing touches were being put to the Mutli gear, the famed Senspray carburettor was developed at the Birmingham works of Charles H Pugh Ltd.
Rudge chose not to support the 1912 TT, while a huge tall-engined 749cc single was developed by lengthening the 500's stroke to 132mm. Motorcycle production was strong – hitting 80 models per week by year's end – and Rudge-Whitworth also continued with their lucrative wire-wheel business.
Back in the Island in 1913 for the so-called two-part TT, Rudge rider Frank Bateman sustained fatal injuries while leading the Senior on the second day. It could have still been Rudge's race as Ray Abbott vied with Tim Wood's Scott for the lead. Due to inexperience and fatigue, Abbot made mistakes and Wood beat him by five seconds.
Further Rudge landmarks during the year included PF Glover's win in the 1000cc Solo Handicap class at Brooklands, believed the first recorded racing win for the multi-geared version. In 1914 Rudge scored their first Island win. Running third for a good part of the race Cyril Pullin took the lead on lap five, winning by almost a minute.
As the last months of peace ticked away John Pugh was busy developing a 998cc ioe V-twin but the declaration of war beat him. During the conflict Rudge supplied 499cc Multis to the Russian and Belgian forces, plus a handful to the British Navy. Small numbers of machines were also supplied to the military in Australia, New Zealand and South Africa.
Rudge weathered the war, but suffered. A number of key workers were lost in action and John Pugh was devastated by the death of his son Charles at the Battle of Ypres. Further, the Government paid Rudge in kind for some of the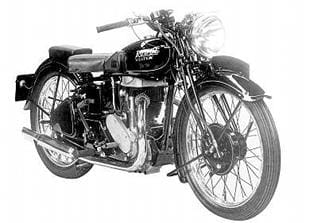 ir war work by letting them retake over the much-extended ball bearing factory which, although it saved them paying the Government for the factory extensions, left Rudge strapped for cash.
Victor Holroyd – who'd taken over as General Manager – was facing an uphill struggle. Motorcycle production restarted in early 1919 with 499cc Multis and by mid-spring the 749cc single had rejoined the range and later in the year the V-twin entered production.
Significantly for Rudge a recently demobbed metallurgist, George Hack, joined the research team. John Pugh instigated the development of gearboxes and also the development of a 1700cc ohc four-cylinder unit for racing and record breaking – though the ACU and FICM (later FIM) banned machines over 1000cc for their approved events. Exchanges between the bodies and Pugh became unpleasant leading him to stop official works support of racing, a situation which lasted for two years.
Although earlier thoughts included four-speed gearboxes, John Pugh opted for a three-speed unit which was unveiled, initially as a prototype, on a 998cc V-twin at the 1920 London Show. For the first time Lucas electric lighting was on offer, first on the 749cc single and the V-twin. Within months Pugh – aided by George Hack – added a gearbox option to the 500, initially to customer's order, and drive snatch – as no engine shock absorber was fitted – was remedied with a clutch shock absorber. Then a kick-starter was added.
With the postwar boom period for motorcycles drawing to a close, Rudge suffered a drop in orders – possibly due in part to the 'no racing' policy and certainly not helped by the view in some quarters the Rudge ioe design was old fashioned. True, ohv was in the ascendancy but many makers were building large numbers of side-valve models which, although satisfactory, could be considered more dated than ioe.
With sales diminishing further, John Pugh reversed his no racing policy for the 1922 IoM Senior. Five machines competed – four three-speeders and a Multi. Sunbeam's Alec Bennett romped to victory, while Rudge's best was Oliver Baldwin in 14th spot. The rest retired, leading Pugh to disband the race team. Though Bob Dicker and Bert Mather's 998cc V-twin flew the Rudge flag at Brooklands, company fortunes were at a low. Rudge could have dropped out of motorcycle manufacture to save the company but behind-the-scenes development work on a four-speed gearbox and ohv engine design – which included a four-valve cylinder head – was under way. The prototype four-speed gearbox was unveiled at the January 1923 Glasgow Exhibition. Next came a prototype 499cc (85 x 88mm) four-valve single which developed 15bhp, but the existing ioe engine frame couldn't handle the extra power. Further work led to a 350cc (70 x 90mm) engine. As prototypes toured the shows Rudge-Whitworth spent two months re-tooling for the new 350cc four-valve, four-speed model. Production began in mid-January 1924.
Immediately the new 350, which still relied on dummy rim brakes, went into production. Pugh and Hack – with an eye on Rudge's successful sidecar manufacture business – started work on a new 500 design. This was readied for production by mid-spring 1924, then work began on improvements for 1925.
Rudge – who occasionally came up with the bizarre – excelled themselves and launched a canoe-shaped sidecar! The canoe easily detached from the sidecar chassis for a day on the river…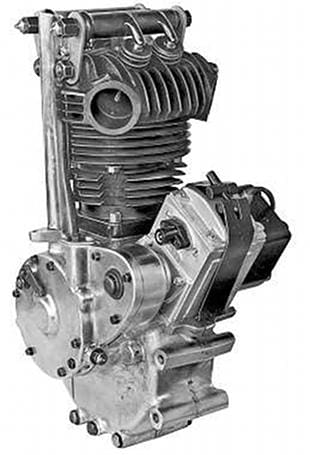 For 1926, the 350 was dropped and the next year Rudge began to ease back into road racing, supporting Stan Ollerhead and Frank Whitworth in the TT. They finished 13th and 15th.
Work on gearboxes and brakes continued – the dated dummy rim design was simply not up to a reliable 80mph 500. In April 1927 came a six-shoe eight-inch drum brake which later became a two-shoe design.
Next, Rudge unveiled a two-berth caravan design for towing behind a 500cc Rudge outfit. Seemingly another strange move, yet for the period it was a jolly good lightweight caravan and a few were bought by small car owners too.
Meanwhile Rudge racing machines – developed from roadsters – were starting to gain many international successes including Graham Walker's 1928 Ulster GP victory; leading Rudge 500 sports models being named 'Ulster'. Rudge soon cashed in on the new speedway craze and for the 1929 season further expanded the range with an own-engined 350cc and JAP-powered 250s.
The 1930 IoM TT marked a Rudge pinnacle, with wins for Walter Handley in the Senior, HG Tyrell Smith in the Junior and five out of six Junior/Senior podium places. The 15-stone Graham Walker won the 1931 Lightweight then Jimmy Simpson scored his only Island victory on a Rudge, in the 1934 Lightweight.
Unfortunately, Rudge's racing success coincided with the worst depression the world had ever seen. Nonetheless Rudge was marketing excellent models including the 350cc TT Replica, 500cc Ulster Replica and Dirt Track model. The JAP-engined 250s had been dropped but Rudge's own 250 was under development.
Rudge's financial position was worsening, leading them to offer proprietary engines under the Python brand. Despite the tough trading situation Rudge continued to up the game, offering Radial cylinder heads as used on the racers on the Ulster and Replica. Other updates included cast aluminium primary chaincases and a centrestand worked with a long lever. Sadly the times had taken their toll and the receiver was called in during March 1933.
The receiver kept the company going but the racing department was closed. Further racing took place with 'private entries' under the Graham Walker Syndicate in 1933/34. However, models were again updated and positive stop gearboxes adopted, and other development took place under George Hack. Ill health forced John Pugh to take a back seat, then retire – he died in 1936.
By the end of 1935 their financial situation had become even worse. The Gramophone Company, part of EMI of Hayes, Middlesex, bought the Rudge assets from the receiver and new management took over.
A year later and sales were still little more than 2000 machines per annum, leading to a slimming of the range for 1937. Although trade picked up the Coventry factory was still working well under capacity, leading EMI to move production to Hayes. Company sales manager Graham Walker left to join Motor Cycling as Chief Editor.
During 1938 Rudge's last all-new model was introduced, the 98cc Autocycle. After a brief spell of commuting daily from Coventry to London, George Hack left to join the fast-growing aero industry and Rudge developed a 250 from the Rapid but with some 500cc parts – including the gearbox – for the War Office. The war ended Rudge production although a 1940 range had been readied and Norman was permitted to continue building the Rudge autocycle, making it the last model to bear the famous Coventry name. The Rudge trademark was sold to Raleigh, along with the right to produce Rudge cycles.
Thanks to the four-valve cylinder head of many Rudge models they are truly quick pre-WWII motorcycles – with modest tuning 40bhp is reality from a 1930s 500. Tough but stylish build quality coupled with a sound club makes Rudge ownership a solid proposition.
Rumi (Moto Rumi) 1949-62, 1992 Italy
Exquisite, stunning and avant garde is how many Moto Rumi owners regard their beautifully sculpted machines. Others admire Rumis but dismiss them as toy-like, though there is no doubting the quality – or performance. And like many exclusive gems, they command top dollar.
Achille Rumi established his Bergamo foundry Fonderie Officine Rumi before WWI. Son Donnino took over the business after his father's death, overseeing the move into military contracts during WWII, while civilian work included making machinery for the textile and clothing industries. Post-WWII, Rumi moved into motorcycle and scooter production, inspired – many believe – by Parilla and Innoccenti, from nearby Milan.
For Rumi, cost was always secondary to design, style and flamboyant model titles. For example, we may know the plunger framed sporting 125cc twin as the Moto Rumi Tipo Sport, but Rumi accorded it the title 'Motoleggera Bicilindrica Rumi 125cc Tipo Sport.' Sounds grand – exactly as the firm intended. And grand they were, with extensive use of aluminium and the Rumi logo embossed on many components. Early production centred around models marketed in direct competition to the 125cc four-stroke singles from MV and Mondial – an appropriate marketing ploy because none of this trio depended on motorcycle income for their primary revenue source.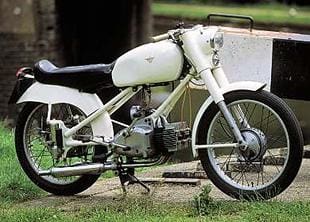 Rumi's horizontal 125cc (42x45mm) twin cylinder two-stroke with four part cast aluminium crankcase which also accommodated the gearbox, Nasetti flywheel magneto and separate barrels, was a two-stroke breath of fresh air. Light, tough and powerful the twin – timed to fire at 180 degree intervals – was offered with single or twin carburettors and silencers or megaphones, which expanded Rumi's range to give Standard, Sport and Competizione models.
The Sports and later Supersport motorcycles proved competitive on Italian national race tracks, leading to the race-tuned Competizione Gobbetto (nicknamed 'The hunchback' due to its magneto mounted on top of the engine) joining the range. Developing over 8bhp, 70mph-plus was possible and with further tuning and five-speed gearboxes, the factory models secured the 1954 Italian National 125cc Championship.
In the mid-Fifties, Rumi reframed the racer to give the attractive Junior Gentleman racer, plus a roadster version called the Junior Corsa. Fully race prepared the tiny 125 racer hit 100mph. With input from experienced designers, especially Giuseppe Salmaggi, Rumi developed many exciting prototypes including a 125cc dohc horizontal twin –in effect the two-stroke complete with its gearbox onto which the valve gear was grafted – and a shaft-drive 250cc dohc twin racer.
Scooters began in 1951 with the Scoiattola (Squirrel), powered by the horizontal twin cylinder two-stroke engine. With motorcycle-like 14in wheels and footchange three-speed gearbox (four-speed on offer in 1953) yet pressed steel scooter type frameless bodywork, the Scoiattola sat uncomfortably on the fence between motorcycles and scooters. In 1953, an electric start version was offered and also a tiny aluminium bodied sidecar for the Scoiattola.
Accepting small wheels were the way forward for scooters, Rumi launched the Formichino (Little Ant) in 1954, using the 125cc horizontal twin two-stroke engine but with eight-inch wheels, although by 1958 10in wheels were an option for some versions. Like many Rumi designs the bodywork was a masterpiece, but cast aluminium structural sections joined by Phillips head fasteners must have been a nightmare for accident repair shops across Italy!
Offered as the Formichino, Formichino Lusso and Formichino Normale with extensive range of colours and accessories, the tiny machines were a hit among those prepared to pay extra for something different. Through the Berti Corporation of New York the Little Ant was marketed in the USA, while Sarolea built it under licence in Belgium as the Dijn (Goblin). In 1957, came the Formichino Sport with initially a single 22mm Dell'Orto and later twin 18mm Dell'Ortos, giving a claimed top speed of almost 70mph.
Looking to expand sales, Rumi launched the detuned 50mph economy model Forminchino in 1958. Following much success at the annual Bol d'Or scooter race in which they all but ruled the 125cc class 1955-60, the 75mph Formichino Bol d'Or was launched in 1958. With 10in tyres it was offered in factory tuned trim giving 150kph (93mph). Sources claim 150cc, 175cc and even 200cc motorcycles and some scooters were developed but how many of these concepts were made is unclear.
Circa 1960, Rumi developed a completely new range, based on a pushrod four-stroke V-twin engine. Capacities were 98, 125 and 175cc. A scooter aped Vespa/Lambretta style and while the proposed motorcycle was attractive, for many it lacked the unique character of the Junior Gentleman.
Just as Rumi looked set to again set the world alight, the plug was pulled on scooter and motorcycle production. The Bergamo factory never publicly offered any explanation but it's significant to note Rumi were again securing military contracts.
Rush 1922-34 Belgium
Once well known and respected sporting Belgium factory who initially built 248/348cc ohv Blackburne engined machines designed by the proprietor Mijnheer Van Geert. Both Rush and Van Geert were familiar sights at many Continental race meetings winning the 1924 250cc GP at Monza.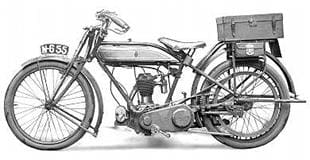 By the mid-Twenties they began designing their own engines, which went into production for the 1927 season, ranging from 350 to 600cc in both side-valve and ohv forms. A number of Rush machines survive including one 350cc side-valve model which appeared at UK events some years ago.
RWC 1949-c1960 Austria
Cycle maker that built ultra-lightweight machines using 98cc two-stroke Sachs engines for which new and replica spares are available from German based sources.
RW Scout 1920-21 (1923) UK
Probably none survive of these Blackburne-engined machines built by R Weatherall, who then went on to build the better known Blackburne-engined Weatheralls.
---
Advert
---
Sign-up to the Classic Bike Hub Newsletter
Get the latest classic bike news and updates straight to your inbox… You can unsubscribe at any time.