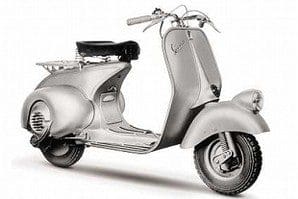 Piaggio 1945-present Italy
Rapidly became, first, a national then world leader in terms of production. By 1978 they'd sold over 6,000,000 machines and 15 years later hit 10,000,000. A true international player, Piaggio remain among the world's leading motorised two-wheel makers by volume, on occasions building more machines annually than Kawasaki.
The son of a sawmill proprietor, 20-year-old Rinaldo Piaggio founded his general engineering business at Genoa in 1884. They soon became involved in wood-working machinery then naval fittings, railway carriages and aviation almost from the pioneer days. Among their innovations were ground breaking aircraft cabin pressurisation systems and an advanced aero engine which set over 20 world speed records.
Rinaldo died in 1938, leaving his sons Enrico and Armando to take over his factory. Heavily involved as part of Italy's war effort in aircraft manufacture of both parts and complete military planes, Piaggio built Italy's only heavy bomber, the P108B. As WWII was drawing to a close, Allied forces bombed the Piaggio works at Pontedera and the German military confiscated all surviving machine tools and assembly equipment.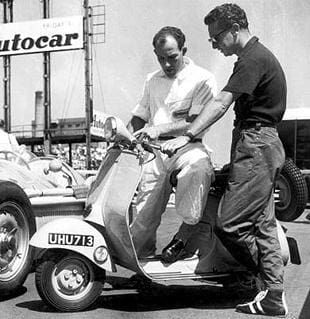 After the war, the Piaggio workforce of over 10,000 were in effect unemployed, the factory in ruins and production at a standstill with the peace treaty prohibiting them from making aircraft. As the factory was rebuilt, Piaggio needed a new product. Enrico remembered the WWII lightweight Aeromoto paratroop scooter built by Volugrafo, believed there may be a market for it in transport starved postWWII Italy and set his chief aeroplane and helicopter designer Corradino d'Ascanio to work.
A leading authority on stressed skin bodywork whereby the enveloping bodywork also serves as the frame, d'Ascanio's first effort, the Paperino of 1945, was a non-starter, but Enrico Piaggio was sufficiently impressed to sanction further work. By April 1946, a new prototype was under test and the new scooter was publicly unveiled at the Turin Show. Named Vespa due to the wasp like buzzing of its two-stroke engine, it was a success straight from the box. True, early decriers, especially the Italian motoring press, knocked its tiny 8in interchangeable wheels, diminutive hidden engine, visually different styling and much more. But the Vespa shone.
Many regard the Vespa as the world's first scooter, which although erroneous as many makers had tried them before WWI, holds some water as Vespa got it right and proved the critics wrong. While some earlier attempts were sound, others were cheap and nasty, expensive and nasty or just plain nasty. At his second attempt d'Ascanio hit the spot perfectly, his original Vespa design is in concept still popular today, 60 years later. Corradino d'Ascanio became a national hero within his lifetime and after his death a plaque was mounted above the door of his house in the same manner as for a leading musician, politician or artist.
But if d'Ascanio's engineering deserved recognition, so too did Enrico Piaggio's original concept. His target market was the Italian working class who he perceived needed a cheap, well-built reliable means of personal transport with good weather protection. Also it had to be comfortable for both
men and women alike, offer a spare wheel and protect the rider's clothes from splashes of oil and fuel. The Vespa is one of few vehicles that has never lost its way.
After the first 100 Vespa 98cc prototypes, Piaggio built another 2500 production models in 1946, over 10,500 the following year and in 1948 it was enlarged to 125cc. Although producing slightly less power than rival Lambretta's 125, the Vespa was good for 70kph (44mph). Following on from its national success, the design was licensed to the German firm Hoffman in 1949 who marketed it as Die Konigin (The Queen).
Fired by more success, Vespa licensed production to many companies around the globe or supplied importers with kits for assembly in the importer's workshop. ACMA in France first imported Piaggio products in 1950 and began assembly the following year. The following year, Sears Roebuck and Co began importing into the USA, taking their first 1000 units and later adding a massive range of accessories including sidecars. And in the UK, Douglas unveiled their Vespa production line in 1951. Further assembly lines were set up in countries from Belgium to Chile and even in the Sixties Piaggio were still hunting new markets, their Spanish operation – Vespa SA – being established in 1962.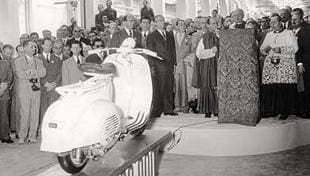 Piaggio didn't only concentrate on marketing, but continually honed what was already a top machine in its class. In 1948, the suspension was revised to prevent dive under hard braking, the front mudguard reshaped to ease wheel removal and, the following year, the rod control system was improved. The rear 'wasp' like bodywork was restyled in 1950 and in 1951, rod control gearchange gave way to cable operation.
Despite its almost runaway sales success, Piaggio still received more than its fair share of press-led knocks. Many had no better criticism than saying the right-side mounted engine made the machine unstable – in fact no more riders fell off their Vespas than any other lightweight, and the spare tyre mounted under the left side cover balanced the plot anyway.
Piaggio launched the cut price 125U utility model in 1953 and upgraded the existing 125 model with revised cylinder head and modified barrel porting for more power. However, the 8in wheels remained – for the time being. A new version, the 150, with square engine dimensions of 57 x 57mm was unveiled in 1954 and the famous sporting line began the following year with the 150GS (Gran Sport). The stunning 100kph (62mph) 150 with 10in wheels and dual seat was unveiled at the Salone di Milano in late 1954. The 150GS was replaced by a 160 version in 1961 and the line continued until 1964.
Combining worldwide production the 1,000,000th Vespa was built in April 1956. Vespas were, by then, being used for almost every lightweight two-wheeler role imaginable including by many local priests with an approving nod and the odd blessing from the Vatican. To mark the occasion, the Pontedera factory – who were then building 500 machines per day – organised a Vespa Day with over 2000 machines converging on Rome, bringing traffic to a halt. Vespa Clubs sprang up in many countries and annual rallies at major European Cities attracted up to 30,000 Vespas.
Sadly, all wasn't rosy though and, while even the most grudging of European writers admitted Vespas were OK, a hate campaign was building in one quarter of the US Press. Many were calm in their comments and played up the values of the native Cushman but Fortune went to town with a 1956 feature claiming the running Vespa engine was like 'the sound of riveting guns'.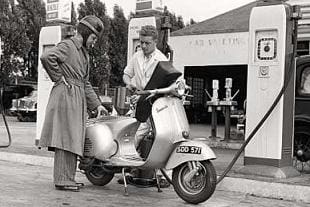 Happily for Vespa, negative publicity can work too, and the claimed excess two-stroke noise was down to American owners who cut lengths off the silencer or bought loud, after-market hot-rod style systems. The same was happening in Italy too, but most Italians are wiser, smiled and remembered they too were young once. And it was with youngsters in mind Piaggio restyled the 125 using new sleek bodywork, uprated engine with square dimensions and enclosed handlebar gearchange like the sporting GS150. The following year the standard 150 gained a bodywork and engine makeover too setting Vespa up to conquer more hearts in the coming decades.
As the Fifties drew to a close, Piaggio were cleverly creating a lifestyle image alongside other marketing ploys for their Vespa range. Large Vespa rallies were organised across Europe with more than a financial nod of approval from Genoa. Worthwhile prizes for competitions, distance travelled awards and tasteful Miss Vespa contests were on offer, often courtesy of Piaggio, along with the presence of national and international stars, music and much other entertainment. Vespa had a big presence at appropriate shows and within the Press but possibly their biggest coupe happened in teenagers' bedrooms. Vespa published pin-up calendars, not lurid under the counter efforts, but tasteful, pretty models in bikinis or one piece swimsuits posing with the latest GS, SS, 50N or whatever on the beach, by the river etc. With mum's blessing, this mildest of examples of sex exploitation was pinned on bedroom walls across the world. Every young lad waking to a simple message, 'Vespa'. Guess what they bought, in their millions? And the girls bought them too, drawn by the image of Vespa.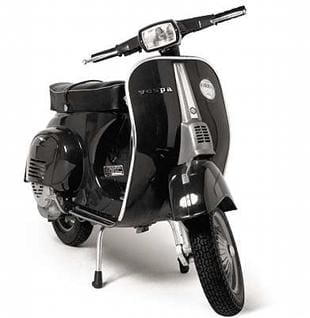 Piaggio not only got their promotion right but the product too, leading to a range of top offerings, some of which have become 'must have' classics today. The 150GS 1955-61, 160GS 1962-64, 150GL 1962-5 (Gran Lusso with twin saddles instead of dual seat), entry level 50, 50N, 50S and 50L 1962-66, the angular looking 65mph 180 Super Sports 1964-66, 90 1964-71 and 90SS 1965-71. The 125 Primavera 1965-66, ET3 1967-67, GT 1966-69 and GTR 1969-7: 150 Sprint 1965-9 and Sprint Veloce 1969-77; and the biggies including 180 Rally, Rally 200 and Rally 200 Electronic built variously between 1968-77, are all revered by collectors today.
As the Sixties drew to a close, so too did the passion for scooters. Many commuters who relied on the basic bread and butter models were able to afford small cars, businesses moved from scooters to light vans and many youngsters yearned for a sexy four-wheeled number, a better option with their sights on Maria, Sophia or Claudia. Waning sales injured Piaggio badly but they bounced back, unlike Lambretta who ended Italian production in 1971.
A moped range beginning with the 49.8cc Ciao in 1967 and its siblings the Bravo, Boxer and Si helped. Entry level 50s were uprated with the top of the range 50N Elestart ambitiously marketed by Piaggio as 'obviously classic with timeless elegance.' Heady stuff for a 50!
A new 125-200 range instigated by Piaggio's managing director began in 1978 called the Nuova Linea (dully translates to New Line – it sounds sexier in Italian!), and offered in three engine capacities. The main code letters break down to P = Piaggio, X = extra qualities and E = electronic ignition. The series was no shallow marketing exercise either. Along with styling updates the P range gained rotary valve induction, minimum 8:1 compression, smoother engines and automatic oiling. The top of the range P200E delivered 12bhp at 5700rpm, almost 70mph and 65mpg. Still ahead of the field it's not surprising Piaggio – who took over Gilera in 1979 – were still selling around 450,000 scooters per year in the early Eighties.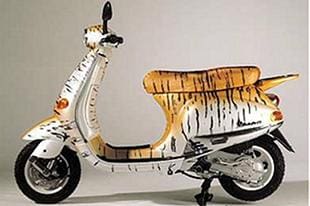 Although out of our remit of our 25 year rule, it's interesting to note Piaggio still keep up with and often set the trends. Direct fuel injection and automatic progressive hydraulic transmission appeared in 1985 and very briefly the traditional Vespa was dropped in favour of the newly styled Cosa range. Public outcry saw Piaggio reintroduce time served Vespas with production continuing today alongside the superbly styled, easy to ride twist and go range, and offered today in an array of models, capacities and package options over a wide price range.
Fired with the success of their scooters, Piaggio launched the tradesman's trike APE (Bee) in 1948. In effect a four-speed (forward only) 125cc scooter front end over which the rider sat on a saddle with scooterlike controls and a flat truck, box van or two-seat rickshaw style job behind. Many APEs were modified to suit owners' needs. Briefly the model B 150cc APE appeared in 1955, late 1956 saw the launch of the restyled model C APE with cab protection for driver and reverse engine facility. A special five-wheeled model with 170cc engine appeared in 1961, in 1962 came the restyled model D with integrated headlamps and fully enclosed cab and in 1965 the model E with 170cc engine. During the Seventies the APE range grew and was coded according to load capacity, except for the APE 50 which was coded due to its 50cc engine – the only model still with handlebar steering rather than wheel. By the Nineties updated APEs were offered in over 50 variants including diesel/electric options and body styles included trucks, rubbish collectors, postie vans, ice cream and coffee vendor bodies, two and four seat rickshaws… By 1995 over 1.5 million APEs had been built.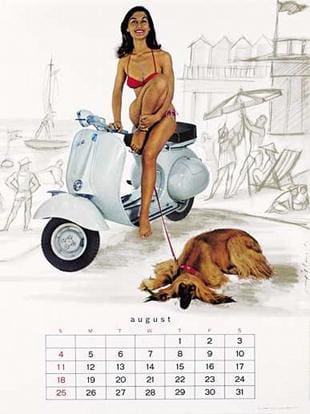 Piaggio launched the Vespa 400 four wheeled car, designed by Corrandio D'Ascanio, at the 1957 Paris Show. Fiat, who'd recently trimmed small car thinking down to two cylinders and their new 500 took a poor view and supposedly threatened scooters at dawn – leading Piaggio to move production to Fourchampbault, France, where it was initially badged as the ACMA.
The vehicle was powered by a 393cc twin cylinder two-stroke engine which could whisk two adults along at up to 55mph (90kph) with a 45mph comfortable cruising speed. An accessory cushion turned the Vespa 400 into a two-plus-two for the nippers or, as the Vespa ads also claimed, two very close friends. More comfortable on a summer's day when the canvas like roof section was rolled back! Over 30,000 were built before production ended in 1961.
Piana 1923-31 Italy
Designer and manufacturer Gualterio Piana began with 147cc Villiers-engined lightweights then 247cc Villiers and 248/346/490 JAP-engined models. Piana developed a neat 248cc ohv unit which from 1928 was installed in touring and sporting chassis.
---
Advert
---
Sign-up to the Classic Bike Hub Newsletter
Get the latest classic bike news and updates straight to your inbox… You can unsubscribe at any time.