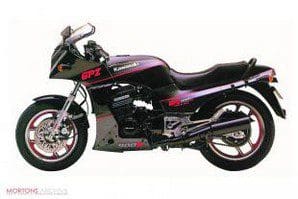 K125 1940s-1950s Russia
Yet another copy of the DKW125. Modestly priced survivors have appeared since the end of the East/West divide. Spares will be a problem for, despite the design being heavily based on the Deek, much is not interchangeable.
Kaptein 1938-1950s Holland
Dutch importer of French built motorcycles who went on to build their own range of 49-175cc motorcycles and then 49cc mofas and mopeds using many Motobecane parts. Odd examples surface at Continental autojumbles.
Kawasaki 1961- Japan
Now regarded as one of the Japanese 'big four' along with Suzuki, Yamaha and Honda – who lead the group in volume production – Kawasaki were the last of this quartet to become a motorcycle manufacturer. Yet the company, renamed Kawasaki Heavy Industries in 1969 – one of the world's biggest industrial giants – is 125 years old.
Shozo Kawasaki founded his boatyard in 1878 and, by the turn of the century, had become one of Japan's largest ship builders. The company then diversified into rail, civil engineering, steel sheet processing and small marine work, all by WWI. In 1937, the Kawasaki Aircraft company was formed. AfterWWII, all Kawasaki divisions and subsidiaries were kept busy on their country's regeneration programme, except Kawasaki Aircraft. To remain viable, the aircraft division began manufacturing motorcycle components and then complete lightweight engines, many of which were sold to Meihatsu, a brand of Meihatsu Heavy Industries, who were in turn another Kawasaki subsidiary.
By 1959, Kawasaki's range of engines and motorcycle components was beginning to slip behind those of rivals. It was make or break time. While the name Kawasaki was well known in shipping, rail, aircraft and heavy engineering, the bulk of the general public had never heard of them but motorcycles were soon to change all that. Kawasaki Auto Sales was launched in 1961, not only to make complete machines but also to market the Meguro – a BSA A7 look-alike.
Kawasaki's first roadster, the 125cc two-stroke single B8, was unveiled in 1962, soon followed by the B8M motocross version which did well in Japanese national competition. Initially, they concentrated on their home market but soon realised if they were to expand and become a major player they needed to export, especially to America. They tried a tidy 250cc four-stroke single, then uprated the Meguro K2, which was enlarged to 624cc and coded the W1, but the US press soon noted the big British twins still had the edge in power and performance and sales were slow.
Kawasaki knew they needed to inject excitement into their roadster range for them to take off in the overseas showrooms. In 1966 came a 247cc disc valve five-speed two-stroke twin which, while slower in top speed than the big British twins, sported searing acceleration. Within months came racing and street scrambler versions of the model listed as the 'Samurai.' A larger 338cc version soon appeared, labelled the 'Avenger.' These models remained in production until 1971 and became a benchmark of two-stroke roadster performance. Suddenly rivals were playing 'catch-up.'
Described in period press as 'awesome,' Kawasaki's next offering, the 499cc H1 – also known as the Mach III – was just that, 'awesome.' Working on the theory that if two cylinders were brilliant three would be 'awesome' their three cylinder two-stroke H1 delivered 60bhp, a claimed 120mph top speed and a standing start quarter of under 13 seconds. But neither the frame nor period tyres were up to the power delivery. However, it was an exciting machine for the period as were their following triples: H1R-499cc racing version, H2-748cc with more power and revised frame, S1-249cc, S2-346cc and S3-400cc. While the 250/400 models remained in production until the end of the Seventies they were never extreme 'wild things' like the H1 and H2.
Although Kawasaki continued to excel in motocross, they were near ineffective in road racing until Dave Simmonds took on the challenge. Toshio Fuji first raced a factory race version of the 125cc Samurai in 1966, but it was Simmonds who established Kawasaki's GP credentials. He gained his and Kawasaki's first GP points at the 1967 French Clermont-Ferrand GP, behind the Yamahas of Read and Ivy and the Suzukis of Katayama and Graham. Dave and the lightweight Kawasaki were runaway winners of the 1969 125cc World Championship from the Suzukis of Dieter Braun and Cees van Dongen.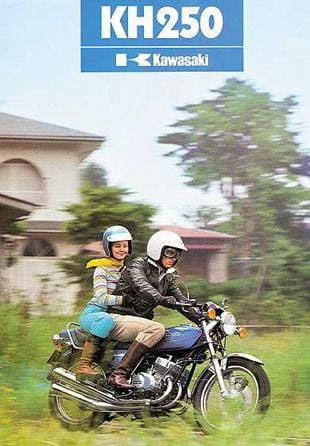 While Kawasaki were establishing themselves as premier builders of high performance two-strokes, they also marketed a range of worthy lightweight commuter machines and had unveiled a 650/4 designated the 650W in 1967. Wanting a bigger slice of the American market Kawasaki began developing an advanced 750/4 code-named 'New York Steak' but, along with rivals Suzuki and Yamaha, were knocked sideways as Honda launched their new flagship motorcycle, the CB750 at the October 1968 Tokyo Show.
Deflated but not defeated, Kawasaki took a back seat for a year to assess the impact of the big Honda, then decided to continue with their project but upped the capacity to 900cc. An early prototype gave 95bhp and 141mph. Then in February 1972, a couple of prototypes were sent to America for extensive testing before returning to Japan for evaluation. Coded Z1, the machine was launched at the 1972 Cologne Motor Show and, even in full road trim complete with indicators and electric start, the big 'Zeddie' was good for a genuine 130mph.
Endurance records, brisk sales, bar-room tales of derring-do and immortality were the Z1's lot. And it sired a range of dohc fours including the distinctive Eddie Lawson replicas. Power fans soon appreciated the Z1's potential, none more so than Dutchman Henk Vink who installed two motors in his record breaking drag bike 'Big Spender.' Former European Trials Champion Don Smith began work on another disassociated project, code named 'Crumpet' to develop a range of Kawasaki trials machines for marketing alongside their other off-road models.
Competition-wise, Kawasaki built on Dave Simmonds' success. Americans Brad Lackey and later Jim Weinert secured AMA titles in the US. Riding developed 750cc two-stroke triples, coded H2R, Canadian Yvon Du Hamel, American Gary Nixon and Englishman Paul Smart scored wins and sound team results. Mick Grant and Barry Ditchburn became the first contracted 'works' riders for the British based Team Kawasaki founded in 1975. Grant set a new IoM lap record with the KR750 and won the Senior, Ditchburn became 'King of Brands' and the duo finished first and second in the British Superbike series. Not a bad start for a team in its first year.
As sales and racing success mounted, Kawasaki added to their range with worthies like the four cylinder Z650, single cylinder Z200 and uprated lightweight two-strokes, including the KH125, while a new in-line 250cc two-stroke twin racer joined the pack in 1975. Although quick, it was initially problematic, but Mick Grant took it to its first GP win at Assen in 1977. A year later South African Kork Ballington secured his and Kawasaki's first 250cc World Crown.
Although outside the 25 year remit of this guide, Kawasaki have maintained a programme of continuous development to give us a variety of sports, touring, motocross, trail and custom motorcycles including the GPZ and ZZR series, ZXR400 and 750, ZX6/7/9-R, KX motocross series, VN custom style cruiser series and as modern jargon goes much, much more.
Keen Power Cycle 1936-c1944 US
Basic tiny scooter powered by a range of small Lauson stationary engines and built by the Keen Manufacturing Company of Madison, Wisconsin. Rights later sold to the JA Strimple Company of Janesville, Wisconsin. They built versions for military appraisal during WWII. Sought after by scooter buffs.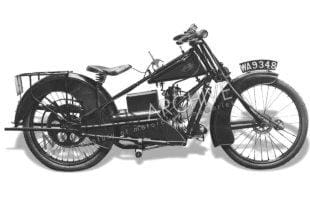 Kenilworth 1919-24 UK
Lightweight belt drive motorcycles, predominantly with 293cc side-valve JAP engines and scooters powered by ohv 143cc Norman, 269cc Villiers and, some sources claim, 293cc side-valve JAP engines. A good handful of scooters survive, most with the 143cc Norman unit. All were assembled by Kenilworth Utility Motors Ltd, Much Park Street, Coventry.
Kerry 1902-15 and c1958-64 UK
Pioneer makers of sound, attractive, belt drive singles with FN or Kelecom engines which are believed to have been built for the London Rubber Company to market as the Kerry. From 1910 production transferred to the Abingdon factory who installed their own 499cc single and 670cc V-twin engines. No more was heard of the Kerry marque until the firm began marketing imported mopeds – some sold as the Kerry Capitano – and a few moped powered light delivery trucks. Also marketed cars 1905-07.
---
Advert
---
Sign-up to the Classic Bike Hub Newsletter
Get the latest classic bike news and updates straight to your inbox… You can unsubscribe at any time.