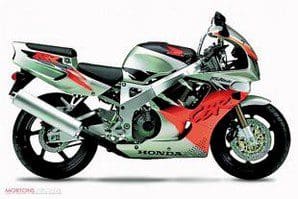 HJH 1954-56 UK
Built in Neath, Wales by HJ Hulsman (Industries) the roadsters and competition models powered by 147-247cc Villiers two-stroke engines offered excellent value for money. But unfortunately, money wasn't a commodity Mr Hulsman was very good with. Forgetting to pay the taxman lost him his business and gained him a spell in prison. Rare survivors exist.
HMW 1949-64 Austria
Production started with a two-stroke cyclemotor attachment and progressed into 49cc moped, lightweight motorcycle and proprietary engine manufacture. Briefly an ultra-lightweight scooter was made too.
Hoffmann 1949-54 Germany
Jakob Hoffmann began making two-stroke 125cc Ilo powered motorcycles at Bezirk, Dusseldorf before relocating to Lintorf in 1950. Gaining a licence from Vespa to assemble their top selling 125cc scooter for the German market, helped finance the development of more motorcycles including a 175cc Ilo-engined model and the grandly named Governeur, powered by Hoffmann's own 250cc horizontally opposed twin engine.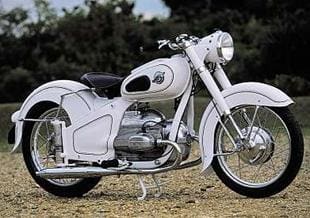 By 1953, Hoffmann had introduced a range of Ilo-engined two-stroke motorcycles in readiness for the end of their contract with Vespa. Finally, they built a larger version of the Governeur coded the Governeur S300, with the engine upped to 298cc and good for 75mph. But, like the smaller 250cc version, it was expensive to produce and sales were slow. With the loss of the lucrative Vespa contract, Hoffmann motorcycle production soon ended.
Spares for Ilo engines can be sourced through German specialists but little is available for the Governeur.
Honda 1947- Japan
No single motorcycle manufacturer has mobilised more customers than Honda. Worldwide production figures have on occasions topped 3,000,000 machines per year and sales of their top selling Super Cub step-thru, launched in 1958, have exceeded 70,000,000 in all its forms. Their tally of road racing GP wins and world championships is still rising. Then there's cars – close on 2,000,000 some years – and generators, garden equipment, stationary engines… over 1,500,000 units per year. Yet this massive business couldn't have had more humble beginnings.
Born in 1906, the eldest son of a Hamamatsu blacksmith, Soichiro Honda trained as a car mechanic in a Tokyo workshop before returning to Hamamatsu to open his own branch of the business. During the evenings he built racing cars, the first powered by a Curtis-Wright V-eight aircraft engine. A serious crash ended Soichiro's sporting career in 1936 and he then established Tokai Seiki Heavy Industry Co. After experiencing numerous manufacturing problems – leading Honda to study metallurgy – he finally succeeded in making piston rings and later aircraft propellers. The business then thrived.
Allied bombing raids badly damaged his Hamamatsu factory as the war neared its end and Honda sold the business to one of his major customers, Toyota, for 450,000 Yen and enjoyed a year's rest before embarking on another business project – motorcycles.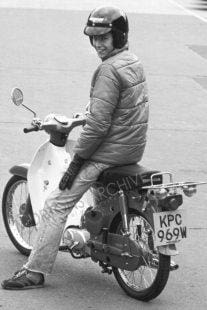 Aged 39, Honda established the Honda Technical Research Institute in Hamamatsu during 1946. It was a grand name for a tiny business working from a wooden shed, motorising cycles with army surplus lightweight engines. When this source of supply dried up, Honda dallied with other proprietary engines before making his own 50cc single cylinder two-stroke unit based on a Tohatsu design. Honda housed his engine within the frame diamond of a purpose made cycle to make his first complete machine, the Model A, in 1947.
Renaming his company the Honda Motor Company in 1948, Soichiro enlarged the Model A engine to 90cc for powering a delivery tricycle coded the Model B. Further development led to the Model C, another delivery trike and Honda's first proper motorcycle the 98cc Dream (Model D). At the same time, Honda was joined in the business by Takeo Fujisawa, a ruthless marketing man, who soon established an extensive dealer network and controlled the financial fortunes of Honda for the next 25 years.
The first four-stroke appeared in 1951, the 146cc ohv Model E with two inlet and one exhaust valve. Honda was growing rapidly. The model F (Cub) – a revised 50cc cycle clip-on, was unveiled in October 1952 and within two months, 7000 units were built per month. At the same time an export drive began, the Philippines being Honda's first overseas market.
While growth and development at this stage seem incredible the machines were basic, fairly primitive motorcycles. But in 1953, Honda began upping the game with the four-stroke 90cc Model J (Benly), a machine with a spine frame, based on NSU design. The spine frame was used on other later Honda models including the CB72/77 twins.
However, company ambition is not without risk. Wanting to become the world's leading motorcycle maker, Honda invested heavily in sophisticated automatic machine tools, just as Japan plummeted into recession. Soichiro's company struggled and he was in for further disappointment in 1954. Believing Honda were nearly ready to take on the world in the road racing arena, Mr Honda travelled to the IoM TT, and was devastated. Lightweight European racers led by the NSU Rennfox and Rennmax were developing two and three times the power of comparable Hondas. But the NSU set-up with an extensive team of highly skilled mechanics – who even used engine warmers on the start line – impressed him. He quietly vowed Honda would be like that one day.
Until 1955, Hondas had been utilitarian commuter vehicles, but the first signs of what was to come appeared during 1955, in the form of the unit construction 250/250cc four-stroke single cylinder Dream (Model SA/SB). Although big and beefy, the motorcycle was styled with enveloping mudguards, embossed side panels, swinging arm suspension, total drive chain enclosure and a headlamp nacelle. Of even more importance, was the valve gear operation, which for the first time was ohc (driven by chain). Honda took over from Tohatsu as Japan's leading motorcycle maker.
The advertising slogan: "You meet the nicest people on a Honda," originated by Grays Agency, Los Angeles, led many company promotions after the 1958 launch of the legendary step-thru Super Cub. In the cold light of day, the Super Cub was – and still is – an odd concept, neither scooter nor motorcycle and with mediocre performance. Yet it sold and sold and sold – and still sells today because of its reputation and the market's trust in it.
Honda's entry model into the twin cylinder market was the 247cc ohc twin C70 (not to be confused with the later C70 step-thru). Developing 18hp at 7400rpm, the all aluminium engine, with some design features based on the racing NSU Rennmax, sired an entire range of fast, light to medium weight twins, including the 125cc Benlys, CB72 (250cc)/CB77 (305cc) and the CB160. Some, including the launch model C70 had 360 degree crankshafts, while others, including the CB72 unveiled in 1960, sported an 180 degree crank.
In 1967 Honda came out with the commuter CD175cc twin, and a sporting variant – the five-speed CB175 – while the CB72 was replaced with the high revving (30hp at 10,000rpm) CB250. Eying the big capacity market, Honda followed up their 1965 launch of the 100mph 445cc dohc CB450 (nicknamed the Black Bomber) with their first four cylinder motorcycle, the CB750, unveiled at the 1968 Tokyo Show. Weighing a hefty 526lb (239kg), the 736cc four developed 67hp at 8000rpm, enough for a claimed 125mph.
During the Seventies, Honda's range grew and grew. Trail bikes included the SL and XL series and trials models kicked off with the TL machines. For the town rider, mopeds included the P50, PC50, Camino and later Express. More fours were added to the range, including the CB500/CB350, leading to the top selling and ultra-smooth CB400F. Heavyweight tourer fans could buy the 1000cc water cooled flat four shaft drive Gold Wing, which has since grown and grown. Just about to creep into our 25 year ruling, are the six-cylinder CBX models – powered by a 1000cc 24-valve engine – and the water-cooled CX500 transverse V-twin. Nicknamed the plastic maggot, the CX500 became the dispatch rider's favoured tool.
Although out of our remit, Honda has gone from strength to strength in so many motorcycling fields. Landmarks include the CBR600 – launched in 1987 – the 165mph CBR900 RR Fireblade, which appeared in 1992, ST1100 V-four Pan European heavyweight tourer, pushrod single cylinder CG125 which has become the commuter and learner's friend and the out and out racers on the road, the V-four 750cc RC30 and RC45.
Honda's sporting success has become legend. On the road racing world championship stage it began with a single point secured in the 1959 125cc IoM TT by Taniguchi. Future six times World Champion Jim Redman joined the team in 1960, Mike Hailwood secured their first TT wins in 1961 (125/250) and their first 250cc world title, while Tom Phillis took that year's 125cc crown. Despite withdrawing from road racing for over a decade at the end of 1967, Honda have enjoyed much success with many legendary riders including Luigi Taveri, Jim Redman, Mike Hailwood, Ralph Bryans, Freddie Spencer and Mick Doohan. Trials rider Eddy Lejeune, motorcross stars Dave Thorpe, Graham Noyce, Andre Malherbe provided similar results off-road.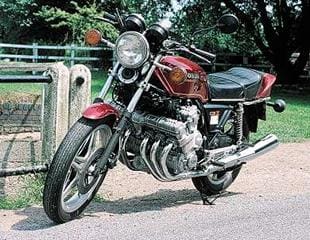 Like most manufacturers, not everything Honda has touched has turned to gold. Their return to racing at the end of the Seventies was a good idea but the NR500 – nicknamed the Nearly Ready and later, the Never Ready – a V-four four-stroke with eight-valves per cylinder and strange shaped pistons, wasn't the way! The early model VF750 V-fours with 'soft' cams wasn't a good commercial experience either. The machine was fine, but needed special tools to secure the camshafts while adjusting valves, pity the tool didn't arrive at the dealers' workshops until a couple of years after the bikes! And who was responsible for the Honda Stream three-wheeler?
Despite these glitches, Honda have been a world leader for the best part of four decades and despite the thoughts of many that Japanese motorcycles can never become classics, in the eyes of others, many older Hondas are classics through and through.
While many Hondas are complex, they can be dismantled and repaired by those who understand them, like any machine. Many new spares survive in the hands of specialists but they are often expensive by British classic standards. Pre-1960 Hondas are very scarce and expensive in Europe, although post-1960 there are plenty of reasonably priced examples available the CB92, CB72, CB77, C72 and C77 are also now expensive collectors' machines. Do check frames carefully for rust damage especially pressed steel ones.
---
Advert
---
Sign-up to the Classic Bike Hub Newsletter
Get the latest classic bike news and updates straight to your inbox… You can unsubscribe at any time.