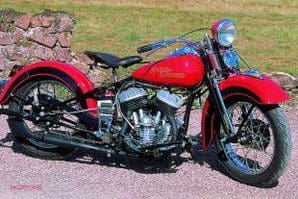 Hagglund 1973-78 Sweden
Limited production of pressed steel monocoque framed 345cc two-stroke Rotax engined military motorcycle with automatic transmission, the XM 74 was developed solely for the Swedish military by AB Hagglund and Soner, Ornsklosvick. Drive problems brought the project to a premature halt. Despite its problems, examples are available on the Continental autojumble scene and Rotax engine spares are available.
Hap Alzina Late 1950s USA/Germany
Tiny low powered German built scooter sold by Californian Indian dealer and West Coast BSA distributor Hap Alzina. Examples appear occasionally at US swap meets.
Harley-Davidson 1903- USA
Lifestyle, a word that sums up the Harley-Davidson Brand. Harley-Davidson have marketed their 'lifestyle' motorcycles and culture for almost a century and it has saved the company from certain extinction.
Following engine development by partners William (Bill) Harley and Arthur Davidson along with brief input from Ole Evinrude (later of outboard motor fame), the Harley-Davidson Motor Co was established in 1903. Arthur's brother Walter – an experienced engineer – joined the project and Mr Davidson senior erected a small timber workshop in his Milwaukee backyard for the fledgling part-time business.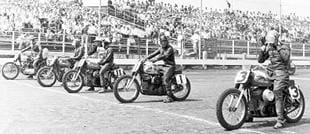 With prudent housekeeping, sound engineering and competition success, the company prospered to become registered as an American corporation in 1907. The four subscribers were, William S Harley – Chief Engineer and Treasurer, Walter Davidson – President and General Manager, William A Davidson – Vice President and Production Manager plus Arthur Davidson – Secretary and Sales Manager.
Luck plays a major part in many success stories and H-D were fortunate to establish favourable co-operation with local banks and an advertising agency, hastening the corporation's growth. Military motorcycles, V-twins, singles, flatheads, knuckleheads, scooters, lightweights and much more rolled out of the factory gates. In 1960 H-D bought a 50 per cent holding in the ailing Aermacchi concern. Despite still enjoying some success and a starring role in the Dennis Hopper/Peter Fonda film Easy Rider, bad press, rival aftermarket products and management problems, saw Harley-Davidson spiralling to bankruptcy by 1969.
AMF (American Machine and Foundry Co) took over H-D. By the late Seventies, AMF wanted rid of Harley-Davidson leading to Vaughn L Beals masterminding the H-D buyback in 1981. Re-creation of the Harley-Davidson lifestyle image, especially through highly profitable clothing and accessories, enabled H-D to re-establish itself. Today the company still thrives and is very protective of its brands, registered logos and product designs.
After experimenting with the 167cc De Dion replica engine, designed in 1901, production kicked off in 1903 with the 'piano black' 405cc ioe engined F-Head Single. Three machines were built in 1903 and four the following year. Constantly updating their designs H-D introduced a flapped silencer – flap closed for silence in town, flap open out of town for power but with noise. In 1906, the attractive Renault gray (grey) was adopted and soon the marketing men dubbed the model 'The Silent Gray Fellow,' 50 of which were made in 1906 followed by 152 in 1907.
William Harley designed the 'springer' fork launched in 1907. The concept remained in production for 46 years. The first V-twin, the 5D (Double Cylinder) appeared in 1909 with many engine parts common with current single cylinder models. Unfortunately the engine vibrated excessively and the 811cc motor was too powerful for direct flat belt drive to the rear wheel. The second V-twin, the 7D, now with mechanical overhead inlet valve replacing the automatic type over side exhaust valve and improved drive belt tensioning, proved highly successful.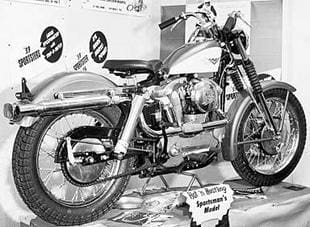 In 1914 H-D built 8,011 V-twins and 2350 singles. By 1918, Harley-Davidson had supplied 14,666 V-Twins and 14,332 sidecars to the military and continued volume supply of civilian models. Inspired, or perhaps enticed, by the introduction of the Indian eight-valve, ohv racer in 1912, Harley-Davidson hit back in 1915 with the 50hp 16R eight-valve, ohv V-twin. The machine was developed by ex-Thor engineer William Ottaway with input by Harry Ricardo. Priced at $1500, the 110mph machine was super fast, but super expensive.
Although V-twin manufacture continued to thrive and engine capacities grew, H-D broke the mould when they launched theWSport Twin in 1919, a side-valve 584cc fore and aft flat twin. Again inspired or enticed by Indian, Harley-Davidson returned to the single cylinder roadster market in 1926 with the Flathead Twenty-One, a modestly priced three-speed 346cc side-valve single. An ohv racer was offered too.
More and more new models rolled out of the Milwaukee factory, including the following: Model D/ DL/DLD Flathead Forty Five (45.26cu-741.8cc, 1929-31), Model R/RL/RLD Flathead Forty Five (1932-6), Model V/VL/VLD (1930-36) and U/UL (1937-48) Flathead Big-Twin, Model VLDD (1935), VLH (1936) and UH/ULH (1937-41), Flathead Big-Twin (1296.6cc) and the ModelWseries (W/WL/WLD) Forty Five series – of which many were for military use during WWII.
Breaking from tradition H-D developed the 738cc side-valve horizontally opposed twin cylinder Model XA Flathead Boxer, using a BMW concept, but the model was too late to see much military service. With an eye on the commercial market, H-D offered a V-twin engined commercial Rickshaw (Forecar) 1913-15 then came the three-wheel Servicar 1932-73 with cargo capacity in a large trunk between the rear wheels.
Revived ohv development came with the first of the Knuckleheads in 1936, replaced in 1948 by Panheads. Keen for a slice of the lightweight market, Harley-Davidson copied the two-stroke DKW RT125 to give us the HS125 (1948-54), 125 Hummer (1958-60), ST 165 Super Ten (1952-7) and variants.
Post-WWII desire for comfort inspired the Hydra-Glide (1949-55), FL Panhead, uprated Duo-Glide and sundry variants. The Sportster range was launched in 1952 with the K45 Flathead Sportster leading to one of the most developed flathead racers ever, the 145mph, 741 cc V-twin KR and KRTT series which remained in production until 1970. The ohv XL Sportster family appeared in late 1957 eventually leading, in 1970, to the ohv XR750 racers.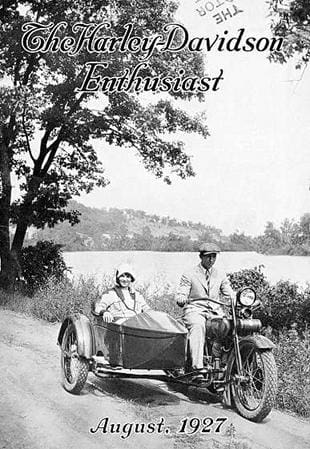 H-D even dabbled in scooters with the 165cc two-stroke Topper (1960-5) while the 'Italian Connection' yielded a bevy of second generation two-strokes including the Bobcat, Scat, minibikes, mopeds and, later, the AMF-Harley-Davidson models plus the tasty 250/350 Aermacchi derived ohv flat single Sprint models.
In 1966 the Panhead was revised with new cylinder head design to produce the Shovelhead and later the bottom end of the engine was revised too. Models included the Electra Glide, Tour Glide, Super Glide (H-D's first custom bike) and Wide Glide, some of which along with 883s, Fat Boys and Softails took H-D into the 21st century.
Few motorcycles have such loyal brand following. If you want 'in,' the Harley-Davidson scene has everything. Clubs, specialists, dealers, spares, advice, parties, meets, rallies and enthusiasm abound worldwide. Machine values remain firm and even if you succumb to a brand new model, it won't depreciate dramatically. Other than up to date models with balance shafts, the motors can be provoked to vibrate under extremes of performance but, as the American enthusiasts claim, 'no vibes, no Harley!'
Many Harley-Davidsons are painted and customised to the whims of past owners. Purists may hold their heads in their hands at such sights but to many they are art forms and priced accordingly.
---
Advert
---
Sign-up to the Classic Bike Hub Newsletter
Get the latest classic bike news and updates straight to your inbox… You can unsubscribe at any time.