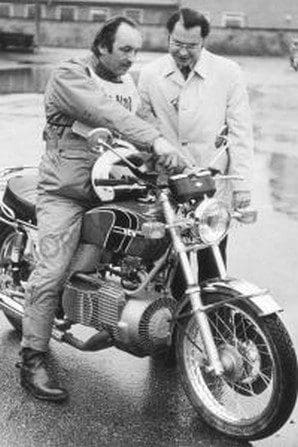 DKW 1919-81 Germany
From the late Twenties until WWII, DKW was the most influential two-stroke motorcycle maker in the world. They pioneered the loop scavenge principle, which utilised crankcase compression, employed 'supercharging' pistons and, later, rotary valve induction on their racers. They were for many years the world's largest volume motorcycle maker with over 15,000 staff by 1930 and also designed the most copied motorcycle, the DKW RT125 which begat the BSA Bantam, Ifa, MZ, Moska 125, Harley-Davidson Hummer and the Yamaha YA1. Other firms, including Royal Enfield, took a long look at Deek lightweights before making their variations on the theme too.
Danish born JA Rasmussen established the DKW factory in Zschopau (Karl Marx Stadt) in 1919. Early work involved design and development leading to the launch of the 122cc Hugo Ruppe designed two-stroke 'clip-on' unit in 1921. Over 25,000 were made in little over a year. The Golem (122cc two-stroke) and Lamos (142cc two-stroke) scooters followed. In 1924, DKW were among the first manufacturers to pioneer a pressed steel frame, which was strong and easy to manufacture accurately in quantity. The 173cc SM (Steel Model) was the first to be manufactured.
An astute business man, Rasmussen's firm absorbed other manufacturers and, in 1932, DKW merged with Horch, Audi and Wanderer who continued to make cars while DKW concentrated on motorcycle production, also offering two-stroke cars, vans and loose engines for motorcycle, automotive, marine and industrial uses. Headed by Dr Ing Carl Hahn, the group became Auto Union AG, adopting the four inter linked circles trademark representing the four companies, which is still found on Audi cars today.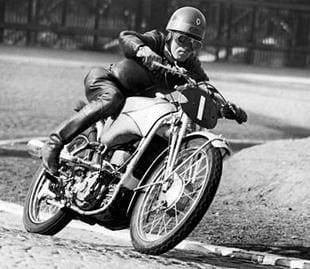 Development progressed quickly. By 1927, DKW were marketing a 497cc (Z500) twin cylinder two-stroke, which evolved into the 494cc SB500 with electric starter (Dynastart). The RT125 appeared just before WWII, developed from the earlier RT100 series. After the war, the DKW factory, then in the Russian Sector (East Germany) continued to make motorcycles as Ifa and then MZ.
DKW relocated to Ingolstadt on the Danube, first maintaining ex-military vehicles. Then, in 1947, the combine of companies became Auto Union GmBH. The first postwar DKWs – all 125s and again coded RT125 – were built in 1949. Rear suspension and telescopic front forks soon followed and the model range grew to include two-stroke singles of up to 250cc and finally a 350cc twin. Scooters (Hobby and Luxus) joined the range in 1954, continuing until 1957. They were built under licence in France as the Manurhin.
Despite the introduction of the Hummel (bumble bee) moped, DKW, like much of the German motorcycle industry, was in trouble. Management had overestimated projected sales and when figures fell short they simply didn't know how to scale down production. Although well engineered, the VS range (RT175/200/250VS) with Earles type front fork proved unpopular with some and sales fell further. By November 1958 Daimler-Benz had acquired 88 per cent of Auto Union shares and amalgamated three major German motorcycle factories, DKW, Victoria and Express under the title Zweirad Union. Headquarters were at the Victoria plant at Nurnburg but the DKW factory at Inglostadt was kept open too.
Effectively, DKW motorcycle production ended in 1959 although moped manufacture continued. In 1966, engine makers Fichtel and Sachs took over the Zweirad Union, adding Hercules to the set. The DKW badge appeared on lightweight motorcycles and mopeds up to 1981, but these owed more to Hercules and Sachs than DKW. The Deek label also appeared on the Sachs snowmobile engined Hercules Wankel W2000.
DKW excelled in most forms of competition, especially road racing. The Bichrome system of supercharging and intercooling first appeared in national racing in 1925 and then on the Hermann Weber designed split single layout in 1931, which owed its concept in part to the Austrian made Puch split singles. Many race successes followed including Ewald Kluge's victory (the first by a German rider) in the 1938 IoM Lightweight TT victory at 78.48mph. The factory returned to racing in the Fifties with 125cc singles, 250cc twins and 350cc triples, all two-strokes of course. Despite odd successes, headed by Rudi Felgenheier's win in the 1952 West German GP, DKW were overshadowed by NSU, MV Agusta, Moto Guzzi and FB Mondial.
Late in his life, company founder JA Rasmussen offered three explanations for the initials DKW; Dampf Kraft Wagen – from his first steam engine designed for cars, Der Knabische Wunsche the schoolboy's dream (following early racing success) – and Das Kleine Wunder the little miracle. All DKW motorcycles are well engineered, sophisticated two-strokes. Many spares for post-WWII models can be sourced through German specialist dealers and even some pre-war parts are available.
DLM 1972- South Korea
A manufacturer almost unheard of in Europe, but a big volume producer of lightweights in South Korea.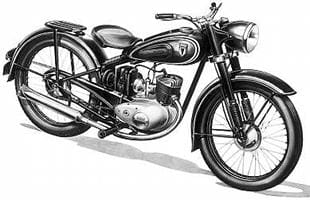 DMF c1945-57 Holland
Factory set up by former racing driver Joop Verkerke to assemble lightweight commuter motorcycles using Ilo, Puch and Villiers two-stroke engines.
DMW 1950-67 UK
The Dawson Motor Works (DMW) of Wolverhampton built a couple of grass track motorcycles before WWII and experimented with suspension systems and prototypes before going into production proper with 122cc 10D and 197cc 6E Villiers-engined lightweights – all boasting plunger rear suspension, metal profile front forks and frames constructed in square section tube – in 1950.
In 1952, competition models were catalogued and, at the end of the year, DMW offered the 122cc Coronation (with a round tube frame) to celebrate the Queen's forthcoming Coronation. A new frame comprising steel pressings and square section tube was introduced in 1954 along with 'new' Villiers engines including the 197cc 8E and 224cc 1H which powered the Cortina.
Although DMW favoured Villiers engines, they also fitted French AMC engines including a high performance 125cc single, which powered a racer called the Hornet.
Two years later, DMW introduced their first twin, the 249cc Villiers 2T-powered Dolomite 11. Variants included the 3T-engined Dolomite 11A, the 2T Dolomite Sports and later Villiers 4T Dolomites and Sports Twins. The 'K' frame, comprising a large diameter top tube, tapered down tube and an H section pressing to support the seat, appeared in 1960.
Trials and scrambles models continued until the mid-Sixties and in 1963, DMW re-introduced the Hornet racer, this time powered by the 247cc Villiers Starmaker engine. Along with many other British manufacturers DMW built scooters too. The 99cc Villiers 4F-engined Bambi appeared in 1957 and the 249cc Deemster came in 1961. Motorcycle production ended in 1967, but DMW had long been associated with the manufacture of metal profile forks continued for some years.
DNB 1957-61 Japan
Single cylinder two-stroke lightweights. Survivors are rare.
Dniepr 1967- Russia
BMW flat twin copy often sold with a sidecar. Better known in export markets as the Ural under which name it will be covered in more detail.
Dollar 1925-39 France
Well known motorcycle maker in pre-WWII France from Joinville-le-Pont who built an extensive range of models from 98cc utility lightweights to ohv in-line four cylinder motorcycles, some with shaft drive and in unit gearbox. Various models had Chaise, Moser or Zurcher engines.
Doniselli 1951-c1975 Italy
Lightweight two-stroke motorcycles with Ilo and Alpino engines, manufactured until 1961. Doniselli then offered a range of 49cc mopeds and sports motorcycles. As with other Italian marques examples of Donisellis are finding their way to Northern Europe.
Dot 1903-1973 (see text) UK
Born in Reading in 1875, racing cyclist Harry Reed, an adopted Mancunian, began motorcycling c1903 with a home built machine – the Swallow. Acquiring factory premises at Ellesmere Street, Hulme, Manchester in 1903, he founded the engineering company H Reed and Co to develop prototype motorcycles. When production started they were named 'The Dot,' believed to be derived from the name 'Dorothy.' Circa 1923, advertising copywriters adopted the convenient slogan 'Devoid of Trouble.'
Early production comprised predominantly Fafnir and Peugeot powered direct drive models then JAP engines were employed. Riding a 680cc automatic inlet over side exhaust valve V-twin Dot-Peugeot, Harry Reed won the 1908 Twin Cylinder IoM TT. This provided excellent publicity which, combined with reliability trials success and Brooklands exploits, enhanced the company's reputation.
After WWI, Dot recommenced motorcycle production in 1920 with a small range of JAP-engined models but they 'splashed out' with their 1923 models. They were a range of fashion leaders with saddle tanks and a stunning finish of cerise to the main frame, mudguards, wheel rims and tank side panels – all of which contrasted well with aluminium finish of the main tank body. Eye catching certainly, but for those with conservative tastes, black enamel was available.
Towards the end of the 1923 season, Dot offered a 350cc Bradshaw-engined model, the unit manufactured by James Walmsley & Co (Preston) Ltd. Driving a 350cc Dot-Bradshaw/Swallow outfit, Harry Reed, passengered by John Hooson, was second in the 1924 Sidecar TT while Sid Ollerhead finished second in that year's Junior TT on another Dot.
By 1926, Dot was struggling. Harry Reed retired from racing and motorcycle manufacture, aged 50. A new company, Dot Motors (1926) Ltd was formed and production initially focused around 350cc models using JAP, Bradshaw and Blackburne engines. Lightweights and Villiers power soon followed.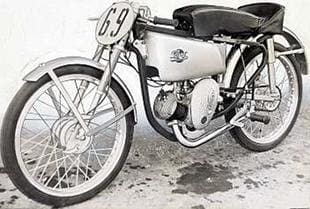 Despite enjoying further racing success at the 1928 TT with a clutch of podium places for the Twemlow brothers (Ken and Eddie), Dot's sales slumped. By 1932, their range was just two models, 98cc and 147cc lightweights for local sale only. Motorcycle production then stopped, the firm scraping a living as sub-contract engineers. During WWII Dot built 122cc Villiers-engined three-wheeled delivery trucks for the Ministry of Supply and production of civilian models continued after the war.
Dot restarted motorcycle production in 1949 with the Dot 200, followed by the Dot 125, both Villiers powered. With Burnard Scott-Wade at the helm, Dot took an interest in off-road competition and racing. Finishing 7th, 11th and 12th in the 1951 125cc TT, they scooped the team award – Mondial, who filled the first four places, forgot to enter for the team prize. Although roadster production continued until 1958, the company became more involved with off road competition. Works riders included Eric Adcock, Pat Lamper and the husband and wife trials sidecar team of Arthur and Lyn Pulman.
Brief forays into racing with RCA power and the 50cc Vivi were short lived, but Dot continued to feature strongly in the off-road scene until Villiers ended engine production. Dot then fitted Sachs and Minarelli engines to trials models and built their own scrambles engine. Although quantity motorcycle production ended in 1973, the firm still survives today offering help and information to Dot enthusiasts.
---
Advert
---
Sign-up to the Classic Bike Hub Newsletter
Get the latest classic bike news and updates straight to your inbox… You can unsubscribe at any time.