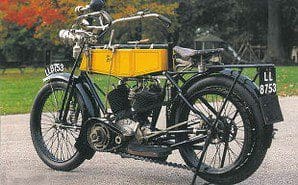 BAC 1951-53 UK
After the Bond Minibyke design and production was taken over by Ellis of Leeds, the Bond Aircraft and Engineering Company built two conventional but very small motorcycles called the Lilliput. The 125cc version powered by a JAP two-stroke engine was in production for a year while the 98cc version with a Villiers 1F engine lasted a little longer. In 1952 the company unveiled their 98cc (Villiers 1F) and 125cc (Villiers 10D) Gazelle scooters, but designs for these passed to Projects and Developments of Blackburn in 1953, production failed to continue.
Bajaj 1960- India
Company formed to assemble Lambretta scooters under licence, now in collaboration with Piaggio, Kawasaki and Cagiva they produce older style lightweight models under licence as well as developing their own machines. Currently India's largest motorcycle manufacturer and one of the world's biggest players in the two wheel market, Bajaj employs over 17,000 staff. Some older Bajaj (Lambretta) scooters have arrived in the UK.
Baker 1927-30 UK
Before WWI, Frank Baker returned from working in America for Cleveland to establish proprietary engine makers Precision, who were taken over by Scottish engineering group Beardmore in 1919. Motorcycle production ended in 1924, but Baker re-established himself as a motorcycle manufacturer in 1927 building a range of attractive Villiers powered lightweights with Albion gearboxes they came with. Villiers single cylinder 147, 172, 196 and 247cc two-strokes, often with three speed gearbox.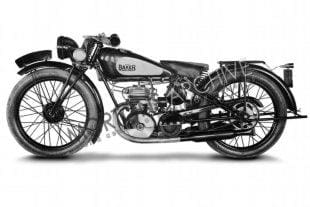 BAM 1933-37 Germany
A range of Belgian built FN machines imported into Germany where they were badged as BAM to placate Hitler who actively discouraged the import of foreign goods.
Bantomoto 1951-53 UK
Neat 40cc disc-valve two-stroke cycle attachment built at the Cyc-Auto Works Ltd, East Acton, London. The earlier single speed Mk 1 model weighed just 18lb while the later two-speed version was slightly heavier. Both mounted alongside the rear wheel, driving it via a ring gear. A rare British built/assembled cyclemotor, the odd survivors are eagerly sought by micro power collectors.
Bastert 1950-56 Germany
Well respected Bielefeld factory who built conventional two-stroke motorcycles and mopeds with Ilo and Sachs engines, but better remembered for their 174/197cc Ilo powered Einspurauto (single track car). Variously described as a luxury scooter or a monstrous spaceship, it featured a 'lounge' type seat and backrest, bumpers and masses of chrome trim. Despite all, it was fast, well made, comfortable, could take two at a squeeze and is today highly sought after by scooter buffs as only 1200 were made. Expect to pay lots, engine spares are available but you will have to make any missing bodywork.
Bat 1902-26 UK
The Bat Motor Manufacturing Company of Penge, London was founded in 1902 by Mr SR Batson who used the first three letters of his surname for the company name. The Tessier family took over Bat in 1904 and Batson established himself in the manufacture of office furniture. The company soon coined the slogan 'Best after tests.'
Early models used De Dion and MMC engines, and excelled in early race meetings held on cycle tracks at Crystal Palace, Canning Town and the like, ridden by TH Tessier and the Chase brothers. Soon the Tessier family were attracted by the performance and reliability of JAP engines and largely stuck with Tottenham built units until Bat ceased trading in 1926 – another victim of recession and inflation. They excelled in motorcycle sport and reliability trials, their best IoM TT result was in 1908 when WH Bashall finished second behind Harry Reed's Dot in the twin cylinder class.
During WWI, Bat concentrated on munitions work resuming motorcycle production in 1919. By 1921 the range included 6 and 8hp models with three speed gearboxes and electric lights. In 1923 Bat took over Martinsyde, renaming the marque Bat-Martinsyde, the last of which were built in 1926.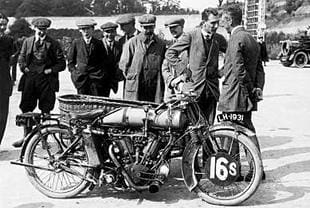 Batavus 1911-76 Holland (to date India)
Andries Gaastra opened a shop in Heerenveen in 1904 selling clocks, watches and sewing machines. Bicycles were soon added to the range. Later he concentrated on the cycle trade alone as the Dutch agent for German Presto bicycles. These were then sold under his own brand 'Batavus,' a few of which were motorised. During the early Thirties, Gaastra added three wheeled trade cycles and lightweight motorcycles with Ilo and Villiers engine to the range.
After WWII the company grew and became involved with motorised bicycles, followed by mofas (mopeds restricted to 25kph intended for 14-year-olds) and mopeds. Moving to a new factory in 1956 production of cycles, mofas and mopeds was increased and went on to establish an extensive museum of cycles, cars and motorcycles with one of the best displays of cycles in Europe. Batavus were first imported into the UK by Harglo Ltd – a partnership of former BSA executives Wilf Harrison and Peter Glover. As well as marketing the existing range of mopeds, Harglo encouraged Batavus to develop the attractive HS50 for the UK market in the Seventies. A moderate number of Thirties motorcycles survive along with a plentiful supply of 1950s on mopeds.
Engines consisted of Villiers 122/196cc or Ilo 125-198cc air-cooled single cylinder two-stroke engines, three speed gearbox. The HS50, air-cooled 48cc Laura Motoren single cylinder two-stroke engine, had belt drive to a centrifugal clutch. Indian maker TVS continued building Batavus machines in India from 1976 onwards.
Bauer 1936-54 Germany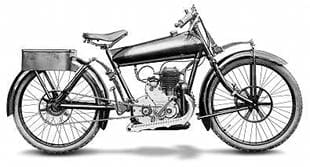 Well known cycle maker who built Sachs powered 74/98cc autocycle type machines before WWII. Production re-started in 1949 with a range of 97-175cc Ilo and Sachs powered lightweights. Unfortunately the company introduced the B250 with their own 250cc ohv unit in 1952. The carburettor was fitted at the front of the engine and the exhaust port to the rear causing overheating and unreliability. The company faltered financially, motorcycle production ended in 1954 although cycles were still made.
Beardmore Precision 1920-25 UK
The large Scottish industrial group of William Beardmore bought out Frank Baker's Precision Company after WWI and built a range of advanced motorcycles with leaf spring suspension, integral fuel tanks and some with unit construction engine/gearbox. In addition to Precision two and four-stroke engines, Beardmore used Barr and Stroud sleeve valve and Blackburne units. In 1924 they unveiled their own 250cc ohc unit which proved unreliable, leading the company to shut the motorcycle division.
---
Advert
---
Sign-up to the Classic Bike Hub Newsletter
Get the latest classic bike news and updates straight to your inbox… You can unsubscribe at any time.