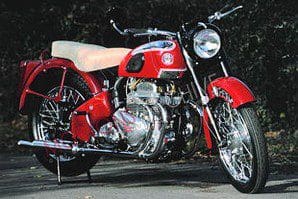 Ariel 1902 (1898)-70 UK
Some enthusiasts joke that the name Ariel can be traced back to the invention of the wheel. Well, not quite, but in 1870 James Starley and William Hillman jointly patented a lightweight wheel with tensioned wire spokes calling it the Ariel, after the spirit of the air. Starley Brothers of Coventry went on to build a range of 'ordinary' – penny-farthing – cycles with wire wheels. In 1896 James Starley's firm amalgamated with the Westwood Manufacturing Co of Birmingham to make cycle components, developing a huge factory site at Selly Oak.
Two years later Ariel began building De Dion powered quadricycles and then tricycles, placing the engine in front of the rear axle rather than behind as most other makers did. Instantly the Ariel tricycle was more stable and could be cornered faster. The first Ariel motorcycle was built in 1902 and soon Charles Sangster, who later designed the stillborn two-stroke Arielette, became the new managing director.
In 1910, along with Swift of Coventry, Ariel launched their new 4hp White and Poppe designed side-valve engine, which became the backbone of the Ariel range until 1925. Distinctive due to its widely spaced valves for better cooling, it became (rather clumsily) nicknamed the 'Ariel with valves a mile apart'. Although the factory produced armaments during WWI, a number of motorcycles were supplied to the British and Allied forces in Russia and Iraq. In the immediate post-WWI period, Blackburne, Abingdon King Dick and MAG proprietary engines were also used.
Charles Sangster's son Jack became involved with Ariel during the Twenties and was responsible for designing the Ariel Nine car – an attempt to cash in on the up and coming, lucrative small car market. His best move was to persuade designer Valentine Page to leave JAP and move to Selly Oak. At the 1926 London Motorcycle Show, Ariel launched two all new models, a 500cc ohv single and a 557cc side-valve single. The short, cobby machines, with saddle tanks and low seating position looked good and sold well.
The 250cc Ariel Colt joined the range before the decade was over and in 1932 the first of a long line of Red Hunters, based on Val Page's 500cc ohv engine was catalogued. While Page continued working on the single cylinder range, including the short lived inclined engined models, another industry 'giant' Edward Turner was developing the Square Four. Launched as a 500cc ohc four at the 1930 London Motorcycle Show, a year later the 'Squariel' had been joined by a 600 (actually 601cc) version.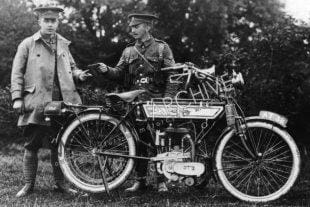 Despite brisk sales, perhaps encouraged by Harry Perrey's English Channel crossing on a motorcycle (with floats) and the 'seven sevens' Maudes Trophy win (seven different models and seven tests) Ariel were badly hit by the depression and closed briefly in 1932. Jack Sangster threw his personal fortune at the company, streamlined both production and premises and Ariel Motors (JS) Ltd was born.
Both Page and Perrey had moved to Triumph, but Edward Turner stayed on at Selly Oak. Always a man of style, he beautified the Ariel single cylinder range, producing the famous Red Hunters with their bright red finish, tank top instruments and lots of chrome. Turner left Selly Oak for Triumph in 1936. The Square Four range was redesigned as an ohv instead of ohc engine in 1937 and a 1000cc version was unveiled, which Ariel claimed would run from 10-100mph in top gear. It did too!
Assistant designer Frank Anstey introduced a rear suspension system for the 1939 season, plunger units incorporating pivoted links, enabled the rear wheel spindle to move in an arc maintaining constant chain tension.
Ariel supplied over 40,000 Model W/NGs, based on the 1939 350cc ohv single cylinder Red Hunter, to the Allied war effort during WWII as well as a handful of 500 and 600cc side-valve singles and a few 500cc ohv models too.
The 350cc Red Hunter was soon back in production when the war ended, joined by a 497cc version, competition model, the 598cc VB side valve model and again the 997cc Square Four. The 600cc version never returned.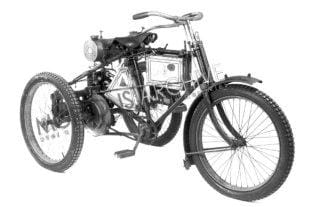 Needing a vertical twin like Triumph and BSA and with Val Page back in the drawing office, a 498cc ohv model was soon rolling out of Selly Oak. As the Forties drew to a close, Ariel justifiably advertised 'the world's only range of singles, twins and fours'.
Almost unnoticed by the rest of the world Ariel had passed into the control of the BSA Group, with former TT rider Ken Whistance at the helm. As the Fifties gathered momentum, the Square Four shed weight and later the MkII, with four exhaust pipes, was readied for 1954. The Colt was re-introduced as a 197cc ohv single, leaning heavily on BSA design and the 646cc Huntmaster, heavily based on BSA twin design, was added to the range. Although the single and twin cylinder ranges gained swinging arm rear suspension, the Square Four stuck with the Anstey designed set up until its end in 1958.
Dropping four strokes by the wayside, Ariel launched the revolutionary 250cc two-stroke twin Leader in July 1958. Val Page, like Yamaha and Suzuki, had taken a close look at the German Adler before design work started. The Leader was soon stripped of its bodywork and offered as the Arrow, later joined by a 197cc twin, built to attract a lower insurance premium.
Page went on to design the pressed steel framed 50cc Pixie and planned an ohc single cylinder unit. BSA had developed a 75cc ohv engine – in effect a scaled down Triumph Tiger Cub unit – and Page's ideas were shelved and the Pixie was powered by a scaled down Beagle engine.
Arrow production halted in 1966 but the Ariel name was resurrected for the Ariel 3. The frame hinged in the middle so the rider could lean into the corner with the two rear wheels staying ve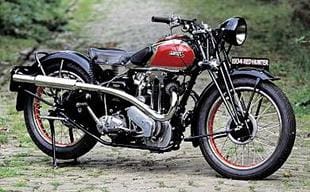 rtical to the road. The Dutch made Anker engine overheated in a box between them.
Although privateers, led by riders like Ben Bickell, Mike O'Rouke, sprinter George Brown and Peter Inchley raced Ariels, it is for off-road competition that Ariels are often remembered. Best recalled of all are the achievements of Sammy Miller and his ultra light HT5 based trials model GOV 132.
Ariels are sometimes underrated and overlooked, yet ownership backed by a great club and good spares availability for later models, is a lifetime affair for many. Beware Leader/Arrow pressed steel chassis which are badly rusted – it may be terminal. Only ever consider complete ohc Squariels and remember they are an example of early motorcycle sophistication.
---
Advert
---
Sign-up to the Classic Bike Hub Newsletter
Get the latest classic bike news and updates straight to your inbox… You can unsubscribe at any time.