Like Honda, Kawasaki built both four-cylinder and two-cylinder 400s in the late 70s and early 1980s. Roy and Chris Workman have been running a twin as regular transport for nearly 20 years…
This bike was originally registered on 31st December 1982; somebody had obviously bought themselves a New Year present! The machine is a Kawasaki Z440 H1 model. These bikes were a development of the earlier Z400 series, going back to 1974. This particular bike came into our family in 1987, where it has remained ever since. It is a parallel twin of 443cc and it has proved to be a good and reliable all-rounder. It will return between 60 to 70mpg, and still head off up towards 100mph. This is a laid-back middleweight with reasonable performance and economy.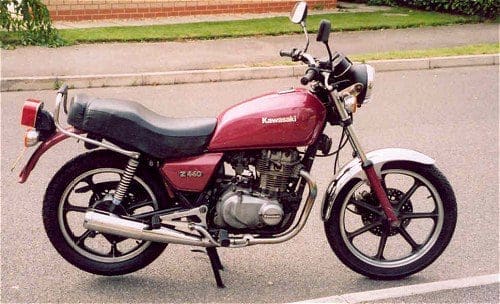 Our machine is not as standard. Originally the bike was painted silver with chrome mudguards and twin silencers; now a Motad system is in place and the paintwork is a raspberry sorbet colour. The appearance of the machine catches a few people out, and it gets a few funny looks when I take it to the likes of the London Motorcycle Museum in Greenford; people wander over to try to work out what it is.
One of these bikes was advertised in RealClassic fairly recently. It was in standard colours and it looked to be a good buy for the price.
Our bike has a seat height of 29-inches and still has a decent amount of foam, which makes for a comfy ride. My wife found the bike easy to use when she helped to train riders taking part in Ealing Council's bike training courses (before the advent of CBT). It has a good performance for the size of engine, 85mph coming up easily, although we usually cruise at around the 60mph mark – in top gear 5000 revs produces this.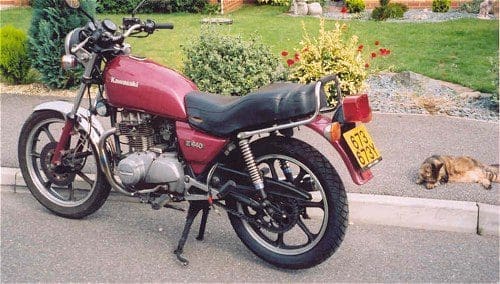 The brakes lack a certain amount of feel but are they are very effective. The rear drum brake will lock the rear wheel and lay rubber on the road. This I found out when I had to stop quickly on going over Kew Bridge on the way to the Pioneer Run a couple of years ago when the rider in front of me of braked quickly, and I had to stop even faster – both of us had been distracted by a young lady wearing a cut-away leotard pedalling along on her bicycle!
The single front disc brake is quite adequate but for that extra bite you do need a firm pull. Once Chris and I were riding two up when we flew over the brow of a hill only to find that the road was blocked – lots of brakes were required but we stopped in time … just!
To start our machine from cold we use full choke and no throttle, press the button and it fires up on one cylinder; the second comes in later. Once warm the bike starts fine.
It is a nice machine – nippy and fairly light which makes it easier for me to wheel around – a comparable weight to a 350cc long-stroke Matchless. The engine turns out 40bhp, which is ideal for middle range commuting whilst still having enough poke for a little fun on the open road. The bike handles well coping with the performance available. I find the riding position comfortable, as I like a more 'sit up and beg' style.
The seat base itself is suffering from rust, and the nice man on the Irish ferry altered the shape when he strapped it down for the sea crossing. I spoke to P&P Seating at one of the bike shows and they said they could fix it for me. They said that they do get some work as a result of the enthusiasm of the guys working on the ferries…
The bike has a six-speed gearbox which is as sweet as a nut, The bike is very forgiving through the gears.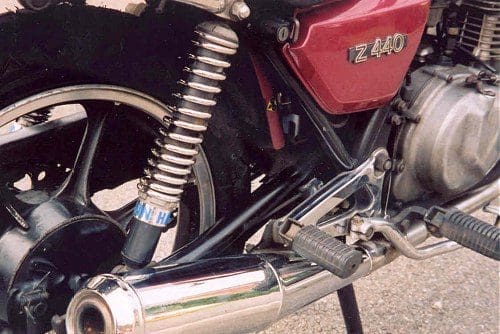 A few years ago Chris Buckle, of Roebuck's of Rayner's Lane, who had been a Meriden Triumph dealer, got a Moto-Guzzi franchise, and he held an open day with test rides. Chris, my wife, had a ride on a Moto Guzzi Nevada. She got off that machine saying 'Where is my 440? Let's keep fixing it!" She was not at all happy with the Guzzi's gears. Apparently they needed changing frequently with small variations of speed, unlike the Z440. (I got to ride a Cagiva a 125cc two stroke with seven gears, which was fun to ride).
Some time ago the Z440 and a couple of other bikes went for a run around Scotland. When we rode over the Pass of the Cattle the mist was down and it was difficult to see where the front wheel was going. The weather was rough and cold. We stopped at the Applecross campsite and warmed up there. This is a nice campsite – well equipped for outdoor users. The café part consisted of a very large and well heated 'greenhouse' and the floor was unlikely to be damaged by dripping clothes.
Petrol was a problem as on the way up the east coast there was a power cut and we had been unable to fill the bikes up. We coasted into the campsite on fumes… Luckily, after our warm up at the site, the electricity was back on and we were able to obtain some petrol from a couple of pumps at the waterside in the nearby village. We had been warned that the man who ran the pumps might be out in the fields with his flock of sheep – luckily for us the flock was looking after itself!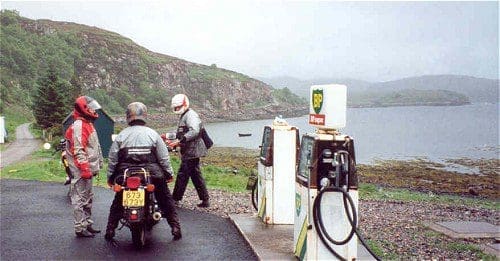 On the way home the bike started to smoke a bit, and Chris' son, Peter, decided that the machine needed a little attention; the engine was dismantled and rebored and he also ran the spanners over the rest of the bike .
The rear mudguard had rusted through over the years and a new one was fitted. The offer of a free respray was made and duly accepted. The colour chosen was metallic raspberry sorbet, and a two-pack type paint was used. The original headlight did not throw out a very good light so this was replaced by an MZ lamp which is much more efficient. Unfortunately this was done after the respray, but it will get painted one day.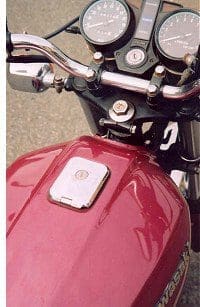 The bike handles fine when on the move but at very low speeds it feels a bit strange; however above 10mph it's fine. You soon get used to it. My son feels that this might be down to the mixture of tyres fitted at the moment. The centrestand does not require undue effort to lift the machine on to it; and the sidestand could be a bit longer, as the bike lies over quite a long way. The bike has a safety feature – if the sidestand is down and you pull the clutch in then the sidestand pops up – this could save a possible accident.
A Scottoiler has been fitted to help extend the life of the chain and sprockets.
If you fancy something a little different at a modest price, the Kwaker is a good all-rounder with a reasonable performance. It would be worth a try.
Kawasaki Z440H Fact Pack

Engine: OHC air-cooled twin
Capacity: 441cc
Bore x stroke: 67.5 x 62mm
Max power: 40bhp
Transmission: 6-speed chain drive
Brakes: Front disc, rear drum
Rear suspension: Twin shock
Wheels: 19-inch front, 18-inch rear
Wheelbase: 1375mm
Dry weight: 166kg
Development: H2 imported 1983
Similar models: Z440C (81/82), Z440 Ltd (81-85)
Not to be confused with: Z400J or F, with four cylinders
Z440 stuff on eBay.co.uk
---
Advert
---
Sign-up to the Classic Bike Hub Newsletter
Get the latest classic bike news and updates straight to your inbox… You can unsubscribe at any time.