With the parts back from the chromers, Kim Henry starts rebuilding his Real Classic Kawasaki. But will it start?
I discovered that it's a wise idea to remove wheel bearings before the polishing process because mine came back fairly choked up with compound and after cleaning them out I discovered they were stuffed. It's a good thing that bearings from this type of bike are all common or garden variety and easily and cheaply replaced. With the seat recovered, some parts from e-bay and some of the nuts and bolts replaced with new it was just a matter of putting everything back together…
I suppose it took 6 weeks of intermittent work to reconstruct the bike, chasing down the occasional replacement and trying to remember where everything went. I fixed up the wiring loom where it had been toasted when the bike caught fire and did the same for some of the control cables – heatshrink tubing came in very useful for this job, especially the type with the glue inside.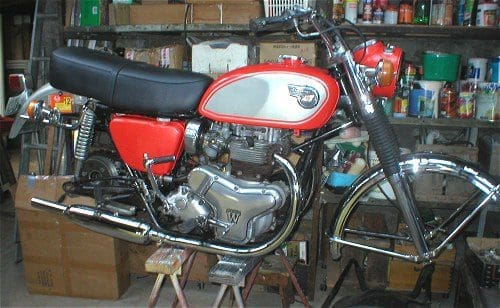 So came the day to fire it up (metaphorically, hopefully) and of course, it wouldn't start. Not at all. Not a bit. Not even a fart. Of course, to expect any different would be naively optimistic, so I loaded said non-participant bike onto the trailer and made it the problem of the local bike mechanic, who did the necessary tweaking and got the thing to start. This at least gave me a starting (ha ha) point and I have spent a fair few hours since getting it even better. Most improved are the chokes which were not working at all, but with some stronger springs and some lubricant through the cables they now work like they should and the bike starts more like it should; 3 or 4 kicks, no throttle.
| | |
| --- | --- |
| | Classic Kawasaki Stuff on eBay.co.uk |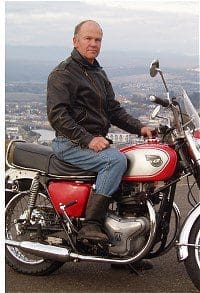 So now I have a working classic that looks the part. All up it cost me around $4500 which may be more than it's worth, but that's the way these things often go, and I am in no hurry to try to get my money back.
I am quite happy to let this bike be used only as required and to stay in my possession for as long as I can ride it. After that it really will be a vintage machine that is worth a fair bit.
I get lots of comments and compliments when I take my Kawasaki W1 650 out for a spin, especially to bike runs and meetings, which is great for the ego. I have also got some contacts for parts and have recently brought home a set of clutch plates, a pair of tank badges and a new set of points – all very useful for long term ownership.
One big complaint though – the vibration! I guess it is the lot of the parallel twin to set up a fair vibration which can sometimes be ignored but which constantly works things loose or breaks them if they are done up tight. So, after each ride of more than 70 km something has fallen off – so far an air filter cover, a rear guard mounting bolt, the mounting bracket for the screen (John recons I should let the poxy homemade screen fall off), the side cover which did the paint no good and a I've had a split in the tank from it being bolted down without rubber mounts.
The problem are such that I have bought an '85 Honda VF500F to use on the long runs and for when I just want to start and go with no fuss. This now seems the perfect solution for me, and if I could afford it and had the storage space, I would have a few more specialised bikes for those days when I have a particular ride in mind.
What would I buy? Every bike I have ever owned!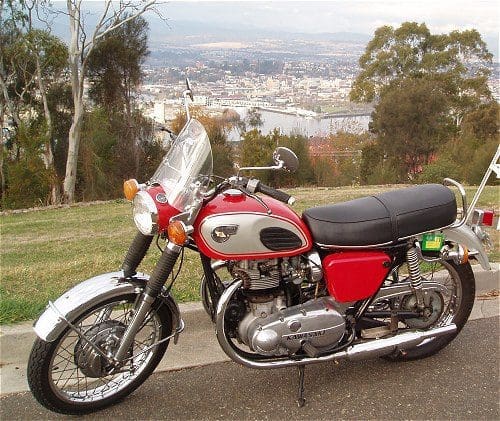 ---
Advert
---
Sign-up to the Classic Bike Hub Newsletter
Get the latest classic bike news and updates straight to your inbox… You can unsubscribe at any time.