What makes your dream bike so special? Andrew Peek's first Zed One was too loud and too fast — and too good to be true. Here's how he met his ultimate streetbike…
It all started for me one Christmas when, as a child, I received my first book about motorcycles. The book featured all different types of motorcycles, but the chapter that captivated the imagination of its young reader was the one titled 'Roadburners'. Each of the hottest superbikes of the early to mid-70s was featured, with beautiful color pictures, and a page of technical facts, history, and best of all a brief summary of the experience of actually riding the machines.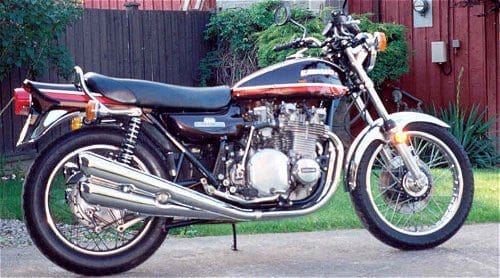 Motorcycles like the Laverda 1000, the Ducati 900SS, and the Triumph Trident filled the pages, but there was one bike in particular that was to me the very essence of a superbike. Kawasaki's flagship, the mighty Z1, was the epitome of power and brute force. I still remember the author's enthusiastic account of burning up the pavement on the world's fastest superbike as it shrieked towards redline.
Several years later my passion for Z1s was rekindled. One warm autumn evening the family ventured on their merry way to a nearby burger joint. I was still three years away from legal driving age, but I had been niggling mum and dad for permission to own a street bike when I turned sixteen. Dad had buckled under relentless pressure and threw in the towel. I was half way there. Tension was pretty high in the front seat of dad's cherry red Buick Wildcat, as my parents were no longer unified in their defense.
Listening to the thrum of the mighty 455 V8 propelling us towards our hamburgers, my thoughts drifted to the pages of my little book. I imagined how cool it would be to ride to school on a Laverda 1000 or Kawasaki Z1. I was starting to outgrow my Honda Mini Trail, and it was time to start thinking about something bigger. A Z1 was the next logical progression for a seasoned veteran such as myself, with a year's worth of experience on a mini-bike. I was sure I would easily master the clutch and the additional 80 horsepower.
As we pulled into the Wendy's parking lot time stood still. Parked side by side and basking in the golden light of the afternoon sun, were two of the most hairy chested motorcycles on the planet. Open mouthed I gazed at the two machines as dad docked the Buick and threw out the anchor. The gleaming chrome 4-into-4 pipes and those crazy duck tail rear ends were burning themselves into my permanent memory banks. As the family queued in for dinner, I stumbled over for a closer look.
The next thing I saw sealed my fate. My eyes bugged out when I saw the numbers swinging around the face of those speedometers — all the way to a dizzying 160mph. Awesome stuff for a bike crazed teen! I imagined the two daredevils who rode these monsters. They were macho swinging airline pilots with steely squinting eyes and jutting jaws. They had good looks, wads of cash, swanky bachelor pads, and a harem of curvy stewardesses lining up for a ride (on the bikes). They had probably ridden clear across the continent that afternoon for their hamburgers, all after finishing one-two at Daytona the day before. Looking back, it occurred to me that the two bikes I had been slobbering over that afternoon may have belonged to the burger flippers inside. Well, they were still cool if they rode Z1s.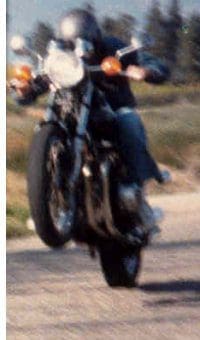 Five years after that fateful night, mum finally caved in. Since she had been steadfast in her reluctance to have her son on two wheels, I had strategically arranged to have a friend pick me up regularly on his KZ650. A cleverly timed 'Wouldn't you rather have me in control of my own bike than on the back of some other kid's bike?' and I was shopping for a streetbike of my own.
To my surprise and delight one of the local shops had a very clean 1973 Z1. The bike was painted jet black, and still had the original 4-into-4 pipes, sans baffles. It also had the optional dual disc front brakes, a big bore kit, a weird duplex drive chain, and a fat tyre mounted on a 16-inch Harley-Davidson rear wheel. The engine had reportedly been put together by an ex-factory Kawasaki race mechanic. As I gazed lustily at the object of my obsession, a salesman moved in for the kill. He must have been very perceptive, because apart from a bit of drool at the corner of my mouth, and a slight twitch, I was outwardly nonchalant.
'The double chain was installed because it snaps regular chains,' he pitched. That was enough for me, and negotiations immediately followed.

High of hope but short of cash, I offered my $700 Austin Mini on trade. I had to scramble to come up with the additional fifty bucks needed to make the deal fly. I had about twenty bucks, and managed to talk my dear old pop into coughing up the extra thirty. Everything was settled, pending a test ride of course.

I was suitable awestruck after a brief ride, but the day nearly went sour when it was dad's turn to tame the beast. The last streetbike he had ridden was his father's 1955 Matchless 600, and he was not quite prepared for the eye-watering acceleration that the big Z could serve up. Pop was two shades paler when he returned from roaring up and down the quiet (previously quiet) street on the rorty, open-piped heavy-weight. He mumbled 'bloody hell' as he pulled up.

Z1 stuff on eBay.co.uk
The salesman and I could both see that dad was having second thoughts about turning me loose on this bike, so we busied ourselves with the task of making it look like it was too late to go back. We must have looked a bit silly hurriedly exchanging money and shaking hands in an attempt to cement a suddenly shaky deal. I was in luck though, because the rebel in dad wanted the sinister black beast as much as I did. The bike was too fast and too loud. It was too good to be true. The object of years of two-wheeled lust was mine at last.
After unbolting the back rest, and swapping the cowhorns for a set of K&N Superbike bars, I set off on one of the best summers of my life. I had the meanest ride in town, and racked up some mileage roaring around the hills on hot summer days, and trolling main street on warm summer nights. I finally understood what the author of my little book meant when he described burning up the pavement on the world's fastest superbike as it shrieked toward redline. Of course my then twelve year old Kwacker was no longer the world's fastest superbike, but with its tweaked engine, it would see off many of the latest rice rockets of the day.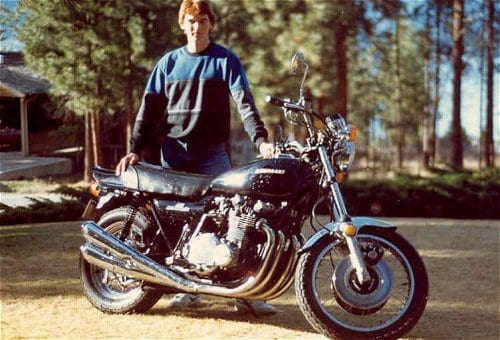 All things must pass though, and unfortunately that summer and that bike are long gone. But there is another Z1 in my garage, a 1974 example which I restored in 1994. It's now recorded 65,000 miles and more, and can be seen here ready for a 300 miles ride through the mountains. It's likely there will always be a Z1 in my garage… except on hot summer days and warm summer nights.
Reliving youthful passion? Tell us what you think.
---
Advert
---
Sign-up to the Classic Bike Hub Newsletter
Get the latest classic bike news and updates straight to your inbox… You can unsubscribe at any time.