Author: Mick Duckworth
Published by: Lily Publications Ltd, PO Box 33, Ramsey, Isle of Man IM99 4LP
www.lilypublications.co.uk
Fax: +44 (0) 1624 898 446
Hardback, 210 x 205mm (landscape); 96 pages with over 110 photographs and illustrations. ISBN 9781911177258 £16.
This third volume in the TT Golden Years series follows the previous two chronologically, with a selection of Isle of Man TT motorcycle racing images from 1963 to 1982.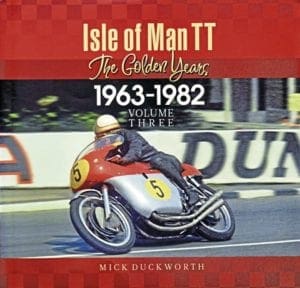 They are all from the Keig Collection, amassed over eight decades by the family-run Keig Photographic Company based in Douglas on the Isle of Man.
While not a comprehensive history of TT racing in the period (fuller facts and figures are available elsewhere) this is a selection of evocative photos of famous and not-so-famous riders and machines from the Keig archive as it exists today.
Read more in the May 2019 issue of TCM – on sale now!