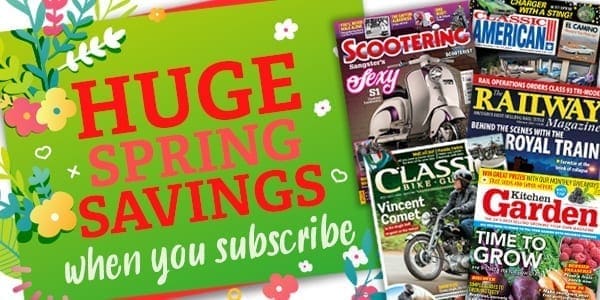 We have a host of amazing subscription offers across our huge range of magazines this Spring!
Delivered straight to your door in no time, all you need to do is sit back, relax and read your favourite magazine!
To read Britain's biggest monthly motorcycle newspaper, MoreBikes, visit Classic Magazines and get 12 issues directly to your door for only £17!
Or why not explore maintaining, restoring and rebuilding modern-classics of motorcycling for just £24 for six issues with Classic Motorcycle Mechanics!
Flick through the home of the very best sportsbike tests on the planet with Fast Bikes magazine! Click here to get six issues for only £24.99.
Grab six issues of Motorcycle Sport & Leisure for only £24 and get to grips with the latest news, reviews, test rides and in-depth interviews!
You can also get your hands on six issues of Back Street Heroes magazine for £24 and read the rock 'n' roll mag for hard core custom motorcycle fans!
To take advantage of the fantastic Spring savings, visit the Classic Magazines website and subscribe now! 
Be quick, these offers expire on May 7, 2021!
---
Advert
---
Sign-up to the Classic Bike Hub Newsletter
Get the latest classic bike news and updates straight to your inbox… You can unsubscribe at any time.