The loss of Chris Swallow in the Classic TT Senior Race hit so many people so hard.
The Wheeler family and the Swallow family have been great friends for 50 years, and Bill and I were deadly rivals on the track when we raced in the same class, but great friends off it.
We stayed in each other's homes and celebrated each other's successes at trophy presentations.
I chatted to Chris in the paddock the morning of that terrible day and Bill just before the start of the race.
To be brutally honest I didn't know how I was going to be able to write a worthy tribute to the lad, but as I mention in my column, Bill rang me and, in an emotional conversation, we both know the pain of losing a child, I suggested he might like to pen a few words, which he readily agreed to do.
These are Bill Swallow's own words:
"Malc, we go back a long way. I started with a Velocette in 1968 but I was at school and then university so I didn't do much until about 1972 on a homemade frame, followed by the featherbed version in 1975 to 1977, and then the 'improved featherbed' from 1978 on, which I have still got, and on which Chris started in 2000 after I had got it out of the shed where it had been retired since 1988 to do the parade lap at the 1999 TT.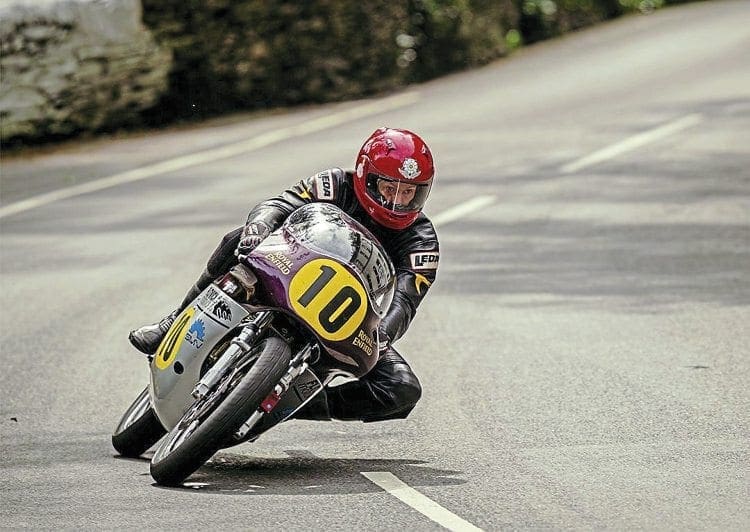 I lapped at 95, no fairing, and remembered how good a bike it was.
"We had that epic dice on the old Cadwell short circuit in 1976, where you beat me by half a wheel and we were both credited with a record lap of 1.14.6.
I don't think many would do that now! I rode Cleve Brightman's Aermacchi in the Manx in 1978, and you rode it in the F3 TT.
Read more in the November/December 2019 issue of CR – on sale now!
---
Advert
---
Sign-up to the Classic Bike Hub Newsletter
Get the latest classic bike news and updates straight to your inbox… You can unsubscribe at any time.