Regular readers of the magazine will be familiar with the (mis)adventures of Nick Adams as he explores the byways and back-roads of northern Canada – usually on vaguely inappropriate elderly motorcycles. Nick captures the untamed landscapes through which he rides alone – often without meeting another human being for days on end – and shares that experience with us in his extremely entertaining articles. But if you want to know more of what happens on two wheels, high in the Arctic wilderness, Nick has also written a series of books on the subject. How, we wondered, did all this begin…?
Like many riders, in my early years I had a host of cheap, old, worn out bikes and scooters but once I moved to Canada in my mid-twenties I more-or-less forgot about motorbikes until I was almost 60. One ride on a friend's Honda CB350 hooked me all over again and within a matter of hours I had bought my 1972 Moto Guzzi Eldorado.
I soon started exploring some of eastern Canada's more remote roads, finding solo travel, often for hundreds of miles on unpaved roads, hugely satisfying. For me, the destination has never been as important as the ride itself. Rolling along on traffic-free roads through endless forest has become a form of moving meditation, where the sound of the engine, the crunch of gravel under the tyres and the smells of the forest provide more than enough entertainment to occupy my mind.
Article continues below…
Advert
My Guzzi Eldorado continues to be my main long distance steed. There's something about the sound and feel of that bike that makes me want to keep riding, day after day. Last year, a three or four day break-in trip after a 100,000 mile engine refresh turned into a 22 day, 9000 mile jaunt to the Yukon and the Arctic circle. I won't pretend it wasn't without a few hiccups along the way, but, as usual, the old Guzzi got me safely home. I wrote about it in the fourth of my motorcycle travel books Eldorado to the Klondike.
But I've used other bikes on similar long distance journeys: my 1974 Moto Guzzi Nuovo Falcone across northern Quebec, the automatic 1976 Guzzi Convert on numerous northern Ontario trips, and the 1974 Guzzi 750s (a V7Sport in a sexy new suit) on a four day, 2000 mile trip along to the end of Highway 138 in Quebec. The latter bike, with its café racer styling, exacts a penalty in cramped muscles and these days tends to be mainly used for local rides.
Newer bikes? They're great too, and sometimes it nice not to have to worry about breakdowns. But even when there are newer bikes in my garage, I almost always end up taking one of the older bikes. With tools and spare parts in the panniers, I like to think that if anything goes wrong in some isolated place, I'm likely to be able to fix it, even if I'm only fooling myself.
Article continues below…
Advert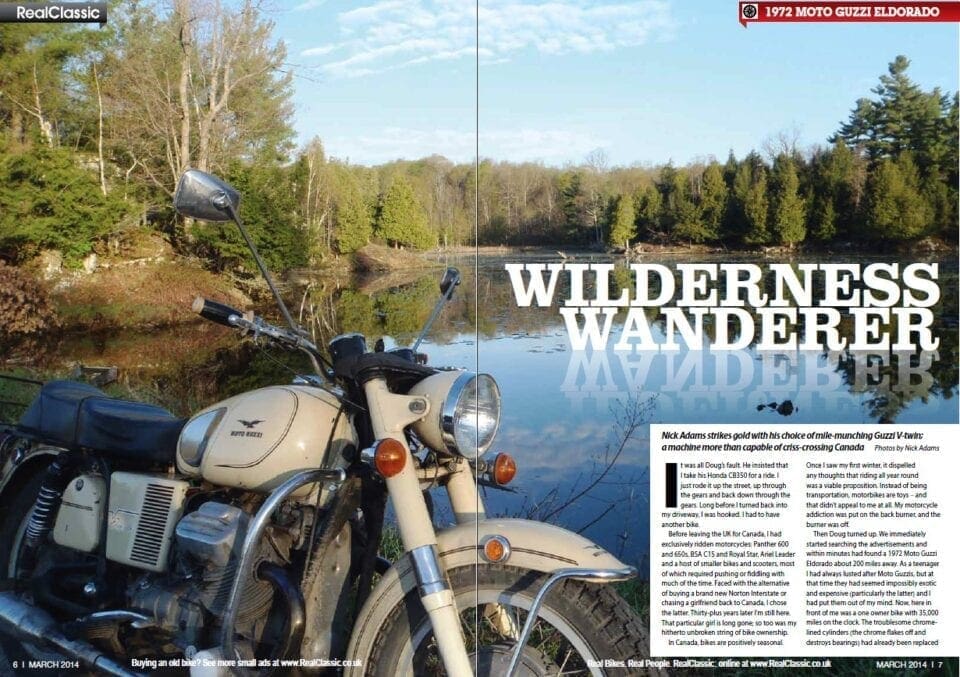 Nick's motorcycle and travel writing can be enjoyed in paperback and ebook formats, or you can listen at your leisure to the audiobook editions. You'll find more at his website or buy the books at Amazon
---
Advert
---
Sign-up to the Classic Bike Hub Newsletter
Get the latest classic bike news and updates straight to your inbox… You can unsubscribe at any time.