For the 2019 Goodwood Revival in September, the 14 Isle of Man TT race winners on the grid (with a total of 84 victories between them) were joined by another three-time world champion from Spain – the man who, until his retirement from racing at the end of last season, rivalled Valentino Rossi as MotoGP's most experienced rider – Dani Pedrosa.
After winning the 125GP world title once and the 250GP crown twice, as a Repsol Honda factory rider Dani finished in the top six places of GP racing's premier class no less than 11 times between 2006 and 2017 – including second and third three times each – scoring 31 race victories and 112 rostrum finishes in 236 MotoGP starts.
After retiring from racing at the end of last season, Dani signed for the KTM MotoGP team as a test rider, though injury prevented him from starting work for the Austrian factory until June.
But with the agreement of KTM and sponsor Red Bull, Pedrosa took up an offer to join the only Spanish team to regularly compete in the Goodwood Revival.
Owned by Barcelona-based Joaquín Folch, a former motorcycle Historic GP winner and two-time FIA Historic Formula 1 champion, who for many years was the only person to race both cars and bikes at the Goodwood Revival, the team originally entered the 1967 Paton 500cc Bicilindrica.
Billie Nelson finished fourth in the 1969 world championship on this bike and Pedrosa was to ride alongside Joaquín Folch Junior, an experienced Goodwood competitor who finished 10th in last year's race on a Norton Manx.
But the fast but fragile Paton developed engine problems in a test session in Spain, so the team's backup 1962 Norton Manx single was called into play for the two-rider event, held in uninterrupted sunshine.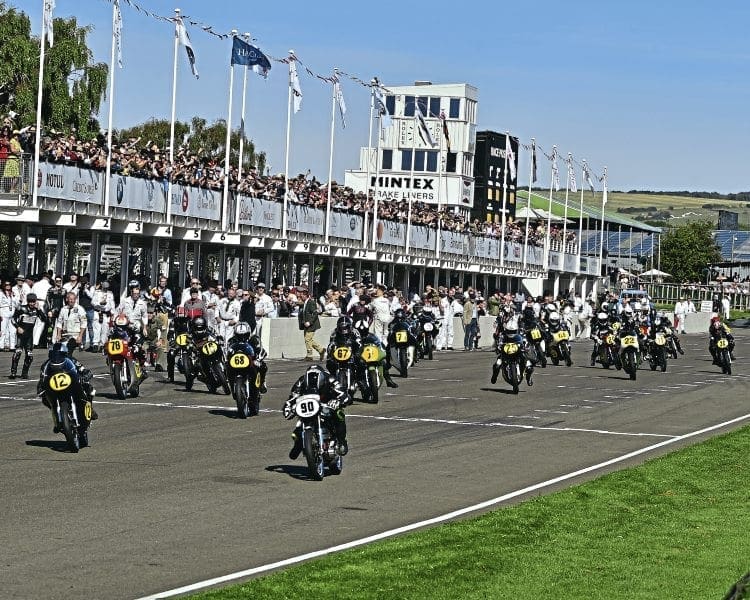 Qualifying produced an upset, with diminutive Richard Cooper, the newly crowned British Superstock 1000 champion, swapping his 2019 Suzuki GSX-R1000 for a 1962 Manx Norton shared with Seventies ace Steve Parrish, to average 96.42mph in claiming pole position on his first visit to Goodwood.
"I like fast circuits, because that's where being short works to my advantage!" said the aerodynamic Cooper, who measures just 1.61m/5ft 3in.
Just one-tenth slower were regular revival contenders Ian Bain/Steve Brogan on another Norton, with 2019 Supersport TT winner Lee Johnston and partner Jon-Boy Lee on the first MV Agusta.
Former club racer Lee was having his first race for eight years, and had never ridden the Kay Engineering-built Agostini replica before taking to the track in qualifying!
"It's a bit different from the Yamaha R6 I'm used to!" he said. "You have to really pay attention to the brakes, which don't work so well in the first place, and then fade when they get hot. But it's a brilliant circuit, and seeing the people all wearing Sixties clothes is fantastic!"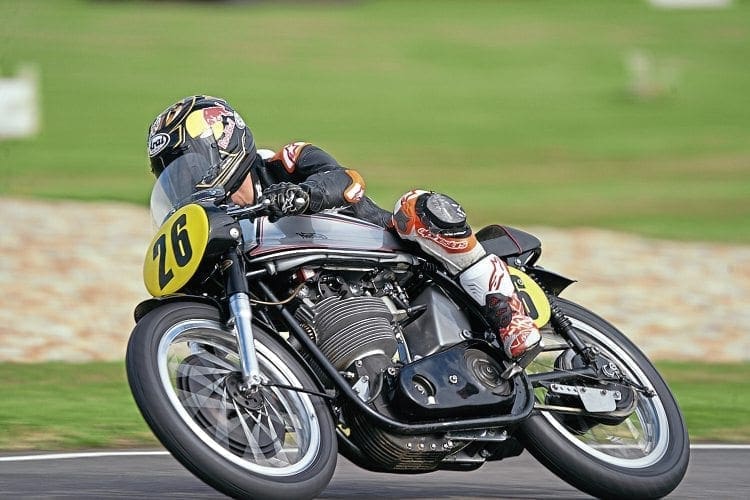 Little and large was the theme of Dani Pedrosa's team, with Dani's diminutive 1.58m/5ft 2in stature and light 51kg/112lb weight contrasting with the 1.88m/6ft 2inJoaquin Folch Jnr. His short stature represented a secret weapon in maximising the performance of a 50bhp bike, producing just one-fifth of the horsepower of those he's been used to racing in MotoGP.
After the Le Mans-style start, the first half of the race saw a five-rider pack heading the field, with riders continually trading the lead until Cooper pulled away taking Lee Johnston's MV Agusta with him.
A crowd-pleasing wheel-to-wheel battle then ensued before the Italian bike began building a lead that was sustained throughout the rider change window up until the chequered flag, with Jon-Boy Lee bringing the MV home 7.484secs ahead of another Goodwood debutant, Norton Manx-mounted outright IoM TT lap record holder and multiple TT-winner, 6ft 2in Peter Hickman, teamed with the much shorter British Classic champion, Sam Clews.
Matchless G50-mounted Glen English teamed with Richard Molnar, another first-timer, to finish third, less than a length in front of fellow G50 runners Peter Bardell and James Hayden.
Parrish faded to sixth at the end, but at least he finished, unlike three of the four MVs. Potential winners Mick Grant/Gary Johnson blew their bike's engine in practice, while Ian Simpson/Jamie Whitham completed just one lap in the race before their engine expired, too.
France's two-time Superstock 1000 European champion Sylvain Barrier and team owner Barrie Baxter also retired, but there was a fix for this bike's clutch problem, and it duly appeared in Race 2held in the same glorious weather the following day.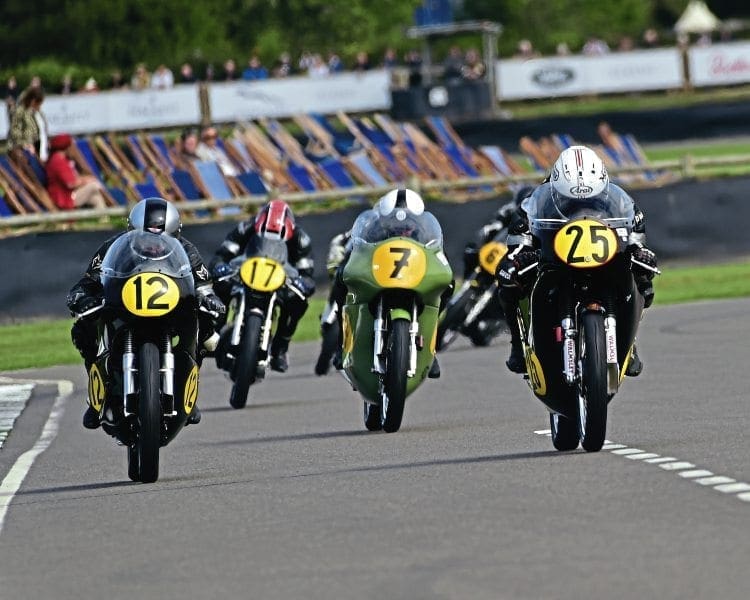 This saw Clews make a brilliant start, pulling out a two-second lead on his Norton single as Jon-Boy Lee got the MV up to speed. But then the born-again racer started to reel the Manx in, taking the lead on lap 4 and pulling away, to hand over to Johnston with a good margin in hand.
But two laps into the second stint the pace car took to the track for the first time ever in a Goodwood Revival bike race, after Jeremy McWilliams' team-mate Duncan Fitchett slid to the ground at Madgwick, the fast double-apex fourth-gear Turn 1.
He was shaken, but unhurt, As the pace car pulled in Lee Johnston lit the fuse on the three-cylinder Italian bike and tried to surge away from his single-cylinder chasers – but Richard Cooper wasn't to be fooled, and latched on to the faster MV's rear wheel, using his slight stature to slipstream the faster Italian bike, pursued by Brogan/Bain, Hickman/Clews and – in fifth place, Dani Pedrosa.
The 31-time GP winner had taken over the Norton from co-rider Joaquin Folch Jr, in 16th place, riding up through the field to sixth in just a handful of laps.
He'd come off best out of a thrilling duel with world Superbike race-winner Eugene Laverty, teamed with Tony Perkin on a Manx, with James Hayden/Peter Bardell (Matchless G50) and Davey Todd/George Thomas (Norton Manx) also in contention.
The Spanish MotoGP ace held the place to the end of the race, which was flagged off two laps early after another current TT race winner James Hillier had a massive highside exiting Lavant, and lay motionless for a time before finally coming to – so for safety reasons they called the race two laps early.
Combined results saw the MV Agusta duo take overall victory, with Hickman/Clews almost 10 seconds back in second place, and Bardell/Hayden third.
View more images in the November/December 2019 issue of Classic Racer – on sale now!
---
Advert
---
Sign-up to the Classic Bike Hub Newsletter
Get the latest classic bike news and updates straight to your inbox… You can unsubscribe at any time.