For 2019 the AMCA/CDB British Classic Motocross Championship added a new class.
Words & Pics: Andy Withers at AWsportsphoto
With a new Pre-68 class added to reflect the changes in the scene, there was even more action in the British Classic Motocross Championship, along with the regular Pre-74 and Pre-65 classes.
After a second dominant season in 2018, Kris Winder returned aiming for a hat-trick of Pre-74 championship titles on his Elsinore Honda.
However, the competition looked strong as 2017 runner-up Keith Rice returned after missing most of 2018 with an injury, whilst Ashley Wilson, who finished 2018 with a double win, was likely to be quick. Kristian Marshall on a rapid new CZ and Andy Hinchcliffe on a similar Elsinore Honda to Winder's were also likely to fight for victories.
In the new Pre-68 class, Greg Speed was looking for more consistency to go with his rapid pace, whilst Mitchell Harris and Chris Collins were likely to be near the top of the new class.
2018 Pre-65 winner Aaron Graves moved to the Pre-74s on an early Maico, leaving Gene Womack and Will Bateup to beat off the challenge from all comers including Liston and Lewis Bell, although the brothers were not committed to the whole series.
The three classes in the championship are run over two combined races at each meeting with the points separated out for each championship class.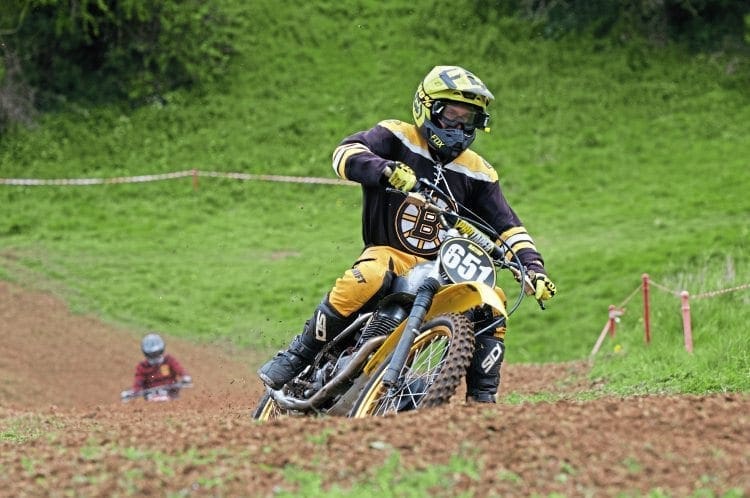 The traditional Bath Classic MCC opener in April and the Llanthony Classic MCC finale in October were sandwiched around the annual Acorns MCC meeting and three new venues which were hosted by Northampton Classic Club, Westmorland Motor Club and Moseley DMCC. With three classes and three new venues the championship was set for an exciting 2019 season.
Round One – Yatton Keynall – Bath Classic MCC
The start of the championship was perfect, with sunny, dry weather but hot favourite Kris Winder's start was not so perfect, as he was slow away hitting the start gate in race one and he had to play catch up.
Former Pre-74 and Pre-65 champion Tim Dallaway made a welcome return for this meeting and his battles with Kristian Marshall, Andy Hinchcliffe and Winder were the highlight of the day.
On track, Dallaway and Marshall swapped the race one lead, with Dallaway taking it by a bike length over the final jump. In race two, four riders ran together with Marshall getting the verdict from Dallaway, and Hinchcliffe pipping Winder for third.
So it was double wins for Marshall in the Pre-74s and Dallaway in the Pre-68s. In the Pre-65s Lee Kelly made good starts on his Metisse and took the double win, Gene Womack and Will Bateup each had a second but a DNF in race one left Bateup with ground to make up.
Round Two – Lyme Farm – Acorns MCC
Kris Winder bounced back with two race wins on a flowing and fast hillside circuit overlooking the M6 motorway.
There were quick starts in both races for Mitchell Harris and Greg Speed but in race one a resurgent Ashley Wilson took the lead before being tracked down by Winder. Keith Rice fell and rejoined behind Winder and kept pace with him but a lap down.
Race Two was dramatic, Harris led but fell on turn two, scattering riders everywhere leaving Speed in front, but Winder again led on lap two.
Speed then stalled and half the field passed including Wilson and Keith Rice. Wilson gave chase but one big hill and two turns from the finish he ran out of fuel – no points.
Hinchcliffe pipped Rice for second on the final turn. Will Bateup hit good form with a double Pre-65 win from Gene Womack, whilst Speed and Chris Collins shared the Pre-68 wins.
Round Three – Woodford – Northampton Classic MCC
In the July heat, riders took on the challenge of a more modern technical track, new to the championship. In race one Kris Winder took a good win with local rider Ashley Wilson closing until his CZ got stuck in third gear, but he held on for second.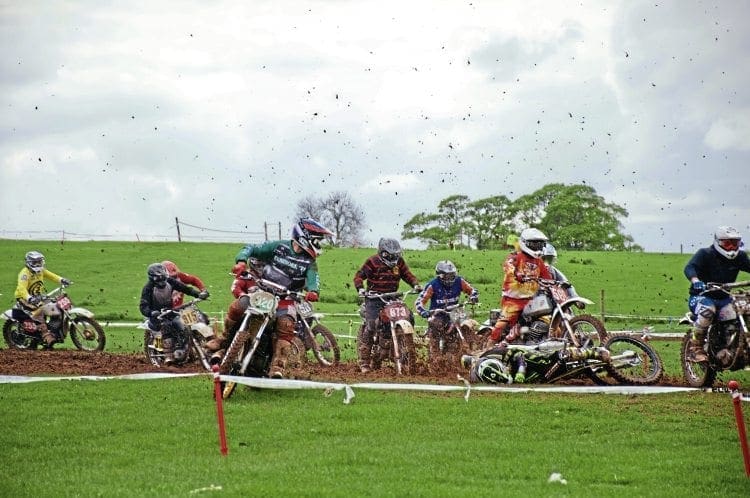 Gene Womack in third and Greg Speed in fourth were the top Pre-65 and Pre-68. After the drama of a small fire on the circuit and necessary heavy track watering,
Winder took a cautious approach to race two, allowing Wilson to get away. Wilson punched the air in delight with both arms as he crossed the line for his first 2019 win.
Winder was second and Womack third as top Pre-65. Speed had been left at the start letting John Cash take the second Pre-68 win. Significantly, Marshall missed the meeting due to family commitments, losing his second place in the Pre-74s to Keith Rice.
Round Four – Kendal Classic Revival, Westmorland County Showground, Westmorland Motor Club Ltd
Rain lashing down for much of the day produced a 'mudfest' meeting on the wide open slopes of the showground.
This tested the endurance of riders and spectators alike.
Several regulars didn't make the trip, but riders came from Ireland with the Cecil Pearson Jap team and the Bells from Scotland to challenge the hardy regulars.
Pre-65 Jap-mounted James Thompson was dominant in the conditions but he tangled with the ropes in race one, pushing him back to third, allowing Kris Winder at his home club to take the win ahead of Harry Stitt.
Greg Speed, like many with mud-caked goggles on the handlebars, was a lap down, but he was top Pre-68. On a drying track, Thompson made no mistake in race two, Winder and Hinchcliffe gave chase, both falling and remounting, but it was Keith Rice who came through to a good second; Rice stayed in touch with Winder overall; Mitch Harris was top Pre-68 in race two.
In the Pre-65s regulars struggled, with Bateup twice stopping with ignition problems and Gene Womack retiring from race two.
Round Five – Clun, Moseley DMCC
Moseley moved this meeting to the historic Clun circuit which had not been used for 20 years. It has a fantastic panoramic view of the Shropshire Hills.
There were double wins for Kris Winder who blitzed the field, with John Cash, a Moseley club member, being his closest rival taking a doublePre- 68 win.
Will Bateup, who struggled with machine problems all season, finally hit form with a double Pre-65 class win.
Winder topped the Pre-74s with Rice taking double, seconds ahead of another Moseley clubman Nathan Jones taking a pair of thirds. The Pre-74 championship was settled but the Pre-65s and Pre-68s had all to play for in the final round.
Round Six – Llanthony Classic MCC
After torrential rain for days, the event was in doubt, but a second 'mudfest' meeting took place with careful management by the clerk of the course who altered the track after early races as many machines got stuck halfway up a steep hill.
Thankfully for Kris Winder the championship was already decided as water got into the ignition of the Honda, meaning he failed to add to his points total.
Keith Rice rode superbly in the difficult conditions, taking a double victory against the opposition which included ex champions Ricky Pedder and Chris Chell.
Leading race one, Pedder looked to be the quickest on track but a fall pushed him back to third behind Rice and Ady Cox another 'wildcard' for the final round. In race two Rice pulled out a big lead to take a double Pre-74 win to end the championship just three points behind Winder.
Gene Womack finished behind Pedder in race one and then took the second Pre-65 win to clinch his first Pre-65 crown.
Runner-up Rob Twigg fell multiple times in race, one using every ounce of strength to get to the finish, only to be awarded 'no points' as he had only completed three laps.
In the Pre-68s, Chris Collins revelled in the conditions, taking a double win but two thirds after falling and fighting his way back through the field gave Greg Speed his first Pre-68 championship crown.
Kris Winder completed an excellent hat-trick of Pre-74 titles with six wins from the 12 race series, a fall at Acorns in round two cost Keith Rice dear as he finished just three points behind in second.
Kristian Marshall, who started the series with a double win, and the quick Andy Hinchcliffe, both missed rounds when they could have challenged for the title.
Ashley Wilson after his first win at Northampton began work on Colin Hill's CZ to make it more reliable and quicker but he disappointingly did not return to compete in the series. Nathan Jones and long distance traveller Scot John Fleming had strong seasons as well as Gary Warr who unfortunately missed the last two rounds.
Pre-65 – After two third places in the championship in 2017 and 2018, Gene Womack stepped up to the top step through great consistency, winning three rounds but finishing on the podium in 10 of the 12 races for a 40 point win.
Robert Twigg was second and the top Pre-60 rider, and, along with third placed Tim Austin, they showed sheer determination all season to rack up the points, even in the worst conditions.
Will Bateup had four wins but his five DNFs cost him the chance of challenging for the title. Lee Kelly was very strong at the beginning with a double win but mechanical problems knocked him out after round two. James Thompson and Liston Bell both gave some spectacular cameo rides.
In the new Pre-68 championship Greg Speed led nearly every race in the series, but several falls and difficulty restarting the BSA, particularly at Llanthony and Acorns, meant he earned the championship the hard way, coming through the field to capture points in every round.
Mitchell Harris had three DNFs which cost him the chance of the title, Tim Dallaway, Chris Collins and John Cash all dipped into the series and took wins in the new class which was only supported by a small number of riders in its first year.
This year's new champions titles were hard won, especially with the two rounds at Kendal and Llanthony being reminiscent of the toughest winter 1960s TV scrambles, and Kendal was in August!
The new circuits added interest and the racingwas very close with 14 different winners across the three classes reflecting the openness of the competition.
Here's to a cracking 25th Anniversary Series in 2020.
View more images in the Spring 2020 issue of Classic Dirt Bike – on sale now!
---
Advert
---
Sign-up to the Classic Bike Hub Newsletter
Get the latest classic bike news and updates straight to your inbox… You can unsubscribe at any time.