Half of UK motorcyclists now want to own an electric motorbike or have already bought one, a new survey has found.
The findings, gathered by specialist motorcycle insurers Bikesure, show 50.3% want to switch or already have switched to electric motorcycles, and 43.8% say that sales of new petrol bikes should eventually be banned.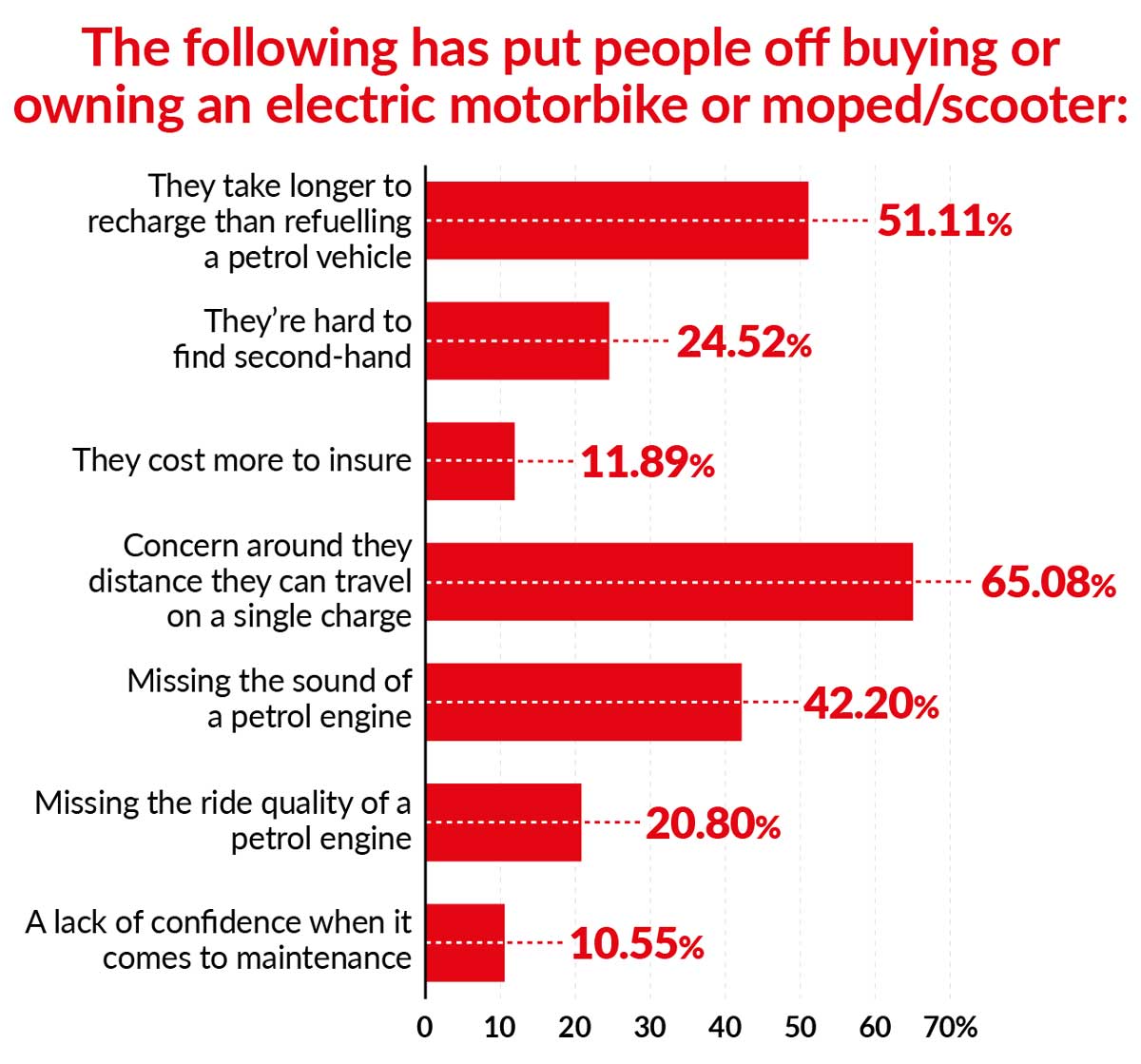 However, the survey also found that lack of driving range and slow recharging times are putting off riders. Here's what Bikesure found:
43.8% of bikers said that sales of petrol models should be banned on or after the petrol car sales ban in 2030.

46.7% said they want to own an electric motorbike, and 3.6% already own one, compared to 26.5% who said they have no interest in owning one and others who are unsure.

Key reasons for not going electric yet are; worries about not being able to travel far enough without needing to recharge (65%), the time it takes to recharge being longer than it takes to refuel (51.1%) and missing the sound of a traditional petrol engine (42.2%)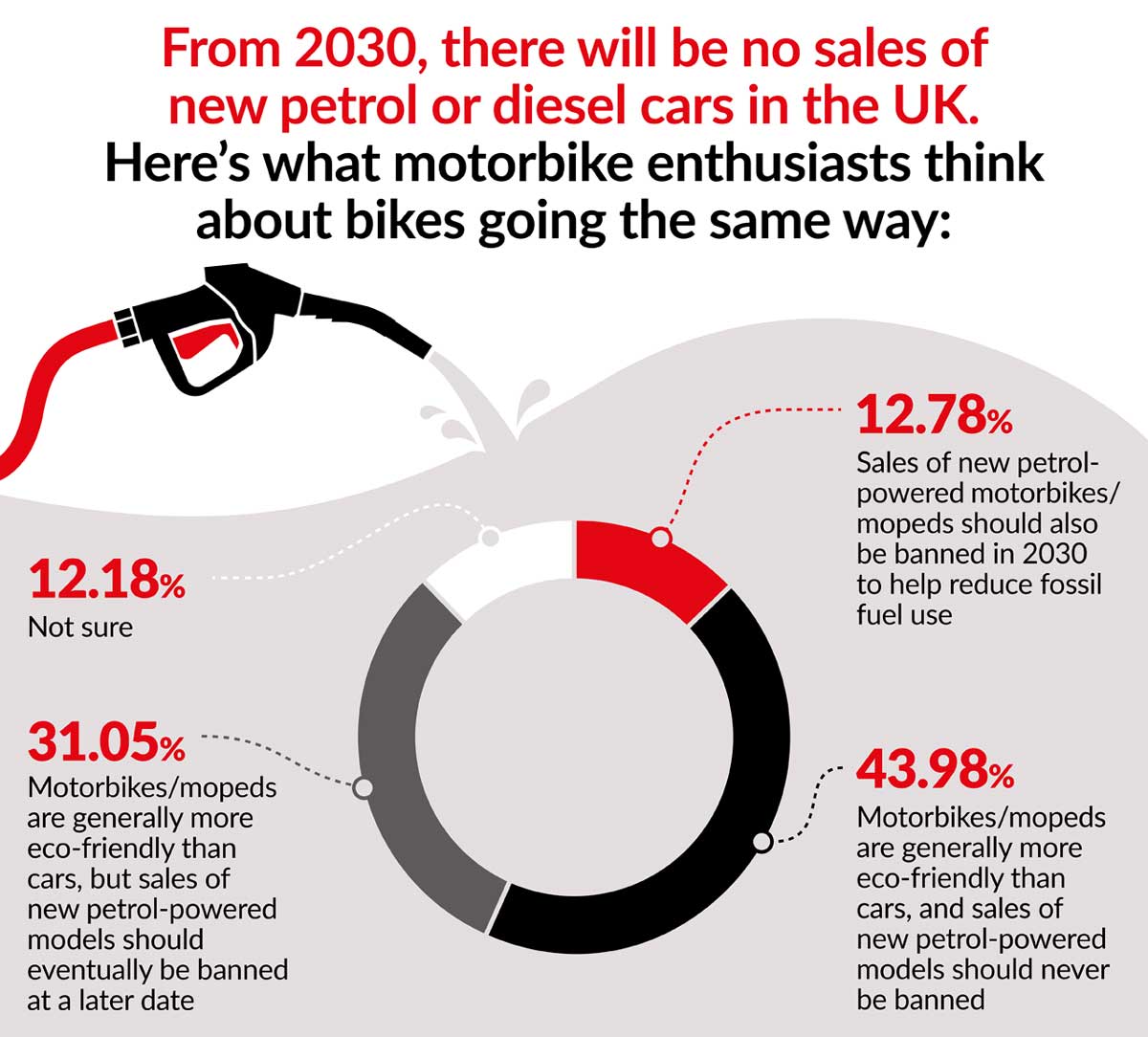 The topic has sparked online debate, with riders divided between those keen to reduce their carbon footprint, and to embrace the instant torque an electric motorbike can offer, and those who fear electric power will leave bikes "sterile and soulless".
Respondents from across the UK shared their opinions on electric motorbikes, with younger riders typically more excited about 'going green' than those in older age categories. 58.5% of under 25s and 56.3% of 25-34 year olds said that they would like to own an electric motorbike, compared to just 32.2% of over 65s.
The top motivators for going electric include excitement about the instant delivery of torque (cited by 57.8% of bikers) as well as belief that these bikes are more economical to run (43.7%) and bikers being keen to reduce their carbon footprint (38.3%).
However, concerns are still rife: in addition to those who are worried about range and recharging time, many of the 42.2% who said they'd miss the sound of an engine cited safety concerns as a factor.
Electric riders: 'Fears are unfounded'
A quarter of those surveyed noted that a lack of second-hand models make it hard for bikers on a budget to take advantage of the market, while just over one in five worried that they would miss the ride quality of a petrol bike.
But those who have ridden electric motorbikes say that the latter concern is unfounded.
One respondent said: "I have observed that those that speak negatively about electric motorbikes have never taken one for a test ride. 
"This includes all negative elements such as missing engine sound, lack of range, threat to 'biker' image, anxiety over new technology. These are all dropped the moment you realise none of them apply."
Another rider went as far as to describe their journey on a Zero motorcycle as "The best motorcycle engine I've experienced in over 40 years of riding." while another stated that "People are opposed to things they've never ridden. These bikes are engaging and fun to ride with so much torque, if you're commuting it's hard to beat."
The future on two wheels
Robert Balls, Bikesure Business Manager, said: "Something that came up a lot in the comments, and which we're keen to dig into further, is that there are a great many bikers who'd love to make the switch but just can't justify the cost right now.
"At the moment, buying a basic or mid-range electric motorbike costs as much as buying a top-of-the-range petrol equivalent, and people are concerned that these bikes won't hold resale value in the way that a classic petrol vehicle often does.
"There's no doubting that the instant delivery of power you get with an electric motorbike can't be matched by a petrol engine, but until we start to see affordable bikes that can be driven as far as a traditional model before needing to recharge, mass adoption of this new technology remains a fair way off."
You can take a look at the full findings in Bikesure's electric motorbike opinions here.
---
Advert
---
Sign-up to the Classic Bike Hub Newsletter
Get the latest classic bike news and updates straight to your inbox… You can unsubscribe at any time.