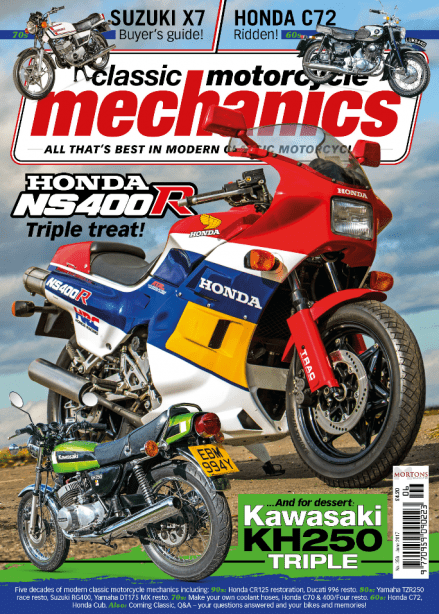 ARCHIVE
1982 World 500 MX champ Brad Lackey.
1979 KAWASAKI KH250
Quick Spin on a 70s legend!
NEWS
We bust the ton on Facebook and new Tamiya kits!
CALENDAR
June is Mackenzie month!
FEEDBACK
Praise, moans and blabber!
SHOW US YOURS
Now with added nostalgia: 'The Way We Were!'
RICKMAN MOTORCYCLES
The best of British!
HONDA C72
Steve Cooper rides a classic.
HONDA NS400R
A triple treat!
READER RESTO!
15-year-old Jack Watts restores a motocrosser!
READER RESTO!
Jerry Thurston recommissions a Honda Cub!
UNIT 5
Scott Redmond visits a Romford bike importer.
READER RESTO!
Dave Watkins on why he's repainted his RG400 Suzuki.
RETRO REBOOT
What if Triumph remade the Daytona for today?
WORKSHOP NEWS
New metal bits and old kit tested.
Q&A
Mark Haycock and you with tips!
YAMAHA TZR250
Part two of Charlie's resto-racer.
SUZUKI DR600
Paul Berryman and a cam-chain masterclass.
PROJECT RUNT
Scott Redmond quieten downs his Suzuki GSX-R1000 K1.
DUCATI 996
Jim Lindsay is nearly done!
DUCATI SCRAMBLER?
Or is it? Find out more in a one-off Pip Higham build.
CHANGING COOLANT HOSES
Steve Cooper shows us how.
YAMAHA DT175 MX
Ralph Ferrand is on with part nine: timing.
HONDA C70 CUB
Niall Mackenzie cannibalises one to build another!
SUZUKI X7
Steve Cooper's buyer's guide on the legendary learner!
HONDA CB400 FOUR
Ralph Ferrand sorts the forks in part two of this project.
MAKE OR BREAK REVISITED!
How prices have changed over the last five years.