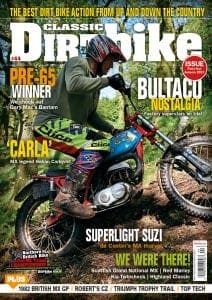 03 In Balance
The hoary subject of what constitutes proper trials riding forces the editor to nail his colours to the mast.
06 News, views and reviews
Our regular look at what's happening in the off-road world, events to go to, series updates.
16 You need…
… a world championship-winning CZ. We look at a profile of the actual CeeZee Joel Robert won his world championship on in 1964.
22 Something special
A visit to our archive turned up this superb Velocette-based scrambler…okay, so it wasn't what the editor went in for… but hey…
33 Subscribe! Subscribe! Subscribe!
As CDB is subscription only you've either subscribed, nicked a mate's copy or seen us at a show. If it's one of the latter two… subscribe here.
52 Dicko's view
More from the all encompassing eye of one of the off-road world's most senior journalists, always thought provoking, always interesting… what say you?
61 'cross words
Is it the fountain of youth at which Mr Berry has been sipping? No, just a view that youth isn't a new thing.
72 Dirt Talk
What're you talking about in the CDB world? All sorts of things as it happens, bring it on we say.
82 Moto memories
Cadwell Park in Lincolnshire is more known for road racing but it has occasionally hosted proper racing too as our image of an MX GP shows.
Features
10 The winner…
…BSA's Bantam never quite managed a full SSDT win; close, very close but not quite. The Pre-65 Scottish however, has been won by a Bantam and we're featuring it here.
27 That was the year when…
…Brad Lackey was comeback king of Farleigh Castle. We look back to 1982 when, despite being written off by the MX world, Californian Lackey showed his mettle.
34 A little light work
How did Suzuki produce such a light motocrosser? By dedication, sound principles and creativity. We look at an RN370 from 1972.
66 Hakan Carlqvist
The world of MX lost a legend recently, when Swede Hakan Carlqvist passed away suddenly. Here's our tribute to the legendary world champ.
75 Combine the best parts
Which is what the ailing BSA/Triumph group did with the Triumph 500 engine and the B50 MX chassis to produce pure gold.
How to
44 A change of direction
With the IT465 project having a break, the editor has a chance to do a bit of work on his own bikes.
48 Dirt Products
Got something to help the off-road world go faster, keep their feet up longer or remain more on time in an enduro? Tell us, we'll put it in this bit.
50 Tech Talk
Old bikes are nice, they're fun, they're 'our' thing or you'd not be reading this… they can be improved… we have a look at a Rotax clutch.
Events
54 Sporting world
We've been in the north for the Kia Twinshock series, West Midlands for a hill climb and Scotland for the Scottish Grand National. Where've you been?
62 Highland Classic
With Rob Shepherd being guest of honour at Inverness and DMCC's Highland classic trial it would have been rude not to go… so we went.
64 Bultaco Nostalgia
Westmorland MCC invited Bultaco's works riders along to a Bultaco Celebration in Cumbria. What a trial it turned out to be.