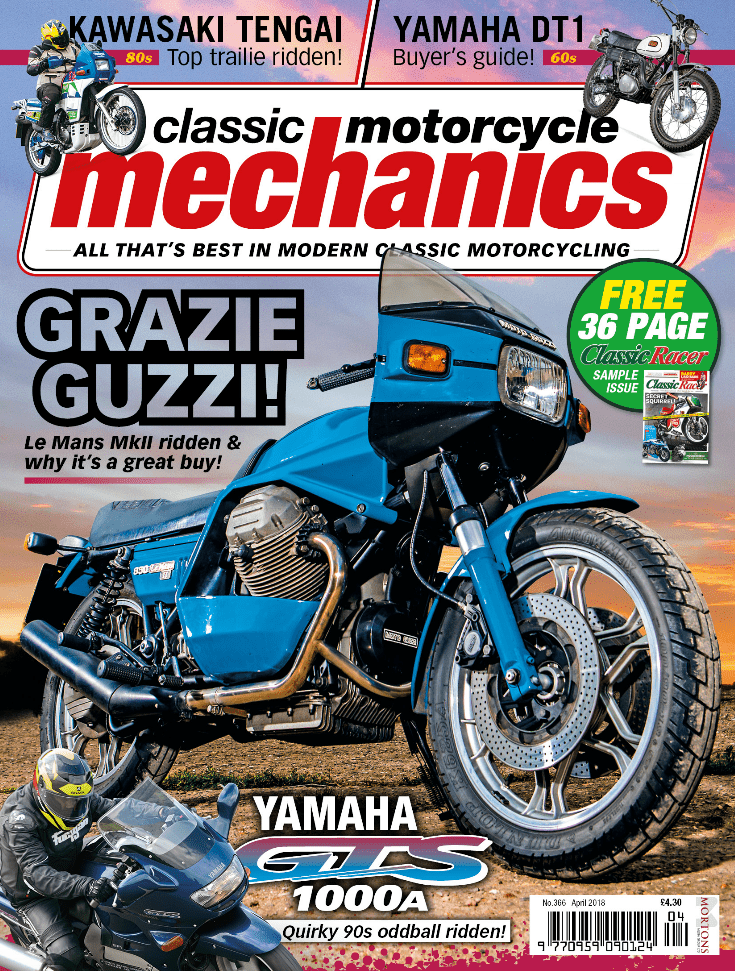 ARCHIVE
An AC Sanctuary masterpiece!
CMM MARKETPLACE
Want a quirky bike? You've come to the right place!
CMM STUFF
New kit, tools and tyres.
CMM TESTED
We try stuff out.
NEWS
Events, news and what's on.
FEEDBACK
WIN Bridgestone tyres!
SHOW US YOURS
WIN S-Doc cleaning kit and Tamiya kits!
KAWASAKI TENGAI
Bertie rides the trailie single.
YAMAHA GTS1000A
Chris Moss on the hub-centre steered super-tourer.
ENDURANCE LEGENDS
Get ready for this event!
MOTO GUZZI LE MANS MK II
Jim Lindsay rides another quirky oddball.
KAWASAKI Z1-R TC TURBO
Will Barber does the business on this loveable rarity!
RETRO REBOOT
An endurance racer CBX1000!
Q&A
Mark Haycock with a page of tips.
KAWASAKI Z1325
Ralph Ferrand makes some bits and pieces for the Zed.
HONDA C70
Niall Mackenzie finally finishes his Cub and goes back in time.
ALLEN MILLYARD
Allen crafts his cams and crank. Impressive!
KAWASAKI Z1300
Ralph on part one of curing his six's temperature issues.
YAMAHA RD500LC
Stan Stephens is back and talking race tunes for Wayne Gardner.
HONDA CB750 K2
Mark Haycock on part one of sorting his chain and sprockets.
YAMAHA DT1
Scoop's guide on an early trail iron!
SUZUKI DR600
Paul Berryman returns with part 8 of his thumper.
MAKE YOUR OWN LOOM
Wiring worries? Ask Scoop!
TRIUMPH DAYTONA 600/650
Bertie on why this fab four needs saving.
PIP HIGHAM
Pip praises simple bikes…