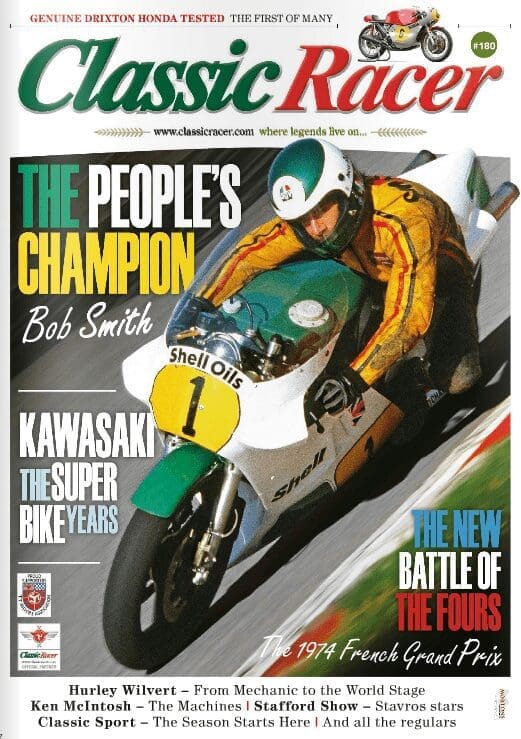 Current issue: Mar/Apr 2017 – Next issue: May/Jun 2016 – On sale: April 20
WHAT'S INSIDE
From the Classic Racer archive
Did you know that you can buy any image from our archive for your own use? Classic Racer has tens of thousands of some of the greatest pictures ever taken. Here's one that we like in particular.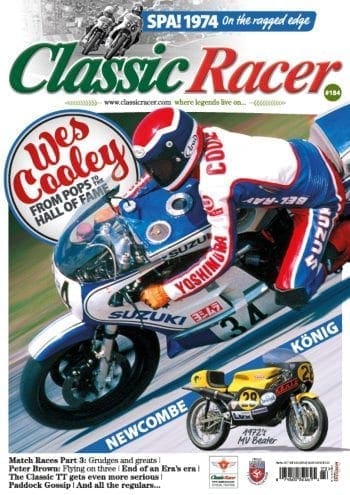 Paddock Gossip
Everything that's worth knowing from the various recesses and whispered conversations in the paddock. Courtesy of the world's most experienced race reporter and inside-man.
Readers Write
The competitive timesheet of effort is laid down before the stopwatch of fate as a challenge to our 'Well-Travelled' letter of last month is served. This is not going to end anytime soon.
Subscribe to Classic Racer
Save yourself some money, get yourself a deal and free yourself from the need to step outside of your door to get every issue of this magazine to you. Direct.
Kim Newcombe's Konig 500
An iconic motorcycle in nearly every sense of the phrase. An outboard two-stroke motor and a very talented rider at the controls gave birth to a combination that, together, was the first to challenge the mighty MV Agustas of the time.
Wes Cooley
From starting out in the club his father ran to the AMA title to the 8-Hour at Suzuka, Wester Steven Cooley was on a path littered with greatness. And then 1985 at Sears Point happened and his life would never be the same again. This is Wes' story.
Peter Brown
Trials, sidecars, engineering or submarines! Many things with many engines make appearances amidst the story of one of the most natural all-rounders to take up the competitive mantle. Peter Brown's story is one that every motorcycle race fan should know.
Charlie Williams' Maxton TZ385
It seems crazy these days that motorcycles like this were broken up for parts and sent to the four corners of the globe to end up as parts in various other bikes – but that is what happened. However, when a particular motorcycle manages to do so many varied things during its life there is always
one person who might just be able to pull it all back together again.
Back in the Day: The 1974 Spa Grand Prix
Jan Burgers takes us back to a time when the race dealt up many surprises at one of the most punishing circuits then raced upon. Retirements and crashes littered the end result but it was here where we became aware of where the year's events where heading.
The Match Races: Part 3
Into and through the second half of the 1970s saw the Transatlantic Trophy act as a proving ground for many riders coming up and going down the ranks. Step forward one in particular who shone – Kenneth Leroy Roberts.
Phillip Island Classic
Our man Hamish Cooper is on site to report back on everything that happened from the first big meeting of the year amidst great older bikes and not-quite-so-old riders.
---
Advert
---
Sign-up to the Classic Bike Hub Newsletter
Get the latest classic bike news and updates straight to your inbox… You can unsubscribe at any time.