When you bring a classic bike back from the brink of oblivion, you get to choose exactly what it looks like. And if you want it to look like a Honda sports moped, well…
WORDS & PHOTOS BY Stuart Urquhart
Callum has nursed a passion for Norton Commandos ever since Peter Williams won the 1973 Formula 750 TT on the JPS Norton.
These days, Callum can be found terrorising sheep on his trail bikes, or throwing himself around the Nurburgring aboard a very trick Norton 916SP. Callum is also a committed yachtsman. In fact, this stunning Commando Fastback is the result of two of his sporting interests coming together.
Callum takes up his own tale: "I was looking for shed space to overwinter my newly purchased Jaguar yacht and I'd offered to rent space from my good friend Jim.
Jim is also known to dabble in isolasticism, and rumours abound concerning two mythical Commandos tucked away in one of his sheds. Jim, being more of a rider than a bike builder, had been gently pressing me to help him get both of his Commandos running.
This, I learned, was to raise some capital to pursue our common love of sailing, so I agreed to go and have a look."
Callum's visit unearthed two Nortons, one a 1972 Fastback 750 and the other a 1974 Roadster 850. Unfortunately, both had suffered the ravages of countless Scottish winters and would take considerable time and effort to restore.
The chromework on both machines looked grim beneath a suffocating blanket of rust, mould and bird droppings. It was a shocking sight.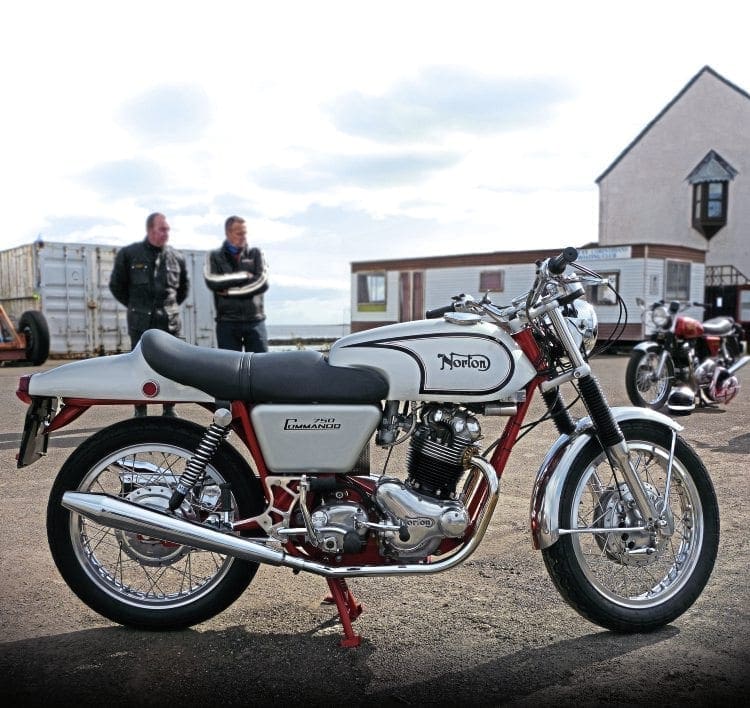 "Even Jim was depressed at how poorly his Commandos had depreciated," said Callum. "But after scraping the grime from the more accessible 850, the chrome and paint were in much better condition than we'd expected". So to Jim's gratification, Callum agreed to take them on.
The story takes a new turn when the 850 Roadster was transferred to Callum's own shed in order to make it presentable for a new owner. While fettling the 850, Callum began to fantasise about owning Jim's other Commando, the 750 Fastback.
"But Jim had a much better idea," said Callum enthusiastically. "Instead of money changing hands, Jim suggested I take his Fastback in exchange for a 50% stake in my Jaguar yacht. I was delighted and we vigorously shook hands on the spot. Suddenly I had a 1972 Fastback and Jim had the yacht he'd always wanted."
Unfortunately, Callum's newly acquired Fastback looked a daunting prospect as soon as he rolled it into the daylight. Cycle parts, mudguards and wheel rims were in a wretched state. Chrome was visibly peeling from the silencers and the frame and side panels had more rust than paint, recalled Callum.
"The engine was cocooned in mould and bird crap and most of the paintwork was faded, peeling and tarnished. It was a disheartening task removing the rust-welded cycle parts – never mind the tedium of stripping, cleaning and preparing the seat hump, side panels and petrol tank.
"I also discovered that the Fastback's iconic glass fibre petrol tank was beyond salvage. Ethanol had turned the insides into 'goo', which looked and felt more like chewing gum. Clusters of suppurating blisters had also formed along the bottom edge of the tank and around the filler cap neck.
"I remember feeling demoralised when I realised that a new petrol tank would be the only solution. I decided to purchase a new Indian alloy tank from eBay, and when it arrived it looked absolutely superb. But in time new problems would surface, turning it into yet another depressing problem – more of which later…" hinted a sombre-looking Callum.
"On the upside, the Fastback came with a documented history," he continued. "Details included a previous rebuild during 1992. A welcome surprise was finding receipts that confirmed a complete engine and gearbox rebuild.
"Also the wiring harness and most of the electrical components had been replaced, along with a Boyer ignition system. Unfortunately the wiring harness turned out to have Japanese crimp-type connectors, many of which had corroded during storage.
"I decided to replace them with Lucas soldered brass bullets and rubber connectors in the interest of reliability.
"The alternator's wires also proved to have hardened and cracked, exposing the inner copper wires at the point where they exited the primary casing. Rather than attempt a repair, I simply replaced it with a new alternator.
"Further additions were Mk3 Vernier isolastics, a braced swinging arm and a strengthened Mk3 gearbox cradle with spindle cotter pin clamps – all sensible upgrades.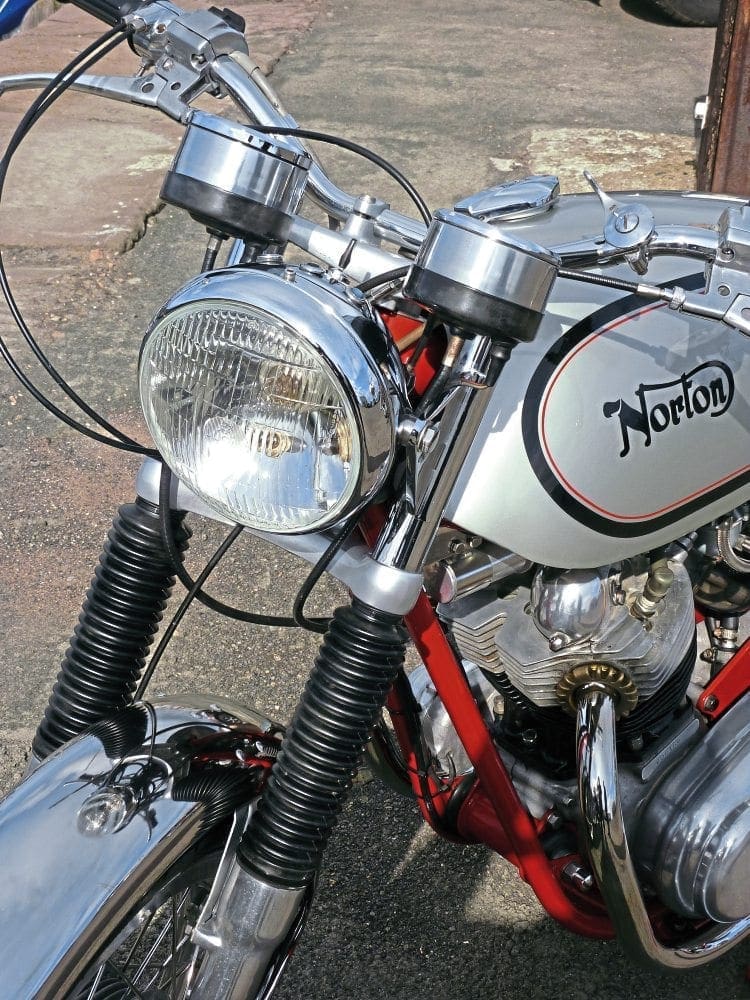 "Externally the engine was cleaned and polished. Internally it was quite sound, except for the camshaft, which was obviously worn. Consequently a new camshaft joined a growing list, along with engine gaskets, oil seals, new stainless exhausts, peashooter silencers and handlebars, all sourced from Andover Norton.
"I sent my cycle parts away to be chromed and then turned my attention to mundane tasks such as grinding in the valves and rebuilding the gearbox. The barrel and pistons were in serviceable condition, but as a precaution I fitted new piston rings.
"While cleaning the cylinder head I discovered that the RHS exhaust port had been modified and the left port had several damaged threads," and here he rolls his eyes in mock-frustration.
"This is a common problem on Commando cylinder heads as unfortunately the screw-in exhaust nuts can vibrate loose and damage the port threads.
"As both ports looked suspect I decided to send the cylinder head away for diagnosis and repair by Pete Lovell (as recommended by Andover Norton). I also asked Pete to replace and helicoil the three central tie-down studs, as these can periodically work themselves loose and cause a leaking or blown cylinder head."
Callum's previous Roadster was black and silver, but he fancied a change to red and silver, influenced by his admiration of Honda's CB50 Dream Racer.
"I love Norton's traditional racing colours but I was determined to make a personal statement to Honda's dinky little Dream Racers – machines which I've always admired. However I was quite concerned that the colour combination might not sit happily on a Fastback Commando.
"Fife Coatings of Glenrothes were recommended for powdercoating the frame and cycle parts. When I contacted them, they laughed away my colour concerns with a confident boast: 'We ken exactly the RED you want' – and do you know, they actually did! Just one week later I was admiring the quality lacquered finish of my flamboyant red-coated parts," beamed Callum.
"As I mentioned earlier," he continued, "the new Indian alloy petrol tank was intended to be polished and lacquered by Bike Paints. And as experienced painters to the British Superbike fraternity, I was confident they would achieve a good match with the painted side panels.
"I decided first to seal the tank's interior with a two-part chemical sealer. Once the sealant had cured I immediately tested the tank by filling it full of fuel, as a chap should. Suddenly, petrol began weeping from the uppermost welds, those adjacent to the steering column – I was gutted! I diagnosed the problem was caused by careless grinding and polishing of the weld seams.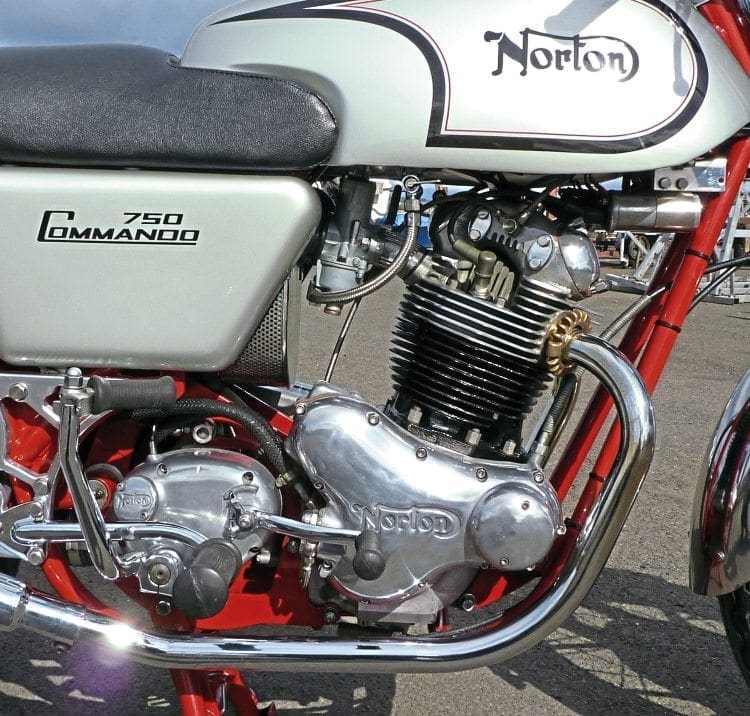 "However, it was only after a protracted dialogue with the Indian supplier that they finally agreed to supply a replacement tank. It was several more anxious weeks before the new tank arrived, and to my horror it appeared to have been fabricated overnight.
"Although the new tank turned out to be leakproof, its rippled sides and crudely-welded seams bore no resemblance to the previous tank. Once again, I was devastated."
To his frustration, he also discovered that the tank's front studs were much too short to clear the frame mounts and their isolating rubber washers. Rather than endure another online battle with his overseas supplier, Callum fitted longer studs by himself, before instructing Bike Paints to prep and paint the tank as opposed to polishing it.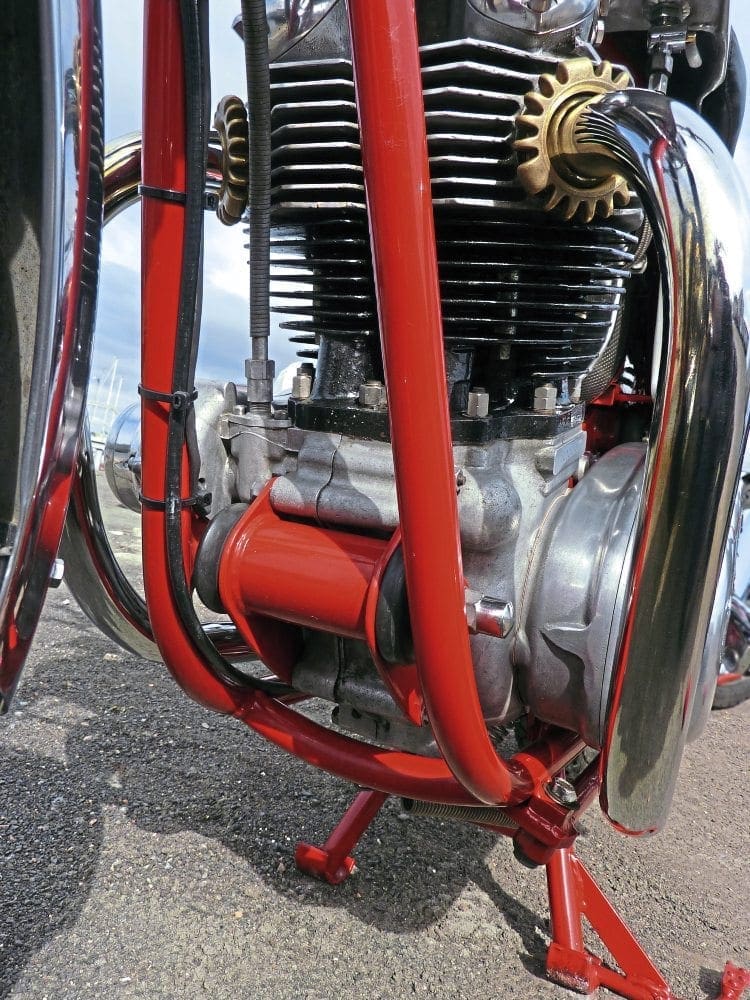 "I was pleased with the paintwork and beautifully matched tank and side panels," said Callum. "And when the new sparkly bits arrived from Prestige Chroming I began to assemble a loose rolling chassis – complete with mudguards, alloy wheels and various red and silver cycle parts. At this crucial stage of the build I was beginning to realise that my CB50 template was going to look fine."
A primary belt drive system was supplied by RGM and Amal Premier 32mm carburettors by Surrey Cycles. Callum explains: "Before its rebuild, the Fastback refused to tick over and I suspected the tired-looking Amal 30mm carbs.
Above 60mph I'd also noticed a perceptible flat spot, but messing about with the carb's needles and jets didn't bring any noticeable improvement. Following sage advice I decided to open up both inlets by careful honing and gas-flowing of the cylinder head to permit an upgrade to 32mm Amals, as fitted on later Commandos.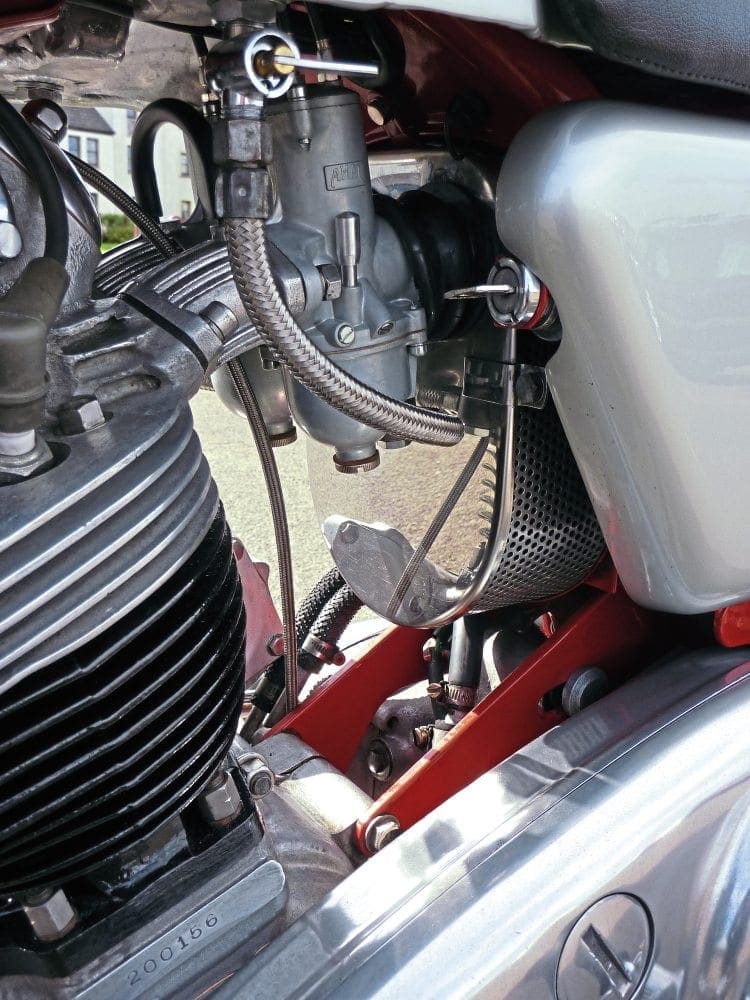 "Unsightly, corroded cycle fittings were simply replaced with stainless. Although the original rocker oil-feed banjo bolts worked a treat, I was dumbfounded when their new stainless replacements kept sticking in their receptive threads," recalled Callum.
"On closer inspection I noticed the stainless threads were roughly cut and appeared to be double-threaded. Naturally, I was concerned that force-threading the stainless bolts would cause irreparable damage, so I ran some BSW dies over the threads in order to tidy them up. Unacceptable maybe, but not unique; as I understand other project builders experience this problem with stainless.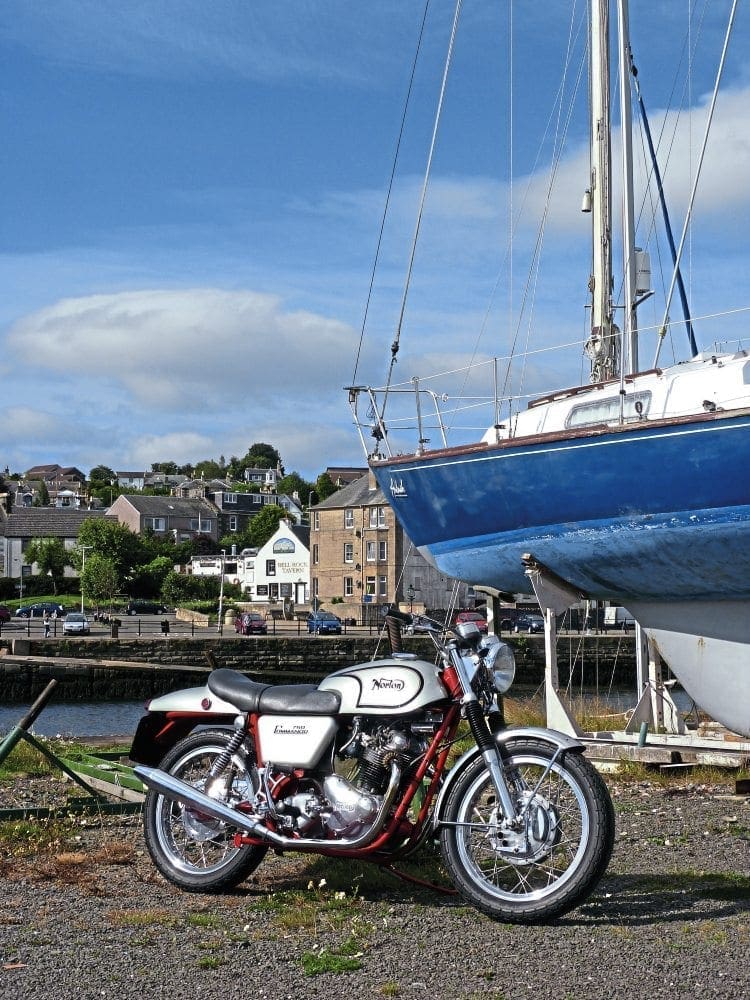 "A stainless air filter box and new Hagon rear shocks were supplied by Andover Norton. I prefer Hagons over the budget, replica 'Girlings' because the Hagons are a quality proven product. Hagon shocks provide excellent damping and help to control rear wheel bounce, introducing a much improved ride.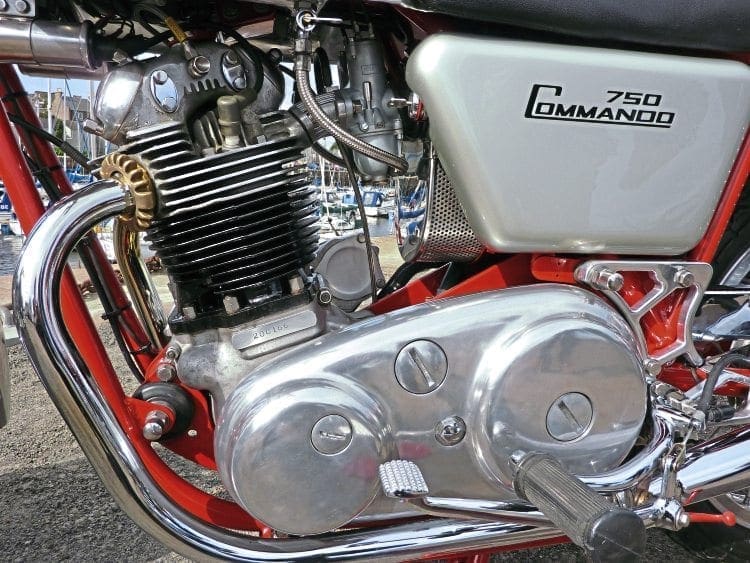 "Similarly, I upgraded the front forks with RGM progressive springs, which improve damping under hard braking and prevent the front forks topping-out during rebound. In combination, both these mods will transform any Commando's handling; provided of course, the isolastics are correctly set up."
Another mod was fitting an RGM oil filter kit. "This was more for peace of mind than necessity," admitted Callum. If you've spotted the very trick Hoyer footrest carrier plates they were a 'must have' as soon as Callum spotted them on a Me-Moto custom Commando.
"I wanted a set of Hoyer milled carrier plates as soon as I saw them, so I contacted Hoyer direct and had them couriered from the USA. I feel they are well worth the additional custom duty, as they enhance the 'racy' style of the bike and look elegant and light in comparison to the factory originals."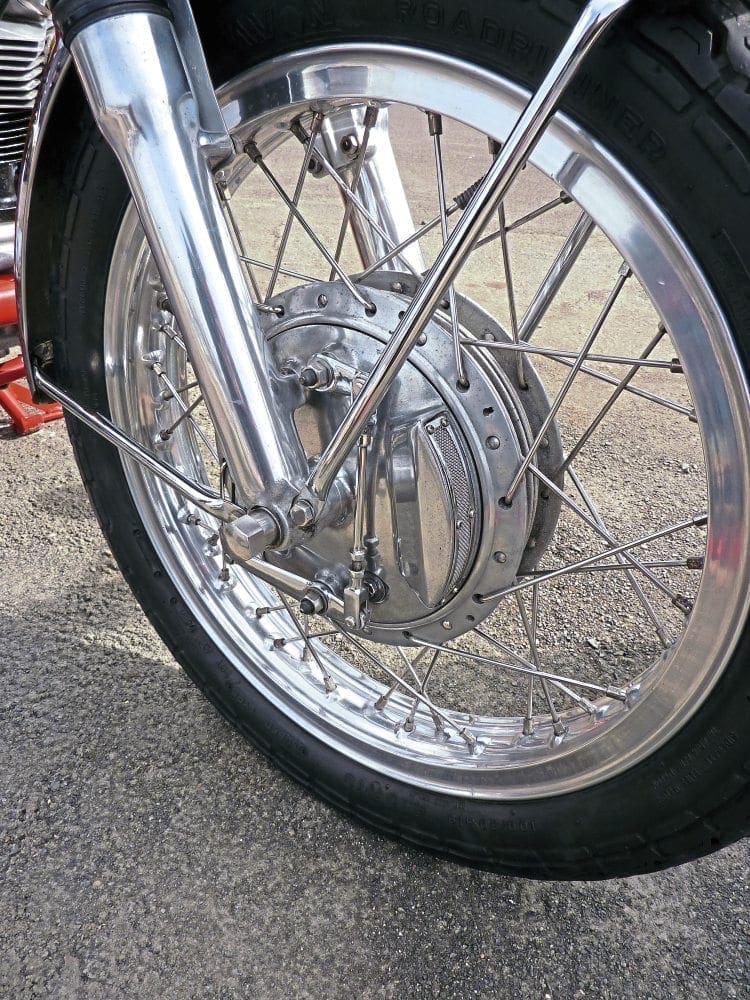 The final push came in mid-summer when Callum slotted the Commando's engine and gearbox into its flamboyant red frame. "Over a single weekend the build came together. Remaining parts were permanently bolted to the rolling chassis – several previous dry builds paying dividends at this crucial stage," winked Callum.
"I spent an afternoon carefully setting up the ignition timing, the carburettors and then priming the engine with fresh oil. I should mention that it's important to prime the oil filter too.
"I fitted a double-action racing throttle and twin cables. This is because experience has taught me that twin Amals remain balanced and in tune much longer than when pulled by the standard one-into-two junction box system. After fitting a new Motobatt battery I filled up the tank with fresh fuel and tickled the carbs.
"One swing and the Fastback immediately fired up, sending goose bumps up and down my back. Once warmed up, the engine settled into a smooth tickover – hurrah for the new Amal 32s.
"Then I impatiently threw on the side covers, rear seat and a crash hat so I could go for a debut run to test the gearbox and engine response. I was well rewarded as the Fastback felt sensational, the acceleration and thunderous noise when I opened up the bike around Fife's back lanes was an intoxicating experience I'll never forget. I remember sleeping well that night!"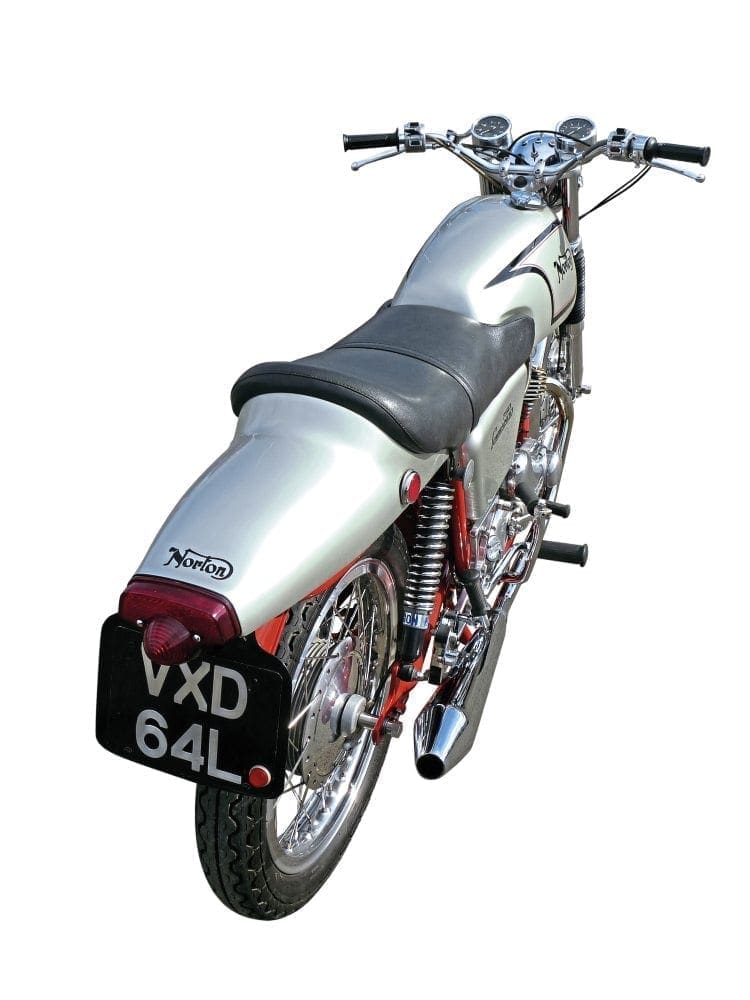 I concluded our chat by asking Callum to sum up his P&J's performance.
"Road tests hint that my previous Roadster 850 had more grunt than this Fastback. Although it's early days, I'm beginning to prefer the 750's gutsy performance, smooth ride and rapid acceleration.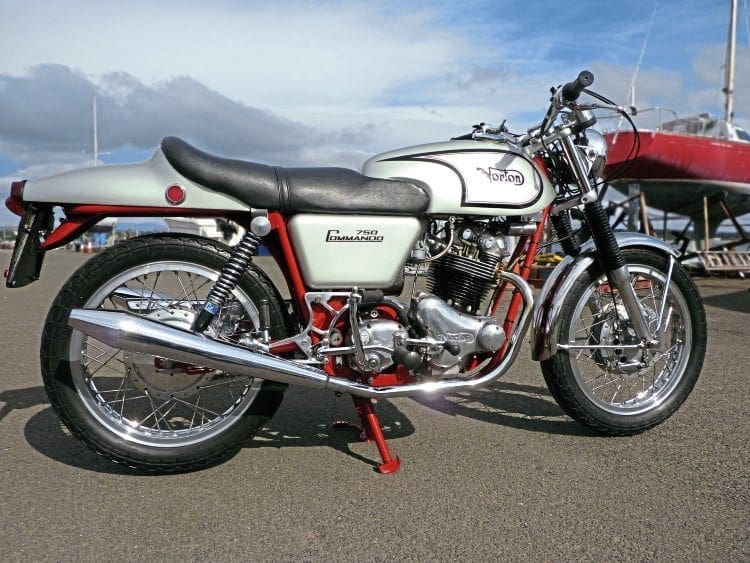 "Unfortunately, there's a perceptible flat spot at 4000rpm, but I'm certain a bit of jiggery-pokery with the carbs will sort this little niggle out. Plug colour is perfect. I'm also delighted with the primary belt drive which has resulted in a super-light clutch and extremely smooth gear selection. So it's been well worth the investment," Callum grinned.
"The clutch has fibre plates and it's a smooth operator compared to my later 850's 'grabby' metal clutch. Overall, I'd say the Fastback is the smoother machine, all the way to its redline. And the beauty of any Commando, as I'm sure all Norton anoraks will agree, is its all-round flexibility.
"Put simply: it can be a manic roadster that begs to be thrashed around suburban roads or a well-mannered classic that will plod happily along at city-centre imposed speeds, all day, every day, with the minimum of fuss.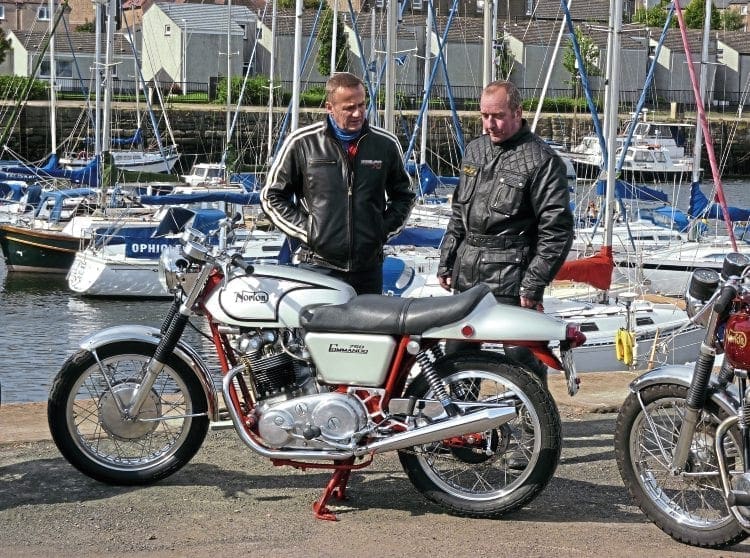 "To conclude: I enjoyed this year's Classic TT on my Fastback in the company of three other Commandos. A few high-spirited thrashes around the TT circuit highlighted a lack of bite with the 2ls front brake, so I have another job in waiting," he laughed.
"Another niggle was comfort. On some of our longer tours I found the riding position a bit peculiar – leaning over the tank in a semi-racer crouch, but with my legs and feet thrust forward in the classic armchair pose. It was then that I understood why the majority of other Fastbacks I'd admired at the Jurby Festival had rear-sets.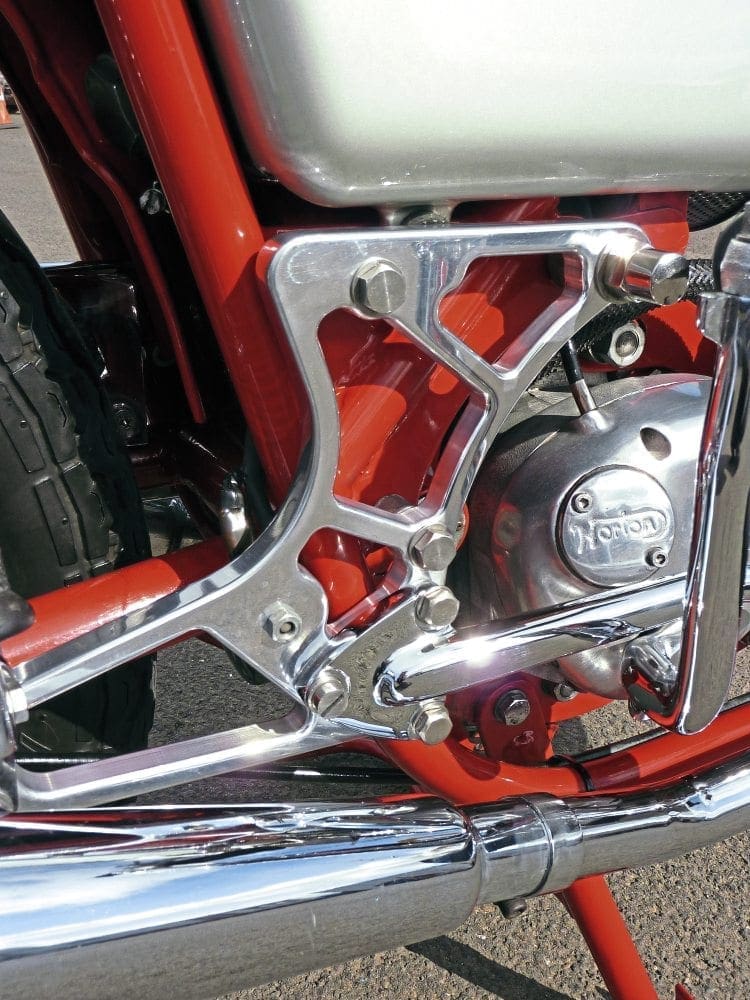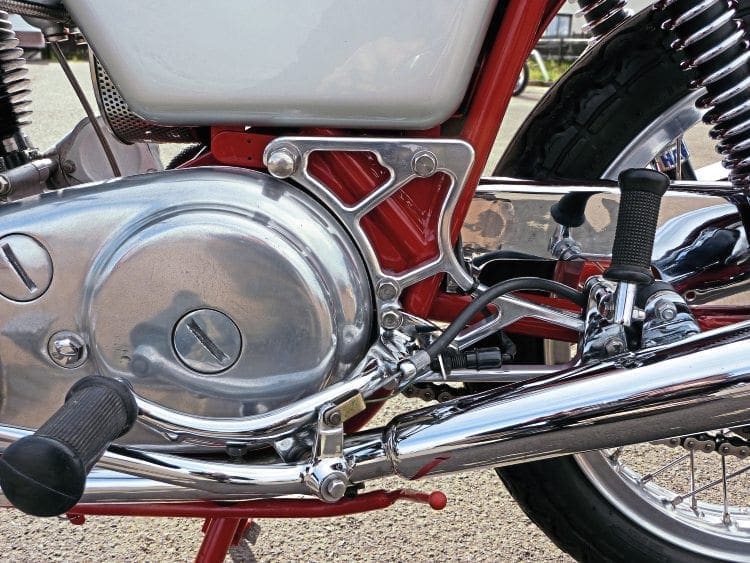 "But on every ride I'm blown away by the Commando's performance and by its addictive, twittering exhaust note. And judging by the enthusiastic crowd that my red and silver Fastback attracted at Jurby – I think I've got the styling right!"
Read more News and Features in the April 2020 issue of Classic Bike Guide – on sale now!
---
Advert
---
Sign-up to the Classic Bike Hub Newsletter
Get the latest classic bike news and updates straight to your inbox… You can unsubscribe at any time.