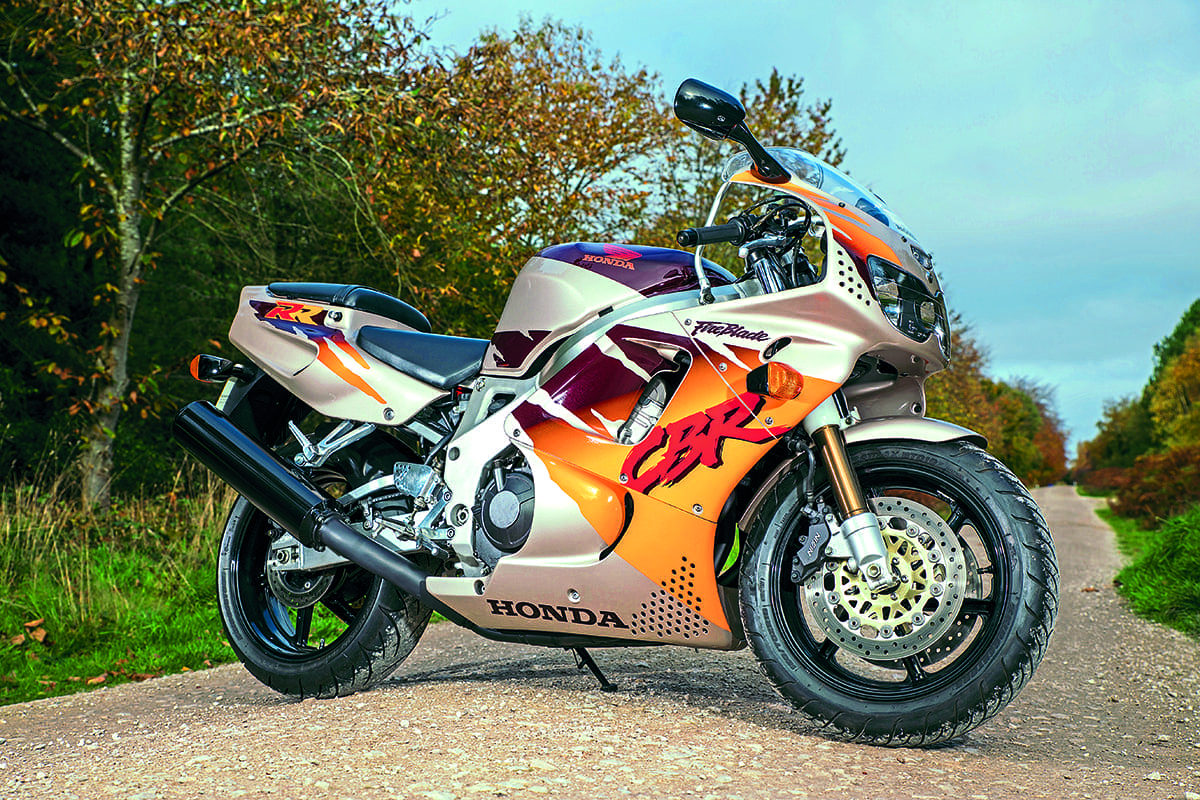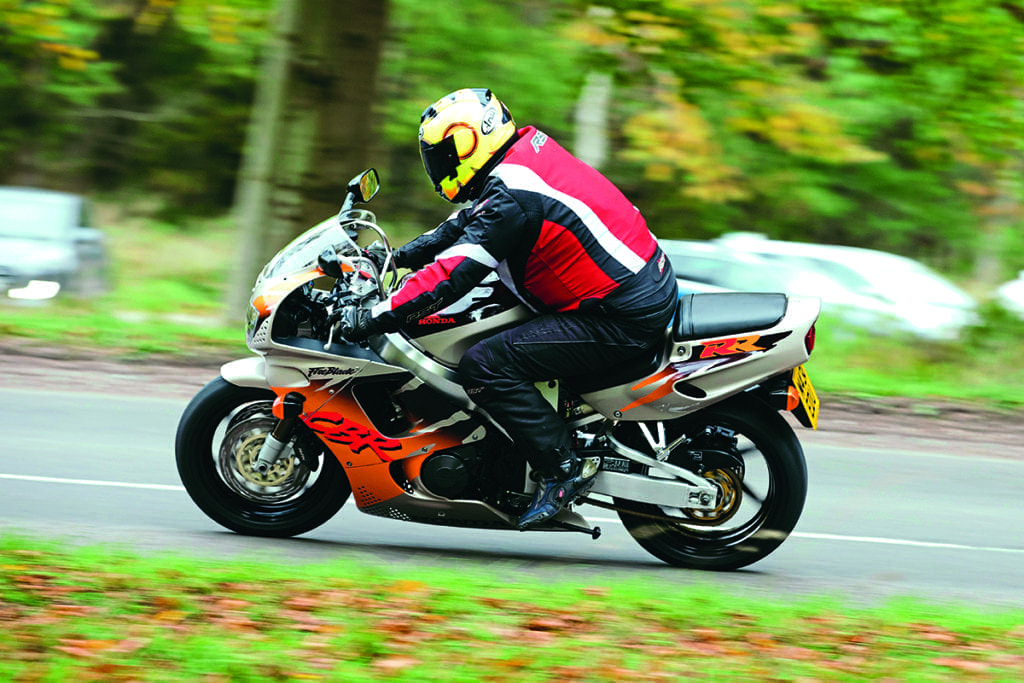 I've always wondered why we are so caught up in time, our perception of it and how it changes the way we view things. 
Apparently, time is all relative according to physicists and the higher you are, the quicker you age. Which (for me at least) makes me wonder if the further up the ladder a motorcycle is when it is released, does this mean it becomes unfashionable more quickly?
The reason I ask is here before me (and before you in pictures). This Honda CBR900RR-S FireBlade is coming up to 25 years old, but take a walk around its flanks and it looks so clean, spotless and almost point-perfect. Yes, it has a butch bulge here and there, especially along its twin-spar mid-riff: and that super-wide tank seems faintly ridiculous from some angles, but it's still a handsome beast. Granted, I would suggest that the cover star from September's CMM – the Yamaha YZF-R1 – looks more modern still, but the FireBlade in this its purest form still gets the pulse going before you even swing a leg over it.
Time and previous owners have been kind to this example. There's no sign of the tat that often would be fitted to mid-1990s sports machines. You won't see mini-indicators here, or slip-on exhausts (often not matched with a re-jet of the carbs) you'll also not see different rear-sets. In fact the only aftermarket accessory you'll see on this minter of a FireBlade is a useful and helpful rear hugger to stop mud, muck and road detritus being flung onto that very standard rear shock.
So, this Honda CBR900RR FireBlade is a real slice of unaltered motorcycling from a time of Brit Pop, Toy Story, Windows 95 (has that ever been bettered?) and wondering what the hell Robbie Williams was going to do after he left Take That.
I recall this era and this model of bike extremely well. I'd lusted after FireBlades since the very first model but the 1994 RR-R an RR-S were the refined version of the original and arguably these were the 900cc Blade at the top of its game. A local lad would fly around the roads of my homeland of Thanet, Kent, on a brand-new (but well-used) red/white/blue 'foxeye' RR-R, complete with paddock jacket, jeans, hi-top basketball boots, John Kocinski replica Shoei and shagged-out Pirelli Dragon supercorsas. He was the man and that was the bike. It was even the right colour of Blade: until the arrival of the Urban Tiger in my local Honda dealership.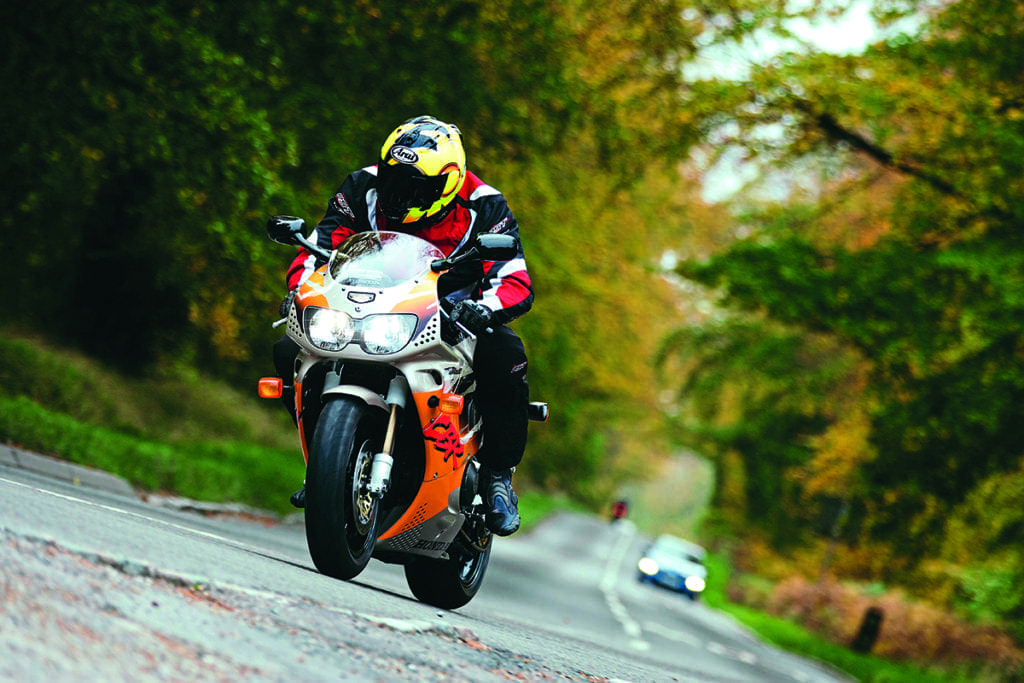 For some reason, this colour just did it for me.
It looked stunning. Blades were flying out of the dealerships at the time and it seemed that the popular red/white/blue bikes were in demand, so the dealership had to get this new colour in. Soon, Urban Tigers were also prowling the local roads.
Who cared that it said 'beige' on the V5? A year after seeing them in the flesh out in their urban domain, I finally got to ride one. New boy me at the weekly motorcycling newspaper was thrown the keys to a brand-new RR-S in Urban Tiger scheme and out I went. Scared feckless that I was on the number one sports machine in the land at the time, I went pretty slowly at first, before realising that this was my opportunity: I opened the taps, and topped the ton before the bike coughed and wheezed onto reserve. Lesson learned: my fellow journos were notoriously tight and lazy and always ran every test bike on vapour, rather than fill the ruddy thing up.
Fast forward to 2010 and – after being the serial owner of a number of FireBlades and Fireblades (they dropped the capital 'b' when the CBR1000RR came out in 2004) I finally managed to bag myself a tatty RR-S. Foolishly, rather than keep the thing and make it nicer, I sold it. And now we fast forward a further eight years and I can see the bike that could have been – Andy Bolas' immaculate Urban Tiger.
As is always the case with memories, seeing Andy's lovely Blade doesn't only make me think of my own, instead it sets up a harp glissando in my head and we rewind back to the late 1980s to recall where the CBR900RR actually came from.
Now, we're not going to go into the full ins and outs of how the CBR900RR FireBlade came to be, or what goes wrong with them, or what you can pick them up for now, or the story behind this minter – instead you can check that out in our Buyer's Guide which starts on page 94 – but we should give a cursory nod to the history of this machine. We're talking about time again here, and time wasn't kind to big sportsbikes in the late 1980s and early 1990s. They – like middle-aged men – got tubby and out of shape. But – like American businessmen with crazy hair and orange skin – they got way more power than they could handle with often disastrous consequences. For example, production racing with litre bikes ended overnight after a spate of tragic deaths at the Isle of Man TT. And out on the road bikes would wobble and weave as weight rocketed up and power outputs started to hit the magic 120bhp figure.
That was until the first CBR900RR-N came out. Inspired by what he saw as 'light is right' Honda chief designer (and former racer) Tadao Baba made a bike that went against the-then trends in sportsbike design. He made a bike lighter than before, with lower capacity and power – but thanks to his focus on cutting lard from chassis design – it was quicker and better handling than anything that came before.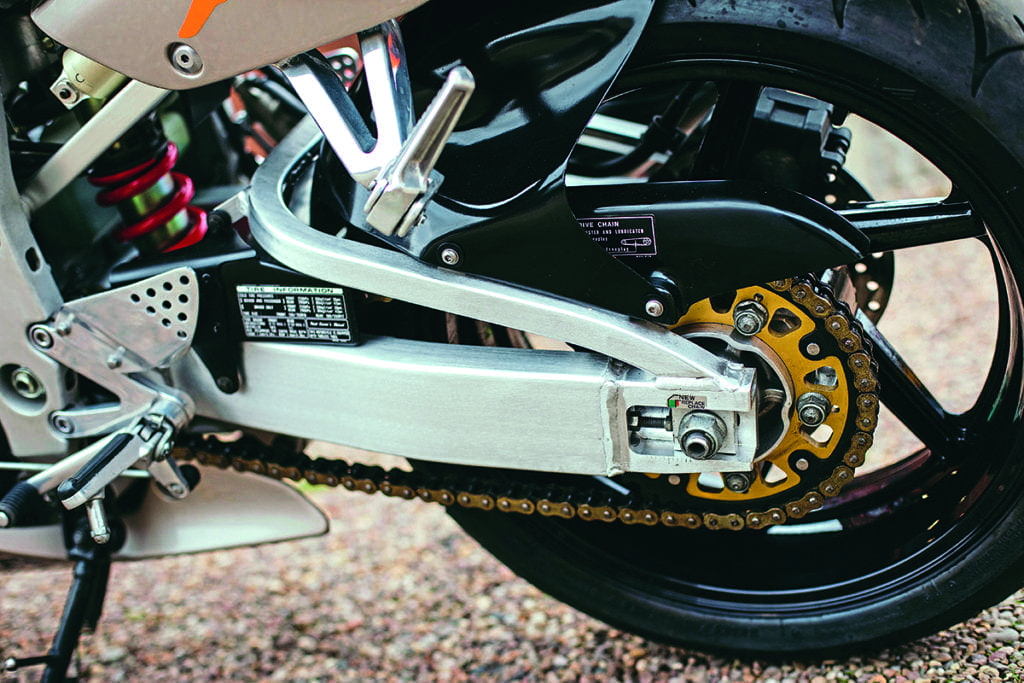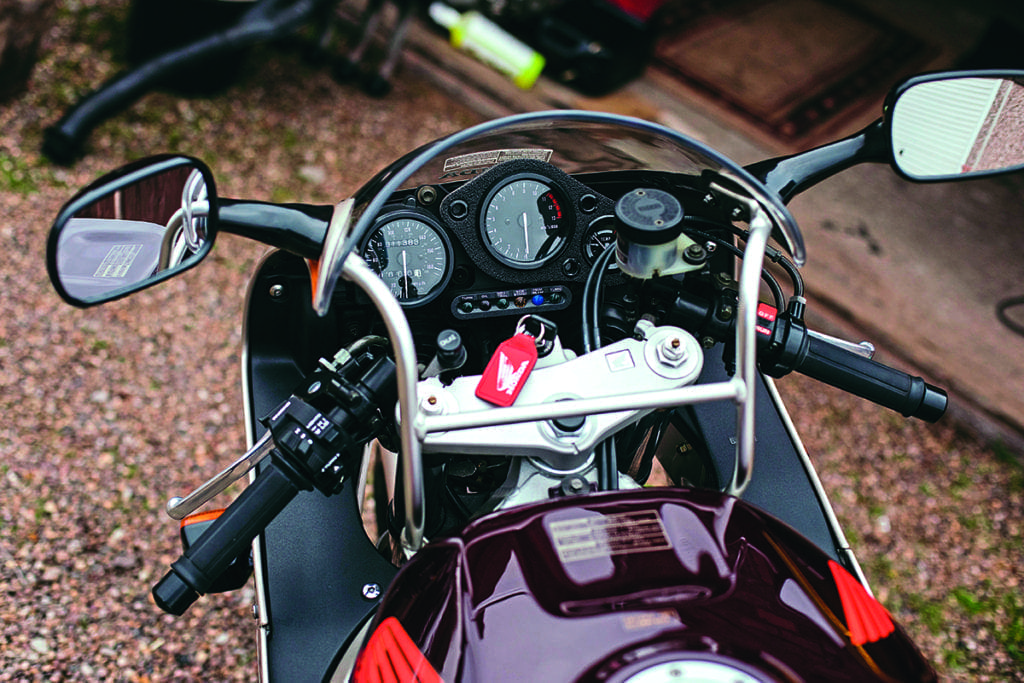 The RR-N/P featured a skeletal bug-eyed, twin-lamped stare, but the bike I'm now looking at (we're hitting fast forward to 2018/19 again) had a lupine lilt to the single-piece headlamp, behind which sat a multi-reflector lamp set-up. Known as the 'foxeye' this model (RR-R/S) had a number of other updates to keep it ahead of the pack.
So, those headlights alone saved 20% on weight compared to the previous headlight arrangement and bounced light from the bulbs backwards on a large reflector set-up. The upper fairing was redesigned from the N/P model and had a lighter aluminium fairing stay holding it in place. The fairing itself was 20mm wider – for added comfort – and the screen 15mm taller. Inside the cockpit, those instruments I'm looking at as Andy warms the bike up, were 300g lighter, but still had that race-cool foam surround and diddy idiot lights. Other changes I'll mention later – I'm just eager for a ride – but you can get the gist of what Baba-san would do all the way through his long tenure with this model, it was weight loss on a scale not seen since the F-Plan diet, albeit without the flatulence.
So, the Blade is ready to go: but am I? Having ridden to our meeting location on a sports-tourer, it's time to stretch those old bones, muscles and joints as if it's 1995 once more: moving the bike about ready for the off, the CBR still feels quite light (we're looking at around 200 or so kilos.) Unlike a Take That album, there's no pain here: you simply throw a leg over that wide seat, lift your legs up to the pegs and stretch yourself over that very broad tank. Wow… this is familiar. 
Immerse yourself in the full feature on the Honda FireBlade in the January 2019 edition of Classic Motorcycle Mechanics, available here.
---
Advert
---
Sign-up to the Classic Bike Hub Newsletter
Get the latest classic bike news and updates straight to your inbox… You can unsubscribe at any time.