Although largely unknown outside its home country, this neat little machine has ended up in the UK, via a famous Northern Irish 1960s Manx Norton tuner.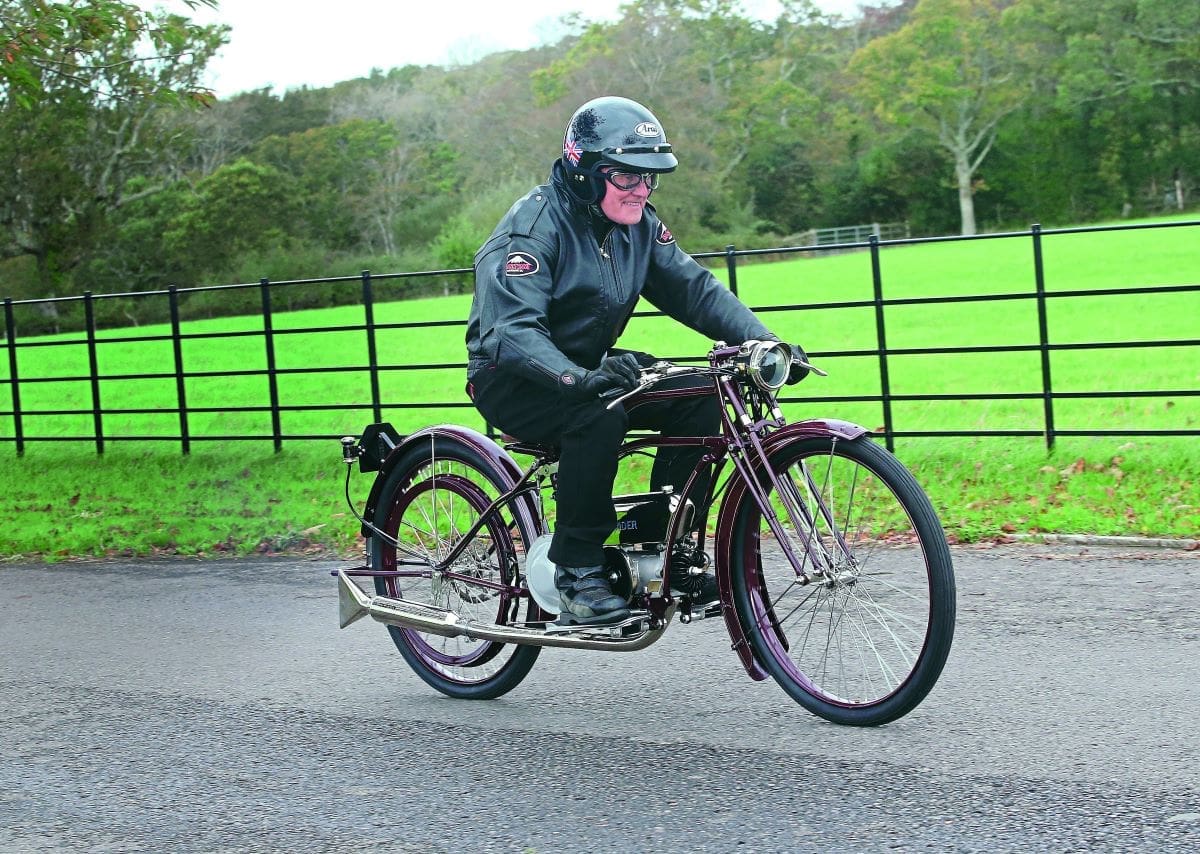 Words: ALAN CATHCART Photographs: KEL EDGE
It's remarkable how many motorcycle makers have been born down the years as a second string to their company's main business model – and flourished as a result.
For some reason, guns and ammo makers have led the way – think FN, BSA, Husqvarna, Royal Enfield, CZ etc – but aircraft manufacturers on the losing side in a conflict, and thus forbidden to continue building airplanes, come in a close second – eg Piaggio, Capriolo, MV Agusta and Aermacchi. Ducati started out making cameras, Kawasaki ships, Suzuki weaving looms and Yamaha musical instruments. But each for a multitude of different reasons switched to building motorcycles – and in doing so, laid the ground for a good dose of corporate prosperity as a result.
Neutral Switzerland doesn't do war, but it's by no means disinclined to supply the means for others to do so – hence J Zehnder & Sohns, an engineering company founded by Jakob Zehnder in 1895 in Gränichen, 25 miles due west of Zurich, did very well during the 1914-1918 war, making the munitions it supplied to the French Army for use on the Western Front. Doing so propelled the workforce of what had started out as a small workshop repairing and selling all kinds of mechanical devices, from sewing machines, typewriters and washing machines to bicycles and motorcycles, from around 25 people in 1914 to 118 by the end of 1918, when the Armistice was signed, leaving the seven Zehnder sons by now running the business in great need of a new product.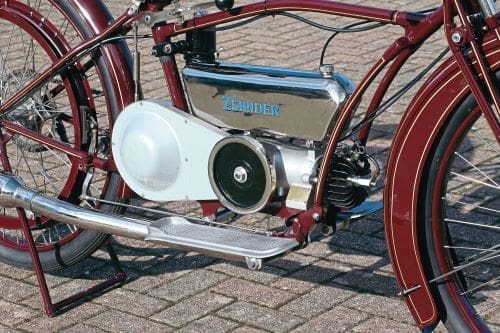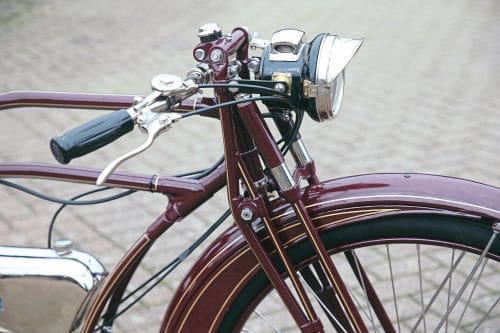 Two-speed gearbox, with chain final drive. A Bosch magneto sits just in front, the acetelyne generator above.
To begin, they set up an electromechanical workshop building high precision machine tools, including lathes and grinders, but despite their best efforts, by 1922 the business was once again employing just 25 people. So in recognition of the growing desire for personal transportation in a country which, until then, outside the major towns had seen its populace rarely leave the valley or hillside they were born in, in 1923 the Zehnder family purchased a licence to produce a two-stroke, single-cylinder 110cc auxiliary engine for bicycles, developed and produced in Munich by former BMW engineer Fritz Gockerel. Gockerell (who confusingly was later also known as Cockerell, the name he used in his copious patents) had earlier in 1921 founded the Megola company, also in Munich, to commercialise the two-wheeled rotary-engine design he'd designed the year before. This originally featured a three-cylinder engine located in the rear wheel, soon replaced by a five-cylinder one, but by the time production began Cockerell had hit on the novel idea of switching the motor to the front wheel! Despite the many compromises this peculiar location entailed, 2000 Megolas were built and sold during the next five years, before worsening economic conditions and rampant inflation in post-First World War Weimar Germany forced what was inevitably a luxury machine, pricewise at least, out of production. Meantime, the more prosaic 110/150/175cc engines bearing Cockerell's own name, and the complete motorcycles he built, continued in production.
From 1923 onwards, Zehnder sold these simple two-stroke engines which it made under licence not only as auxiliary attachments to bicycles, but also used them to power its own belt-driven 110cc light motorcycle, weighing just 50kg, or 110lbs, which sold extremely well. Its comparatively low price meant that it was affordable to many, and it quickly became popular, and was affectionately nicknamed by its many customers the Zehnderli (aka 'little Zehnder'). Both economical and reliable, these well-priced devices selling for Sw.Frs. 885 hit the spot in a still prosperous country which had hardly been affected by the war just ended, but which was only just now entering the era of mechanical transport. For the next few years, the company would be working at full capacity, with a workforce now numbering over 70 people.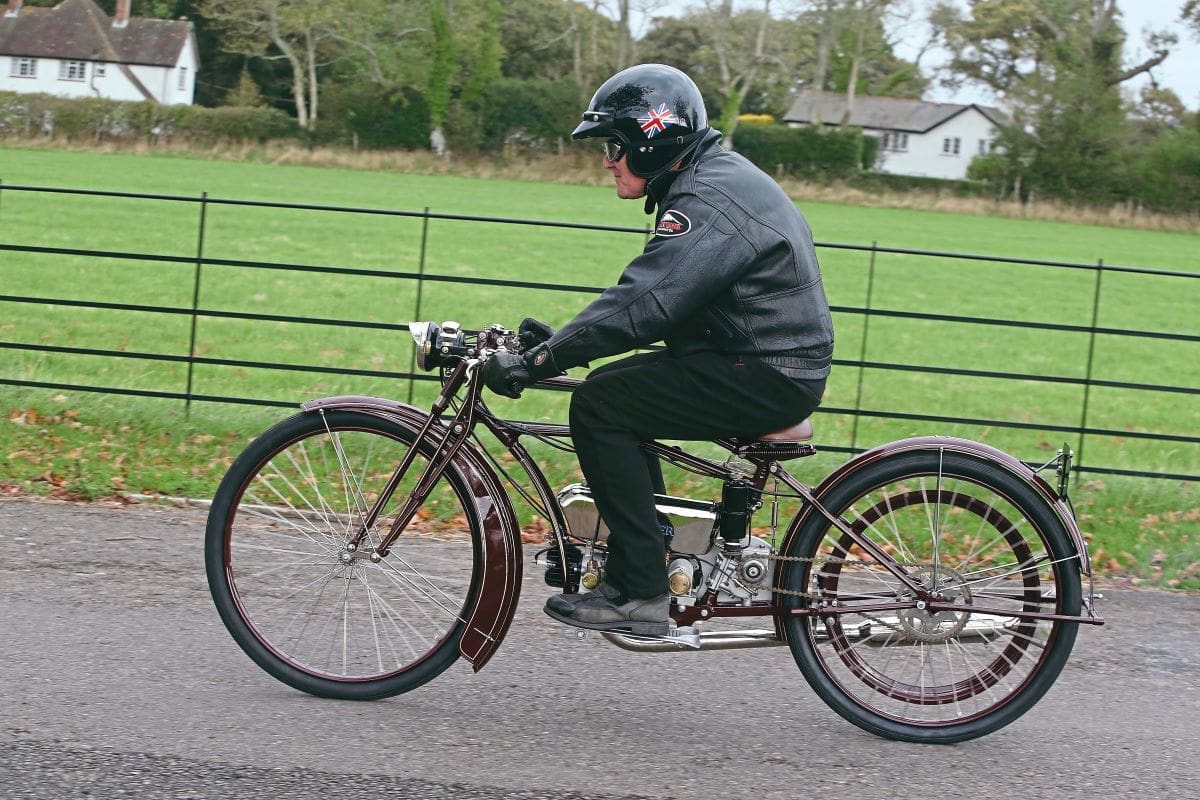 By 1925 the Zehnder company's products held a market-leading 10% of Swiss motorcycle sales, in a country which had countless brands available, both locally made and imported. Its distinctive layout which saw the compact two-stroke piston-port engine with its horizontal air-cooled cylinder measuring a 'square' 52x52mm, with two transfers and a single exhaust port, positioned low down in the cycle-like frame, rather than parked over the back wheel, as on the German-made Cockerell. This had chain primary drive to a basic two-speed countershaft gearbox, and belt final drive, but in 1925 a ladies' version appeared, and in 1927 chain final drive became standard, with an optional three-speed gearbox. And instead of positioning the six-litre fuel tank between the upper frame tubes, as might have been more obvious, it was instead mounted just above the engine, thus lowering the cee of gee in order to impart greater stability and a better ride over the bumpy roads then abounding in the Swiss countryside, few of which were sealed.
For the Zehnder was much more than an urban runaround, a fact backed up by the company's success in hill climbs and gruelling long distance public roads racing so popular at the time, since the 110cc two-stroke motor responded well to being tuned for competition. The Zehnder family began racing both to improve the product, and to demonstrate its speed and reliability versus its rivals. Competition successes included a dominant performance in the 1925 Swiss Reliability Trial, which involved some very strenuous mountain courses, when all seven Zehnderlis that started each won Gold medals with a clean road book. Class wins in the 1926 and 1927 six-stage near 1000 miles Paris-Nice marathons were another highlight, both times with Otto Zehnder at the helm, who personally secured many wins and places both in Switzerland and in neighbouring countries. All this helped propel the Zehnderli right to the top of the sales charts, so that by 1927 the company had 170 dealers in Switzerland, with annual production approaching 1500 motorcycles. The Zehnderli won its class in almost every event, as the network of Zehnder dealers grew throughout Switzerland, with the more enterprising ones setting up Zehnder motorcycle clubs, which only owners of a Zehnder model could join.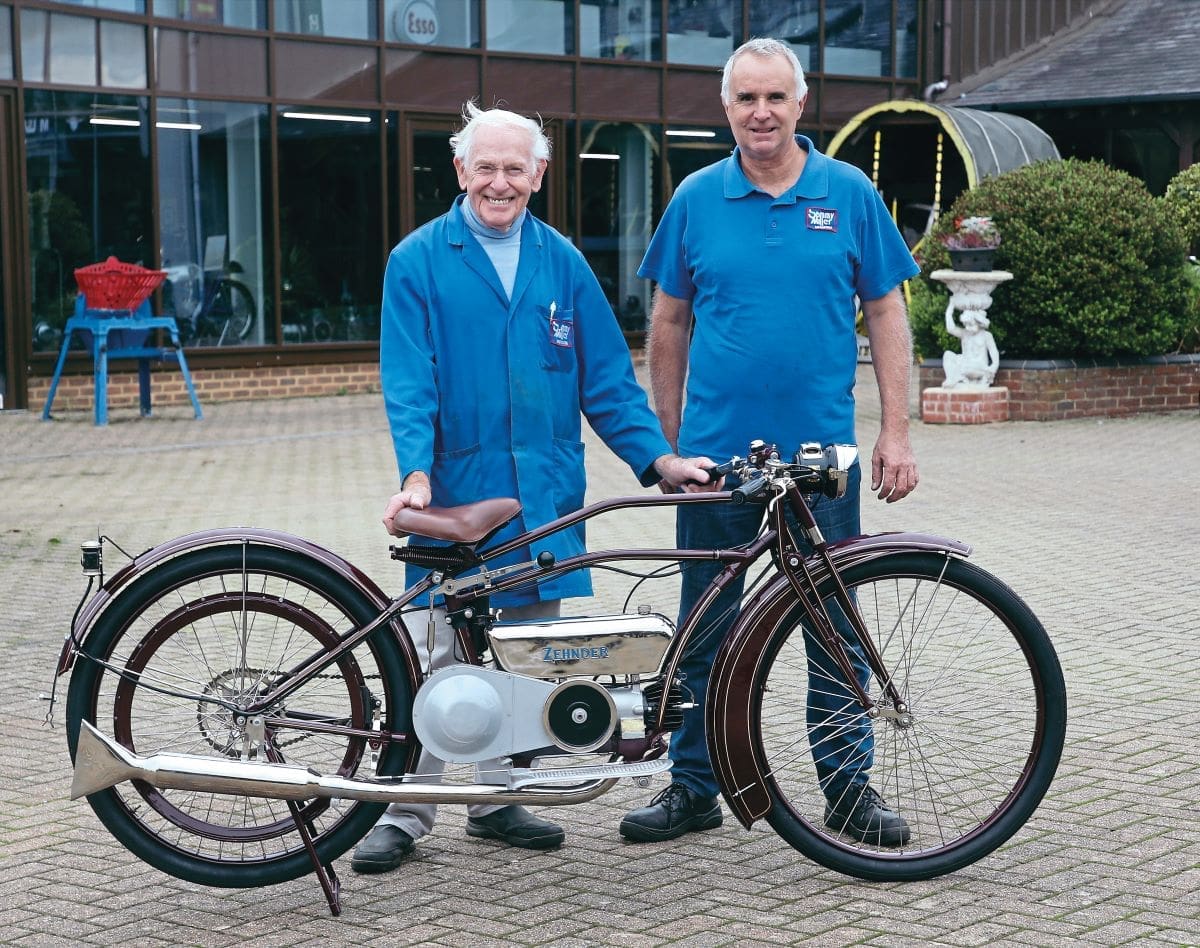 Zehnder soon offered larger engine capacities, and also built racing models employing water-cooling, so that following the 110cc launch model, Zehnder built 123cc so-called 'Grand Prix' racing versions, followed later by a 148cc variant with optional road or race spec. While all these motorcycles had horizontal two-stroke engines, in order to meet market demand for more powerful machines, in 1928 a new machine entered the Zehnder catalogue fitted with a 250cc two-stroke engine, but with an upright cylinder and a three-speed Hurth gearbox, which was also offered in sports or racing trim and with the option of water-cooling.
This didn't sell well owing to various shortcomings in its development, and soon the company was in serious financial trouble, with a fleet of unsold stock. It wasn't until 1930 that Zehnder invented the product that would lay the foundation for the company's future success, right up to the present day – Europe's first steel tube radiator for liquid-cooled cars and trucks.
But by then, with the Depression-era recession biting hard, sales in 1930 had faltered, particularly with the new 250. The Zehnder brothers resigned, and the company's main creditor Alfred Gautschi assumed management of the company, which in 1931 was revived as MAFAG/Maschinenfabrik Gränichen AG. Production of the Zehnderli continued, and the company also built Standard motorcycles from Germany under licence. However, the Zehnder motorcycle brand was phased out during the second half of the 1930s, but during the war years Robert Zehnder, one of the seven brothers responsible for product design, built prototypes for a new range of models, which were due to enter production once the war was over. Robert died in 1945, and the project died with him, allowing the company to focus exclusively on radiator production, in which it became a world leader.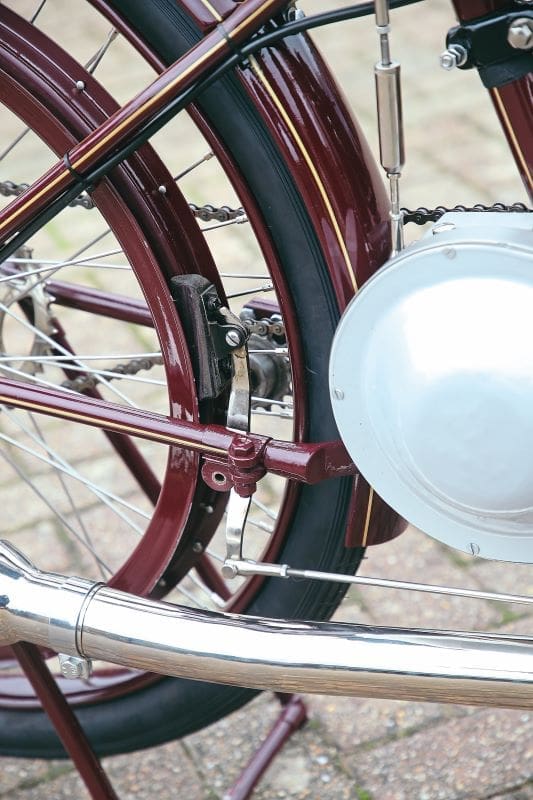 When the company was floated on the Zurich Stock Exchange in 1986, the Zehnder family retained a majority share, which it holds to this day. Zehnder Group AG currently employs around 3500 people globally as a leading manufacturer of indoor ventilation systems, heat exchangers, clean air solutions, decorative radiators, and heating and cooling ceiling systems, with members of the Zehnder family still at the helm.
Although examples of the Zenderli are relatively numerous in Switzerland, they're few and far between in the UK, making it almost inevitable that one should be on display in that repository of rarities on England's South Coast, the Sammy Miller Museum
It's a recent arrival, too, having been acquired in complete but shabby condition by Mr Miller in November 2020 at the H&H Auction sale at the National Motorcycle Museum. Students of Ulster racing history should prepare to have their eyes opened with the revelation that its previous owner was none other than the late Joe Ryan, owner and tuner of the legendary – and for once that's the right word for them – 'Fireplace Nortons'. A fireplace maker on Main Street in Ballyclare, just 10 miles north of where Sammy grew up in Belfast, Joe Ryan's mechanical preparation skills were second to none, except that the shabby-looking bikes invariably turned up for races looking as if they'd spent the previous few days nestling in one of Joe's fireplaces, with a smoky coal fire burning beside them.
The Ulster GP scrutineers famously once turned him away from their attentions until he'd cleaned the bike, thus allowing them to see if anything needed attention – but he got his revenge by his rider Dick Creith winning the blue riband 1965 500cc Ulster GP, then a round of the World Championship. The Ryan Nortons carried such famous names as Tommy Robb, Ralph Bryans and Sam McClements to a multitude of victories and Irish championship titles, but nobody outside his close circle of friends ever knew he had a collection of vintage bikes until he passed away in 2020, and that included Sammy Miller.
"I didn't know Joe collected bikes, but it was even more of a mystery how he ended up bringing a rather obscure model from Switzerland, to Ballyclare, Northern Ireland. But, when you do a bit of research, you discover that Ralph Bryans, who raced the Ryan Nortons before joining Honda, was a great friend of his team-mate Luigi Taveri, who lived in Switzerland – so my best guess is that Luigi bought this bike and it ended up with Joe Ryan. I remember going to see Joe at his fireplace shop up Main Street in Ballyclare after he'd retired from racing, to try and buy some of his Nortons, but he wouldn't sell, he was a bit of a recluse. And so even if we couldn't do a deal, I met the man, and of course it used to be the all-time pleasure of the racing scene in Northern Ireland when he would beat the fancied English runners with the Fireplace bikes.
"His hallmark was he would never clean them, and he kept them in a shed where there were pigeons, so he used to turn up at races with pigeon poo on the tank, covered in grunge, with weeds literally growing out of the fairing. Then Francis Beart would appear with his wonderful gleaming green, polished to the extreme exhibits, but the only problem was, Ralph Bryans blew them off on the Ryan Nortons covered in bird poo. He was a wonderful tuner, and Ralph told me that they used to spend a lot of time on getting the carburation spot-on, without fitting big bore carbs. They used to try and get the gas speed up as being more important on the Manx Norton engine, rather than quantity."
Once in the museum workshops, Sammy and his part-time restoration assistant, Jim Devereux, immediately stripped the Zehnder, to find it mostly complete, just well worn. "Terry Hall managed to knock the dents in the fuel tank for me, and we had it nickel plated to make it really nice. But then we had the good fortune of meeting Roland Zehnder in Switzerland, who races a 1972 Honda 500cc four in classic racing here in the UK and Germany. He's been a tremendous assistance to me on the rebuild, sourcing an oversize piston and covers for the clutch, etc – he's been super helpful. Then apparently there are enough Zehnders around for someone to have had a batch of the special 28 x 2¼ in beaded-edge tyres needed for them to be made in Thailand or somewhere like that, so Hugo Ryf, who's in charge of that, can be contacted through us at the museum website if any Zehnder owners need them. And the engine details are interesting too – it has a very big bore exhaust pipe, same as Bultaco used in the 1960s, which really makes two-strokes work well – but Zehnder had it in 1926!"
The Miller bike has an all-chain transmission, which puts its date at 1927, and as denoted on the engine it's a Paris-Nice model, celebrating Otto Zehnder's second class victory in a row in that February's gruelling six-day event. Invited to ride the unregistered machine on the mile-long driveway of a country estate adjacent to the Miller Museum, I found the rather stiffly-sprung leather seat to be just the right height for my 5ft 10in stature, which made hopping aboard after I'd push-started the Zehnder into action quite uncomplicated.
To do that, you must switch on the fuel (Zehnder recommended a 10% petroil mix, but Sammy uses 4% with modern oils), then push the gear lever down to select first aka a true bottom gear, clasp what might be the front brake lever if the bike had one – a front brake, that is – but is in fact the decompressor (yes, on a two-stroke), set the lever throttle about a quarter open – and take a couple of steps forward before dropping the decompressor lever, and the small Swiss stroker will purr eagerly into life, settling down to a quiet idle at what I'd guess to be around 800rpm after you've caught it with the clutch to stop it stalling. You can if you like find neutral in the middle between first and top gear while you climb aboard, but then off you go with the wind metaphorically in your sails, as this sweet little device picks up speed en route to your chosen destination – Nice, maybe?!
The two-stroke motor isn't exactly nippy, but while very quiet it's also definitely willing – it pulled cleanly up the quite steep hill in the driveway quite readily in top gear without my having to change down into first to do so. On level ground I selected top gear quite early on, and just let it find its way up to a top speed of what I'd guess in the absence of any speedo to be around 40mph – quite sufficient for the era, especially given that there's no front brake, as well as zero engine braking from the little two-stroke motor. This means you must place great reliance on a) the quite meaty friction pad worked via the dainty little lever on the right footboard, acting on what presumably used to be the belt final drive pulley that's been retained for braking purposes on this chain-drive bike, b) the decompressor lever which will kill the engine swiftly, but also restart it with the slightest bit of momentum, and c) planning ahead – you really have to keep your wits about you on a two-stroke like this, in terms of arresting momentum before d) you have to grind your boots on the road surface to slow that last little bit before you hit the brick wall that's heading towards you at the end of Sammy's neighbour's driveway. Phew, made it!
The new beaded edge tyres gave quite a good ride in terms of quality, their fatter sidewalls than normal such tyres smoothing out the few bumps in the road I was using, though the twin telescopic dampers on the Zehnder – in 1927! – also worked well, while denoting a forward looking brand. The steering felt a little nervous with the wide, skinny 28-inch wheels, but you get used to it after a while, and it never got out of hand.
Really, by the standards of the era the Zehnder is a very rational design, a great little period piece which thanks to a pair of Ulsterman – Joe Ryan and Sammy Miller, oh, and I suppose Ralph Bryans, too! – I was able to experience. Compare the 110cc 50kg Zehnder's performance against the world's best-selling motorcycle ever, the 85cc 8bhp Honda C90 introduced 40 years later in 1967, and weighing 82kg – partly thanks to its front brake missing from the Swiss bike – and the Zehnder comes out pretty well by comparison. For a brief moment of time in the Roaring Twenties, the Zehnder Paris-Nice replica was The One – in Switzerland, at any rate!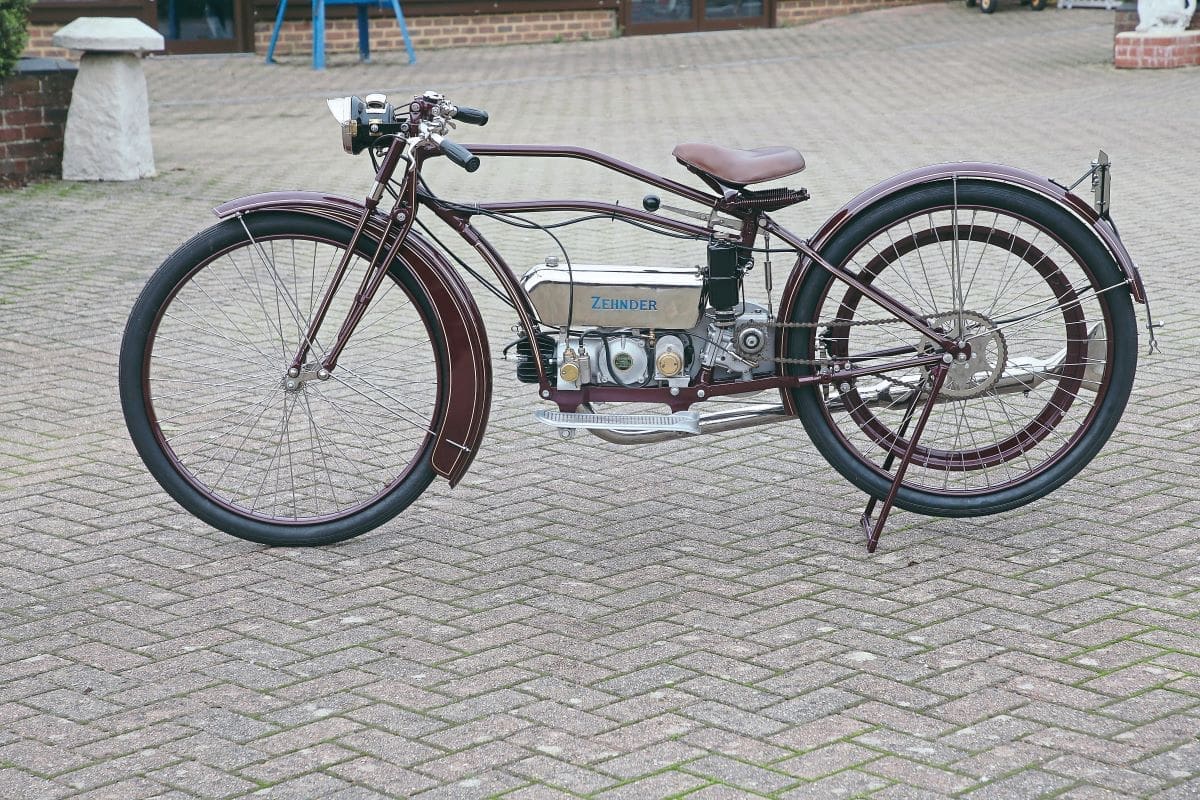 ---
Advert
---
Sign-up to the Classic Bike Hub Newsletter
Get the latest classic bike news and updates straight to your inbox… You can unsubscribe at any time.