Slightly mysterious Ariel, ridden by the Cambridge cox, as he arrives for training at Putney Boathouse, prior to the 1946 boat race.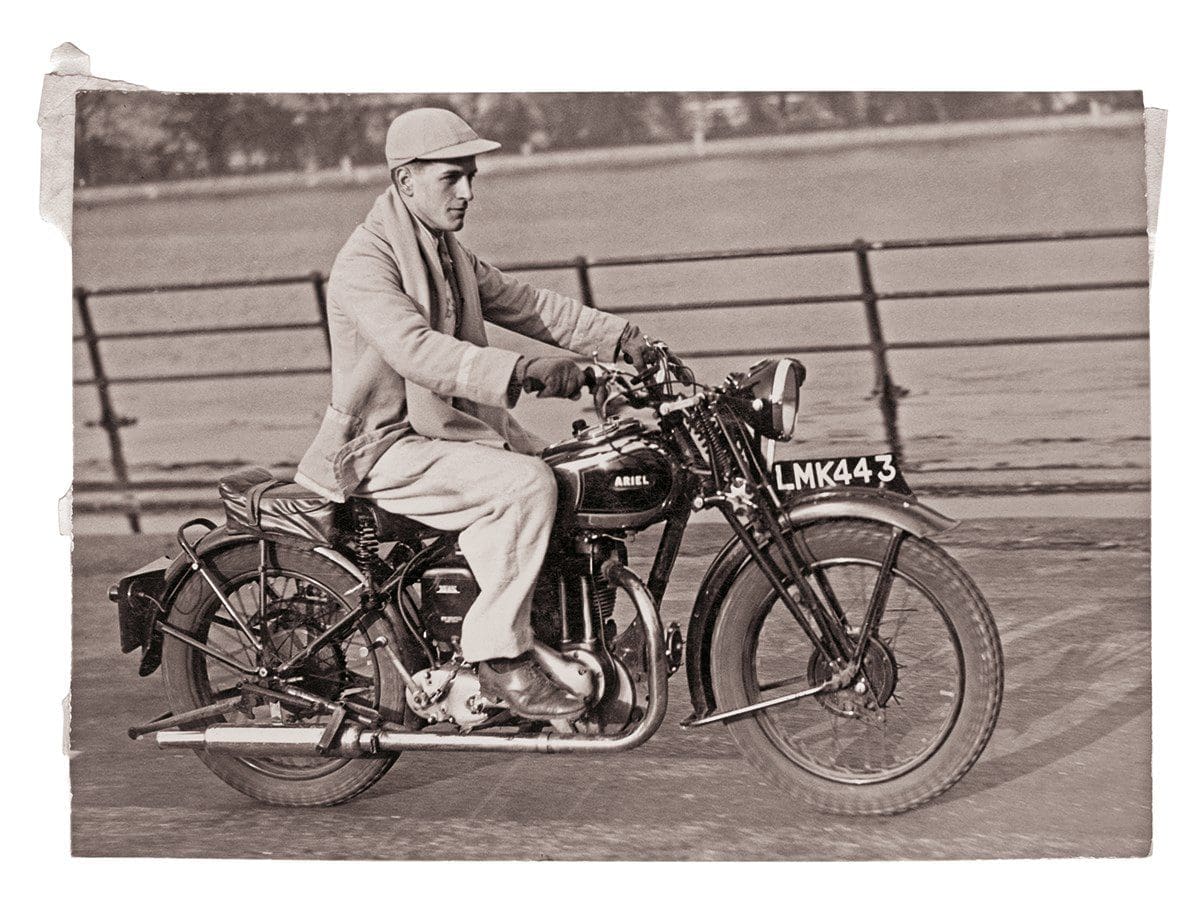 Looking at this picture, there are things that don't tie up, so we sent it over to the ever-helpful Roger Gwynne, at Ariel specialist Draganfly, to try and work out exactly what it is. He said: "It looks most likely to be a 1946 350cc NG, with side springs on forks (as used 1939-46), the small headlamp, which is postwar, and the small oil tank, so 350cc, not 500cc. Tank is probably black rather than red and the rims are all black so NG, not NH.
"But registration LMK 443 is a London number from May 1942, which does not match the image, as many features would not have been present on a bike built at that time, even if it had been built for a civilian organisation. I am not aware of any being built for anyone other than the Armed Forces except for a few for 'FF,' which may be 'The Free French.' The last civilian bike was dispatched in May 1941.
"The bike in the picture does have unusually high handlebars, usually found on 'colonial' models, but two inches taller than normal ones were used on the military W/NG. It isn't clear, but the front wheel could be the smaller 6½in brake one as used on the W/NG, so this could be an ex-W/NG that has been 'civilianised' with a panel tank but retaining floppy W/NG pillion rests. The registration could be because it was used by the RAF or Royal Navy, I don't know if they used civilian registrations. There was a contract for 100 bikes for the Navy that was built in dribs and drabs between January 24, 1942, and April 30, 1942, so it could be one of those. I would love to know the engine and frame numbers!"
There's a fair bit about the W/NG in the concluding part of Richard Rosenthal's Val Page profile (see page 66) but, suffice to say, it was based on the popular pre-Second World War 350cc Ariel single, with many servicemen happy to be allocated one – the super-modern telescopic-forked Matchless G3L apart, it was arguably the pick of the DR (dispatch rider) offerings.
The man riding this one is G H C Fisher, cox in the Cambridge boat for the 1946 boat race, which was the first to be held since 1939, cancelled on account of the Second World War. This was the 92nd running of the event, it first taking place in 1829, between teams from Cambridge and Oxford universities, over 4.2 miles on the River Thames between Putney and Moorlake. The first race was won by Oxford (who boasted an 'Arbuthnot' in their crew; the Abuthnot Trial being named after Rear-admiral Sir Robert Keith Arbuthnot, third place finisher in the 1908 TT and who went down with his ship, HMS Defence, at the battle of Jutland in 1916, though it's impossible to determine if they were related) but it wasn't until 1836 there was a second contest, won by Cambridge, then until 1856 it was an intermittent affair.
From then on though, it's been held annually, interrupted only by the First and Second World Wars, and Covid-19 in 2020. In 2021 the race was held on the River Ouse near Ely, where, incidentally, an unofficial happening had taken place in 1944. These are the only two times it has not been on the Thames. The 2022 event is scheduled for April 3.
Despite his Ariel getting him back and forth to training, and despite Cambridge starting favourites, Fisher and his light blue crew were bested by Oxford's dark blues, though Fisher was back the next year and enjoyed better fortune, as Cambridge triumphed in dismal weather. The 1947 win took Cambridge (in which Cambridge's boat boasted five future Olympians) to a 49-43 advantage in overall victories; as of 2021, the tally for the men's race stands at 85-80. There has also been a women's race since being first held in 1927, becoming annual from 1934, and Cambridge won that in 2021 too; they have a win ratio of 45-30 in their favour in that event.
---
Advert
---
Sign-up to the Classic Bike Hub Newsletter
Get the latest classic bike news and updates straight to your inbox… You can unsubscribe at any time.