Twenty years ago, a sound was emanating from the tracks and pit lanes in Grand Prix racing that hadn't been heard in quite some time.
From the mid-1970s the two-stroke had been king, ever since Giacomo Agostini won his last 500cc world championship on the Yamaha OW-23, and this was Yamaha's first rider and championship title in the class. From then on, the 500cc two-stroke dominated, with the last four-stroke win of that era coming at the hands of Ago (who else) on a 500cc MV Agusta at the Nürburgring.
The high-pitched shriek of the two-stroke 500cc machine, in various forms, be it square-four, V-twin or V4 would rule the paddock until the early 2000s.
With development of the two-stroke effectively in a cul-de-sac, and with the road-going machines largely of four-stroke construction, the manufacturers dictated a change for 2002: and what a change…
In came the 990cc four-strokes to run alongside the existing 500cc two-strokes. Honda's initial research into a four-stroke motor for 2002 began in early 2000 and it initially led them to look at a V6 machine, but HRC (Honda Racing Corporation) felt this would be too heavy and suffer from excessive tyre wear. Three, four and five-cylinder layouts were considered (the triple powered machine would have a weight advantage of 135 to 145 kilos) but the 75.5 degree V5 – with three cylinders at the front and two at the back – would have greater valve area and share the same weight as the V4: this would be Honda's masterpiece, the RC211V. Bench tests as early as December 2000 showed 244bhp and the whole machine was ready to ride and test as early as April 10, 2001.
The Honda RC211V became by far the most successful machine in the first two seasons. It would win 48 races overall and three titles, (Valentino Rossi in 2002 and 2003 and Nicky Hayden in 2006) until replaced by the 800cc RC212V – a V4 machine – for 2007.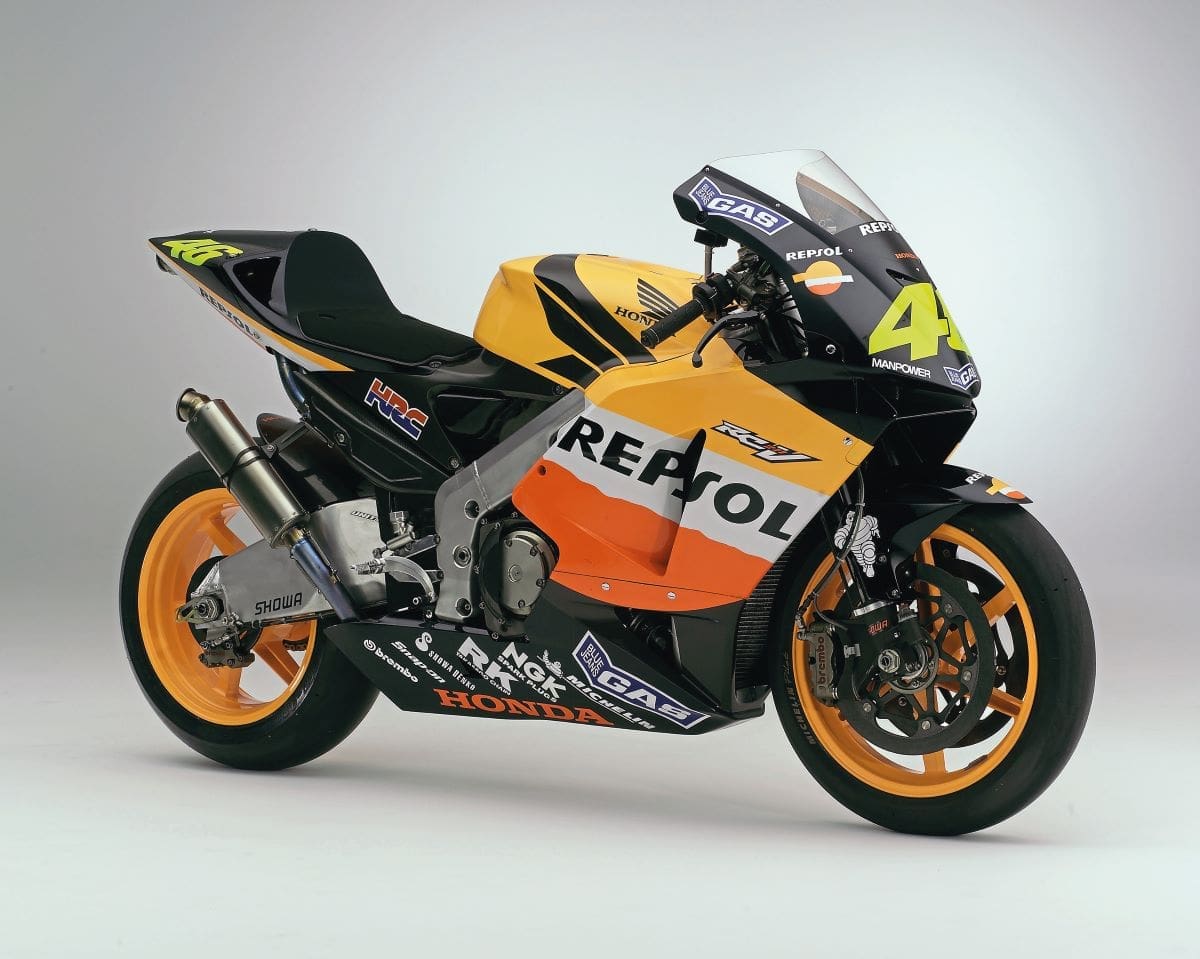 ---
Advert
---
Sign-up to the Classic Bike Hub Newsletter
Get the latest classic bike news and updates straight to your inbox… You can unsubscribe at any time.