We look at the baby CB750, the CB175, and also what it's like to live with… with grateful help from John Child, his gorgeous CB175 and the wonderful Suffolk sunshine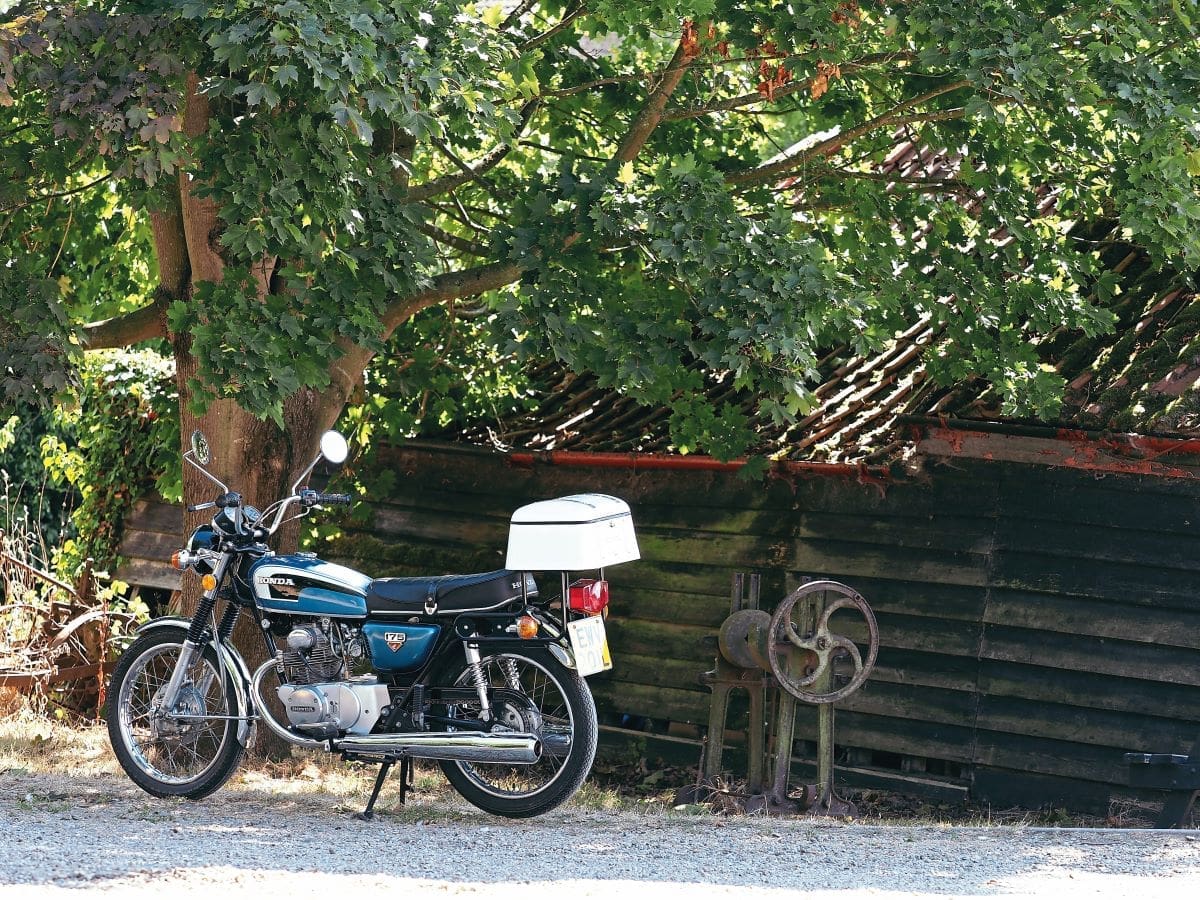 Words and photography by Matt
By the late 1960s, Honda was on a roll. It withdrew from the international race scene as, after winning numerous world titles, it felt it had learned enough from racing – for now. Those lessons had already started to filter into the road bikes. And as we now know, Honda had a large project on the boil for release in 1969, the world's first 'Superbike' – the CB750.
In today's Americanisms, the CB750 would be described as a game changer. But it was more than that – no one had seen anything like it, at that price. Electric start (that worked), 12-volt electrics, five gears, oil tight, reliable and fast, to name just a few attributes. It made British bike obsolete overnight and put Kawasaki back years.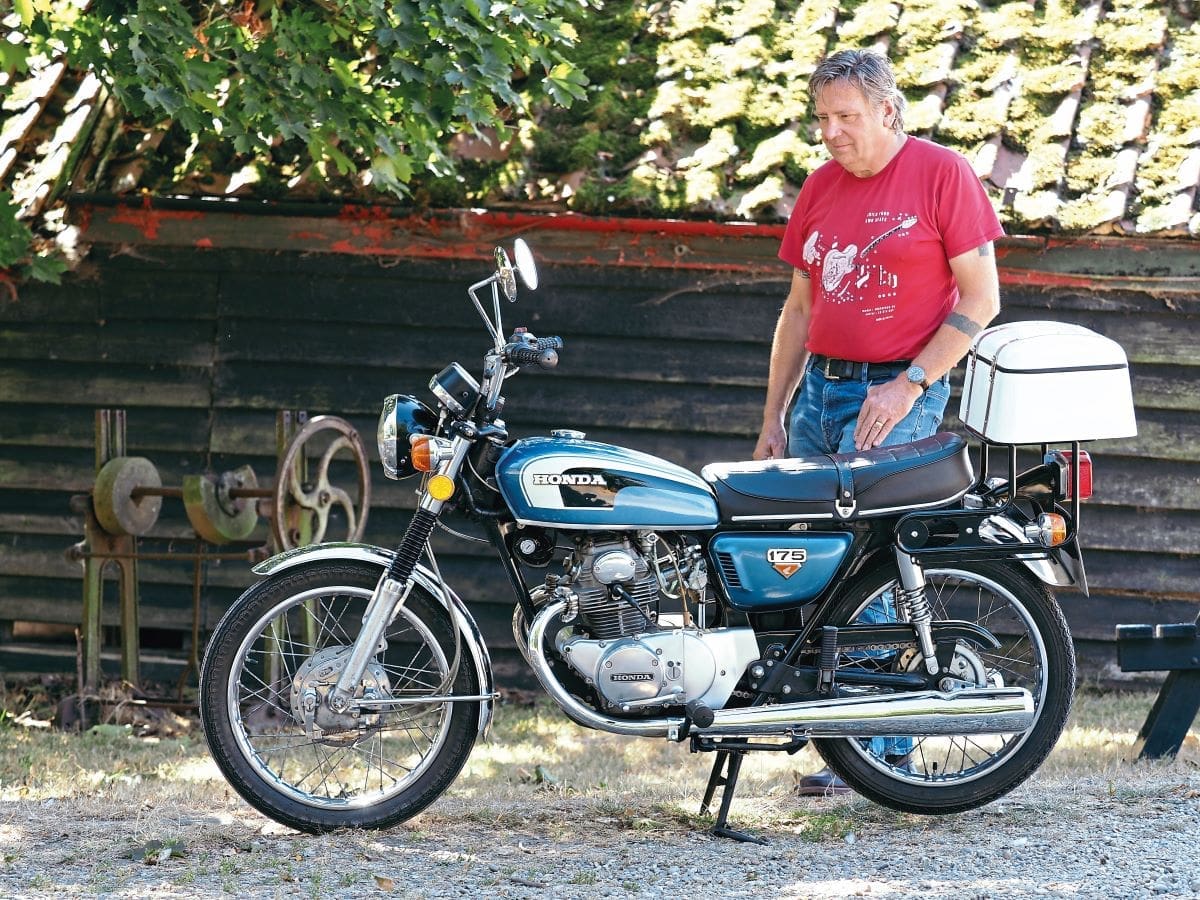 At the same time, understandably under the 750 radar, Honda's smaller bikes continued to be released, updated and sold. One was the CB175 – a bike to fill the void between the 100-125 market and the 250s. The CB175 had actually been released in 1968, with its lineage deeply rooted in the CB160 from 1964 and even the C92 and CB92 Benly and Supersport. A twin-cylinder engine featuring its barrels canted forward meant no room for a front downtube on the frame; the engine was used as strength for the chassis. But it featured all those selling points that would prove to make it such a success, like 12-volt electrics which allowed electric start, decent lights and indicators, as well as five gears.
But its style was harking backwards, not forwards. And with the world's eyes on the CB750, it was time to bring the rest of the range up to match. So for 1969 the CB175 had its engine evolve with more upright (and efficient) cylinders, numerous inner changes and a brand new tubular steel frame, which was actually more traditional than the previous pressed steel one but was stiffer and would handle better, as well as handle more weight. And it made the 175 look exactly the same as its 750 brother.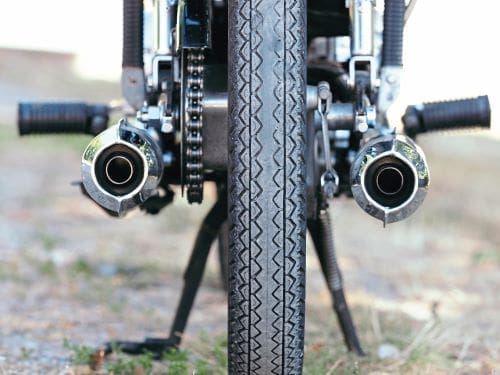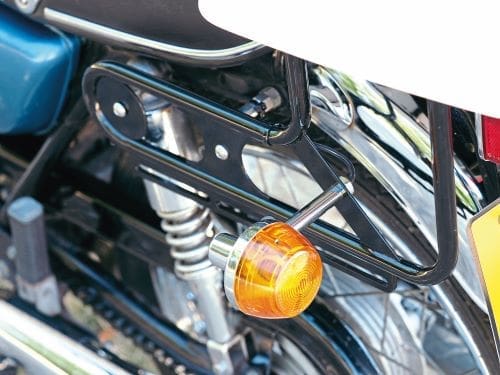 The CB175 gave you identical attributes that buyers had seen on the 750 but for £250 as opposed to £695 – and that was cheaper than its rivals. A total of 20bhp through five gears gave a top speed above 80mph, it was oil tight, had a beautiful finish with stunning colours, quality chrome, and those 12-volt electrics, twin-leading shoe front drum brake and twin carbs – all the 750 had over the 175 was a disc brake and two more cylinders! As the years passed, the fuel tank and side panels changed shape to mimic the 750, the last ones got a rev counter, and the colours differed from year to year.
There was a 'touring model', the CD175, but looked as old as the hills with its deep mudguards and old-style frame, similar to the first CB175. It had a similar engine but just one carb and was heavier; but it gave better economy than the CB and was easier to look after. Then came the off-road-styled CL175 for the USA, which had high-level exhausts and a different front wheel, but as far as dirt riding performance goes, that was it. Still looks good now though; just don't expect to find a replacement exhaust system.
The CB175 kept entertaining riders with dreams that they were on the 750 until 1973, when the CB200 was introduced. It lost the CB's looks and charm and was more like its successor, the Superdream, than its predecessor.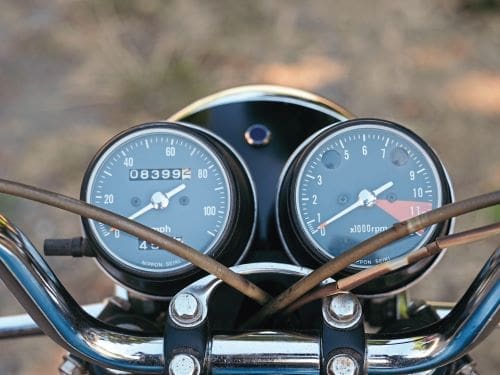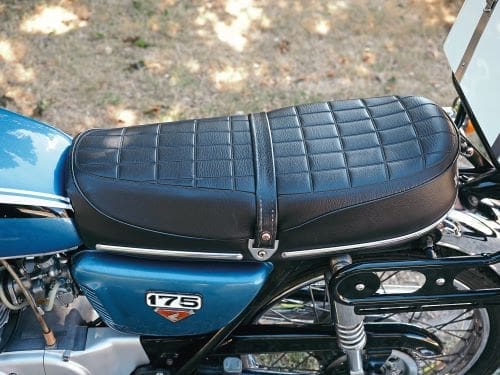 Our Honda CB175
John Child started riding when he was 16 years old on a Raleigh Runabout in Gorleston, on the Suffolk coast, where he still enjoys living. He wanted more, but: "I used to drool at the window of bike shops, looking at Yamaha Fizzies (FS1E) and other sports mopeds. The Runabout used to do 34mph – I know that as I tried to go faster enough!" Dad didn't have a car, but a Triumph Tina 100cc scooter, and mum had a Runabout too, so the family used public transport. "But a motorised bike at 16 meant you could go anywhere!"
At 17, gears came into the game with a Benelli 125 Cross. Quite a rare bike at the time, the 118cc two-stroke was fragile but light with good ground clearance. "My mate had a Suzuki TS125 so we used to go to the pits inland and the dunes when you could and had great fun – and then came a car."
A Lambretta GP200, Honda C90 and Yamaha YB100 followed. "I went on the back of a friend that had a Norton Commando and thought 'wow that's great' but could never justify it. Passed my test at 40 as otherwise I'd have to keep doing my CBT, so over about six months I tidied it up, rebuilt the engine as I'd seized it, put a new seat on and passed my test on it. But it got nicked and burnt out by joyriders…"
There followed another Eastern European bike, a Jawa 350 twin. Was there something about the Eastern bikes he liked? "Yes, you could find them in the classifieds and they were as cheap as chips! The Jawa was great and I used it for two years until I inherited a little money and bought a Suzuki Bandit 600S. I wanted a naked one, but once I rode it, the fairing was excellent for mem at 5ft 10in, taking wind over my head. My wife liked the Jawa because it had a top box and she felt safer. The Suzuki didn't have one, so that's why I went up to Draganfly, makers of the period Craven top boxes, to find me a suitable rack for the Honda."
Come lockdown and John needed a project. "My friend Barry needed help to pick something up at a chap's house who had a load of bikes. I saw them all and that was it, I needed a bike! I thought of a Bantam 175 or Francis-Barnett but wanted to go two-up and my friends asked if I'd thought of a Honda.
"I'd always liked the look when I was 17, so I rang up a chap in Chelmsford and he had two – one was the older sloper K0 version (the cylinders were at an angle and was only available 1968) and the Supersport version, which I got.
"When I went to see it, the Supersport wouldn't start, which helped on the deal! It also had the wrong exhausts on, which I didn't like the styling of. Once home, the carbs needed rebuilding, which I did, and the usual culprits like the condenser and points were changed to get a good spark, which got it running.
"Mine is a 1973 model, a CB175 K7 that was only made for the USA market and is the last year they were made before the CB200 would take over. The US bikes had higher handlebars, whereas the UK bikes had lower, flatter 'bars. A nod to the American cruiser style? At first I thought they looked odd, but once I rode it I really like the comfort."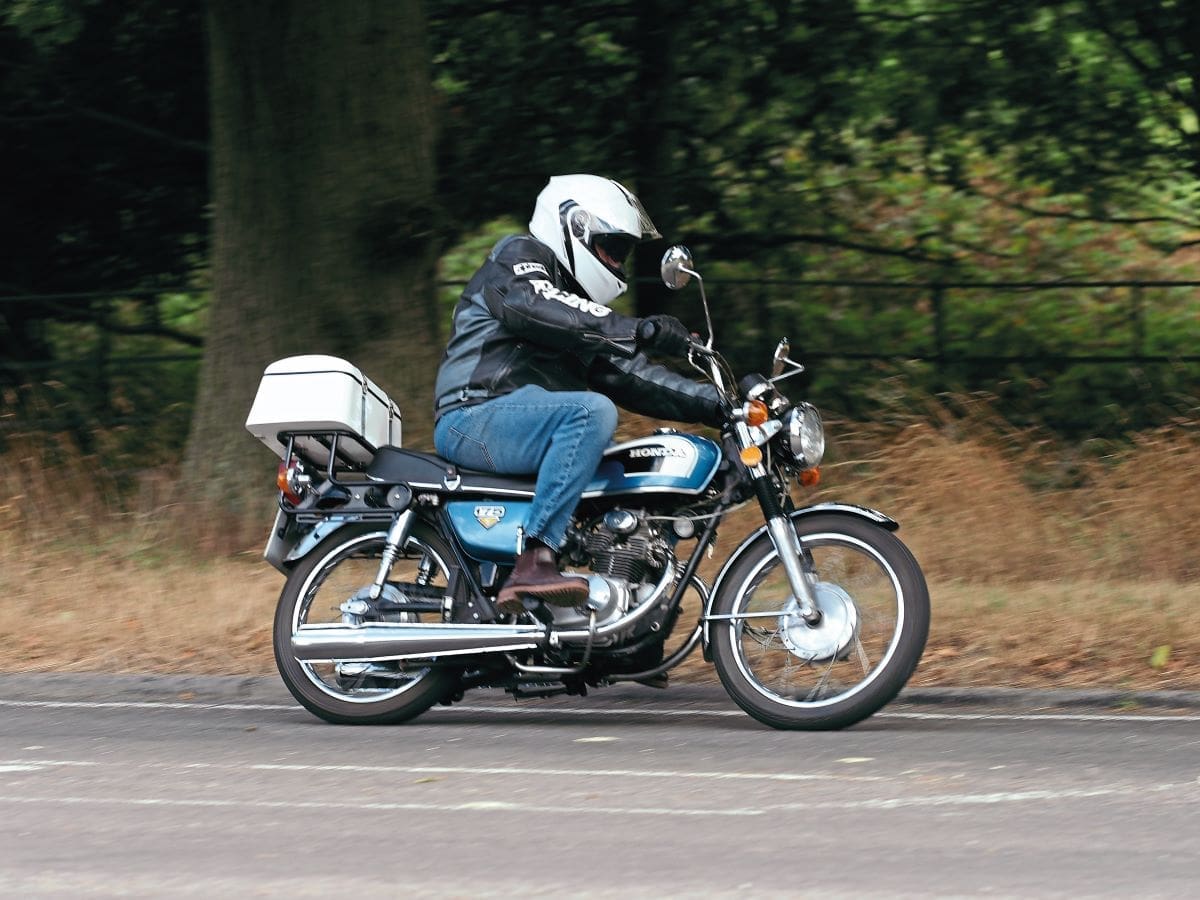 What was it like riding for the first time in years, John? "At first it felt a bit odd. I needed to give it a handful of revs, which was a surprise, and as my last bike had been the Bandit I kept stalling it. But I felt comfortable and didn't feel vulnerable. Once I'd had a few ride-outs I thoroughly enjoyed it and got my confidence up. I don't use it all the time, but it suits the area we live in perfectly, and my wife comes on the back and we'll find a pub for lunch.
"The Honda is different to others I've had, in that the engine revs free and spins quickly. It feels odd giving a 49-year-old bike a load of revs, but you slowly realise it likes to work this way. It is quite low geared anyway, and last winter I decided to fix the parts I didn't like, so part of that was replace the chain and sprockets. They were not too worn, but were found to be very, very high geared. Rear sprocket was three teeth smaller and the front sprocket at least one tooth bigger – no wonder it was tricky to pull away!
"With the new, standard gearing on, the bike makes a lot more sense and is easier to ride two-up, or in town. But you need to get used to the revs, as at 60mph you're doing 7500rpm. It could have a sixth gear! Perhaps a compromise would be to come down one or two teeth at the rear."
Incidentally, as I followed John through the Suffolk lanes, not once did it sound harsh, or noisy.
"Those exhausts had to go, so when I found some gorgeous pattern ones, I found the ones fitted were welded to the downpipes! The engine bottom end had never been cleaned and side covers of the engine needed repainting, so I took them off and they were so gunky inside, cleaned them up, reset the timing, and reset the clearances. I checked the camchain tensioner and mechanical oil filter, and basically did a major service. I've also had the wheels off and rebuilt the brakes; they're really strong now. I didn't take the barrels or head off as I didn't think I needed to – it's only got 8500miles on the clock. I had the mixture in the carbs too rich at first, clogging the plugs up, but now I feel it prefers to run slightly lean and it runs perfectly and starts first time."
What is parts availability like? "You can get quite a few of the more common parts online and several parts are similar to other models. But living where I do, David Silver, the Honda specialist, is only down the road at Leiceston, so that's are really useful as I can pretty much get what I want. Only did I have to wait for the silencers… and most of that was me justifying them to myself!"
The Craven Snowdon topbox came from Draganfly motorcycles, not far away. They didn't have a specific mounting, but as John could take the bike there, the team worked out the perfect solution. "You can get larger, but that's great for most days and gives my wife a backrest for confidence."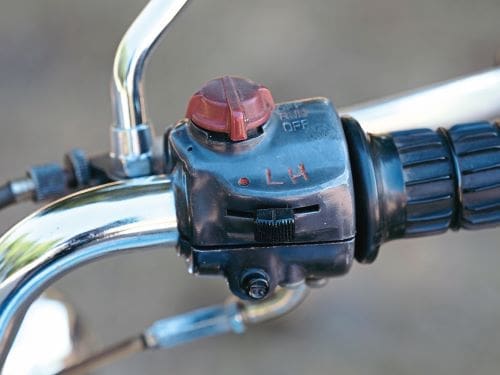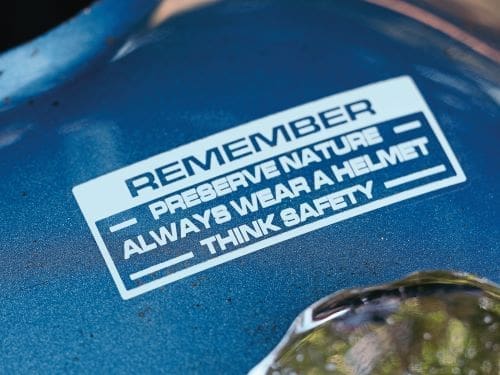 What does he like about a smaller bike? "On the plus side, a smaller bike is light, physically easier to manhandle on and off the stand, or in and out of a garage. A downside is it's a little cumbersome two-up, getting to its design limit of size and power, whereas with just a rider it feels perfect. You pick different routes, different roads, on a smaller bike. Brakes are never an issue and when it comes to it, you're on a sporty, twin carb bike that looks and sounds great.
"We are on a bike to enjoy, and the CB175 is almost always enjoyable. It's a hobby bike. It gives me fun."
As Bike magazine put it in 1973: "For fooling around town, the Honda's ideal transport; it beats Minis away from the lights, is easy to throw around in traffic and belts along open stretches with quite surprising speed. Outside the 30mph limit it cruises at a good 65, handles well, and sometimes makes you wonder whether it's really worth having anything bigger after all."
The expert view
Charles, from Oxford Classic Honda – classichondamotorcycles.co.uk
The CB175s are simply great bikes; there's no real 'you must check' on them. Use as everyday transport or restore to a thing of beauty, your choice. Just make sure you use good oil and change when Honda said – 1000 miles – the cams run directly in the cylinder head.
We sell between 15 and 20 per year as they're easy to own, are tax and MoT-exempt, and look great. There's a real drift to smaller bikes – all the fun and fewer problems!
Honda CB175 1972-73
Engine: 174cc, four-stroke, air-cooled parallel twin, 2v Gearbox: Five-speed, chain drive Power: 20bhp@10,000rpm,
Top speed: 86mph Front tyre: 2.75 x 18 Rear tyre: 3.25 x 18 Seat Height: 29.3in 770mm Fuel tank: 9-11 litres Wet weight: 130kg Price now: £750 project; £4000 beautiful
---
Advert
---
Sign-up to the Classic Bike Hub Newsletter
Get the latest classic bike news and updates straight to your inbox… You can unsubscribe at any time.