Take one OSSA, add a dash of works rider, some Spanish enthusiasm and see the result…
Words and pics: Tim Britton
Mick Andrews' record with OSSA motorcycles is an excellent one and as well as European championships the Derbyshire ace notched up three consecutive SSDT wins to prove the motorcycle was good enough.
Those wins – 1970, 1971 and 1972 – were made with factory bikes, albeit ones designed by Mick, and would lead to the MAR – Mick Andrews Replica – which pretty much was what Mick would be riding.
However, unfettered by the need to be seen on a standard product though still with a soft spot for OSSA, Mick was involved in a build which allowed a few tweaks which would probably have been refused by the factory.
It is the nature of us club riders to assume a factory bike is the be-all and end-all of brilliance but this isn't always the case.
Firstly the factory rider has to be seen to be riding what was on the showroom floor.
Yes, the team rider would be excused some differences between what he was on and what could be bought as after all he would be testing ideas for next year's models but generally speaking the factory wanted to be seen winning with what they were selling now.
Having had several chats with Mick as to what his works OSSAs were actually like, he highlighted a few areas where he personally wanted to make mods.
One area was an SSDT specific, says Mick: "OSSA had a pretty short wheelbase for the time and while fine for normal trials, actually an advantage really, for the Scottish and the longer sections such as Laggan Locks the wheelbase was too short."
Suggestions that for the Scottish a slightly longer swinging arm specifically for Scotland were dismissed so Mick did the best he could and made sure the rear wheel was as far back in the wheel slots as it could go which helped but wasn't ideal.
This was something that Hampshire dealer Bob Gollner addressed when he collaborated with frame builder Mick Whitlock on their replacement frame kit for the OSSA – it had a longer swinging arm.
Anyway, back to the smart machine in these pics.
It was built for Mick about eight years ago to use in Spanish events and instead of the more familiar green colour, is finished with a red band on the tank rather like his 1970 bike.
Though the frame is almost a standard MAR 250 one, it has had a little tweak at the front as the forks are from a later Fantic trials bike.
Though of the same stanchion diameter the sliders have a leading axle and the internals are certainly much more modern in their damping.
Because of the axle position on this bike – OSSAs as standard have the spindle position under the slider – it has been necessary to cut the frame slightly and tuck the headstock back a little.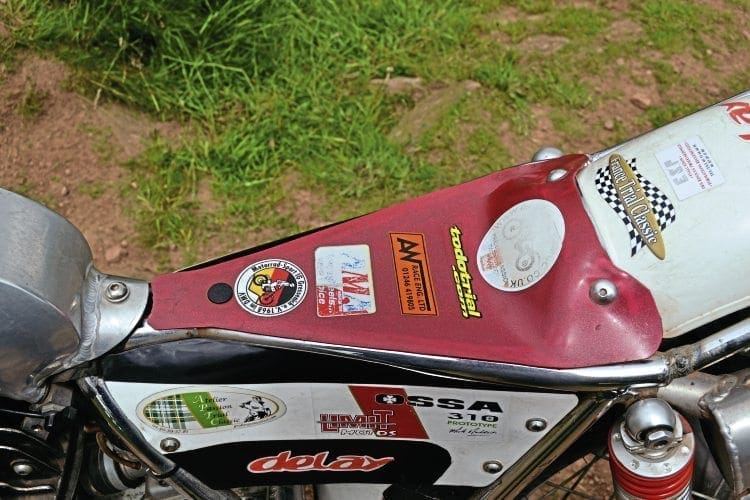 At the rear is a longer swinging arm which, though Spanish, isn't OSSA. "It's a Montesa one though which one I don't know," grins Mick, "maybe we should put an OSSA one in there."
Hubs too are not from OSSA and are actually Grimeca ones as fitted to many an Italian machine of the slightly later era.
They don't look out of place though and are laced to probably GasGas rims.
Reason for that is the trials world has gone tubeless and such tyres don't sit all that well on tubed rims. GasGas had tubeless rims with the required number of spoke holes to fit earlier hubs.
There are tubes inside these tyres though.
Along with the other Barcelona factories OSSA experimented with bigger engines in the 70s though in their case it was mainly a bigger bore rather than a redesign.
This pushed the capacity to 310cc and it is one of these engines sitting in the 250 frame.
It isn't all that special according to Mick, in fact it is actually quite standard in almost all respects including the ignition but not the carburettor. "It's a TY250 Mono carb," says Mick.
Take a look at the exhaust system – even the early 310 OSSA would have a less tortuous exhaust route than this one and is from a later Gripper model.
That said, apart from having to be cut and pulled in slightly to cope with the head angle change on the frame, it is a standard system. "The silencer on the rear is some form of aftermarket one though I don't know what it is," Mick adds.
Something he does know a bit more about are the rear dampers, which are Spanish Magicals – a reference to Andrews' nickname 'Magical.' Mick has been involved in their development and naturally these work exceedingly well.
So, while looking quite smart and working very well, this OSSA is remarkably standard until the ultimate accessory, Mick himself, climbs on board and works his magic.
Limit Motos
Based on the outskirts of Barcelona, Limit Motos is run by Ramon Membrives and specialises in all sorts of motorcycle sales and preparation and not just in the trials world. It is Ramon who owns and built this rather special OSSA and loaned it to Mick to ride more than eight years ago.
Though the bike is based with Mick it still wears Spanish registration. The company has a website www.limitmotos.com – though parts are English, a working knowledge of Spanish will be useful.
Mick Andrews
Derbyshire ace Andrews has been at the forefront of motorcycle sport since his teenage years. Factory ace, development rider, team mechanic, sporting ambassador are all titles ascribed to Mick.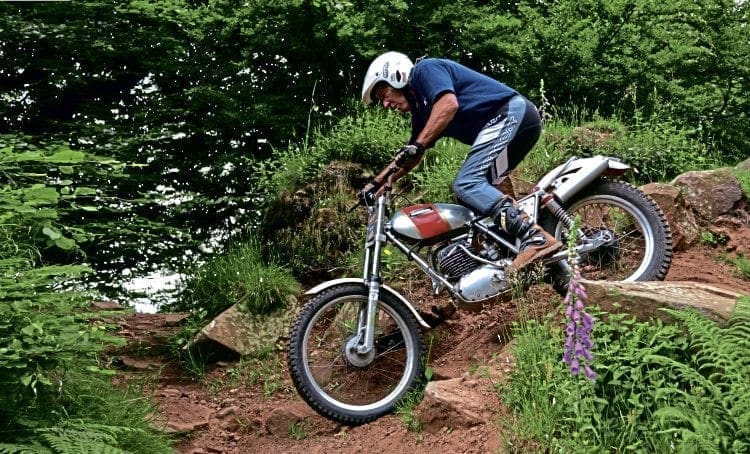 The undeniable fact is he's a great rider – spotted by AMC's comp boss Hugh Viney in the early Sixties, he was quickly drafted into the AJS team. He tells the tale of those works bikes: "I wasn't allowed to touch them other than fix a puncture, they went on the train back to the factory on the Monday morning and were delivered back to the station near us on Friday already prepared."
AMC went bust, Mick was a privateer again, a spell with Rickman Brothers riding Bultacos ended when OSSA called and wanted a scrambler developing… oh, and Mick could build a trials bike and ride it if he had time.
Did you know?
… OSSA is actually initials rather than a name and it stands for Orpheo Sincronic Sociedad Anónima.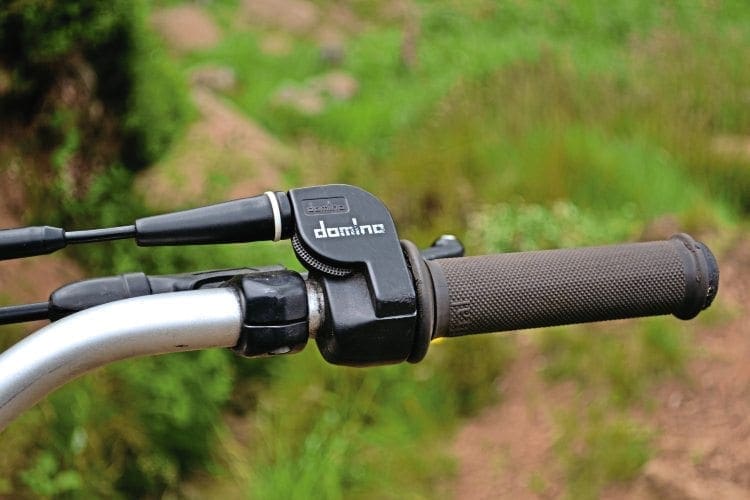 The Spanish company, based in Barcelona, manufactured cinematographic equipment and its logo, which is often mistaken for a four-leaf clover, is actually a stylised movie projector.
In fact the company was not all that fussed on being a motorcycle manufacturer even though the company founder Manuel Giro was a motorcyclist.
It wasn't until his son Eduardo began showing interest in motorcycles and designed and built a two-stroke engine while still at school and then needed an occupation that the motorcycle manufacture became a reality.
A later necessity to sell motorcycles outside of Spain brought OSSA to the international sporting scene and began Mick Andrews' association with the company. For OSSA fans there is Mats Nyberg's websitewww.ossa.2y.net
Read more News and Features in the Winter 2019 issue of Classic Dirt Bike – on sale now!
---
Advert
---
Sign-up to the Classic Bike Hub Newsletter
Get the latest classic bike news and updates straight to your inbox… You can unsubscribe at any time.