An emotional Jamie Coward paid tribute to Ted Woolf and the people who had stood by him after a shattered lower left leg ruled him out for much of 2014. John Watterson shares his story and all the others around the Pre TT Classic.
Jamie Coward returned to road racing at the Pre-TT Classic in May, where he was undoubtedly the man of the meeting with a brace of wins, a second and a third.
After winning the 500cc Senior race on the Craven Manx Norton, he said: "I have to thank Ted Woolf in particular for believing in me after my crash at Tandragee last year. I hope this has paid him back."
Ironically, Alan Oversby, the man Coward beat by the narrowest of margins in the race, formerly piloted the same Craven-sponsored Norton to a number of victories on the course. It could hardly have been any closer, but Coward always seemed to have the edge despite Oversby's persistence on the Davies Motorsport Honda-4.
A mere 0.014 of a second separated the pair at quarter distance in the 34 mile race, in which the Honda K4s of Steve Elliott and Mike Hose disputed third place throughout.
With two laps remaining, Coward was still unable to shake free of Oversby's shackles, who tried every way possible to outmanoeuvre the young Yorkshireman on the three tight, first-gear corners on the 4.25-mile course.
"I lined him up on several occasions, but he would gap me on the straights and I was unable to get him back on the tight corners," said Bolton-le-Sands man Oversby.
He had one last dig at Castletown Corner, which almost ended in tears when the rear end of Coward's Norton stepped out as he accelerated hard onto the finishing straight. Luckily for him, he held on to maintain the gap and cross the line 0.072 of a second ahead.
Elliott, of Kingsley in Cheshire, managed to do likewise to Hose in the sprint for third between the two similarly matched Hondas. Less than three tenths of a second separated them at the chequered cloth.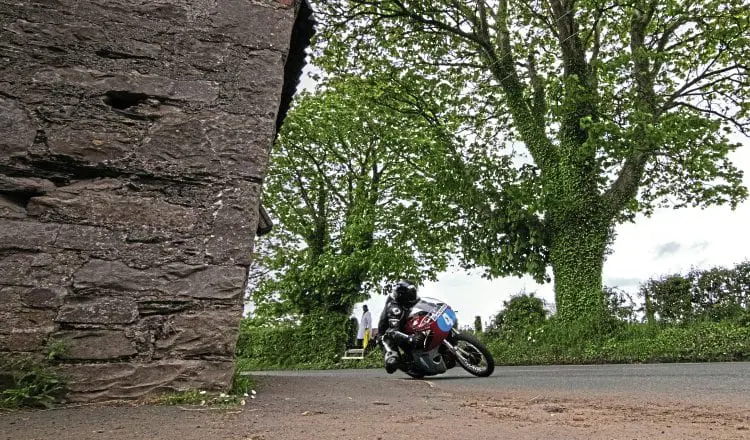 Singles winner Mike Hose passes Ballawhetstone Farm.
Post Classic Superbike
Jamie Coward also enjoyed a start to finish victory in the Post-Classic Superbike race over a similar distance. His closest challenger throughout was Mistral Kawasaki team-mate Steve Mercer, but Coward was never under the same pressure as he had been in the earlier 500cc event.
The lead was already 2.9 seconds after a single lap, and more than seven seconds at the end of the second circuit. By half distance the margin had doubled to 14.7s, with Pete Boast third on the 750 Yamaha.
Having established the first official 100mph lap of the Billown Course in the Pre-TT Classic, Coward ultimately averaged the ton for the entire race with a penultimate lap of 102.033mph. His winning margin was a healthy 21.2 seconds.
"The bike was faultless apart from a couple of false neutrals," said Coward, who thanked the Mistral team for their support. The gearbox is obviously the 750 Kawasaki's Achilles heal as runner-up Steve Mercer also reported a bit of trouble changing down from top to fifth. "Other than that it is a nice bike and I really enjoyed the race," said the Maidstone man.
Northwich's Tim Poole grabbed third when Boast retired at Cross Four Ways on lap five. "That was better than expected," he said. "This is a genuine 1985 1100cc Suzuki. I feel like I'm 18 again riding this, with it bucking and weaving underneath me!"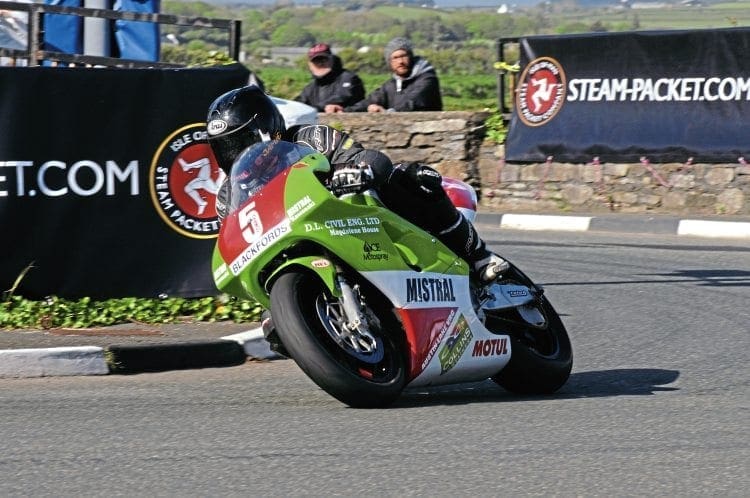 Jamie Coward returned from a serious leg injury last season to record a string of good rides at the Pre-TT, topping it all off with a clear victory in the Superbike class on the Mistral Kawasaki with a record lap of 102.033mph.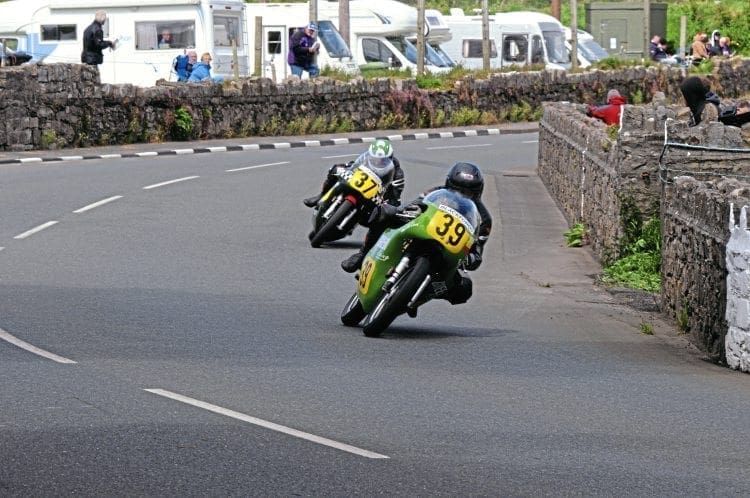 Brothers Bob and Meredydd Owen finished eighth and ninth in the 850cc Classic event.
Lightweight 250
Flying Scot Ewan Hamilton won the Lightweight 250cc race at the Blackford's Pre-TT Classic for the fourth time. Riding his own Suzuki twin he led from the gun and finished almost 17 seconds ahead of Bradford's Adrian Harrison on the Jackson Suzuki.
The lead was marginal for the first couple of laps, with Hamilton only six tenths of a second ahead at one-third distance in the six-lap race. "I looked behind and saw Adrian right there with me, so I gave him a polite sign and left him," smiled the Drumoak man.
"I put the good engine in for this one. The win makes up for last year's disappointment when Mike Hose slipstreamed past me to snatch the win."
Hose, the winner of 11 Pre-TT Classic races, admitted that he had a lonely ride on Pete Coogan's Ariel Arrow. "I took a few quick glances behind me to make sure all was well. It's good to get the old girl back home to the finish again." Terry Kermode, newcomer Joe Ackroyd and Jeff Ward completed the top six.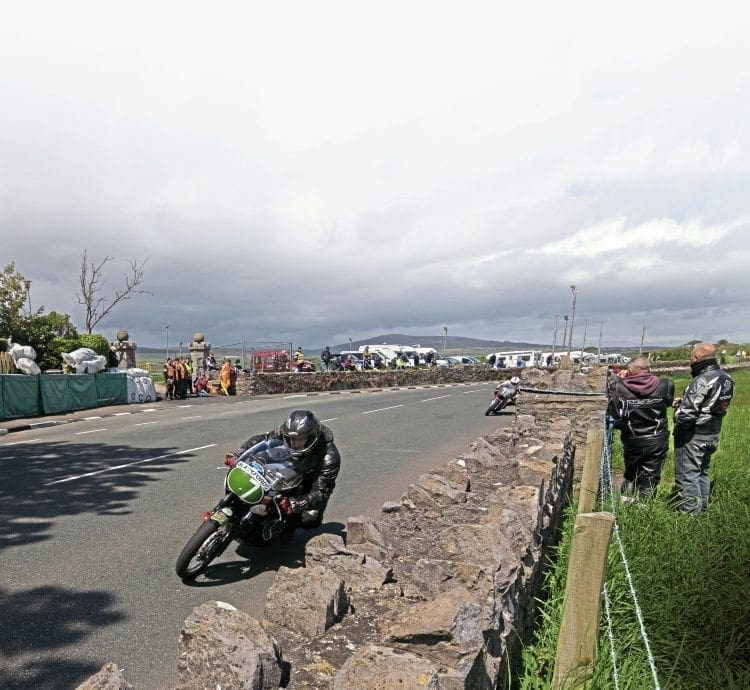 Ewan Hamilton leading fellow Suzuki rider Adrian Harrison through Stadium Corner in the Lightweight 250cc race.
850 class
Alan Oversby scored his 11th Pre-TT Classic win in 10 years when recording what he described as a surprise win in the 850cc event.
Having made a late change of machinery from an 850 Seeley Weslake to John Davies's 500 Honda, he genuinely thought he would be under the cosh against Paul Coward on Dave Nourish's mighty twin.
The pair got off to good starts and entered Cross Four Ways junction side by side on lap two. Coward got the big 750 Nourish stoked up and gradually edged clear to enjoy a four second lead at half-distance.
But it all changed when the 51-year-old from Hebden Bridge brought the bike to a standstill with less than 11 miles remaining after experiencing a heavy knocking sound in the engine compartment.
This left Oversby with a comfortable lead over Paul Coward's son Jamie, who had made a poor start and had gradually worked his way back on the podium ahead of Pete Boast, Mike Hose and Steve Elliott.
Registering his fourth win in the 850cc event, metal fabricator Oversby admitted that he had settled for second place behind Paul Coward. "I missed a few gears early on and Paul managed to gap me. It was a bit windy in places and the bike wasn't pulling the higher gears properly."
Jamie Coward had similarly settled for third after making what he described as a shocker of a start. "I was on the back foot from the word go," said the 24-year-old builder. Pete Boast lost third gear on his DPM Engineering Honda on lap two, but said he had enjoyed his tussle with Jamie Coward.
Mark Herbertson of Hexham got his G50 home fourth ahead of the Hondas of Steve Elliott and Alec Whitwell, with Mark Parrett fourth on the Manx Norton. Welsh brothers Bob and Meredydd Owen were nose to tail throughout in eighth and ninth, chased home by Bob's son Hefyn.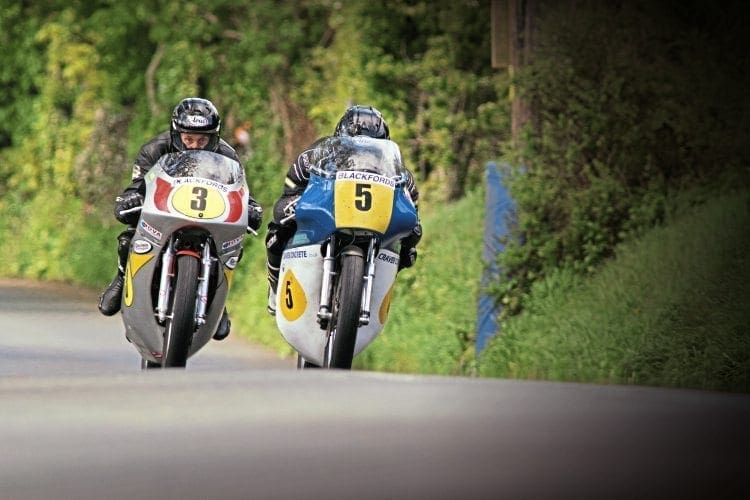 Jamie Coward (Craven Manx) leads Alan Oversby (Davies Motorsport Honda) through Great Meadow in the 850cc Classic race.
Closing in on the record
Mike Hose edged two wins closer to Bill Swallow's record tally of 16 in the Blackford Financial Services-sponsored Pre-TT Classic this year. Win number 12 came on the opening race of the weekend in the Singles event.
Riding a Spanish-built 350cc Bultaco he led the race throughout.
After two laps Hose had reeled out a lead of 5.4 second advantage over Bill Swallow, with Mark Herbertson third on the AJS 7R and Meredydd Owen behind.
The lead was up to almost 10 seconds with two circuits remaining, and the battle for second was taking the crowd's attention with Herbertson ousting fellow Yorkshireman Swallow on the penultimate lap.
They were right together last time through Cross Four Ways, but Herbertson got the better of Swallow's pushrod Aermacchi by less than half a second on the final drag to the line to seal the runner-up spot.
Swallow later explained that he had backed his 'old faithful' long-stroke off in the closing stages as the bike's fairing had broken at the front-end. He had not realised that Herbertson had already closed back up on him.
All-rounder Arthur Browning and local man Allan Brew had a good dice throughout for fourth place.
Win 13 for Hose came on Ian Garbutt's Ripley Land Honda in the Junior 350cc event, but he had to work hard for it. He and Alan Oversby had a terrific scrap throughout. Oversby led by a mere four 100ths of a second after two laps.
By half distance the gap between the two seasoned campaigners was only 0.473 of a second.
Hose jumped into the lead on lap five, but again there was less than half a second between the two. With spits of rain falling round the course, Oversby got back in front on the penultimate circuit and tried to use a group of four lapped riders to jump clear of his rival.
But the two Hondas were about even and, despite Oversby registering a new lap record of fractionally less than 90mph on lap seven, Hose managed to stay with his rival.
The latter man edged past on slipstream through the flat-out Great Meadow section, while Oversby went back underneath Hose at the slow right-hander leading onto the final straight.
At the line it was Hose's by a bike's length. "It was a brilliant race," said Hose. "The last couple of corners were a bit close."
Jamie Coward rode the Craven Honda to a lonely third, with Steven Elliott and Ulsterman Barry Davidson split by less than three tenths of a second for fourth.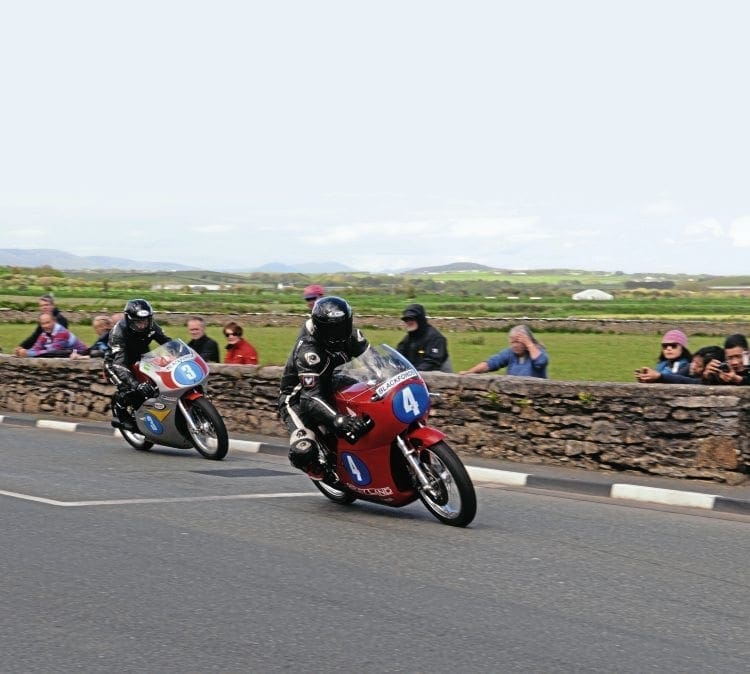 Mike Hose leads Alan Oversby over Castletown Bridge in the 350cc Junior Classic.
Junior Superbike
Driffield's James Cowton nursed Peter Berwick's 250 Yamaha to victory in the Junior Superbike race, The event was named in memory of Geoff Duke, who died earlier in the month, and Peter Duke presented the victory laurels.
Cowton built up an initial advantage of 4.6 seconds over Roy Richardson, but the latter man caught right up and overtook the young Yorkshireman on lap five when Cowton's TZ suffered clutch problems. Just as Richardson looked to be taking control of the race, the motor of his Rob Brew Yamaha seized after suffering a water leak.
This left Cowton with a clear 33s advantage over Tom Snow and he was able to defend that margin over the closing miles to take the race win for the second year in succession.
"I managed to wind the clutch adjuster out and I was short-shifting to save the motor," said 23-year-old Cowton at the finish.
"I'll take that," said Guildford man Snow after what was his second appearance on the course. Glengormley's Brian Mateer was surprised to finish on the podium after a close battle with newcomer David Hewson of Lincoln. All of the finishers were Yamaha mounted.
Veteran victory
Ted Fenwick recorded one of the most remarkable achievements in road racing when he won the 250cc Singles race at the age of 87. The retired engineer from York, who started racing in 1952, won his first 250cc Singles race at Billown in 1998 at the sprightly age of 70.
In the early 1960s he made a couple of appearances as a sidecar passenger in the TT and had a non-finish in his only solo appearance on the Mountain Course. After a 20 year break to raise his family, he resumed racing in 1982 and has returned to the island every year since 1987 to race in the Pre-TT Classic.
Averaging 72.47mph, with a fastest lap of almost 74mph on his 250 Ducati, the friendly Octogenarian said after his fifth win: "I can't believe it. I'm struggling to take it all in."
The lead had initially been held by Peter Boast of Market Rasen on his Brightman Aermacchi, from Jamie Coward and the Atkins Greeves, but they both retired on lap three. Greasby's Roger Birkenhead took over the reins, but he came off on the final lap at Ballakeighan Corner when his Ducati suffered a rear-wheel puncture.
The runner-up spot went to newcomer Rod Graham of Nottingham on another Ducati, who was surprised that he had been ushered into the winners' enclosure and at first feared that he had done something wrong and was being ticked off for it.
"You can't beat being beaten by Ted Fenwick," he said.
Henry Bell of Shap persevered with a misfire in his XL250-engined Honda to eventually take the final spot on the podium. "I kept it going because I wanted a signature for my Mountain Course licence for the Manx Grand Prix. The engine wouldn't rev over 7000."
Paton mounted Mick Moreton won the solo support race on his 500cc BIC Paton by a narrow margin of 0.474 of a second from course newcomer Dave Cooper (350 Yamaha) and experienced hand Stuart Noon (600 Suzuki).
The remarkable Ted Fenwick after winning the 250cc class of the Singles race at the age of 87.
Sidecar race
The top five crews in both sidecar races at the Pre-TT Classic meeting were the same, with only one small change of order. Eddy Wright and Kieran Clark won the opening four-lap race by 1.89 seconds from team-mate Rod Bellas and stand-in passenger Dean Kilkenny.
Wright and Clark fired into the lead on their 1000cc Windle BMW and were 3.4s ahead of Bellas/Kilkenny at the end of lap one, with locals Wal Saunders and Bob Dowty third at another 4.5s.
Bellas and Kilkenny, riding a 1200cc Imp-engined outfit they were testing for Wright, reduced the lead to 1.8s going into the final circuit and made a late dive up the inside at Cross-Four-Ways less than two miles from the line.
"I couldn't beat the boss could I," winked Bellas. "Eddy rubbed paint off the front nose cone, but this is his new bike so I can't say much. We are just the test pilots!"
Wright knew that Bellas would have the speed to go with him as the motor was his old one and he was aware how quick it was. "With it only being a four-lap race I knew we had to get away from them at the start. But I almost lost the back-end coming into Cross-Four-Ways on the final lap."
Saunders and Dowty claimed a solid third in what was their first race together, Dowty showing a badly grazed hand after missing a hand-hold and slamming it into the road at Ballanorris on the final lap.
Newcomers Patrick Geffray/Ronnie Aine of France and Andy Nourish/Alan Bedford of Uppingham and Spalding respectively had a race-long battle for fourth with the Dutch pair of Kobus Bouman and Nicolai Klinker, which the latter pair took after Nourish and Bedford's outfit suffered a puncture in the sidecar tyre with less than half-a-lap remaining.
The following day, Wright and Clark scored a repeat victory in another thrilling contest against Bellas and Kilkenny. With the Camathias Cup up for grabs, no quarter was given and Bellas/Kilkenny made a couple of passes on the brakes into Castletown Corner.
"The BMW has more top-end than the Imp, so I managed to get the lead back," said Tadcaster man Wright after his fifth win in seven years. "I thought they had us on the final lap," said passenger Clark, "but Rod missed a gear up the straight on the final lap."
"We were all over them on the back section, but Eddy's too crafty on the tight corners to let us through," commented Bellas.
Saunders and Dowty were again third on their 850 Special, but course newcomers Geffray and Aine swapped places with Bouman and Klinker in fourth and fifth places.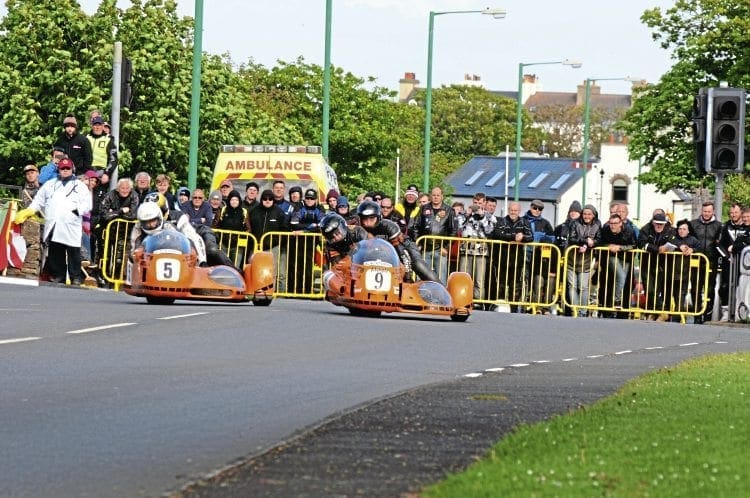 Rod Bellas/Dean Kilkenny (5) and Eddy Wright/Kieran Clark (9) were closely matched in both of the sidecar events, but the latter crew had the edge over the Imp both times on the Windle BMW.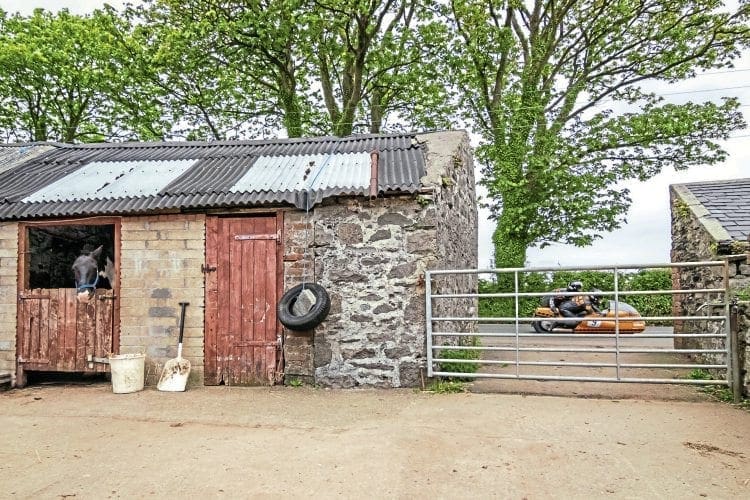 Sidecar winners Eddie Wright and Kieran Clark pass Ballawhetstone Farm in the opening three-wheel race at Billown.
---
Advert
---
Sign-up to the Classic Bike Hub Newsletter
Get the latest classic bike news and updates straight to your inbox… You can unsubscribe at any time.