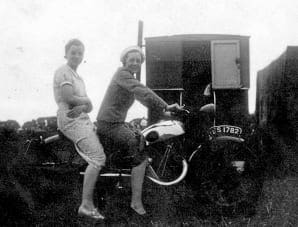 I'VE BEEN LOOKING at the mystery bike photo in April's issue. Not very good is it?
However, to me the bike is not a Cotton, but a New Imperial.
You can clearly see the almost-meeting pushrod tubes of New Imperial's distinctive own engine produced from 1926.
If this bike did not have a high level exhaust (and the woman's leg in the way) you would see the words 'New Imperial' on the mag drive case.
They used Peerless and JAP engines prior to 1926. Cotton used JAP and Villiers engines, but as far as I can find they never bought engines from New Imperial, so my money's on it being a New Imperial.
Paul Payne
More letters and comment in June's edition of CBG