Dear CR
With regards to the ongoing debate about what defines a classic/vintage racing machine, I would like to propose that there be three different types as follows:
Completely original (eg: Lansdowne Series, Goodwood Revival)
Replica (faithful to original drawings/specifications e.g.: Works Racing Manx Norton).
Alien. The third type is defined by deviations in drawings/specifications to the original design in order to achieve a competitive advantage in either engine horsepower or machine handling. Typical changes to engine configuration are a shortened stroke, enlarged bore or reangled ports / valves when compared with the original. These changes manifest themselves in fewer barrel fins or carburettors fitted at steeper angles.
How to control such a variation in machine types? This is usually achieved by appointing an eligibility officer in the club that organises the races.
However, in practice this system gets breached by alien bikes quite frequently. One possible solution might be for the club to purchase a mobile dynamometer, to accurately measure horsepower at the rear wheel.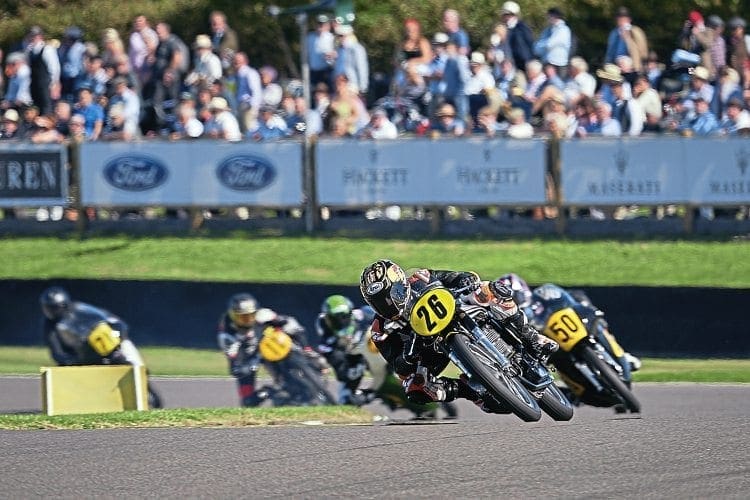 The eligibility officer then maintains a list of typical horsepower values for original or replica machines, to be tested as part of the scrutineering regime – as is noise testing currently carried out.
For example, a standard bore/stroke 500cc Matchless G-50 would be rated at 45 +/-2 hp.
I believe that this method of control was formerly used in 'one make' series of racing.
Any machine that significantly exceeds the control horsepower is defined as alien and is to be raced in a segregated 'silhouette' Class.
I suggest that if such a plan were to be adopted then the owners of original or replica machines may be tempted back into the sport of classic/vintage motorcycle racing, from which they fled after the alien invasion!
Pat Alexander
Cheltenham
Hello Pat, Now this feels very much like a letter that everyone will want to respond to. Let's see what others think to the ideas you put forward here.
Tony
Read more Letters, Opinion, News and Features in the November/December 2019 issue of CR –on sale now!
---
Advert
---
Sign-up to the Classic Bike Hub Newsletter
Get the latest classic bike news and updates straight to your inbox… You can unsubscribe at any time.