The bush roller chain was the first design patented by the Hans Renold Company, all the way back in 1880.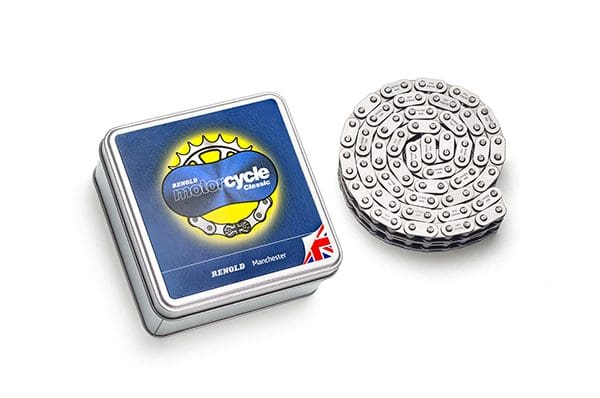 What was so special about the original bush-roller design? 
The steel chain was built for transmitting mechanical power to all kinds of machinery - from motorcycles to conveyors.  It was designed to last significantly longer than other textile machine chains available at the time. The chain had a series of journal bearings held in precise positions by constraining link plates. Each bearing had a bearing pin and bush where the steel roller revolves as the chain moves around steel sprockets during operation. The chain had impressive wear resistance and loading capabilities.
The design was highly advanced at the time - and is still in use today.  Although, of course, there have been some modern adjustments to the original design.
Let's go back to where the motorcycle first began.
Daimler created the first motorcycle in 1890. The horsepower was so low that a leather belt drive was enough.  Phelon & Moore in the UK and Hendee in the USA decided that a stronger and more efficient form of power transmission was needed. They approached Hans Renold, and the motorcycle chain industry was born.
Renold played a big part in motorcycle racing history throughout the 20th century and were a part of some of the biggest names in motorcycle history - from Rollie Free and Johnny Allen's land speed record to Malcolm Uphill at the TT.  Renold has been there for it all.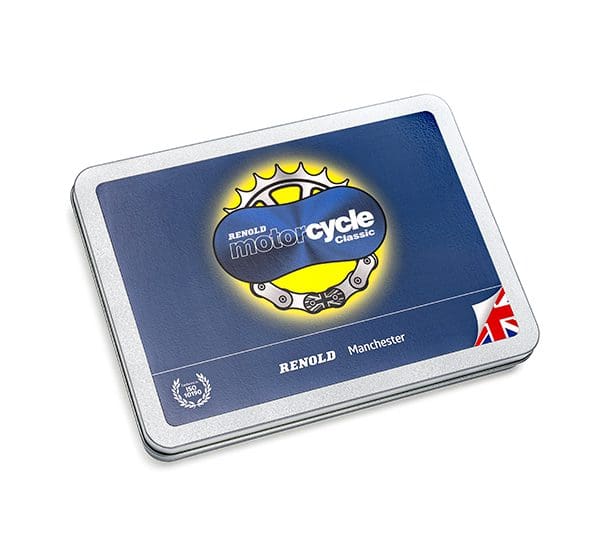 Renold substantially exited the motorcycle chain market in the 1980s when there were no further OEMs to serve in the UK and the industrial part of the business became the primary focus.  Renold is still a worldwide manufacturer of industrial roller, conveyor and inverted tooth chain along with gearboxes and transmission couplings.
The updated "Classic" version of Renold Brand (non – "O" ring) motorcycle chain has been certified to ISO10190 for motorcycle use and is now available in improved packaging to be purchased solely from the online store at shop.renold.com
Initially, the most popular 520 and 530 rear drive and a selection of primary drive chains for older bikes (including 114038, 116038 and 110046 for those who know their Renold part numbers) will be available for rapid dispatch from Renold's UK Chain Centre in Greater Manchester.  These chains have been designed in the UK and are being manufactured in the company's centre of excellence for roller chain manufacture in Einbeck, Germany.
It's only original once – Renold helps you keep it that way.
We are also exhibiting at the International Classic Motorcycle Mechanics Show at Stafford on the 15th and 16th October – hope to see you all there.